Last Monday we took a little daytrip south to Uppsala and Sigtuna, as we needed to take a friend to the airport in the morning, so we used this opportunity to explore a bit of the Uppland region for the rest of the day. On our drive to the airport we saw the sun rise behind a curtain of fog, that was rolling over the flat landscape and leaving a thin layer of frost over everything in the below zero temperatures we've been waking up to in the past days. As soon as we dropped our friend at the airport, we continued on to Uppsala, where we were to meet with a couple of friends who were living in Falun last year, but moved to Uppsala in the summer. We hadn't seen them since they moved, so I was really happy that we had this chance to see them for half a day. They took us for breakfast to a cute café where we treated ourselves to a classic Swedish fika.
Uppsala
Later on, they walked us around Uppsala. The morning fog had lifted, leaving behind nothing but a crystal-clear sky and a shining sun that was filling the city with its cold morning light. Uppsala dressed in autumn leaves was absolutely beautiful.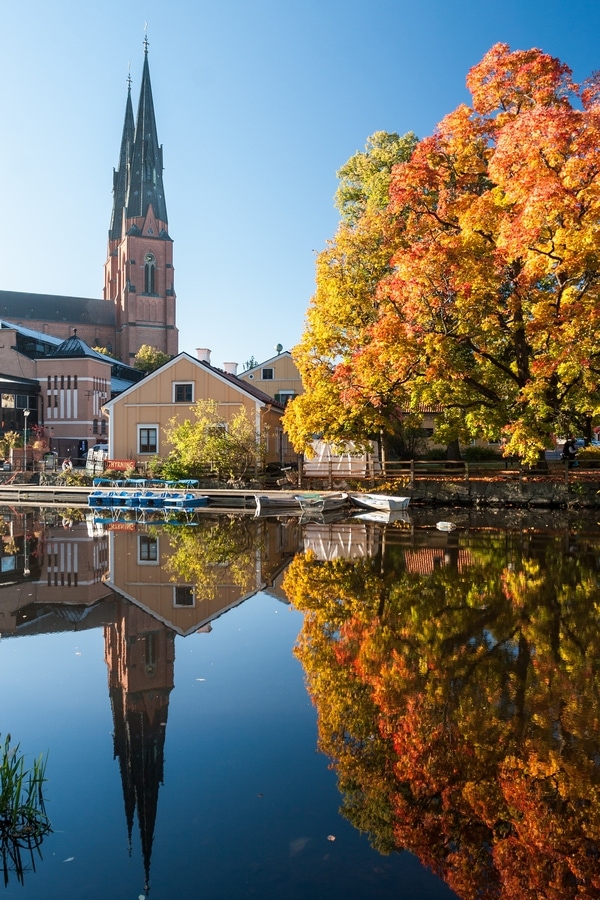 We spent a couple of hours walking around and saw pretty much most of the attractions and important buildings there, then we picked up some street food and went to eat in the sun in front of the cathedral. I had a falafel roll with halloumi cheese inside – probably the best falafel I've ever had, prepared on the spot. My first and only time I visited Uppsala before dated back to 2009, during my Erasmus in Norway. Back then I was preparing for an exam in Germanic philology and I was literally obsessed with runestones (the main theme of my course being the Elder Futhark and Germanic runic inscriptions) so the main reason why I visited Uppsala was to see the runestones there. It had been a dreadful rainy day and I did not care much about seeing more of the city, especially in that weather. This time I saw much more, but my appetite for hunting down runestones has never really ceased, and whenever I have the chance to visit a place with runestones I must make sure to track down the stones and go and see them in person. For this reason, after lunch we said goodbye to our friends and left for Sigtuna, a town nearby.
Sigtuna
Sigtuna was pretty, and I regret having so little time there. Although we managed to see all we wanted to see (apart from the museum, which was closed because it was a Monday) and even found the time for a little fika on the go, I was left with the longing to go back there for a longer while just for the sake of spending time there. I've experienced this same feeling in other smaller towns of Scandinavia: small-scale cities, maybe a bit boring with not much happening there, but extremely pleasant and with a special feeling. When I'm in such places I experience this desire to rent a small room and live there for a week or so, just to sit at the desk with a view on a little street and try to write something good, and then spontaneously go for a walk in that beautiful village, maybe visit its little cinema in the evening. Not that I live a stressful life in a huge city, quite the opposite, but it's the charm of the temporary life and in a smaller-scale place that arises when I find myself in places like Sigtuna.