Winter is the time for skiing, building snowmen, having snowflakes land in your mouth and of course ice skating. Here in mid-Sweden around the end of December temperatures drop to -15°C and below and lakes freeze up. The same lakes where I bathe and go paddle boarding in the summer in January are rock solid and perfect for wintertime sports like ice skating, cross country skiing and ice fishing. The thing about Sweden is that no matter the season, you are always supposed to be out there enjoying the great outdoors.
Now, I haven't yet tried ice fishing, but it's something I have promised myself (and my dad) I will try one day. As for cross country skiing, I did it once, a long time ago in Norway, but haven't had the chance to do it again. Ice skating is definitely my favourite, something I try to do at least once every year. Of all winter sports skating is the one I have done a few times when I was a kid. I haven't ever skated yet when the lakes are completely clear of snow like in the picture above. This is obviously how they look like at the beginning of the season, it usually starts off with the cold and then the snow follows. I guess I'm always a little paranoid about the ice being too thin and I always wait a couple of weeks of proper minus temperatures, but that is also when the snow usually starts to fall regularly.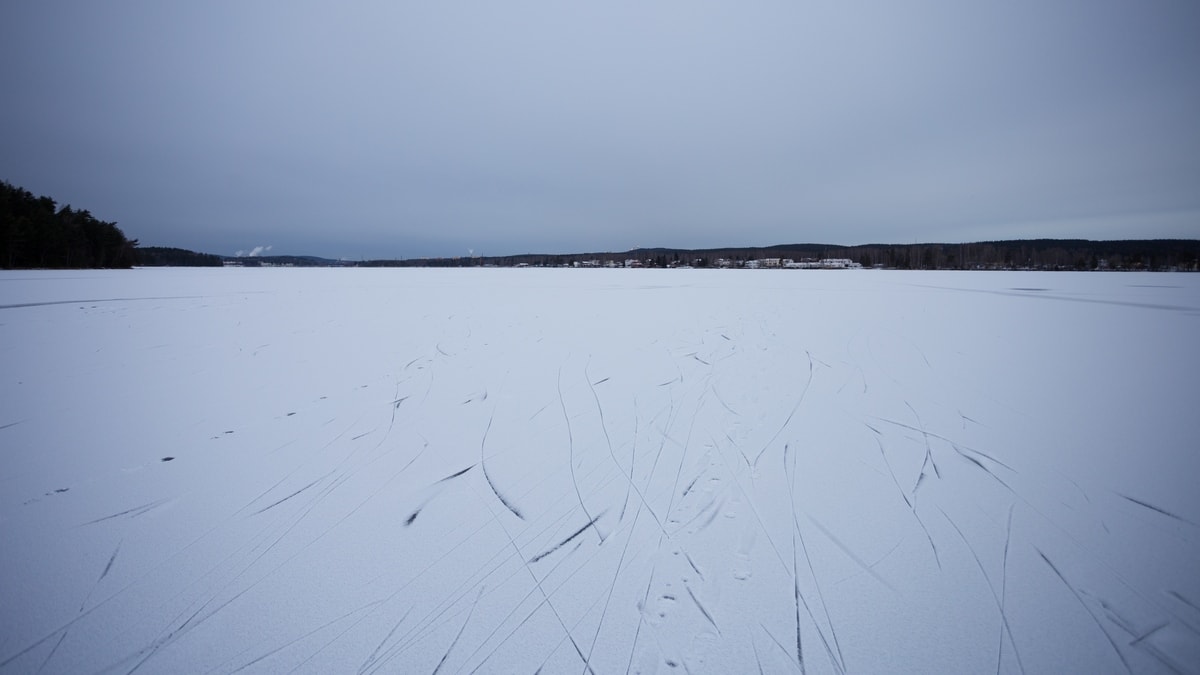 This year I went skating when the snow was not much; you can still skate through a few centimeters of snow. When the snow starts piling up certain lakes are snow ploughed to allow skaters on.
Usually around the end of January the lakes will be quite covered in snow. On sunny days the experience of skating through this winter wonderland is absolutely beautiful.
Still, even less picture perfect days have their share of charm. The picture below was taken on an early January day, when the sun at 11:00 in the morning hangs still pretty low. Just a thin layer of clouds seems to block the sun out completely.
It's important to check ice reports or visit lakes that have some "maintenance" and ice checks done. We usually go skating on lake Runn starting at Främby Udde Resort, a place where one can also rent skates and ice awls, warmly recommended just in case. Lake Runn is a pretty big lake, and although the tracks are regularly checked you never know and you want to have some sort of safety gear on should you ever fall through the ice.
No outdoor adventure is complete without some chocolate to reward yourself while out on the lake. Eating in the middle of a lake is not something one gets to do very often!
So if you happen to visit Sweden in the middle of winter don't let the dark and the cold put you down and get out there! The Swedish nature is one great place to have a lot of fun all year round. Just don't forget your chocolate!