Today I was invited to a baby shower, which was quite a new experience to me as I had never attended one before. For the soon to be born little girl, the aunt-to-be organized a lovely party for family and friends and treated us guests to delicious home-baked goods. I thought I'd contribute with a tray of cupcakes, first of all because I like to bring baked goods to a party, but also because I'm always looking for an occasion to bake something. So a few days before the party I set my mind on baby shower themed cupcakes and started searching for inspiration.
Strangely enough, nothing on pinterest seemed appealing to me. I kept seeing things that were either too intricate or just did not match my taste. And I wanted to avoid using fondant. So in the end I went for a very simple and classic thing: vanilla cupcakes with a swirl of pink cream and a chocolate topper that reads "baby girl".
The first thing I made were the toppers. I attached a sheet of parchment paper to a metal cake tray and piped circles of melted white chocolate over it, then put it in the freezer. Once the chocolate hardened and froze, I flipped the chocolate discs and on the flat and even side that had been against the parchment paper I piped the letters with dark chocolate. I did not add any cream or oil to the chocolate, because I didn't want to soften it. Just to be safe, after adding the letters, I returned the toppers to the freezer, where I kept them until I placed them on the cupcakes.
For my cupcakes I tried a new recipe I had read about not so long ago on a food blog I've been following since I started food blogging myself. The recipe I used is Perfect Vanilla Cupcakes by Jessica of What Jessica Baked Next. I had wanted to try a new recipe for vanilla cupcakes for a while, because I wasn't always too happy with the one I had, and I'm glad I tried Jessica's because it's really excellent. The texture of the batter is divine, and it translates perfectly in the texture of the cupcakes once they're baked: you take out of the oven a tray of fluffy cupcakes that are as light as sponge cake but at the same time as moist as cupcakes are meant to be. Perfect vanilla cupcakes, no lies. As a side note I should add that I substituted a part of the butter with margarine (for no other reason than I had a shortage of butter in my fridge) and I used crushed vanilla bean instead of liquid vanilla extract.
Mascarpone frosting:
500 g mascarpone
80 g confectioner's sugar
1/4 cup heavy cream
Combine sugar and mascarpone and beat with a hand mixer at medium speed. The mascarpone should get creamier in about 2-3 minutes. At this point, add any food colouring that could be needed and mix it in. Stop the mixer and pour in the 1/4 cup of heavy cream. Start mixing again, but at low speed. Adding the cream, the mixture at first will get a bit runnier, but the slow beating will incorporate air and whip it. It is very important to keep the mixer at low speed and not to overmix, just like when whipping the cream. This is why food colouring should be added and mixed in before the heavy cream. This frosting is a favourite of mine I often turn to when I want something that has the texture of cream cheese frosting but is less cheesy and sour in taste, and at the same time resembles whipped cream, but is firmer and more suitable to pipe.

For my baby shower cupcakes, the last thing I did was to place the chocolate toppers over the frosting of some of the cupcakes. On these I made a flatter swirl, to have a better surface for the toppers, and on those that were supposed to only have the frosting I just piped a taller regular swirl.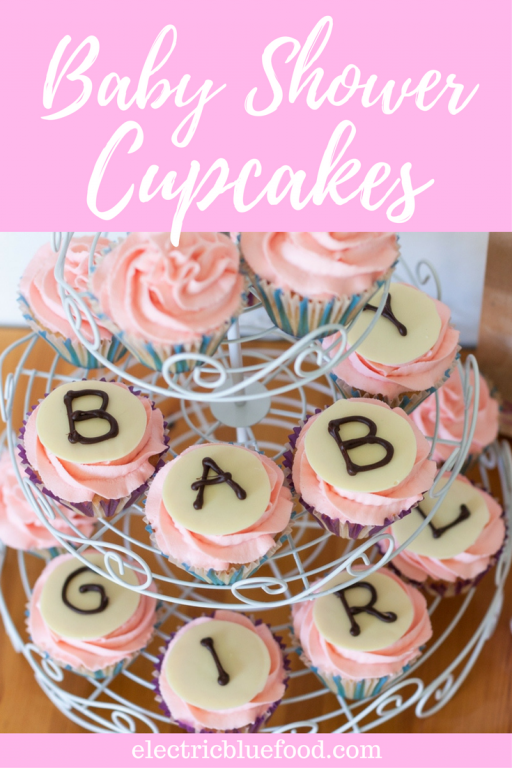 (Visited 64 times, 1 visits today)