If you're looking for a frosting that is not too sweet, has a deep chocolate flavour and a fluffy texture, you need to try this bittersweet chocolate frosting. It's whipped cream based, with equal parts sugar and cocoa, to deliver a true cocoa taste. If you think the average chocolate frosting is too sweet, you have to give this cocoa whipped cream a try.
Some frostings are too sweet. And I understand that cake is supposed to be sweet, but when the actual cake is already on the sweet side, why does frosting have to take sweetness to the next level? Sometimes it's just too much. And while sugary sweet frostings may be all the rage at children's birthday parties, we need to normalize a more moderate level of sweetness. Even in cake. Who's with me?
I don't know, I'm a sucker for all things sweet. But even sweet needs to be in balance with other flavours. And when we're already dealing with sugar-bomb chocolate cupcakes we might want to go a little bit easier on the frosting, right? Here comes my cocoa frosting which is basically a chocolate whipped cream. An adult-approved chocolate frosting. Like a nice red wine with higher tannins…!
The ingredients
The whipping cream needs to have a fat content equal or above 30%. The cocoa powder and icing sugar are in the same amount, and that is key if we want to give bitter and sweet the same role.
In case of allergy, please substitute the dairy cream with an appropriate alternative. Choose a product that can be whipped, what you normally use in place of dairy cream.
Please refer to the recipe card at the bottom of this post for quantities. The recipe is in metrics but you can simply click to convert to US customary.
How to make bittersweet chocolate frosting
Add the cream to a mixing bowl.
Combine the sugar and cocoa powder and sift into the cream.
Beat with an electric mixer to the desired texture – at medium-low speed it should take 1-2 min.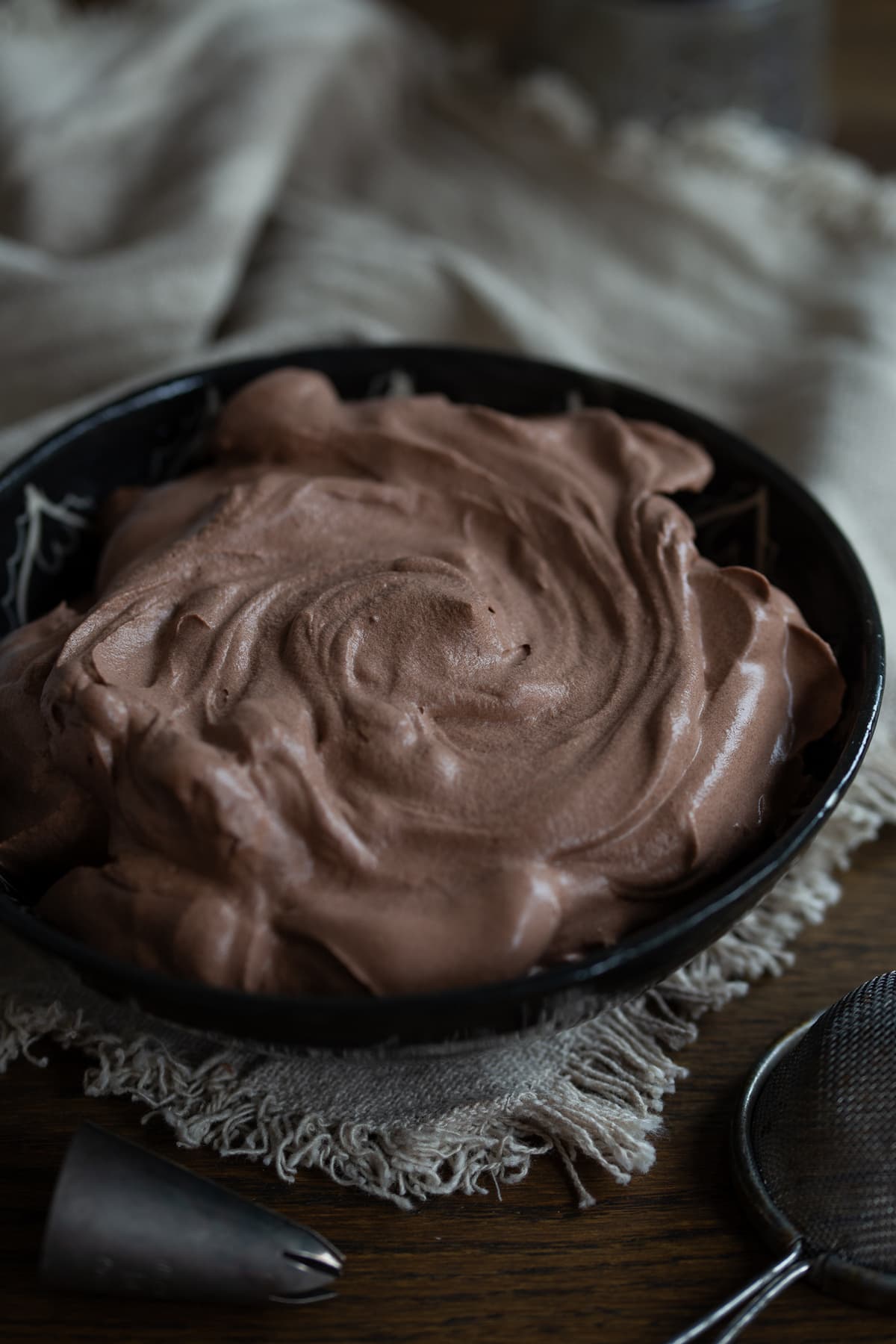 What can I use bittersweet chocolate frosting for?
Any sweet recipe that calls for a chocolate frosting will work with this one. You can use it to fill a layer cake, for example. Just make sure the sponge cake is sweet enough to work with this bittersweet cream.
Being basically a whipped cream, this stuff is also quite amazing on hot chocolate. It will take the chocolate flavour up a notch, and it proves especially great if the beverage itself it too sweet to drink alone. Try it on my thick hot chocolate!
This cocoa frosting is very pipeable, too. So you can fill a pastry bag with it and pipe it onto cupcakes. Or cream puffs! Fill cocoa choux pastry with this cocoa whipped cream for the ultimate cocoa cream puff!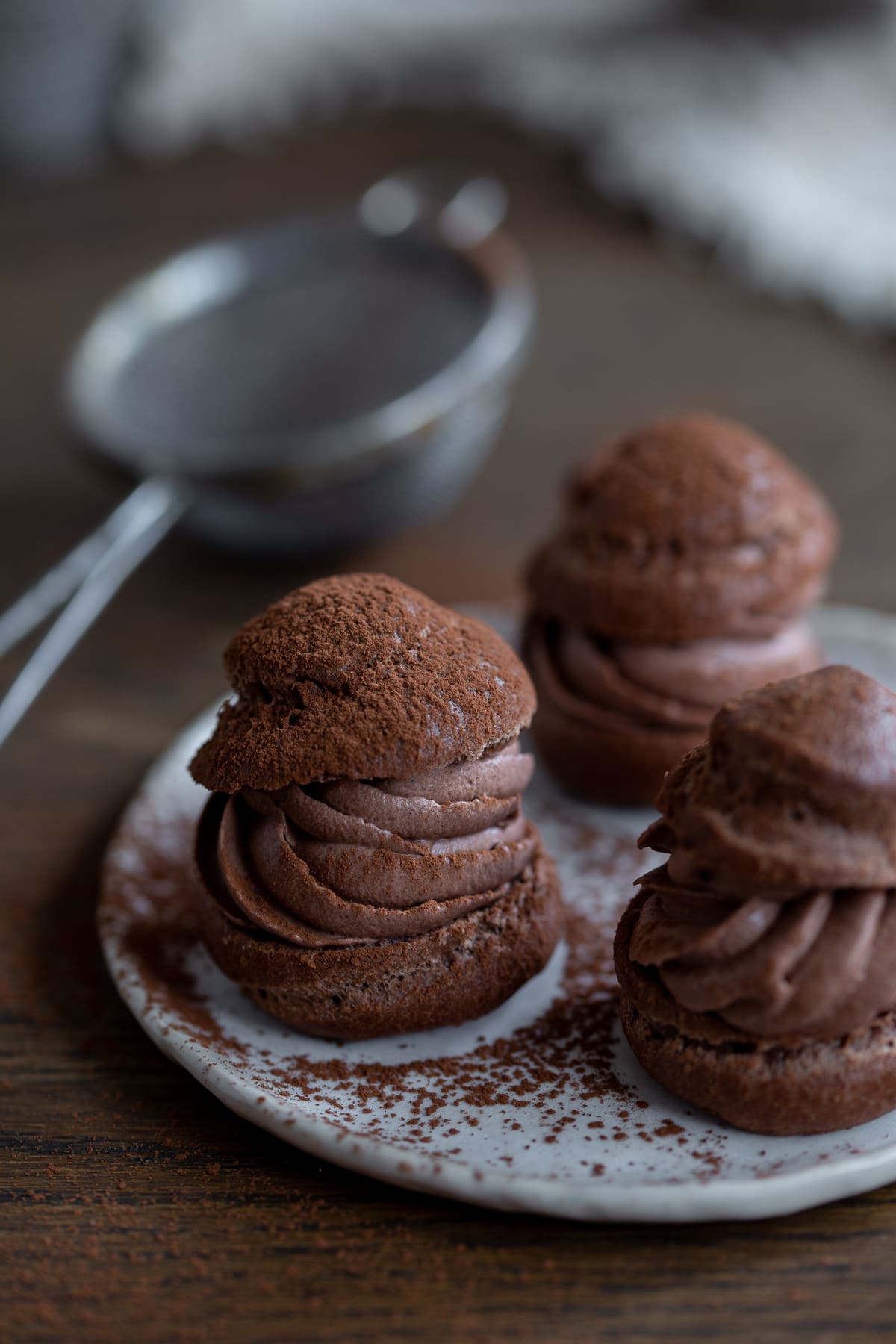 You can also use it as regular whipped cream and serve it on the side of kladdkaka, almond chocolate cake, on hazelnut ice cream or with Nutella panna cotta.
Recipe notes
Since the cocoa powder does not dissolve in the cream, a slightly gritty texture is common. It's really minimal and you can barely feel it on your tongue, but at first glance you may notice that this cream is somewhat not as smooth as regular whipped cream.
Just like whipped cream, this cocoa frosting is sensitive to high temperatures. Always store it refrigerated, and this also applies to any dessert you may have filled or topped with it. In a cooler climate, this cream behaves quite well at room temperature (I piped the puffs in the picture above in the middle of a photo shoot having the cream at room temperature; but I live in Sweden). But even for easier use, especially when piping, I would strongly recommend to chill before use.
It's possible to make ahead and use within 2 days, but I would recommend to make it fresh when it needs to be used. It is so quick to make that really making ahead is not an advantage in this case.
Did you like this bittersweet chocolate frosting recipe? Let me know in the comments what you used this frosting for. If you're planning to make it later you can also pin it to Pinterest. Please subscribe to my newsletter and follow me on Pinterest. Take care!
Bittersweet chocolate frosting
A sweet and bitter chocolate frosting made with cocoa and whipped cream, and just enough sugar to balance the cocoa powder without making this frosting too sweet.
Ingredients
300

ml

whipping cream

30% fat or higher

35

g

cocoa powder

35

g

powdered sugar
Instructions
Add the cream to a mixing bowl. Combine the sugar and cocoa powder and sift into the cream.

Beat with an electric mixer to the desired texture - at medium-low speed it should take 1-2 min. Keep refrigerated and use chilled for best results.
Notes
The nutritional information is made by an online calculator and meant to be read as a guideline only.
Nutrition Facts
Bittersweet chocolate frosting
Amount Per Serving
Calories 125
Calories from Fat 108
% Daily Value*
Fat 12g18%
Cholesterol 41mg14%
Sodium 12mg1%
Potassium 76mg2%
Carbohydrates 6g2%
Protein 1g2%
Vitamin A 441IU9%
Vitamin C 1mg1%
Calcium 24mg2%
Iron 1mg6%
* Percent Daily Values are based on a 2000 calorie diet.
(Visited 5,621 times, 12 visits today)