Black olive paté, or black olive paste, is just one of the many toppings that you can use to make bruschetta. When I have stale bread, bruschetta is my go-to way of using it up. A quick roast in the oven to make it crispy again and then I get creative with all kinds of toppings. Classic bruschetta is made with a generous rub of garlic, olive oil and freshly chopped tomatoes, but there are many other possibilities to expand your bruschetta game. Various variants of pesto work wonders on crispy bread, as long as they feature a generous amount of olive oil. Olive oil is key. Black olive paté on bruschetta is one of those lovely alternatives to garlic and tomatoes.
In fact, the procedure to make black olive paté is pretty similar to the way I make home-made pesto. I don't follow the original mortar and pestle method, but rather go for a hand blender pesto. Same thing here. I combine the black olives, oil, salt or anchovy paste and blend. It takes no time. Then all you gotta do is slice and toast some bread and spread your black olive paté on top. I used ciabatta here, but honestly any bread will do. Who am I to judge you upon your choice of bread? I am the one who makes bruschetta with Swedish dark bread!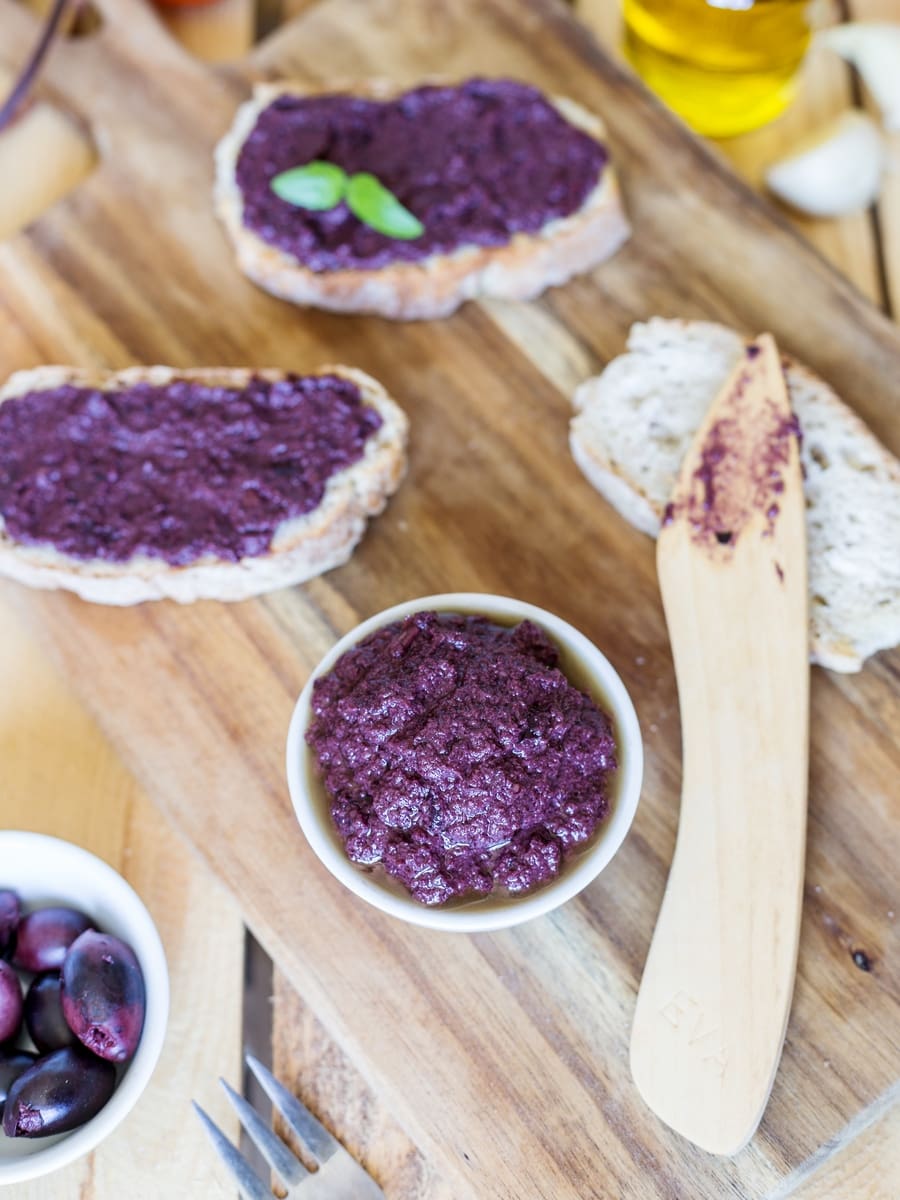 This recipe may remind you of olive tapenade. Black olive paté differs from a proper tapenade in the fact that it is more simple. Despite being most commonly known as an olive-based dish, the key ingredient of a proper tapenade is capers. Tapenade actually takes its name from the  Provençal word for capers, tapenas. Not including capers in a way rules the name tapenade out. I have mentioned anchovy paste in this recipe, and it is listed as optional in the ingredient list below. I have tasted this olive paste in both variants and the addition of anchovy paste gives it a nice depth. You can barely taste the fish, as its contribution is mostly its salty quality. Thus said, if you don't have anchovy paste at home, or wish to keep this paté vegetarian, just use some salt.
When making olive paste I recommend the use of quality olives. Pick the more expensive jar for this one, you will not regret it. While better olives are always a better choice, it is okay to go for a cheaper option when using olives on pizza, for example. Or when olives are just one of many ingredients in dishes that already feature lots of other stronger flavours, such as feta or fish. But when olives are 80% of your recipe you can't go cheap. Quality jarred olives come in a less salty brine, which can ultimately affect the taste of the olives.
In this recipe I used first choice pitted Greek Kalamata olives in brine. They have this beautiful colour that gives your paté a purple tone. While unpitted olives have a better texture, I chose to buy pitted. If budget is really an issue I would recommend getting unpitted olives from a cheaper selection, and then removing the pit yourself. The olives will get smashed anyway, so their appearance after pitting doesn't really matter. But still never use sliced pitted olives (the rounds you can find on pizza sometimes). Those have the worst texture and have absorbed too much of the brine.
Black olive paté
Ingredients
150

g

black olives

(pitted)

30

g

extra virgin olive oil

salt to taste

1/2

tsp

anchovy paste

(optional)
Instructions
Drain the olives from the brine and place them in a tall container. Add the olive oil.

Blend the mixture with the help of a hand blender until smooth. Taste a small sample to check the salt. I recommend avoiding to add the salt from the beginning as the olives might already taste quite salty from the brine in which they were preserved. If needed, add salt to taste and stir to combine.

As an alternative to the use of salt, you can add up to 1/2 tsp anchovy paste. It pairs really well with olives, giving a nice flavour depth. Just stir it in instead of the salt and serve.

To make bruschetta, slice the bread and warm it up in a toaster for a few minutes. Spread olive paté on the bread and serve.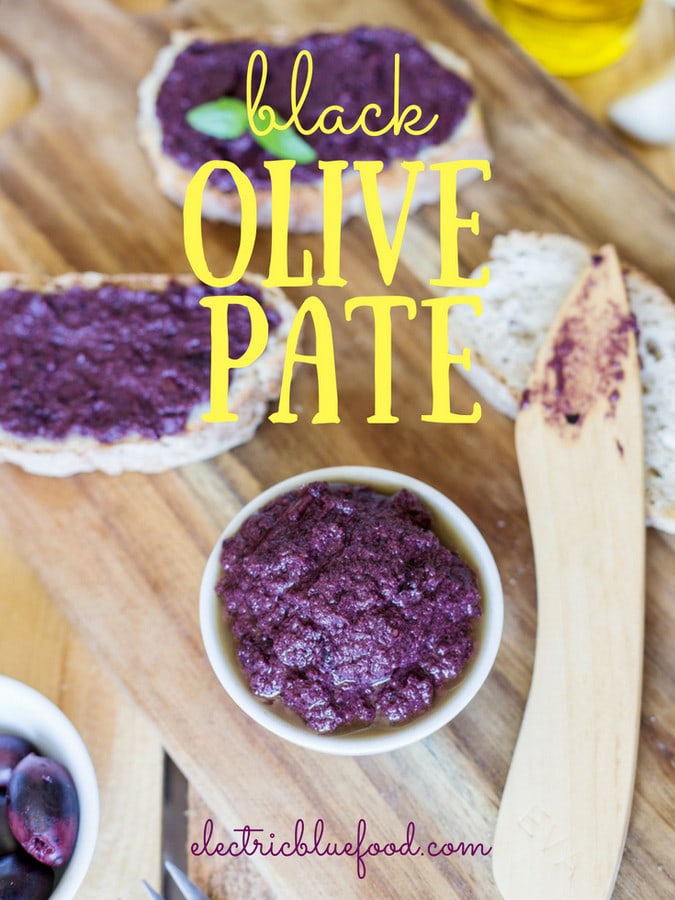 (Visited 1,904 times, 1 visits today)