If you're looking for inspiration for a new cocktail this summer, may I suggest blackberry gin and tonic. Blackberries have this deep, almost bitter sweetness (couldn't phrase it in any better way than an oxymoron) that complements the juniper tones of gin. Depending on the kind of gin you use, you may add a lime wedge or a cucumber slice in your cocktail. In the case of blackberry gin and tonic it's all about the tonic water of choice, instead. For this version of the cocktail I strongly recommend the use of pink tonic water to enhance the flavour of the berries.
This year I discovered and quickly became pretty obsessed with a flavour edition of tonic water by Schweppes that goes by the name of Russchian. Schweppes Russchian is a kind of tonic water that is enriched with "an enchanting touch of berries and a daring hint of hibiscus and carrot" (I'm quoting Schweppes on this) and it is pale pink. While I personally do not detect the carrot, I agree on the berry and hibiscus part. I am not a huge fan of tonic water alone, but this flavoured one is really nice. It is also sweeter than regular Schweppes.
My parents are visiting and this calls for some more festive dining habits than usual. When you live abroad and your family comes to visit, every meal feels like a special occasion. While we don't normally drink wine to our meals on a regular basis (also because of the average cost of wine in Sweden, compared to Italy), when my parents are here I just feel more motivated to open a bottle. Cook up something fancy. Indulge on multiple fika times per day. The downside of this mad feasting is that I usually tend to gain a couple kilos per visit. And this year I just can't gain uncontrolled weight because there is a wedding dress that needs to fit me sometime in August…
Another thing we normally only reserve to special occasions is a nice aperitivo. Well, not only special occasions. It has happened that after a really intense day at work my boyfriend and I would meet in the kitchen and while I cooked dinner he whipped us both up a glass of gin and tonic. No special occasion, we just felt like we deserved it. There are days at work when the sole fact that you made it to the end of your shift deserves being treated like a special occasion. So G&T before dinner it is. All other days we tend to reserve aperitivo to more special occasions. Generally.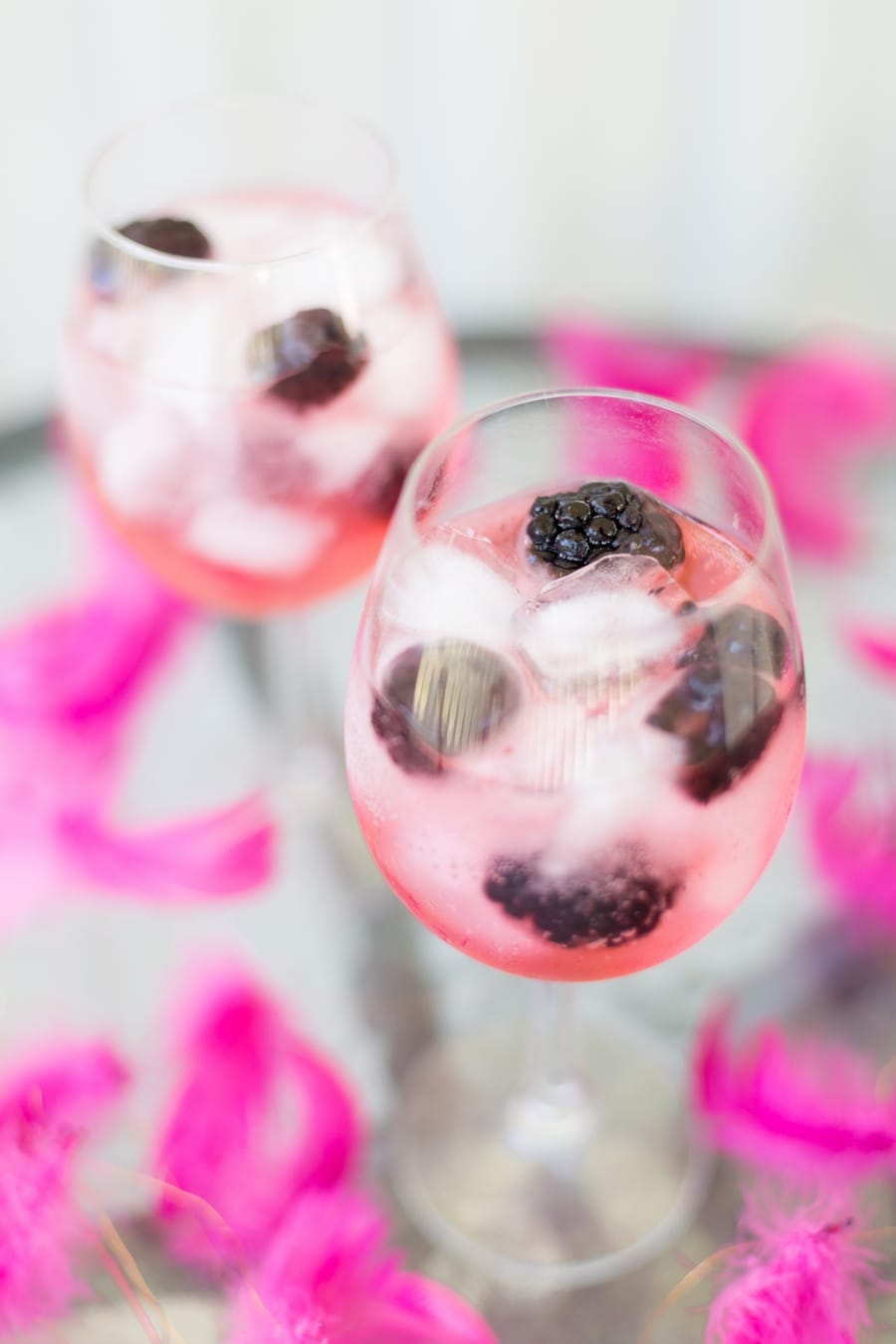 While my boyfriend is a purist and will only have his gin and tonic with regular tonic water – and sometimes will even skip the lime if we don't have one at home – I fully embraced this alternative tonic water and started demanding my G&T's pink. While I am a great fan of the lime wedge floating around in my cocktail, the addition of this new tonic water got me thinking of a nice way to substitute it. I know blueberry gin tonic is a thing, so I thought of a berry that could complement nicely the flavour of a gin and tonic made with Schweppes Russchian: blackberry.
The result was a very pleasant surprise. Blackberry gin and tonic with pink tonic water is a wonderful alternative to the classic drink. The peculiar taste of the gin here is complemented by the sweetness of the berries and the flavoured tonic water, for a sweeter and refreshing twist.
Blackberry gin and tonic with pink tonic water
Ingredients
150

ml

Schweppes Russchian

50

ml

Gin

6

frozen blackberries

ice cubes
Instructions
Fill the glass with ice cubes and frozen blackberries so that the berries are scattered around in between the ice cubes.

Pour the gin over the ice and top with pink tonic water. Serve.
(Visited 3,051 times, 6 visits today)