Swedish sticky cake kladdkaka has been rising in popularity, so here comes a variation. Cheesecake kladdkaka is a kladdkaka with a cream cheese swirl on top. As a kladdkaka-cheesecake combination, it has the best of both worlds: a gooey chocolate cake base topped with a creamy cheesecake swirl. 
Now I want to play with your imagination. Close your eyes. Or better, don't, or you won't be able to continue reading. So, well, pretend you're closing your eyes. Use your mind's eye. Picture a chocolate cake. A single-layer chocolate cake that is wobbly as you shake the cake pan. You cut into it and it's so gooey it almost pours out where it's sliced. Ooey gooey chocolate cake. A dark brown slice of goodness that melts in your mouth and leaves you with a very sticky spoon. And a sticky moustache. This is kladdkaka.
So now I want you to think cheesecake. Baked cheesecake, New York style. A very simple cheesecake made of cream cheese, egg, sugar, vanilla. That's it. Creamy, sweet, tangy, delicious. That cheesecake serves as top on your gooey chocolate cake. Not only does it provide some visual appeal with its lovely swirls, but its cheesy flavour balances the cocoa tones of the kladdkaka base.
This is cheesecake kladdkaka. Chocolate swirl cheesecake is a thing, so cheesecake kladdkaka is the opposite. It is a chocolate cake that has a cheesecake swirl on top.
Kladdkaka or brownie?
You may have come across cream cheese swirl brownies. A rich brownie bottom and a cream cheese swirl on top. Or even cheesecake brownies. A layer of brownie, a layer of cheesecake, and a brownie swirl over it. This cheesecake kladdkaka is kind of similar, but the base is Swedish kladdkaka.
What is Swedish kladdkaka?
Kladdkaka is one of the most famous cakes in the Swedish baking tradition. Along with chokladbollar and cinnamon buns, kladdkaka is another treat most Swedes have their own favourite recipe to. When I was a Home Ec teacher in Sweden, 9 out of 10 times I'd get asked by a pupil "When are we going to make kladdkaka?". Annoying, but so legit.
Why are Swedish people so obsessed with kladdkaka? Well who would not obsess over a gooey chocolate cake? It's all in the actual name of the cake: kladdkaka comes from kladdig which means sticky. The sticky you get when you mess around with Nutella or honey, this is exactly how sticky we're talking. You make a batch of kladdkaka and your hands get all sticky. You try to eat it and it gets even worse. In a positive way.
What is the difference between brownie and kladdkaka?
Sticky, gooey, chocolate-y, kladdkaka and brownies have a lot in common. But is there any difference between kladdkaka and brownie? Well, the shape, first of all. Brownies are generally made in a square or rectangular pan, and served as small squares. Kladdkaka is usually baked in a round cake pan and served like a regular slice of cake, most often with a side of whipped cream.
The other notable difference is that while brownies count baking powder among the ingredients, that is not the case in the original kladdkaka recipe. The total absence of any leavening agent is what makes kladdkaka come out so sticky. Yes, there are eggs. But no baking powder if we go by the book. Except, in this recipe we're cheating and we're using a little bit of it. It's to ensure the kladdkaka base will hold the cheesecake top. So does this make this a brownie kladdkaka? A cheesecake-brownie-kladdkaka? Goodness me.
How to make cheesecake kladdkaka
Making kladdkaka is extremely easy, and this cheesecake kladdkaka is no different. Do you have a couple of bowls and forks at home? Then you're good to go. When making kladdkaka we're not using any baking powder because we want it to stay so awesomely sticky. So we also want to avoid beating any eggs. No fluff here, incorporate as little air as possible. We want it to be as sticky as it can possibly be! Except, as I said before, in cheesecake kladdkaka we're using a little baking powder. But we're still not whipping the eggs, no-no.
Cheesecake kladdkaka recipe
Have four bowls at hand. In bowl #1, melt the butter and add the cocoa powder. Stir to evenly incorporate and let cool. Bowl #2 is for the flour and baking powder; measure and combine. Bowl #3 will be for the sugar and eggs. Measure the sugar in the bowl and transfer 2 tbsp of it to bowl #4. Crack 3 eggs and add them to bowl #3. Crack the last egg and add the white to bowl #3 and the yolk will go with the 2 tbsp of sugar in bowl #4. Mix the content of bowl #3 just using a fork, until even. No whisking. Then you just pour in the melted butter and cocoa mixture (content of bowl #1), and again just give it a good stir with a fork until incorporated. Lastly, you want to fold in the flour mixture (content of bowl #2), and for this step I used a rubber spatula.
Pour the kladdkaka base in a springform pan lined with baking paper. Now get bowl #4 and the cream cheese and vanilla extract. Once again, give it all a good stir with a fork. Use the same fork – just remember to rinse it after every stirring – or get a new fork at every step. Pour dollops of the cheesecake mixture over the kladdkaka base and draw the swirls using the back of the fork. Four bowls, one fork and one rubber spatula. So basic.
Bake in the preheated oven at 150°C for 30 minutes. It should be wobbly when you take it out of the oven. It should be wobbly even when it cools down, go figure!
Cheesecake kladdkaka is so sticky that when I tried to photograph it I miserably failed to make it look any nice. It was just one sticky mess. And while I understand that that's the beauty of kladdkaka, the perfectionist in me ached. But kladdkaka has to be so gooey it's almost impossible to serve.
I know I could have baked it a bit longer. I know I could have let it set in the freezer. It would have looked prettier. But it wouldn't have looked like a legit kladdkaka. Because ladies and gentleman, this is how kladdkaka should look like. A sticky mess.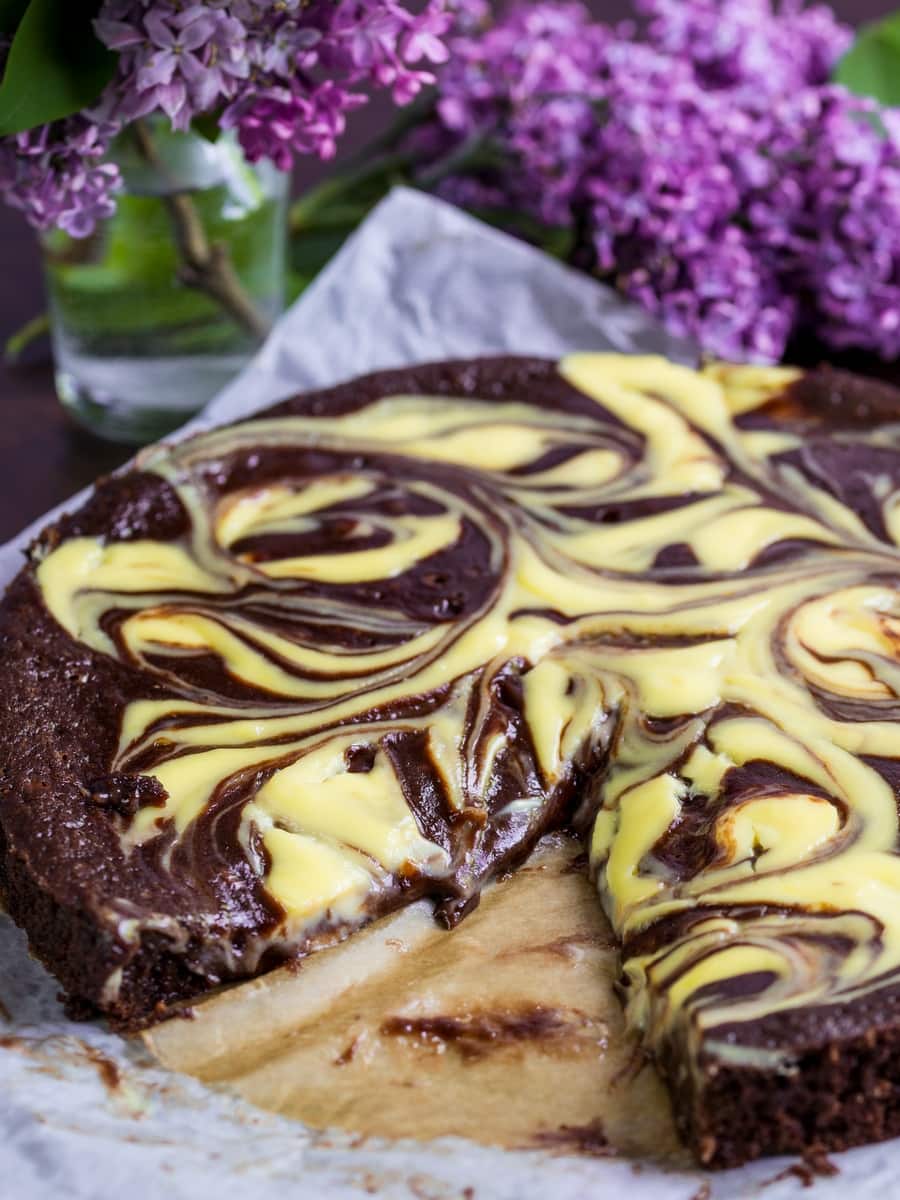 Cheesecake kladdkaka
A cheesecake swirl topping kladdkaka, the Swedish sticky cake. A gooey chocolate cake with a cream cheese twist.
Ingredients
150

g

butter

30

g

cocoa powder

(unsweetened)

220

g

sugar

4

eggs

220

g

flour

1

tsp

baking powder

150

g

cream cheese

1

tbsp

vanilla extract
Instructions
Melt the butter and stir in the cocoa powder. Set aside to cool. In another bowl, measure the flaour and baking powder; stir to combine.

Measure 220 g of sugar in a third bowl, and transfer 2 tbsp of sugar to a fourth bowl. Add 3 whole eggs to the bowl with the larger amount of sugar in. Crack the 4th egg and pour the white in the bowl with the other eggs, and add the yolk to the bowl containing 2 tbsp of sugar.

Lightly whisk the larger egg and sugar mixture with a fork. Pour in the cocoa and butter mixture and stir to combine. Add the flour mixture and fold with a rubber spatula. Pour kladdkaka batter into a springform pan lined with baking paper.

Add cream cheese and vanilla extract to the bowl with the egg yolk and 2 tbsp of sugar. Lightly whisk with a fork to combine. Pour dollops of cheesecake batter over the kladdkaka base and create the swirl pattern using the back of a fork.

Bake in the preheated oven at 150°C for 30 minutes. The cake should be wobbly in the centre when you take it out of the oven, having only the sides firmer.