There are flavours that we love from childhood, and flavours that we discover and learn to appreciate later in life. As a kid I used to eat pretty much everything and I am grateful to my family for exposing me to a wide array of foods and tastes from a young age. One food that I have always appreciated ever since I have memory is liver. This may sound bizarre, as it's not a typically child-friendly flavour, but I have always liked my portion of liver.
Chicken, rabbit or beef liver, I remember I have always liked them all. My favourite was my grandma's: fried in butter with a side of onions. Absolutely delicious. So for those of you who would like to try a childhood favourite of mine, here is the recipe to replicate what my grandma used to make me on mid-90s Polish summers.
Chicken livers with onion:
450 g chicken livers
5 tbsp flour
1 yellow onion
60 g butter
20 ml water
salt to taste
I go with chicken because it's cheaper and I found a good brand that sells good chicken livers here in Sweden. First of all, cut the onion in half rings. Melt 1/3 of the butter and stir-fry the onion in it. Keep the heat medium-low and let the onions get soft. After about 5 minutes, add the water to the onions, sprinkle with a pinch of salt and cover the pan with a lid. In the meantime, cut the livers if needed (I had a few of them that were slightly bigger and needed to halve them so they would approximately be the same size as other pieces in the package) and coat each of them in flour. Uncover the onions, add the rest of the butter, switch the heat to medium-high and add the floured chicken livers to the pan. Let them fry in the melted butter, turning them around every now and then to ensure they get properly cooked on all sides. Depending on the size of the liver chunks it may take 5 to 10 minutes to cook; in any case make sure to cook the meat thoroughly, as liver is not one thing you want to be eating raw.
My grandma used to not add any salt to the meat, only to add it at the end, when the cooked liver is served on the plate. I remember I used to love this freedom I was granted to add as much salt as I wanted (I've been a vivid appreciator of the use of salt since a young age). For the pictures in this post I chose to use salt flakes.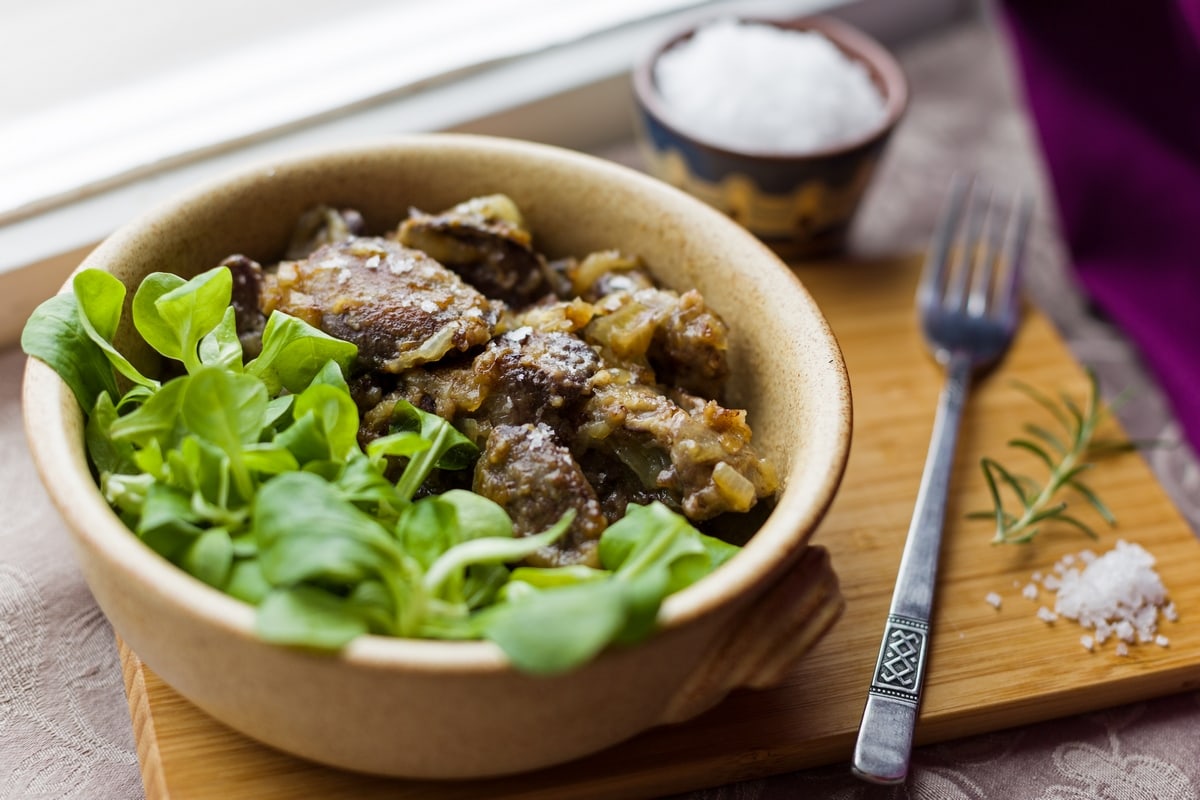 Liver fried in butter may not be the healthiest food option, but to me it is a once-in-a-while treat that reminds me of my childhood Polish summers and of my grandma. Grandma's food is supposed not to be too healthy and that's why we love it.