Peanut butter is one of those foods I have a strange relationship with. I can live without it for months and all is fine, until I start craving it and need to have it for breakfast on a daily basis for some time again. On toasted bread with jam it will forever remind me of my time in Canada (early into my stay I got a jar of home-made grape jam from a friend and having that with peanut butter on toasted English muffins had become my regular Canadian breakfast), so peanut butter is also one of those nostalgic flavours that remind me of the places where I have lived.
My first peanut butter and chocolate cupcake, though, was not eaten in Canada but in Poland, back when Cupcake Corner bakery (a favourite of mine) had open its first location in Krakow. The chocolate cupcake with peanut butter frosting is one of their signature cupcakes and also one of my go-to flavours to choose from when I visit.
Check out my review of Cupcake Corner and other favourite eateries in Krakow.
In an attempt to recreate this delicious goodness I decided to make a small batch of cupcakes for a quick afternoon treat. Trusted old chocolate cake topped with peanut butter cream cheese frosting. Baked in the muffin tin and frosted with a piping bag. Proper cupcake business. Switching back the clocks for daylight saving proved as traumatic as usual when on the following day the sun set at 16:00 and by 17:00 it was already pitch black. Around sundown I sliced some salami and poured two glasses of wine and treated my boyfriend and myself to aperitivo. My confused brain was all like "Sundown! Aperitivo time!". Then I realised how far we were from dinner time still. So I just gulped down a cupcake. Yes, after salami. The first week of winter is always the toughest.
The cupcake recipe is my regular chocolate cupcake batter, halved. I wanted to bake low, small cuppies in low paper liners to make something smaller than full-on regular sized cupcakes. Baked regular, the yield is half, so enough to get 6-8 cupcakes. Scroll further down for the peanut butter frosting recipe.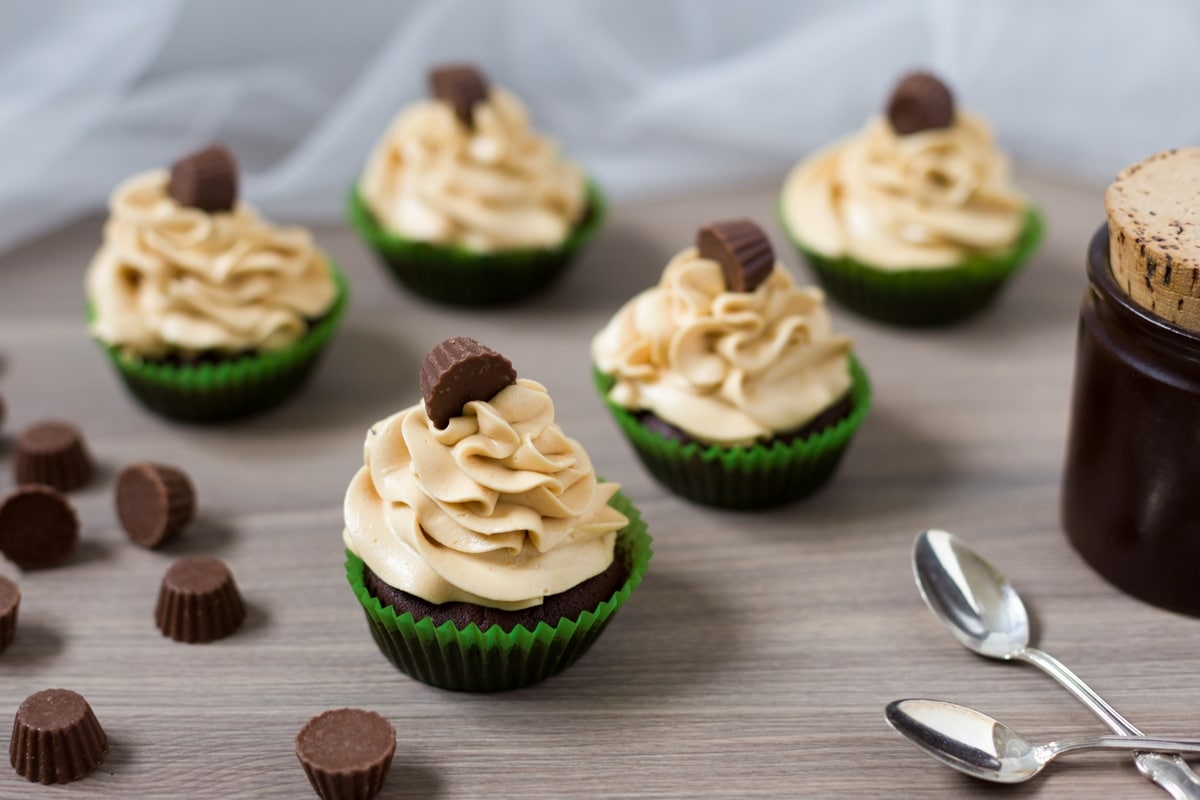 Chocolate cupcake recipe:
50 g flour
50 g cocoa powder
1/2 tsp baking powder
pinch of salt
90 g margarine
100 g sugar
1 egg
3 tbsp sour cream
In a bowl, combine flour, cocoa and baking powder (it works equally well with gluten free flour). In another bowl, mix sugar and margarine, which needs to be at room temperature, and cream them with a hand mixer. Then add the egg and combine it well, still mixing at medium speed. Next, add half of the flour mixture and combine well, mixing at low speed. Stop the mixer once combined and add the sour cream. In Sweden I use a dairy product called gräddfil, which I really like as it has a very subtle sour flavour and is 12% fat. Back in Poland I was using buttermilk, but I have also tried with fatter creme fraiche. Anything has worked in my experience, but now I'm pretty happy with gräddfil. Once combined, pour in the rest of the flour mixture and finish mixing until you get a rich thick batter. Line a muffin tin with paper liners and distribute the batter evenly. Bake at 170°C for about 20 minutes.
I let my cupcakes to sit overnight and frosted them the morning after, just before photographing them. I decided to make a cream cheese peanut butter frosting, as I like the combination of flavours that results when mixing cream cheese and peanut butter. I think that the cheese's sour note adds notably to the fullness of the peanut butter.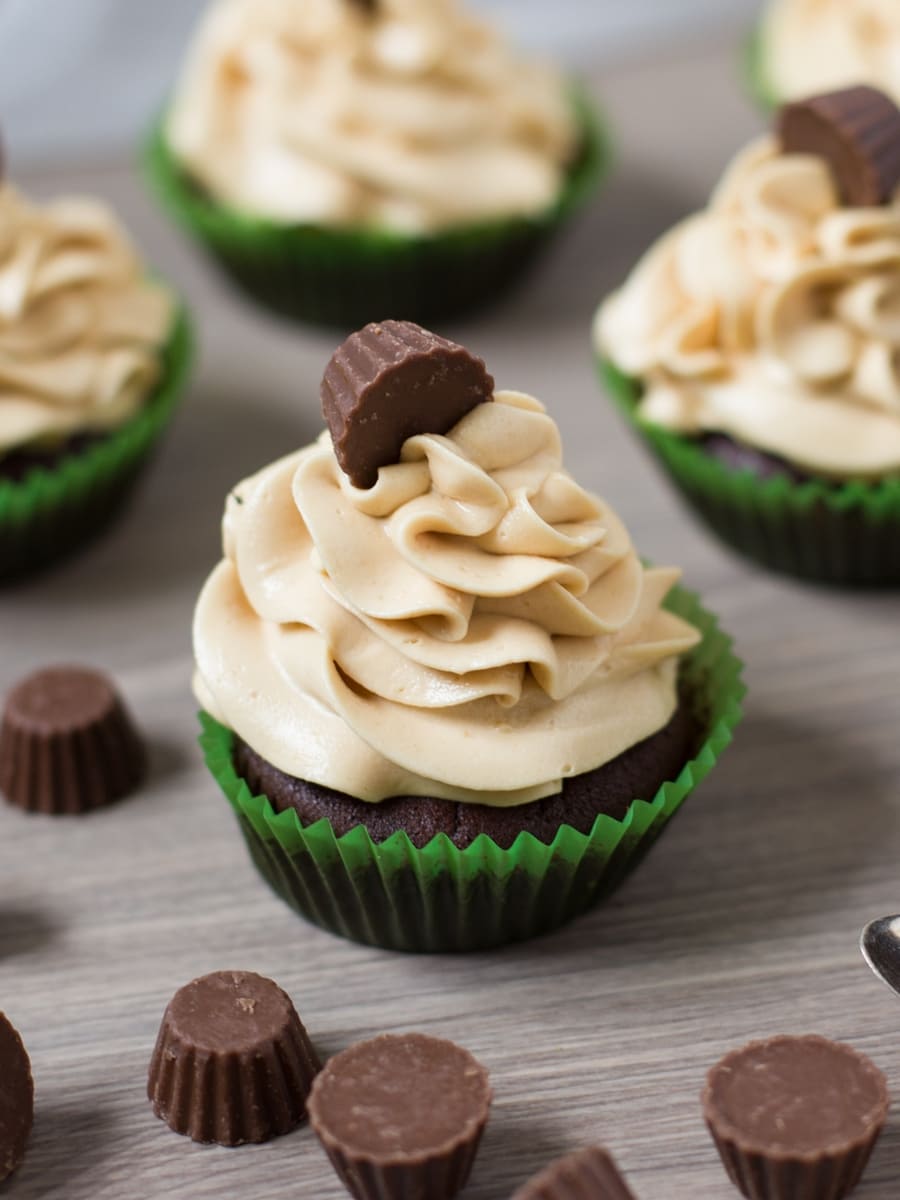 Peanut butter frosting:
80 g peanut butter
50 g unsalted butter (room temperature)
50 g icing sugar
30 g cream cheese
Combine butter and icing sugar and mix with a hand mixer. Once creamed, add the peanut butter and mix that in. Lastly, add the cream cheese always beating at low speed. Stop when all incorporated and smooth. This is a fairly small quantity that will frost about 6 cupcakes. For a regular batch of 12, double the amounts.
I have used the large star tip to make the regular swirl on my cupcakes, and topped them with a mini Reese's. In the end, it takes very little to make something perfect. Sometimes, you can even just go ahead and only make… half!
(Visited 71 times, 1 visits today)