I finally made macarons again. I had promised myself I would at some point, after my first batch, and kept this promise to myself vey true. So the past weekend I decided to embark on this adventure again. Home made macarons are a day-long adventure, so I needed a day filled with spare time to devote myself entirely to this task.
Just like the first time, I used my friend Sara's recipe, which I have described here. The only difference this time is that instead of purple food colouring I have added 10 g of unsweetened cocoa powder, and the filling is dark chocolate ganache.
To my surprise, I noticed that my first batch had come out much better. There was something about my new macarons that wouldn't quite click. I let them sit and dry properly before putting the first tray into the oven, but so many from that first batchcame out kinda slanted. Their peculiar "foot" had grown too big on one side.
Unsure about the oven, before putting in the second tray I checked the temperature with an oven thermometer. Just what I suspected: the temperature had been unstable and had made the macarons grow in a weird way as they baked. I let the temperature stabilise before putting the second batch in, and the outcome was a little bit better. Still, some of them had a strange foot, but they looked prettier. I moved into a new house a couple of months ago, so I have a new oven now. "New" to me, but older than the one I had before.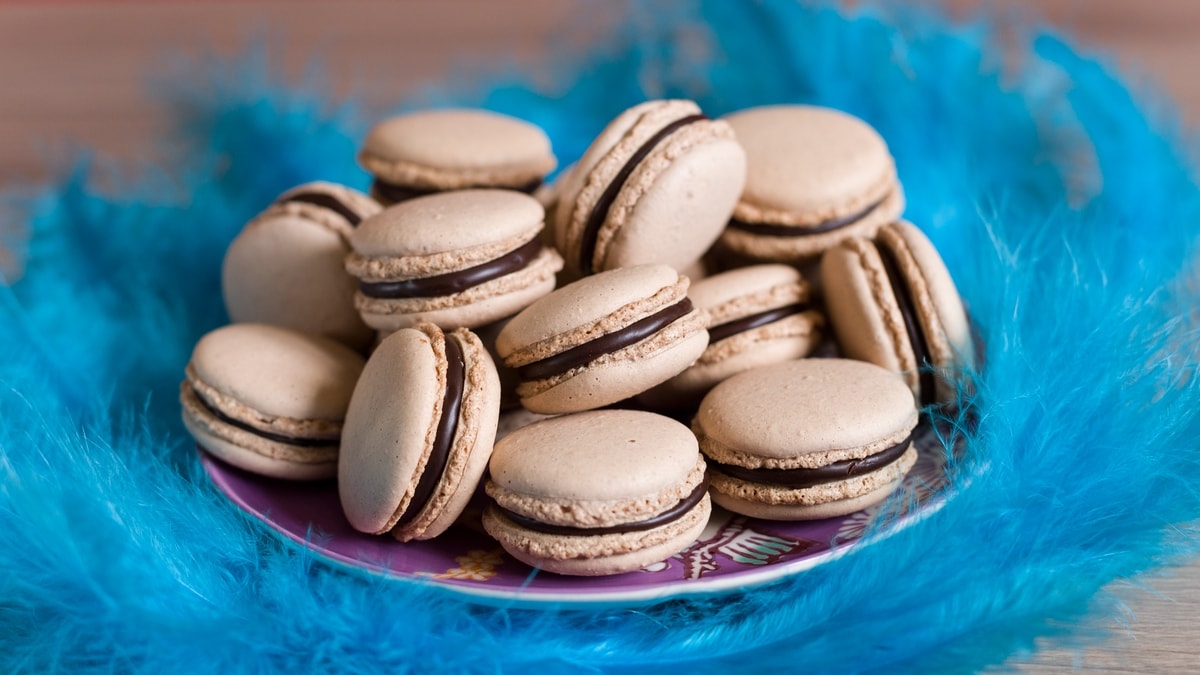 Coloured feathers are a typical Easter decoration in Sweden, and since I am slow at taking decorations away after a festivity has passed (once I put away my Christmas tree in March) I still had some feathers flying around the house. I thought they would look perfect next to my macarons!
So despite some minor oven issues and overmixing mistakes (oops I did it again) I was quite pleased with my macarons, again. I still believe that my very first ones had miraculously come out better, but I think that this second batch tasted better because of that touch of bitter that dark chocolate gave them, that helped nicely balance the extra sweetness of the macaron shells.
Still not my favourite treats, but I feel proud I've been able to make them again.
(Visited 56 times, 1 visits today)