What's not to love about cinnamon buns? They're the best! The wicked combination of cinnamon, butter and a yeast dough, and then all the icing one can add, and their smell when they come straight out of the oven… Oh I could write a whole post about my love for freshly baked cinnamon buns. Now imagine the same buttery smell, that decadent cinnamon filling, and picture this all in a loaf. A cinnamon sweet bread loaf, aka cinnamon buns baked in a loaf pan, aka a sweet bread loaf that tastes cinnamon buns. Need I say more?

I recently ventured into making sweet breads together with my mom, who literally obsessed over blueberry-filled buns, something she used to love a lot back in Poland. Blueberry season is in full swing right now in Sweden and my mom is going out for walks everyday, and everyday she comes back with a bucket full of the above-mentioned little fruits. After checking a few recipes to make the buns she had been dreaming of, we settled for a nice dough that opened up various other possibilities for us. Of course, we made more than one batch, to use up the fruits of her daily harvests.
As soon as we made the first batch of this dough, though (ha!), I started dreaming of paring it up with the traditional kanelbulle filling, something I learned while in Sweden.  That luscious buttery cinnamon spread you load your yeast dough with when you make cinnamon buns. But I wanted to do something different from the typical fika treats. What I had in mind was a loaf, rather than cinnamon rolls. A loaf of this soft yeasty dough flavoured with cinnamon and butter, just like Swedish kanelbullar. In a loaf pan. So we did.
Cinnamon sweet bread loaf recipe
400 g flour
1 1/2 tsp ground cinnamon
1/2 tsp ground cardamom
1/4 tsp salt
10 g yeast
200 ml cold milk
50g butter
70 g + 1 tsp sugar
1/4 tsp crushed vanilla bean
1 small egg
Combine flour, cinnamon and cardamom in a large bowl and set aside. Melt the butter in a small pot over low heat. In another container, combine yeast and 1 tsp of sugar and stir until the yeast liquefies. Once the butter has melted, remove the pot from the heat and add the cold milk, sugar, salt, vanilla and yeast mixture and lightly whisk it all by hand. Next, add the whole egg and whisk properly, then pour this into flour mixture and work it into a dough ball, adjusting the amount of flour if the dough is too sticky to handle. Cover the dough with a rag and let it rise for one hour in a warm room.
I actually left mine much longer, because shortly after making the dough I went fishing and came back several hours later. As it is with breads, the dough will love some extra time, so if you have time to spare just let it sit and rise for the whole afternoon.
The awesome cinnamon butter filling
80 g butter (room temperature)
50 g granulated sugar
3 tsp ground cinnamon
After the dough has been sitting and rising, flatten it into a rectangle, making sure that one side is the same size as your loaf pan. Combine the butter, sugar and cinnamon and stir thouroughly until a thick paste forms. Spread the filling evenly all over the flattened dough. Roll the dough and fit it onto the loaf pan (which I had previously greased with some of that room temperature butter). Clearly, roll it on the right side, keeping in mind it will have to fit the baking pan (to some people – like me – this may not seem too obvious before a failed attempt, this is why I'm just pointing it out). With a sharp knife, cut through the roll all over the middle, cover it and let it rise again for about half an hour. Since I wanted to make it kanelbulle-like, I also sprinkled some pearl sugar on the top.
Preheat the oven to 200°C and bake the loaf for 25 minutes. The inner layers of the roll will rise through the split-open top, creating a nice pattern. Also the inside will feature a nice swirly pattern from rolling the dough before placing it in the loaf pan. This cake is really pretty also when sliced and sort looks kanelbull-ish.
With a glass of milk on the side this loaf was heavenly. Tasty like a Swedish cinnamon roll and soft like a perfect sweet bread loaf. This cinnamon sweet bread loaf will easily become a favourite recipe of mine, one to make over and over again.
Pin for later reference: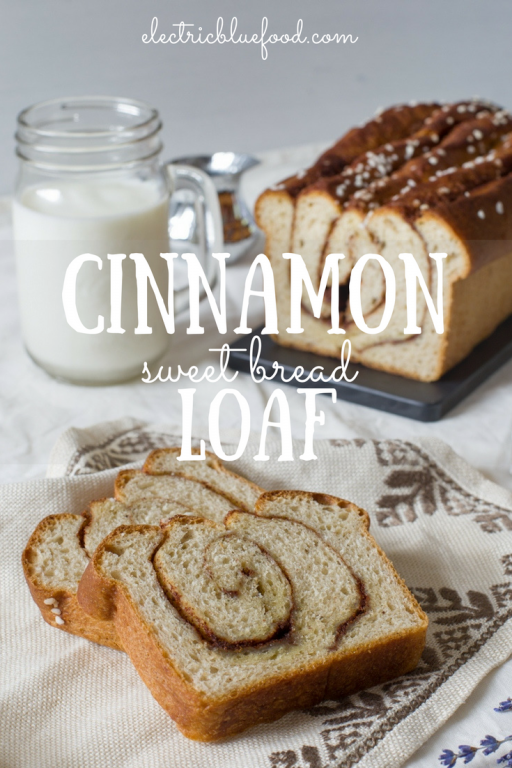 (Visited 134 times, 1 visits today)