Eggplant pasta bake is the only pasta bake recipe you need right now. A rich eggplant tomato sauce paired with your favourite pasta, drowned in bechamel and topped with crunchy parmesan. Bonus point: this is a small batch, so even if you're only cooking for yourself you have no excuses to eat takeout tonight! Here's my favourite of all eggplant pasta recipes. Seriously, if you only knew how easy this recipe is you'd make it every day!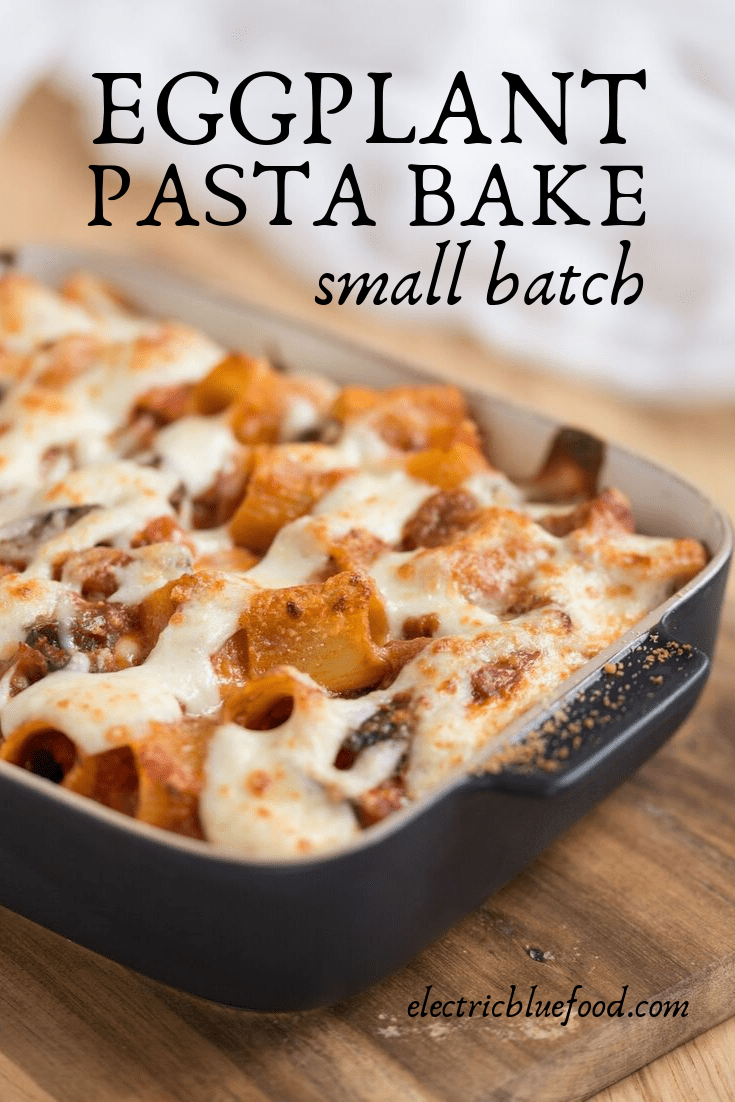 Beginner-level pasta dish
When I say that this recipe is easy, I mean student-easy. I swear this was my signature recipe when I moved out of my parent's house to go study abroad for the first time. All the friends I made back there knew about my baked pasta with eggplants. My eggplant pasta recipe even made it to the international student magazine, being my first recipe ever published! (Back then I had no idea one day I would give in to food blogging.)
Easy enough to suit a beginner home chef. As cheap as a student budget can allow. This eggplant pasta bake is a beginner-level pasta dish that tastes so good your guests may actually think you did put some culinary skills at work here. But if you're in for a night in and have no intention of sharing your culinary achievements, that's also a-okay because this recipe caters 2 portions max! Just double up the ingredients next time when you want to make a larger batch.
Eggplant pasta bake ingredients
A student-friendly pasta recipe could only feature a bunch of ingredients and require no fancy kitchen utensils, right? Right. So here's what you need in order to make this small batch eggplant pasta bake:
one eggplant
a can of chopped tomatoes
100 g of your favourite pasta type
40 g of parmesan
350 ml of milk
one heap tablespoon of flour
one tablespoon of butter
two tablespoons of olive oil
a dash of salt and oregano
That's it. I swear, that's it. We're talking 6 ingredients and 3 condiments here, and the result is a delicious Italian baked pasta dish. As for the equipment, you need a small casserole dish, those that are about half the size of regular ones. Don't have one? Get the disposable aluminium ones! (And then be nice to the planet and do like we did at the student house: wash it and reuse it because you're too cheap to dispose of perfectly reusable kitchenware!) The most advanced tool we need here is a whisk for the bechamel. Can you handle this?
How to make eggplant pasta bake
First, you take care of the eggplant pasta sauce. Warm up 2 tbsp of olive oil in a saucepan, dice the eggplant and add it to the pot. Sauté the eggplant for a couple of minutes on medium-low heat, then add the salt. Open your can of tomato sauce and pour it all in. Add oregano to taste, cover the pot and let simmer on low heat.
While the eggplant pasta sauce cooks, bring a pot of water to the boil. When it boils, add salt and your pasta of choice. Back in Oslo I swore by rotelle/ruote, but they are not the easiest to find. This time I used mezze maniche. Short and sturdy is recommend, avoid pasta that has a cooking time shorter than 8 minutes. Nope, no spaghetti.
What pasta type should I use then?
Here's the little secret that will make any pasta bake a success: drain your pasta when it's about 2/3 into its suggested cooking time. Uncooked pasta? Not really, rather half-cooked. Remember that we'll be chucking this pasta casserole in the oven in a moment. The pasta will finish its cooking time there. If you have a hard time accepting this, think no-boil lasagna sheets.
If you cook your pasta all the way, it will get too soft in the oven. Soft pasta is something that you'll never find anywhere in Italy. Not sure if even retirement homes serve it like that, senior Italians like their pasta al dente. To have a firm bite on your baked pasta, drain it when it's not fully cooked. This is why we're avoiding pasta that is too thin or has a short cooking time.
What happens next?
Your eggplant tomato sauce should be ready in about 20-25 minutes, check it from time to time and remove from the heat when it has thickened by reduction. In another saucepan, warm up the flour to lightly toast it, then add the butter and stir to make a roux. Add the milk and keep stirring until the mixture thickens. Add salt to taste, give it a last stir to dissolve and remove from the heat.
Now mix the half-cooked pasta together with the eggplant sauce and spread about 1/3 of it into a small casserole dish. Pour some bechamel all over then sprinkle some parmesan, then proceed with another 1/3 of pasta and repeat. Reserve a larger sprinkle of parmesan for the top layer. Place the casserole in the oven and bake at 200°C for 20 minutes. After that time, switch the oven to broil and leave the eggplant pasta in for 10 more minutes in order to brown the parmesan on top. Gloriously enjoy on your own, preferably with a glass of Piedmont wine.
Italian baked eggplant dish
This eggplant pasta recipe might have reminded you of an Italian classic. Eggplant parmigiana – or melanzane alla parmigiana – is one of the finest recipes in the Italian culinary tradition. Layered and baked like a lasagna, it's made of fried eggplants in a tomato sauce well seasoned throughout with loads of Parmigiano. It is hands down one of my favourite dishes, yet it's not something I make regularly. The biggest drawback for me personally is the frying business. Fried eggplants are 10.000 times tastier and I know it, but I belong to the grilled eggplants club.
Grilled eggplants make parmigiana di melanzane much lighter on the stomach, plus it rids you of the whole frying business which I personally do not enjoy. The whole kitchen smells and you're left with a lot of oil to dispose of. So I reserve the pleasure to eat proper parmigiana when I'm eating out, and make a healthier version at home. If I'm making parmigiana. Because 99% of the times I'll end up making eggplant pasta bake. And you should, too.
After the meal enjoy a cup of this delicious lemon sage herbal tea.
Spread the baked pasta love!
And cook more Italian for yourself and your friends. Catering for a larger party? Just double up the ingredients of this recipe and fit this amazing pasta bake in a regular casserole dish. To keep you in the mood, here are some other recipes you may want to try!
Broccoli pasta bake generously filled with yummy mozzarella and parmigiano, this may seriously help turn a broccoli hater into a broccoli lover
Authentic Bolognese sauce if you want to go for a meat sauce, instead, and make a pasta bake that tastes like lasagne
Leek lasagne if you still want to go for an Italian casserole dish but prefer to keep pasta out of the picture
Don't have a cute small casserole but planning on getting one soon? Pin this recipe for future use and buon appetito!
Eggplant pasta bake
Baked pasta casserole with eggplants, tomato, bechamel and parmigiano. Comfort food at its finest which also happens to be an easy and fairly cheap recipe. Small batch: enough for 1-2 people!
Ingredients
250

g

eggplant

2

tbsp

olive oil

400

g

chopped tomatoes

30

g

flour

15

g

butter

350

ml

milk

40

g

grated Parmigiano

100

g

pasta of choice

salt to taste

dried oregano
Instructions
Make the eggpant sauce: warm 2 tbsp of olive oil in a saucepan. Dice the eggplant and add it to the oil. Sauté on medium-high heat for 3 minutes, always moving it around the pan. Lower the heat and add the chopped tomatoes. Add salt and oregano to taste, stir, cover and let simmer on low heat for 20-25 minutes.

Make the pasta: bring a pot of water to the boil, add salt and pasta and cook for about 2/3 of the recommended cooking time indicated on the pasta package. Drain and rinse the half-cooked pasta under cold water to stop the cooking. Set aside.

Make the bechamel sauce: in a smaller saucepan, toast the flour on medium heat for a couple of minutes. Add the butter and whisk to make a roux. When the butter and flour are combined, add the cold milk and stir to dissolve all lumps. Add salt to taste and bring to a boil, then remove from the heat.

Assemble the pasta dish. Combine the cooked pasta and eggplant sauce and spread 1/3 of it on the bottom of a casserole dish. Add 1/3 of the bechamel sauce and a sprinkle of parmesan cheese. Keep working in batches, in order to make sure there is bechamel and parmigiano all over the dish, working in layers. Top with more parmigiano on the top layer.

Bake in the preheated oven at 200°C for 20 minutes, then switch to broil and leave for an additional 10 minutes to nicely finish the top layer.
(Visited 2,935 times, 1 visits today)