Swedish ginger thins are a true staple of the Swedish Christmas. Made worldwide famous by Ikea, pepparkakor (as they're known in Swedish) are thin spiced cookies that are wonderfully crispy. Kept safe from humidity they preserve their crispiness for a few weeks, so they are a great make-ahead Christmas cookie.
Ikea has various merits, and one of them is to spread Swedish delicacies around the world. The famous Swedish meatballs, of course. But the Swedish ginger thins are no exception. You may have encountered them in cardboard boxes or in round tins, they are usually flower shaped and you probably know them as Annas Swedish thins. Ring a bell now?
If this year you want to make the famous Ikea cookies at home, here's my Swedish ginger thins recipe. It has been developed following a true original Swedish recipe, but it has been scaled down to make about 2 trays. These ginger cookies are perfect to serve your guests or as a small homemade gift for Christmas.
How to make the ginger thins
Making the Swedish ginger thins is a rather simple task. If you have a food processor, all you gotta do is combine all the ingredients together and blitz until a dough ball forms. Otherwise you can start working the flour and butter with your hands and then add the rest of the ingredients and knead until you have your dough.
What gives the Swedish gingerbread biscuits their distinctive flavour is a combination of spices and the use of both sugar and syrup. More about some of them after the ingredient list:
Flour 
Butter 
Brown sugar
Syrup
Ginger
Cinnamon
Cloves
Baking powder (not obligatory)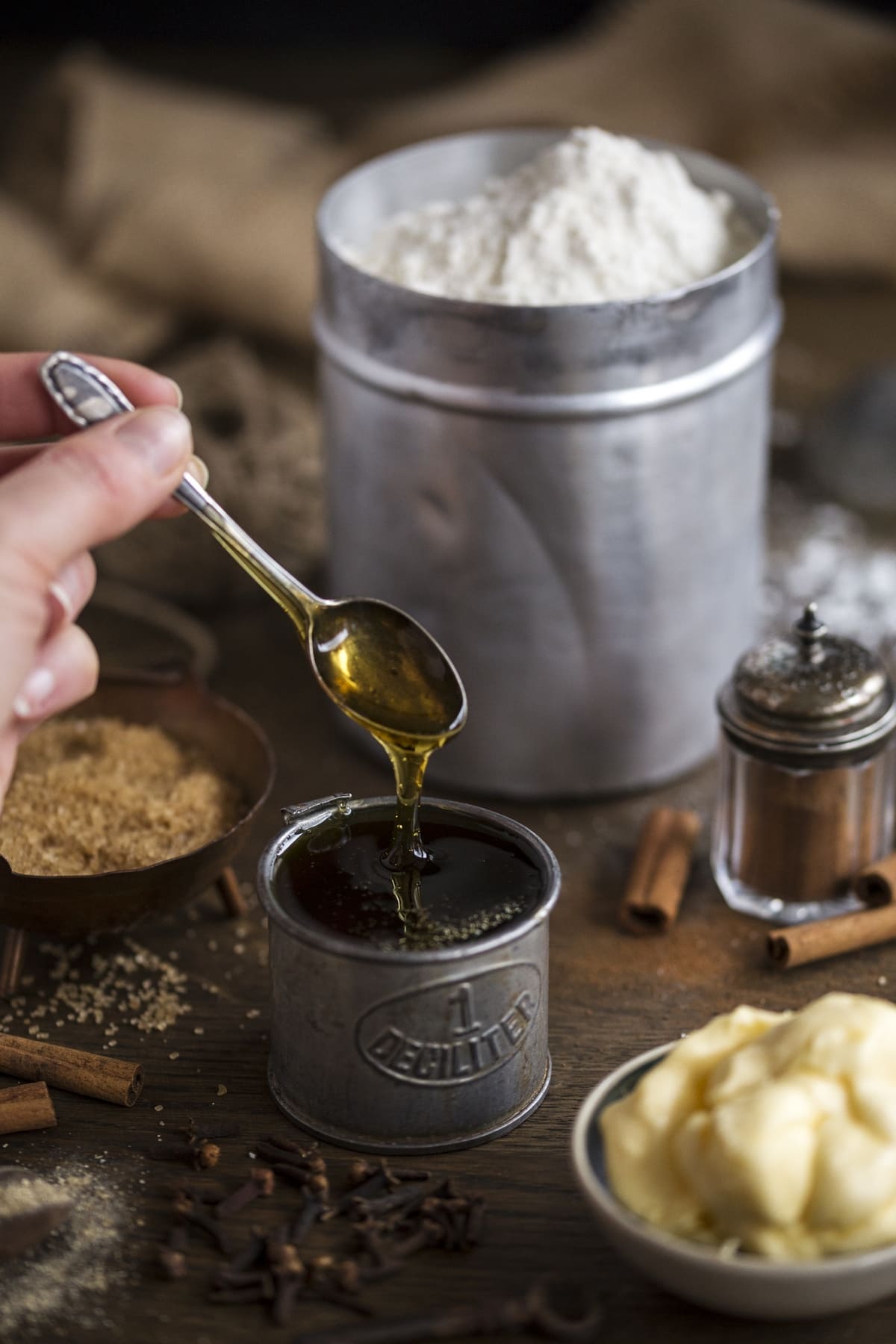 The syrup used in Swedish baking is called light syrup and is made from the sugar beet like white granulated sugar. Golden syrup (from the sugar cane), maple syrup, corn syrup, liquid honey or date molasses are all viable alternatives. The use of one syrup over the other will change the colour of the dough. In the photo above you see the colour of beet sugar light syrup, but in the dough I have used date syrup (date molasses), hence the rather dark colour.
The spices are to be intended ground, all three of them. While you can choose your syrup of choice, these spices are non-negotiable. It's these three together that make pepparkakor.
The butter should be preferred lightly salted, if available. Since these ginger cookies have no eggs, swap the butter for plant-based margarine to make the cookies vegan and allergy-friendly.
The baking powder can be omitted. The cookies will have a slightly harder bite, which I personally prefer.
Baking the cookies
Make sure the dough is cold before rolling it out. This is particularly important if you have worked the dough with your hands: the warmth of your hands may make the dough too sticky. Wrap the dough in cling film or baking paper and chill it in the fridge for about a half hour before rolling it out.
Roll out the dough on a floured surface to a thickness of 1 mm – they're ginger thins indeed! Cut out the cookies using your favourite cutters. Heart-shaped ginger thins are probably the most common among commercial pepparkakor, but homemade Swedish cookies include such shapes as pigs and goats. I've made a few of those, but used my snowflake cutter for the majority of them.
Set cookies on an oven tray lined with baking paper and bake at 190°C (375°F) for 7-8 minutes. Thicker cookies may require a minute more. I do not recommend making them thinner than 1 mm or they may burn too easily.
Remove the cookies immediately from the hot oven tray as soon as they come out of the oven. Transfer the cookies to a wire rack and let them air dry for about half an hour. This will ensure perfect crispiness.
Swedish Christmas cookies
No Swedish Christmas is complete without a ginger thin or two. In fact, the Christmas period in Sweden stretches out throughout all of Advent. That is when lots of restaurants offer Christmas buffet food. A very common way to start the festive meal is with a ginger thin and a small cup of glögg, a mulled hot drink that can be alcoholic or not.
Even if you don't participate in any such buffet, it is still pretty common to be served gingerbread cookies during that time of the year. Everyone bakes pepparkakor in December. In fact, gingerbread baking is one of the top activities for families on Advent weekends. Many bake walls and roofs out of the delicious spiced dough, for their children to assemble. Gigerbread houses are serious business around here.
The famous ginger thins are commercially sold year round, but it's only during Advent that stores sell packaged dough for the part-time home-bakers that want freshly baked gingerbread. I swear Swedish houses smell amazing in December! On a baking craze? Try making cinnamon roll cookies, too!
Ginger thins as Christmas tree ornaments
You can also use your gingerbread cookies as ornaments to put on your Christmas tree! To do that, remember to pierce a hole through them before baking. Keep in mind that the hole will shrink as the cookie bakes, so make it larger than the ribbon/twine you're to use. To pierce mine I have used the pointy end of a chopstick, as a toothpick would have delivered a hole too thin.
Let the cookies cool completely before adding the thread and placing them on your Christmas tree. It's already up, isn't it? Mine sure is – I love my Christmas tree!
I have associated the Swedish ginger thins with Christmas long before life brought me to Sweden. It's only Ikea to blame, as buying a tin of Ikea ginger thins had become a Christmas thing ever since Ikea opened in my hometown back in Italy. What kind of cookies resonate with Christmas to you? Let me know in the comments!
This recipe was originally published in December 2015 and has been updated in November 2020.
Swedish ginger thins Pepparkakor
Crispy ginger thins pepparkakor are traditional Swedish Christmas cookies. Made famous by Ikea, they are delicious and can also work as cute Christmas decorations!
Equipment
Food processor

Rolling pin

Cookie cutters

Angled spatula

Cookie tray
Ingredients
160

g

flour

60

g

butter

cold, cubed

50

g

brown sugar

90

g

syrup

3/4

tsp

cinnamon

ground

3/4

tsp

ginger

ground

1/4

tsp

cloves

ground

1/2

tsp

baking powder

optional
Instructions
Combine all ingredients in a food processor and blitz until the dough forms and gathers into a ball.

Wrap the dough in cling film or baking paper and chill in the fridge for 30 minutes.

Roll out the dough on a well floured surface to 1 mm thick. Cut out the cookies and using an angled spatula transfer them to a cookie tray lined with baking paper.

Bake at 190°C (375°F) for about 8 minutes - thicker cookies may require one more minute. Remove the cookies from the hot tray and transfer to a wire rack to finish drying out as they cool off.
Notes
Keep the cookies airtight and they will stay crispy for a couple of weeks.
If you don't have a food processor, start working the flour and butter with your hands and then add the rest of the ingredients and knead until you have your dough.
Baking powder can be omitted; the cookies will have a slightly harder bite.
Nutrition Facts
Swedish ginger thins Pepparkakor
Amount Per Serving
Calories 375
Calories from Fat 117
% Daily Value*
Fat 13g20%
Cholesterol 32mg11%
Sodium 173mg8%
Potassium 59mg2%
Carbohydrates 61g20%
Protein 4g8%
Vitamin A 375IU8%
Calcium 59mg6%
Iron 2mg11%
* Percent Daily Values are based on a 2000 calorie diet.
(Visited 14,659 times, 13 visits today)