It seems that I've mostly been baking sweets lately and this, in fact, is not too far from the truth. My latest creations were Halloween-themed cupcakes I made for a meeting with my fellow university bloggers. Although I am not blogging anymore for the university like I was last year, I still consider myself one of the bloggers and I love to meet up with the others. The blogger meetings used to be one of my favourite occurrences last year, and I call myself lucky I can still be part of them.
So for the latest blogger meeting we hosted a fika in one of the common rooms in my student house and I offered to provide cupcakes for the occasion. We had a similar meeting last year, and I was looking forward to serving my own cupcakes to the new bloggers. Since we were set to meet in the same week as Halloween, our coordinator asked me to make Halloween-themes cupcakes. Last year at the beginning of November together with two friends I had baked and decorated some Halloween cupcakes, but we had encountered a minor issue with runny icing and bleeding layers of colours. The idea and design had been good, but the unreliable ingredients we used turned our efforts into half-failures. So this year I tried again with a more trusted type for my frosting and recreated the same design I had made last year.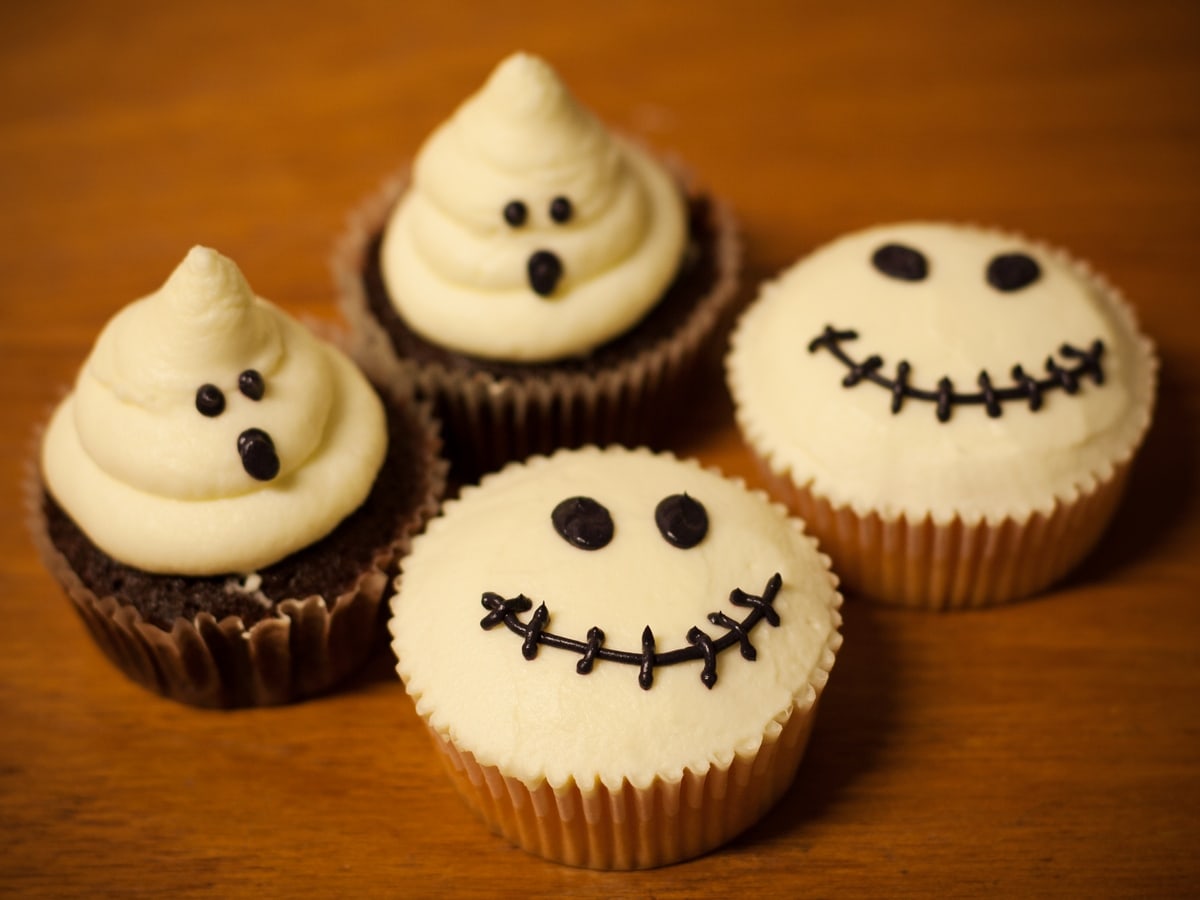 I made two types of cupcakes, both featuring cream cheese frosting, as white is the main colour in both decorations. Half of them have a thin layer of frosting and the traits of a sort of Jack Skellington-like face made with black buttercream. The other half featured a ghost made of a frosting swirl, also decorated with black buttercream.
Since one of the bloggers is gluten intolerant, all the cupcakes were made with gluten free flour. For the sake of variety, I made two types of cakes. The swirl-ghosts feature a cocoa batter, which is the same I used in this cake, only with gluten free flour. The other cupcakes are muffins, which I evened out cutting out the round top, in order to have them nice and flat. I also added some red and yellow food colouring to the batter, so that they would turn out orange.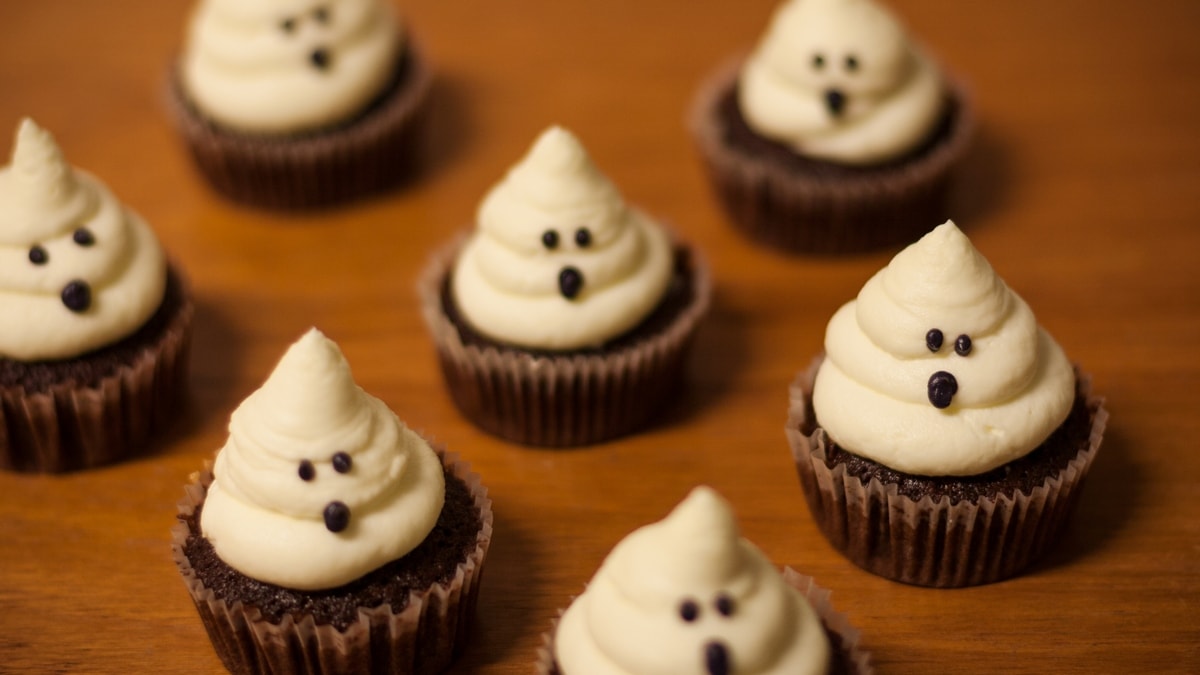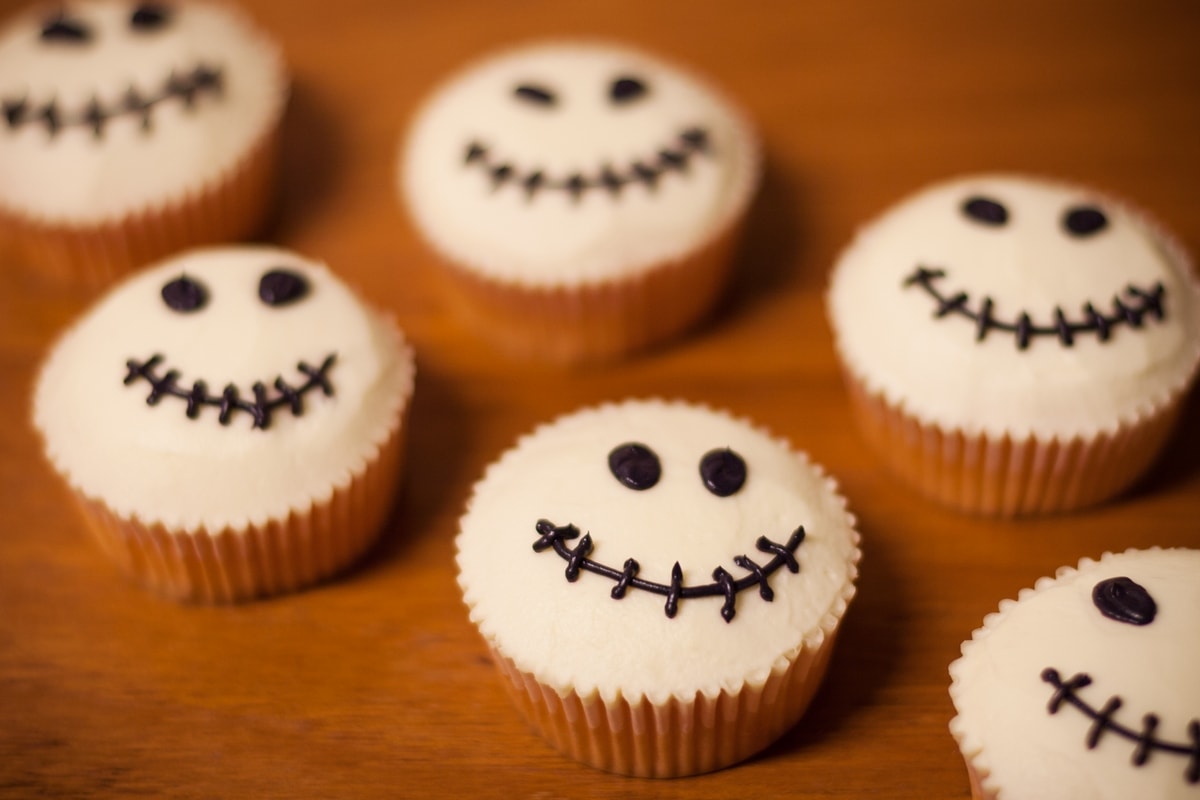 With the leftovers of the orange muffin batter I made three "pumpkins" in my mini Bundt cake pan. Muffins grow a nice round top, so when I flipped them once they were baked they looked quite round and resembled actual pumpkins! To cover the typical hole that Bundt cakes feature, I placed a piece of cake dipped in chocolate ganache to fake a sort of stem, and added a leaf and vine made with green buttercream as a finishing touch.
With the cocoa cupcake batter I also made a coffin-shaped cake which was perfect for the occasion. I bought it last January for only 1€, and patiently waited almost 10 months to finally get to use it. It's that type of things that you get to use very rarely, but those few times they prove just perfect. I covered my coffin-shaped cake with dark chocolate ganache and piped "RIP" with cream cheese frosting.
My Halloween cupcakes were a success and my fellow bloggers really liked them. It's always a pleasure to meet up with them and when I get to offer them my own baked goods I'm twice as pleased.