Hot Italian summer, 37°C in the shade, a birthday coming up. This calls for a cake that is both refreshing and easy to make in such temperatures. Something that is good straight out of the fridge, not too heavy in taste, and by request containing no fruits. "Okay," I think, "Challenge accepted". My mind formulates two thoughts: cheesecake and mousse. What I eventually come up with is a crossover of the two: a ricotta-based hazelnut mousse inspired by a no-bake cheesecake recipe I found on the internet.
The original recipe can be found here, but I have made a couple of variations. The version reported in this post is not the exact translation of this recipe, as I have made some minor changes in the ingredients and procedure. Nevertheless, full credits for the inspiration go to the author of the ricotta cheesecake linked above. So here's my ricotta-based cake, revisited.
Serves about 6-8 people.
150 g Digestive biscuits
50 g butter
50 g dark chocolate
5 tbsp chopped hazelnuts
250 g ricotta cheese
200 ml heavy cream
100 g gianduja chocolate
50 g granulated sugar
3 g gelatin sheets (1 1/2 sheets)
Crush the biscuits and dark chocolate, add 2 tbs of chopped hazelnuts. Melt the butter and add to the mixture. Press evenly to the bottom of a cake pan (with removable bottom) and let it sit in the fridge. Soak the gelatin sheets in water, warm up 50 ml of heavy cream and stir in the soaked gelatin. In a pan over simmering water, melt the gianduja chocolate and let cool. In a separate bowl, cream ricotta and sugar until fluffy. Set aside until both the gelatin mix and the melted chocolate reach room temperature. Only then, in another bowl, start whipping the rest of the cream, but stop before it gets stiff – you will have to incorporate it to the other mixture by whisking, so in order not to overmix it, it needs to be half done. Pour the melted gianduja and gelatin mix into the ricotta mix and stir with a hand whisk. Lastly, incorporate the half done whipped cream and keep whisking by hand until the whole mixture is nicely blended and stiffer – this last hand whisking will have completed the whipping of the cream. Again, do not overmix (especially if you are preparing it in the hot spell of the Italian summer… ahem). Transfer this mixture into the pan, sprinkle with remaining hazelnuts and leave in the fridge overnight. Comes out nice in an 18-20 cm round cake pan.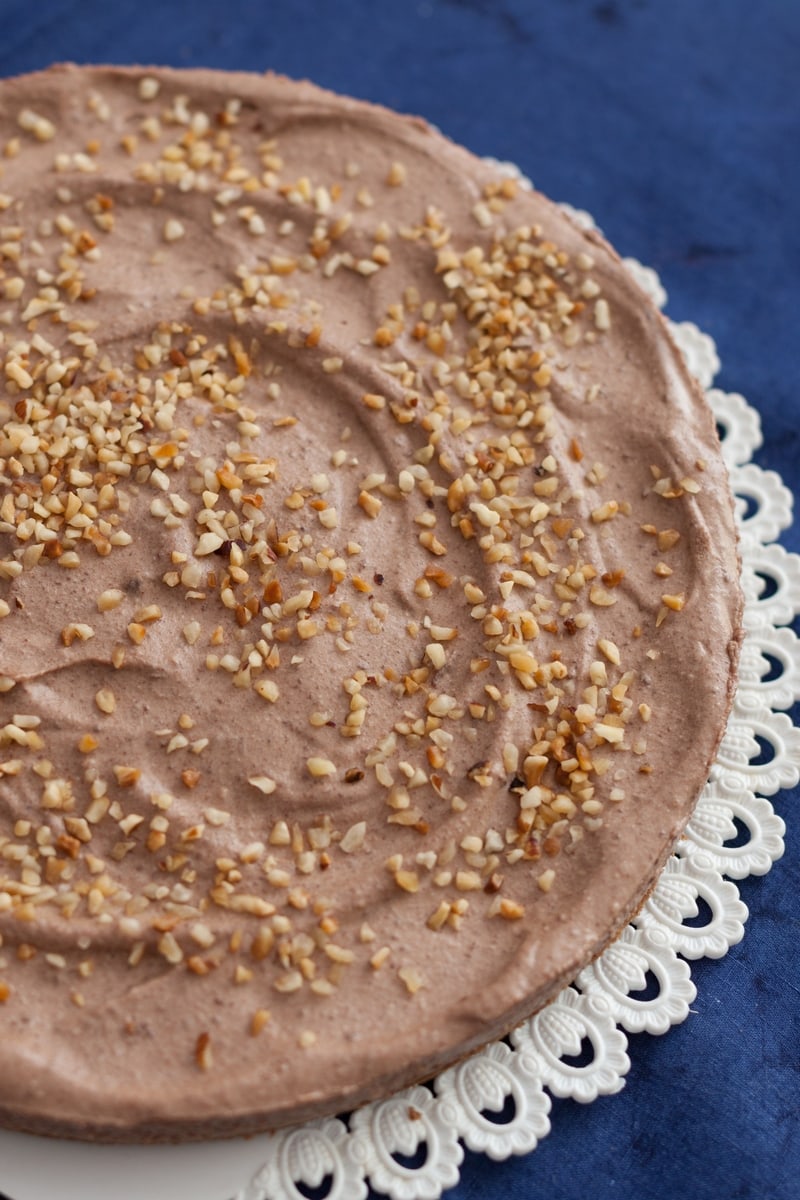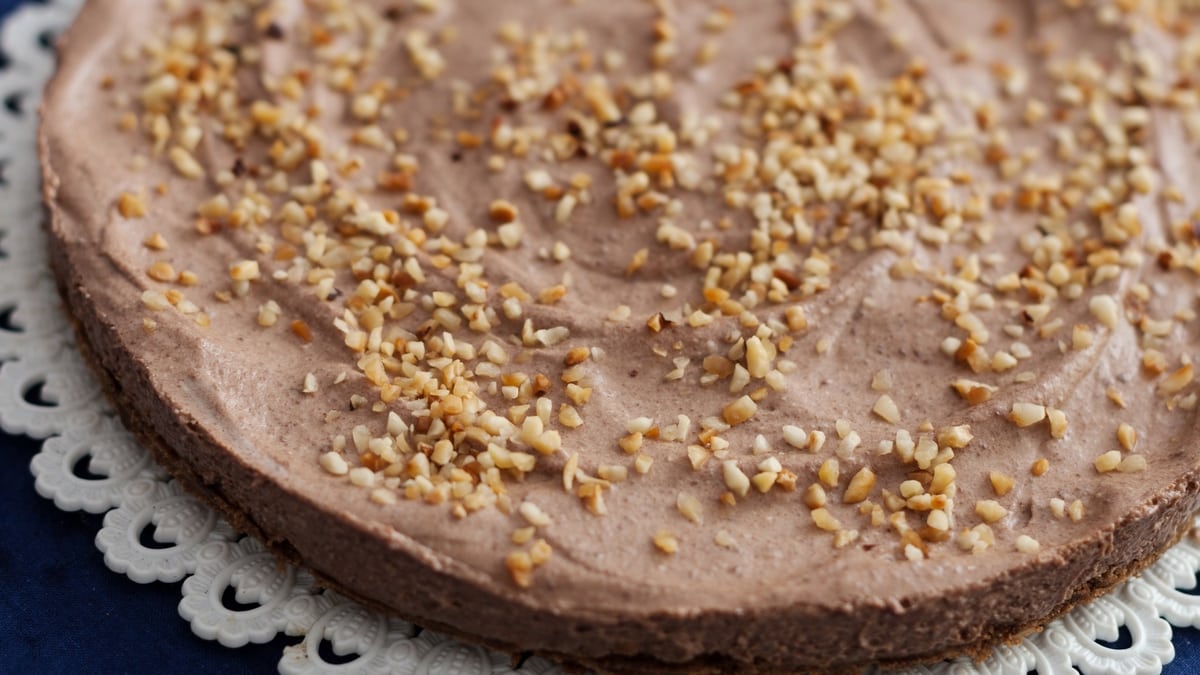 This cake is really nice this low, and served really cold – could as well be placed in the freezer for half an hour before serving, so that it's even colder and firmer. This whole business of half whipping the cream and adding it half done to the final mixture was an extra precaution I took since I was preparing this cake in the heatwave. The original recipe called for whipped cream that had to be folded into the final mixture. The exaggerated temperature I was working in made me fail the first batch of whipped cream I prepared for the cake, so my second take was more careful. Afraid that the heavy cream would separate again, I preferred to finish whipping only after combining it to the rest. This extra whipping motion incorporated more air into the final mixture, thus making it even lighter and giving it an airy texture, more like a mousse rather than a compact cheesecake. As for the choice of chocolate, since I wanted the cake to taste of hazelnut, gianduja was the perfect choice. I must admit that making it in Italy, it was easy for me to find this ingredient, but the same result can be achieved substituting the gianduja bar with any hazelnut spread like Nutella. Hazelnut spread is actually something I used to give this cake a final touch when serving it.
Lovingly scented of hazelnuts, with ricotta playing a wonderfully neutral role in taste, so that it never overcomes the chocolate and hazelnuts, and a pleasant mousse texture combined with a rich buttery bottom. Served fridge-cold this cake is a win on a hot summer day!
(Visited 45 times, 1 visits today)