Honey and hazelnut come together with whipped egg whites in these irresistible gluten free hazelnut cookies. The perfect cookie recipe to whip up when you have egg white leftovers, these honey hazelnut meringue cookies are sweetened with pure honey and are naturally gluten free!
These chewy honey hazelnut meringue cookies are made with only 3 ingredients. They're not the one-bowl kind of three-ingredient cookies, though. They are meringue based, so there is some egg white whipping that needs to be done here. But if you don't feel intimidated by this, you'll be rewarded with delicious chewy cookies that taste like honey and hazelnut!
The inspiration behind these hazelnut meringue cookies comes from something between French macarons and an Italian cookie called "brut e bon", which in most northern Italian dialects translates as "ugly but good".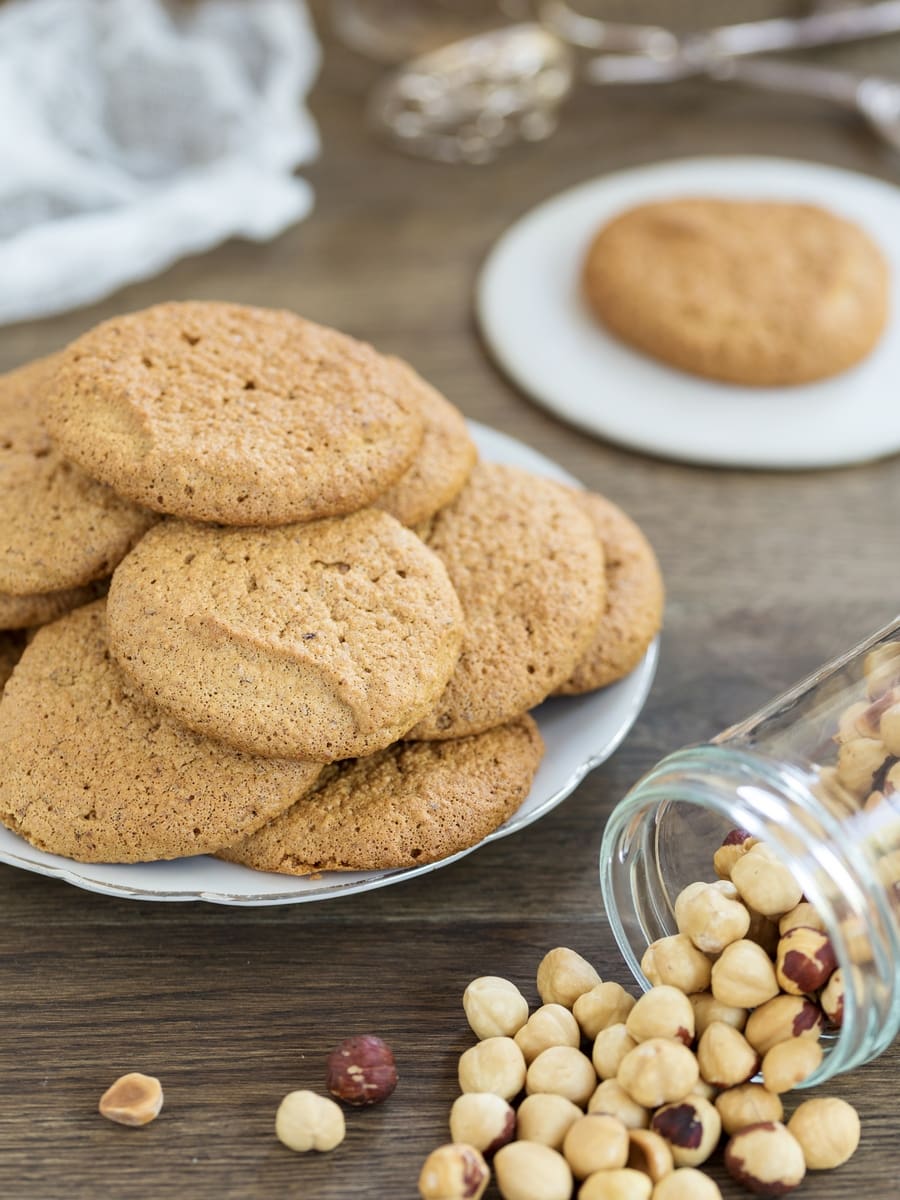 Italian hazelnut meringue cookies
To make ugly but good Italian cookies you first need to make a meringue, then fold in coarsely crushed hazelnuts and heat this mixture over a double boiler. Then you scoop this batter up and drop it onto a baking pan to form these meringue cookies. The coarsely ground hazelnuts give the end product an irregular surface which is what makes them ugly, but good.
These honey hazelnut meringue cookies are something similar, but to our Italian meringue (that is made with honey rather than syrup, more on this follows) we are folding in finely ground hazelnut meal. The result is a batter that resembles that of macarons. Our hazelnut meal meringue cookies double up in size as they bake, just like regular cookies. They are chewy, they have a texture that reminds of macarons minus the crisp, they have this intense honey flavour and they are naturally gluten free. So much awesomeness.
Honey hazelnut meringue cookies ingredients
Egg whites – this is the perfect recipe to make when you have egg white leftovers. And this happens a lot in my house, got a lot of use for yolks and always end up with a jar of egg whites in the fridge. Can't make macarons all the time, right?
Hazelnut meal – better from toasted hazelnuts, if possible. If you can't find ground toasted hazelnuts, make your own hazelnut meal in a food processor! Blitz until fine but stop before they turn to a paste. You don't want to make Nutella, do you?
Honey – this is the sweetener used in this recipe. Any kind of honey will do, and it will get heated so even if it's not liquid from the beginning, you will melt it before using it. For best results choose a mild flavoured honey, like acacia.
A description of the steps to follow to make these honey hazelnut meringue cookies follows. Please refer to the recipe card below for quantities.
Make honey Italian meringue
Italian meringue is made by adding hot syrup to whipped egg whites. This makes for a thick stable meringue, while also cooking up the raw egg whites making them safer for consumption if not going ahead and baking the meringue.
In this recipe we are using honey as sweetener instead of sugar. Various types of honey can have different levels of viscosity, but heating will loosen it up. In this recipe I have used liquid honey, and it became much more runny when I brought it to a boil. This will happen to all types of honey, as heat will dissolve its crystals.
Just as if we were using sugar, we want to bring our honey to 115°C (240°F) before adding it to the egg whites. Pour the honey in a small saucepan and set it on medium heat. In the meantime, start beating the egg whites. The egg whites need to get to hard peaks before you add the honey, and that takes around 3-4 minutes at medium-high speed. It is very important that you never stop the mixer, so if the thermometer is already showing that the honey has reached the desired temperature, turn off the heat and keep beating the whites until you get to stiff peaks.
When the eggs are whipped to hard peaks, always mixing pour the hot honey in a slow continuous stream. The addition of the hot syrup will heat up the egg whites and the bowl will feel warm. Keep mixing for another 10 minutes at medium speed. The mixture will get thick and glossy. It will appear silky and with a pearly glow.
Hazelnut meringue cookies procedure
Now that your honey meringue is ready, it's time to fold in the hazelnut meal. I recommend to work in batches, rather than adding all of it in one go. Italian meringue is firm and stable, but you still don't want to knock too much air out of it by adding an excessive weight upon it. Fold in all of the hazelnut meal until you have a homogeneous mixture.
Have a cookie tray lined with baking paper and with the help of 2 spoons divide the batter over the surface of the tray. The easiest way to do so is by scooping up one spoonful of batter and pressing it down onto the cookie sheet with the other spoon. Make sure your meringue cookies are enough far apart as they will stretch out to nearly double their size as they bake. You want to prevent them from touching one another and merging.
Bake in the preheated oven at 150°C (300°F) for 24-25 minutes, or until golden brown and well-baked on the edges. Take the tray out of the oven and let the cookies rest on the hot tray for 5 minutes. While you would normally remove the cookies from the hot tray they've been baking on, in this case you want to leave them on a little longer. They need to firm up some before you can remove them from the baking paper.
Carefully remove the cookies from the parchment paper and transfer them to a cooling rack. They are soft and sticky, so be very gentle when you separate them from the paper. It's easier to peel the paper off from underneath them, rather than trying to lift the cookies off the paper.
These cookies may smell lightly burnt as they come out of the oven. This bitter hint comes from the heated toasted hazelnuts as well as from the caramelization that occurs. You may taste it when the cookies are warm, but it will disappear once they cool to room temperature.
Underbaking is rather tempting, as halfway through the baking time these honey hazelnut meringue cookies really look like fluffy meringues. This recipe does not work this way, and the cookies need to baked all the way in order to hold their shape. They are ultimately supposed to look like cookies, not like meringues. If your cookies feel too soft even after they have rested 5 minutes on the hot tray out of the oven, and you have trouble separating them from the paper, return them to the oven for a couple more minutes.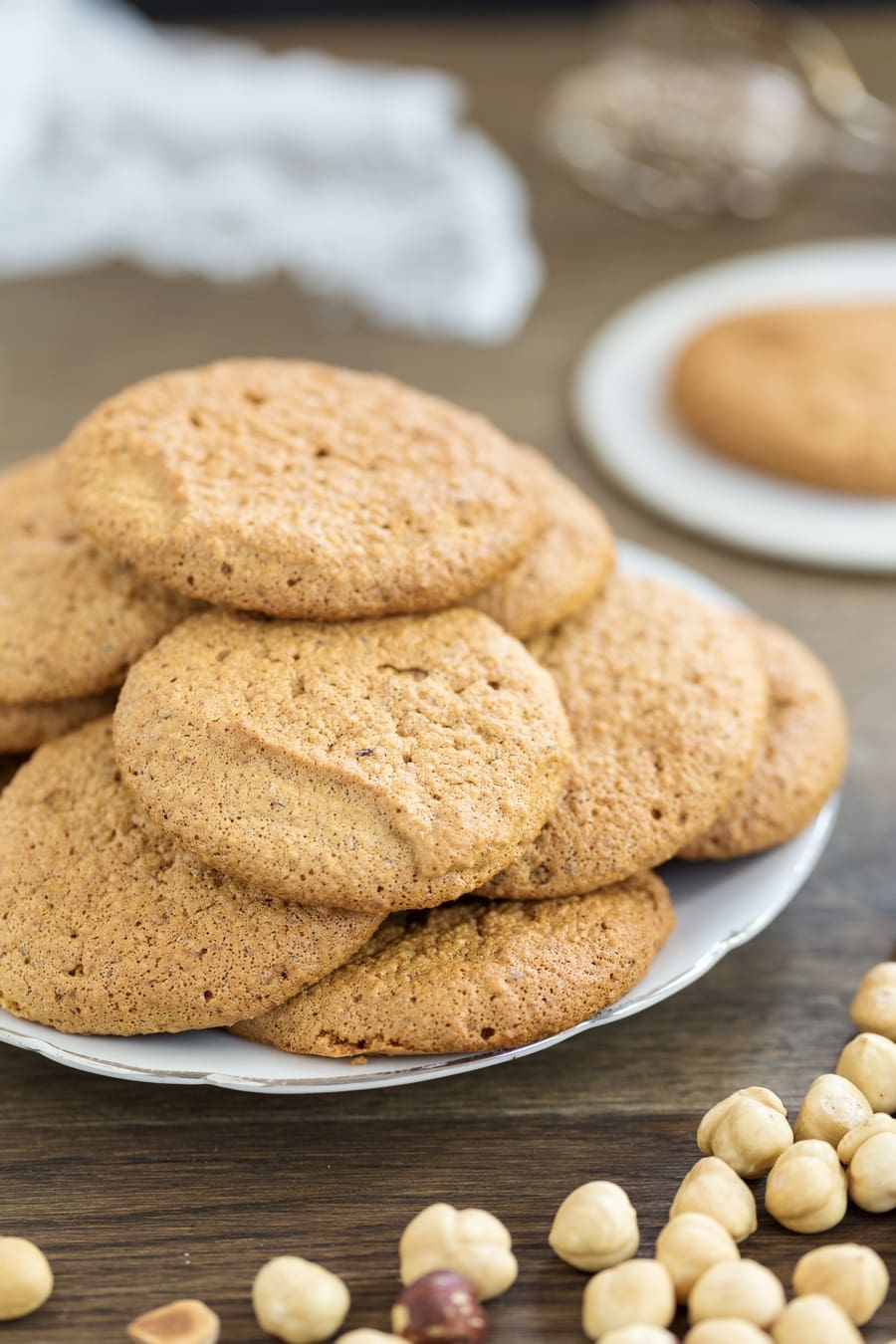 Storage tips
These honey hazelnut meringue cookies will be soft and sticky at room temperature. Although I have stacked them on a plate for the photos, stacking is not recommended. You can do it if you know that the cookies will be served and eaten immediately. Otherwise it's better to lay them out on a tray, and if stacking is necessary have parchment paper in between layers. Keep them in the fridge in an airtight container for up to a week.
Storing them in the fridge in an airtight container firms them up, so they will get a crispier bite while always retaining their chewy quality. I'm all for a crispy bite so I prefer them straight from the fridge. Honestly, a fridge-cold cookie is a pleasure in the summer! But of you want your sticky-honey-cookies to be completely soft and chewy just keep them at room temperature for an hour before serving.
You May Also Like
Honey hazelnut meringue cookies
Inspired by Italian hazelnut meringue cookies "brut e bon", these are made with honey instead of sugar. Gluten and refined sugar free.
Ingredients
2

egg whites

approx. 70 g

200

g

honey

200

g

hazelnut meal
Instructions
Pout the honey in a small pot and place on medium heat. Bring to a boil, and remove from the heat when it reaches 115°C (240°F).

In the meantime, beat the egg whites to stiff peaks, 3-4 min at medium-high speed.

When the honey has reached the desired temperature, pour it in a slow continuous stream into the egg whites always mixing. It is very important that you never stop mixing while incorporating the honey.

Beat the egg whites with the honey for about 10 more minutes, until glossy and thick.

Add the hazelnut meal in batches and fold it in until homogeneous.

Divide mixture onto a sheet pan lined with baking paper by dropping it by the spoonful and pushing it down with the second spoon. Leave enough space between them to allow them to expand (they double in size).

Bake in the preheated oven at 150°C (300°F) for 22-25 minutes, until golden brown.
Notes
It might be quite tempting to undebake them for a chewier cookie, but having no flour these cookies lack the structure to hold together underbaked. Baking them all the way will ensure that they don't fall apart but hold their shape. Even so, they will be chewy in the middle.
Nutrition Facts
Honey hazelnut meringue cookies
Amount Per Serving
Calories 478
Calories from Fat 270
% Daily Value*
Fat 30g46%
Sodium 27mg1%
Potassium 50mg1%
Carbohydrates 50g17%
Protein 9g18%
Vitamin C 2mg2%
Calcium 73mg7%
Iron 3mg17%
* Percent Daily Values are based on a 2000 calorie diet.
This recipe has been adapted from this Brut e Bon recipe (in Italian).
(Visited 1,148 times, 1 visits today)