Planning to spend 1 week in Ireland and Northern Ireland? If you have a car, here's a great road trip Ireland itinerary. 7 days in Ireland are quite a good amount of time to get a good glimpse of the beautiful Emerald Isle and get to taste some of its delicious food. This 7-day itinerary covers the island as a whole: Northern Ireland and the Republic of Ireland. Castles, cliffs, whiskey distilleries, full Irish breakfasts and lots of scenic roads. Here's a day by day description of my trip to Ireland to inspire your next getaway.

Ireland and Northern Ireland itinerary 7 days details
Stops and highlights along the road:
Dublin (arrive)
Belfast
Bushmills distillery
Giant's Causeway
Galway
Cliffs of Moher
Dingle peninsula
Midleton distillery
Rock of Cashel
Tullamore distillery
Dublin.
An Ireland itinerary with Northern Ireland
Our Ireland road trip started in Dublin, where we landed on a Monday. Being scheduled to fly back on the Monday of the following week, we had a solid week between our flights. In order to maximise our time we decided to rent a car at Dublin airport, so we could have it for the whole week. If travelling to Northern Ireland, make sure that the terms of the rental agreement do not limit the car to travelling only within the Republic of Ireland.
Many Ireland itineraries for 7 days do not include Northern Ireland. We had more than one reason to cross the border and include Northern Ireland in our itinerary. First and foremost, the beautiful capital city of Belfast is a must see. Historically relevant in Ireland's modern history, visiting Belfast is a great opportunity to learn more about Ireland and Northern Ireland's troubled times. Aside from its darker past, present-day Belfast is a vibrant capital that surprised us with pretty architecture, a friendly atmosphere and a lovely foodie scene.
The Giant's Causeway is the other magnificent attraction worth crossing the border into Northern Ireland for. The Giant's Causeway, Northern Ireland s most famous beach, located at the very far north of the island, is definitely worth a stop. I tend to always say I don't have a bucket list per se, but the Giant's Causeway was definitely among the places I want to see in my life. Furthermore, the Causeway Coast is home to some Game of Thrones filming locations which we wanted to check out on our itinerary.
Last but not least, my husband is a big whisk(e)y appreciator and I wanted to take him to see some distilleries. One of his favourite Irish whiskeys is Bushmills and the Old Bushmills Distillery is located in Northern Ireland. Irish whiskey is one of the most renowned products of Ireland, together with woollen sweaters and a popular brand of stout beer. As a foodie I felt like the least I could do when spending 1 week in Ireland was to familiarize with this precious distillate.
Our Ireland itinerary includes a stop at 3 Irish whiskey distilleries. Many distilleries offer guided tours, as well as tasting classes, and this sounded like a great way to enrich our Ireland experience. Do you know what's the difference between Irish whiskey and Scotch? Neither did I until I made my way to Ireland where I got to learn all about whiskey. To be completely honest I wasn't much of an appreciator of whiskey before my distillery tour. I guess I needed some guidance to learn to appreciate whiskey and the tasting classes I did in Ireland really opened my mind.
Read more about our Irish whiskey distilleries tour of Ireland.
Ireland itinerary 7 days breakdown
Day 1: Belfast and Ballygally Castle
We flew Norwegian to Dublin on a morning flight. We rented a car for the whole week at Dublin Airport and made our way directly to Northern Ireland. In order to save time, we hit the road immediately after picking up our car and made no lunch plans. We packed a sandwich, ate it just before getting in the car and drove off to Northern Ireland. The reason why we decided to skip lunch was also due to the fact that I had booked us for afternoon tea at Ballygally Castle on the Antrim Coast, so we needed to get there on time, and possibly with a big appetite.
This was, after all, the first time in the UK for both myself and my husband. What better way to celebrate than by having afternoon tea in a castle? Ballygally Castle lies on the Antrim Coast, about 40 minutes away from Belfast. Built in 1625 and nowadays serving as a hotel, Ballygally Castle has all the charm you expect such a building to have – including the rumoured presence of house ghosts.
Read more about our afternoon tea at Ballygally Castle and more foods in Northern Ireland.
Although not a Game of Thrones filming location, the Castle is home to Game of Thrones Door 9. When season 6 of the show was being released, Tourism Ireland unveiled a series of doors located all over Northern Ireland. The Castle also serves Game of Thrones themed meals and afternoon tea. Read more about the GoT doors here as well as on Ballygally Castle's own door.
Arriving a little earlier than our booked time, we took a walk on the beach in front of the castle. A peaceful sandy beach with gentle waves rolling in, it was the perfect location for some posed photos. At the time of this trip we had just announced our wedding and took this Ireland trip as an occasion to take some photos to use for our wedding invitation website. Since we dressed nicely for the afternoon tea, we don't sport fleece jackets and hiking pants on our travel photos for once.
Incredibly satisfied with the delicious food we got to enjoy during our afternoon tea, we drove back to Belfast. We checked in to our hostel and we were even able to score a free parking spot nearby. The sun was about to set so we left most of the exploration of the town to the following day and decided to give this first day a notable end by getting a pint at the Crown Liquor Saloon, a historical pub that dates back to 1885 and still has most of the original décor.
Day 2: Belfast and Bushmills
After grabbing a cup of the hostel's much appreciated free coffee, we went out to explore the centre of Belfast on foot. I had really counted on visiting St George's Market, but we happened to be in Belfast on the wrong day. The market operates only Friday to Sunday, so I needed to be happy with seeing it from the outside. So I decided to keep myself distracted with other food and went in for a traditional Northern Irish breakfast: the Ulster fry.
We didn't have much time on our hands so we got back to the hostel in time for checkout to collect our baggage and drove off to Shankill Road, an area of town that witnessed a lot of violence during the Troubles. There are a lot of murals depicting Northern Ireland's difficult history in this area. We didn't unfortunately have the time to join a guided tour. I read that they are great to educate oneself about the Troubles. We were aware of the history of the civil conflict in Northern Ireland, but I guess it is always valuable to talk to someone who's lived it.
We walked by the Bayardo Bar attack site. A man who is a volunteer at the site offered to explain briefly to us what had happened there. He said he knew one of the victims and this was his way to honour their memory. He offered to show us the way to the Peace Line on Cupar Way, so we followed him. As much as I had read about the war I did not expect the walls to be so high and still so very present. For once in my life I felt that photographing that place, in the presence of that kind man, felt inappropriate. We thanked our spontaneous guide and drove away, towards Belfast Castle.
An unplanned stop along our way, we decided to include Belfast Castle in our itinerary as it was literally on our way out of town. Admission to some rooms is free, and the Castle has a lovely garden with a nice view over the town. We just spent about 15 minutes there, then kept driving. We needed to get to Bushmills for our first distillery visit. But not before making another stop along the way at the Dark Hedges.
Game of Thrones fans will certainly recognize this filming location, known in the tv show as the King's Road. The beech trees lining the road were originally planted in 1775; as of 2016 90 of the original trees still remained. Heavy storms in recent years have caused some trees to fall. It was with the wood from two of those trees that fell during a storm that the Game of Thrones doors were crafted. Stopping by to see this tree tunnel doesn't take more than 10 minutes. Expect to see GoT fans dressed as Jon Snow taking selfies there (no kidding).
The Dark Hedges are just a 20 minute drive away from Bushmills, so we had almost reached our final destination for the day. The Old Bushmills Distillery runs guided tours of the premises throughout the day. Tour places are offered subject to availability, so we were not sure how long we should have waited visiting in low season. Luckily we were able to join a tour that started shortly after we got our tickets.
Visitors of drinking age can receive 2 complimentary samples at the end of the tour. Despite being fairly small portions of whiskey, taking the car after the tasting was out of the question. So after the tour we took a walk in the area and shopped for some groceries as we would have spent the night at a hostel with a shared kitchen. Then we made our way to Tartine at Distiller's Arms, a lovely restaurant housed in what once used to be the master distiller's home. We enjoyed a delicious gourmet dinner before driving towards Finn McCool's Hostel, the closest accommodation we could find to the Giant's Causeway.
Day 3: Giant's Causeway and Galway
Most people will say that the best time to see the Giant's Causeway is at sunset. The golden hour is indeed one of the best moments, light-wise, to be taking photos of anything. Seeing the sky turning darker as the last rays of sun disappear over the basalt columns is, apparently, a majestic view. I can't vouch for that. I visited the Giant's Causeway in the early hours of the morning. When the sea retracts with the low tide, whole sections of the basalt columns that had been submerged gleam a shiny shade of black.
Being lodged at Finn McCool's hostel has many advantages. Besides being cheap, clean and having a large shared kitchen – all great qualities in a hostel – Finn McCool has on-site parking and it is literally at walking distance from the Causeway. This means that you can leave your car parked there and go visit the Causeway on foot at any time. Self driving visitors to the Giant's Causeway are advised to park their car at the Causeway parking lot, which is not free. Access to the Causeway is free, though. Parking on the side of the road leading there is strictly prohibited, so if you want to leave the car for free you need to expect to walk a lot. Or – stay at Finn McCool and park your car there.
One limitation of using the Causeway's parking lot is that it is open only during the visitor centre's opening hours. So visitors to the Causeway who come with their own car can only visit during those times. Coming on foot from our hostel 200 metres away we were able to go see the Causeway before the Visitor Centre opened. We spent about an hour taking in the majestic beauty of that place as the sun made its way up behind a thin layer of clouds. We met the first other visitors when we were heading back to the car.
On day 3 of our Ireland itinerary we had the longest driving stretch ahead as we were scheduled to spend the next night in Galway. We made two more stops on the Causeway coast to see Dunluce Castle and the Mussenden Temple. I've always loved ruins so if you're anything like me you need to stop there on your itinerary. Furthermore, they're both Northern Ireland Game of Thrones locations!
The weather deteriorated and we spent the next 5 hours driving under the battering rain. Not that I minded the rain, we were in Ireland, after all. I was just glad we had managed to see what we were supposed to see in decent weather and the rain finally caught us when we were supposed to be trapped in the car for hours anyway. We feasted in the car on cheddar and soda bread, drinking milk from the bottle – all groceries we had bought back in Bushmills.  We reached Galway in the late afternoon and to our delight the sky had cleared up.
My only regret about this Ireland road trip was that we did not get enough time to explore Galway. We arrived in the late afternoon and barely had the time for an evening stroll in the centre, a portion of fish and chips and a couple of pints. Spending only 1 week in Ireland we had to maximize our time and we needed to prioritise some destinations over others. Galway ended up being only a dinner and night stop and it was enough to understand that I want to come back, explore more of this gorgeous city and take the time to hop over to the Aran Islands. Next time!
Day 4: Cliffs of Moher and Dingle Peninsula
Galway is the gateway to western Ireland's natural wonders, including the Cliffs of Moher. So on the morning of day 4 we bade farewell to the city of Galway and drove towards one of Ireland's most famous natural wonders. On the way to the Cliffs of Moher we passed by Dunguaire Castle. Did I already say how much I looove ruins? Ireland is such a perfect place for this kind of photo stops.
When we made it to the Cliffs of Moher Ireland gifted us with the most typical weather we could get. We did get wet on this stop, we knew it had to happen at some point. With an impressive height ranging from 100 to 200 metres, the Cliffs of Moher tower right above the Atlantic Ocean on the western coast of Ireland. They are one of the most popular tourist destinations on the island.
The Cliffs of Moher were not my favourite sight on my Ireland road trip. There was nothing wrong with the Cliffs themselves. I was actually pretty happy we got to see them in the rain (weirdo!), as the mist creates a nice effect that makes each layer of the cliffs look farther and farther away. But for some reason I was not in awe as much as everybody else seems to be. The Giant's Causeway had made a much greater impression on me. And I still didn't know it, but what would have become my favourite place in Ireland was still ahead of me.
After admiring the famous Cliffs we hit the road again. We made a quick stop in Limerick for a coffee. Although we did not do any sightseeing, I just wanted to spend an hour there. Limerick is the city one of my favourite bands, The Cranberries, are from. Happy I set foot in their hometown, soon we were on the road again. Ireland has 2 famous scenic drives in the western region: the Ring of Kerry and the Dingle peninsula. The Ring of Kerry is the most famous one, as it takes you through the best of Ireland in one trip. This drive requires more time than what we had, so we were not able to fit it in our Ireland itinerary. If you want to include the ring of Kerry you may need to cut some other stops. That was not our intention, so we chose scenic road option number 2.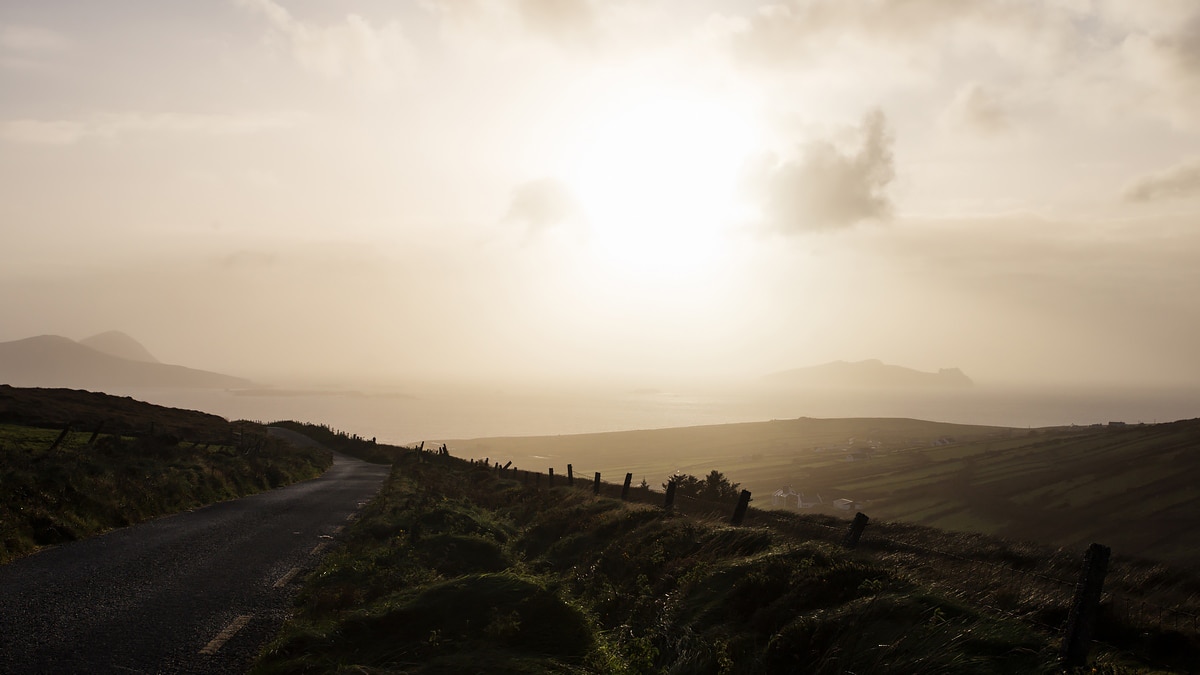 The Dingle peninsula is a shorter alternative to the Ring of Kerry. The country road unwinds through the green hills all the way to the sea, making for some breathtaking views and photo opportunities. We spent the night in Dunquin at the village hostel, which is also Europe's westernmost hostel! The drive to Dunquin is nothing short of spectacular. We arrived in time to see the sun set over the Blasket islands off the coast in the Atlantic Ocean.
Day 5: Dingle Peninsula and Midleton Distillery
Proper exploration of the Dingle peninsula happened on day 5. The first stop after we checked out from our hostel at the end of the world was the Dunquin Pier. And there it was, my favourite place in all of Ireland. The awe I did not feel at the Cliffs of Moher suddenly caught up with me. My heart filled with the desire to visit the remains of the settlement on the Blasket islands, no longer inhabited since decades. I am weirdly drawn to places of pure isolation.
We continued our exploration of the peninsula following the Slea Head drive. We made a stop at the viewpoint over Sybil Head, a Star Wars filming location. Chased by the intermittent rain we made our way to Inch Beach, a vast sandy beach where we sampled some authentic Atlantic breeze. And rain (say what?). The Dingle peninsula is a relatively short drive that can easily happen over one day, but I'm glad we chose to overnight there.
Our next destination was Midleton, so we drove through Killarney all the way to Cork. In Killarney we actually did drive a small portion of the Ring of Kerry and stopped to see the Muckross Abbey. Yup, more church ruins. Because Ireland is so wonderfully filled with castle and church ruins and I just loved all the stops we made along the way to admire them. Did I already say that? I even wrote a post entirely dedicated to Irish ruins!
Related: chasing ruins in Ireland: churches, castles, cemeteries.
Midleton is home to one of the major distilleries in Ireland. Currently, it is where Jameson Irish whiskey is produced, since the old distillery in Dublin only works as a visitor centre. Jameson is not the only whiskey crafted at the Midleton Distillery. That day we treated ourselves to a Master Class at the Jameson Experience in Midleton and got to sample some pretty exclusive Midleton and Redbreast whiskeys.
Unable to drive any further after the tasting session, we feasted on some delicious pub food and retreated to our lovely guesthouse in Midleton.
Day 6: Rock of Cashel and Tullamore Distillery
Days 5 and 6 of this Ireland road trip are heavily whiskey-oriented, as another distillery is our next destination for the day. But not before making another stop to see some more ruins. Seeing a pattern? Well, what we stopped to visit halfway between Midleton and Tullamore was not just a random castle in ruins, but a proper major complex known as the Rock of Cashel.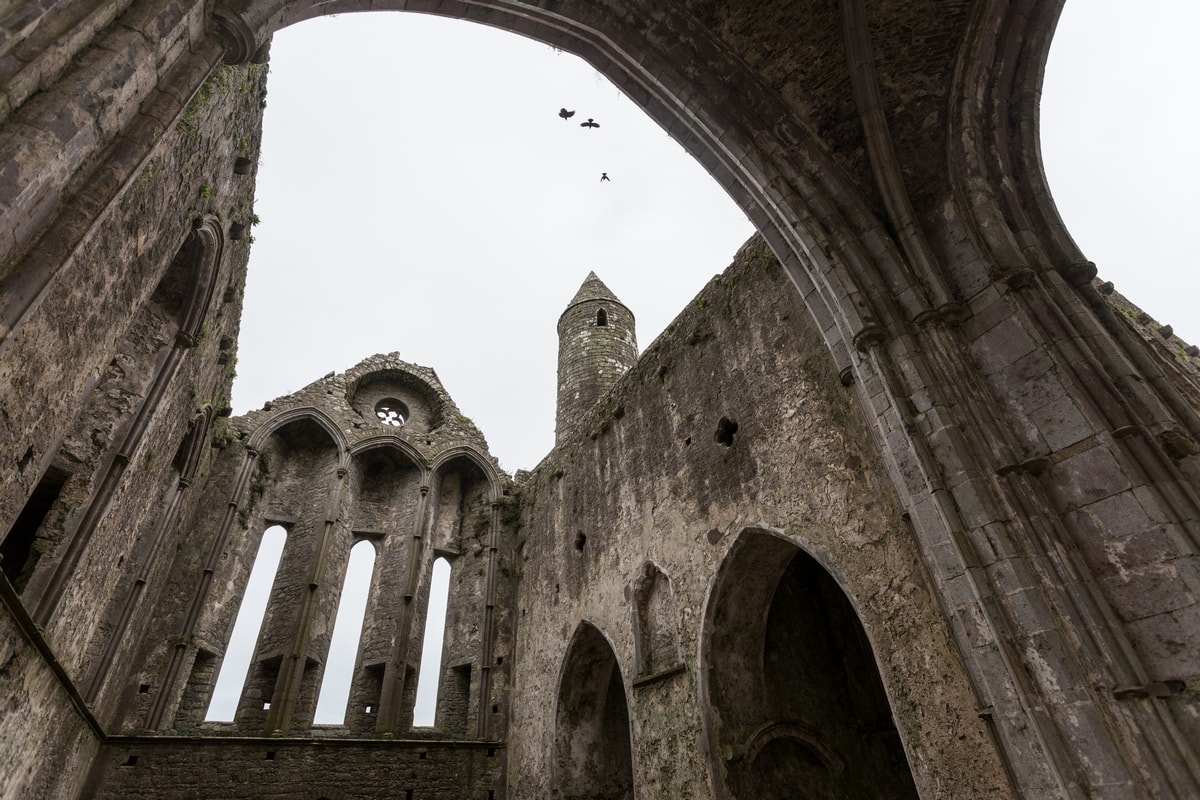 I learned about this place only days before our trip. Initially I had planned a stop in Kilkenny, but when I discovered the Rock of Cashel I immediately changed my plans. With the oldest building dating back to the 12th century, the Rock of Cashel is an impressive site. First a fortress, then a church complex, the ancient buildings on top of the hill have such a majestic feel. Joining a guided tour is obligatory, but you can leave the group and take in the sights on your own any time. If you're not as passionate about ruins as I am and you only choose to visit one place with ruins in Ireland, make sure that stop is Cashel.
The Tullamore DEW Visitor Centre was our final destination. Here, we treated ourselves to a combination of guided tour of the distillery and tasting class. As the novice that I was at the beginning of my trip, at this point I was really starting to enjoy and understand the differences in flavour that every whiskey possesses. Ireland is a great place to learn about whiskey, and with many distilleries offering guided tours and tasting classes, a trip to Ireland can be a great occasion to learn something more about the precious distillate.
Since we arrived in Tullamore a bit earlier than our scheduled tour time we decided to treat ourselves to an Irish coffee at the distillery café. After the tasting class we had once again no choice but to spend the night in Tullamore. Before we headed to our AirBnB, we stopped at a pub where I got to taste a delicious red ale beef stew.
Related: what we ate in Ireland – my Irish food bucket list.
Day 7: Dublin
We couldn't leave Ireland without spending at least one day in its capital city. We were lucky enough that at the time of our visit a dear friend of ours was living in Dublin, so we also scored one free night at her place. Our week in Ireland was coming to an end and we had left the exploration of Dublin to our last day, which happened to be a Sunday. Parking in Dublin can be an expensive matter, but luckily most roadside parking is free on Sundays. So not only did we get free accommodation, but also free parking in Dublin!
Dublin is a beautiful city that would deserve more than one day. Still, cramming in so many places in one week we couldn't possibly stay more than just one day. Thus said, I firmly believe that cities can be visited in one day. Even super large ones. Pick one area and stick to it – I usually go for the city centre as that's where most of the attractions and food places are found. Of course one day is never enough even for smaller cities, let alone larger ones. But one day can be enough to feel a city's vibes. See its major sights. Taste the local food. Hear the local language and meet the local people.
It was not my first time in Dublin, I had already seen the main sights. My husband had never been before, instead, so we took a walk around some major landmarks such as St Patrick's Cathedral, the Trinity College, Grafton Street and the Molly Malone statue. But mostly we just chilled and followed our friend to some more local spots. The highlight was definitely grabbing some drinks and street food at the Bernard Shaw. We left early the morning after, drove off to the airport just before our parking spot would start costing money again.
1 week in Ireland road trip tips
While planning this Ireland itinerary I relied heavily on Google Maps for distances. While on a major road like the one between Dublin and Belfast the time that Google suggests is quite likely, that is not the case on countryside roads. Most of them are single-lane and winding. The limit might be 90 Km/h but you can be sure you won't be driving that fast on a narrow unfamiliar road. Expect every drive to take longer than the times shown on Google Maps.
We visited Ireland at the end of September-beginning of October. The landscape was as green as I had expected it to be. On my previous trip to the Emerald Isle I had visited at the end of the winter and the fields were obviously not green yet. Early fall is a great time because the days are still decently long, the grass is still lush and green and most of the crowds at the major tourist spots are gone. Don't plan your Ireland itinerary based on weather probability. It's Ireland, chances of rain are very high. You may be lucky enough to visit in the fall and not see a drop of rain, or unlucky to visit in the summer and have endless rain. It's part of the deal and of the country's charm, too.
Ireland is fairly small but there's a lot to see. Cramming Ireland and Northern Ireland in 1 week, dedicating one day to Dublin and one to Belfast is ambitious. But doable. On our road trip we never really felt rushed. Sometimes just being in the car and enjoying the view made the driving portions of the trip worthwhile. Our main goal with this trip was to visit 3 whiskey distilleries and see the Giant's Causeway. We came back with memories of so much more.
Of course I feel like I'm not done with Ireland. I want to go back, because I am a firm advocate of returning to places I've already been to. I love going back in different seasons, exploring different regions. It's not anytime soon, but I will be going back to Ireland because one week was enough to fall even harder for that green island in the Atlantic Ocean. And there is still so much I want to see there.
Planning your Ireland and Northern Ireland road trip itinerary? I hope you found my 7-day Ireland itinerary inspiring. Pin it for future reference.
(Visited 2,824 times, 1 visits today)