This marsala caramelized onion relish is the perfect condiment to add that little extra bit of flavour to your steak, burger or charcuterie board! This is no simple caramelized onions – the onions are properly cooked with Marsala wine. That one extra ingredient gives the final product a beautiful flavour depth that will have you coming back for more.
Are you one who loves onions in their burgers but only when they're cooked? You have come to the right place! These caramelized onions in Marsala are the perfect addition to your meat dish. Onions are a fantastic vegetable. Actually, I rarely eat them as an actual vegetable. Most of the times, I consider them a condiment. Whether it's meat sauce for my lasagna, or the base of a mushroom risotto, I always begin by sautéeing onion.
Sautéed onion is the base of so many recipes, as it creates the foundations for all the flavours that you are going to develop further.
Few times the onions are the actual stars of the show. It is the case with these caramelized onions with marsala. You can add them to any kind of sandwiches to add extra flavour, particularly meat sandwiches or better yet hamburgers. Perfectly balanced, with the right amount of sweetness and a melt in your mouth texture, marsala caramelized onion is the secret ingredient that will take any burger to the next level.
Another recipe where onions are the star: sautéed chicken livers!
Marsala onion ingredients
Making marsala caramelized onion is quite simple and only requires a handful of ingredients:
Yellow onions
Marsala wine (I used a dry one)
Cane sugar
Butter
A pinch of salt
Yellow onions are preferred over red ones in this recipe. More than a flavour quality, this is a colour preference. Yellow onions match Marsala in colour, and actually take a lovely darker hue when the wine is absorbed. Sometimes the aesthetics really play a great role in food appreciation as that's what helps the brain identify flavours better. If you don't have yellow onions available, shallots or white onions are a better alternative than red onions.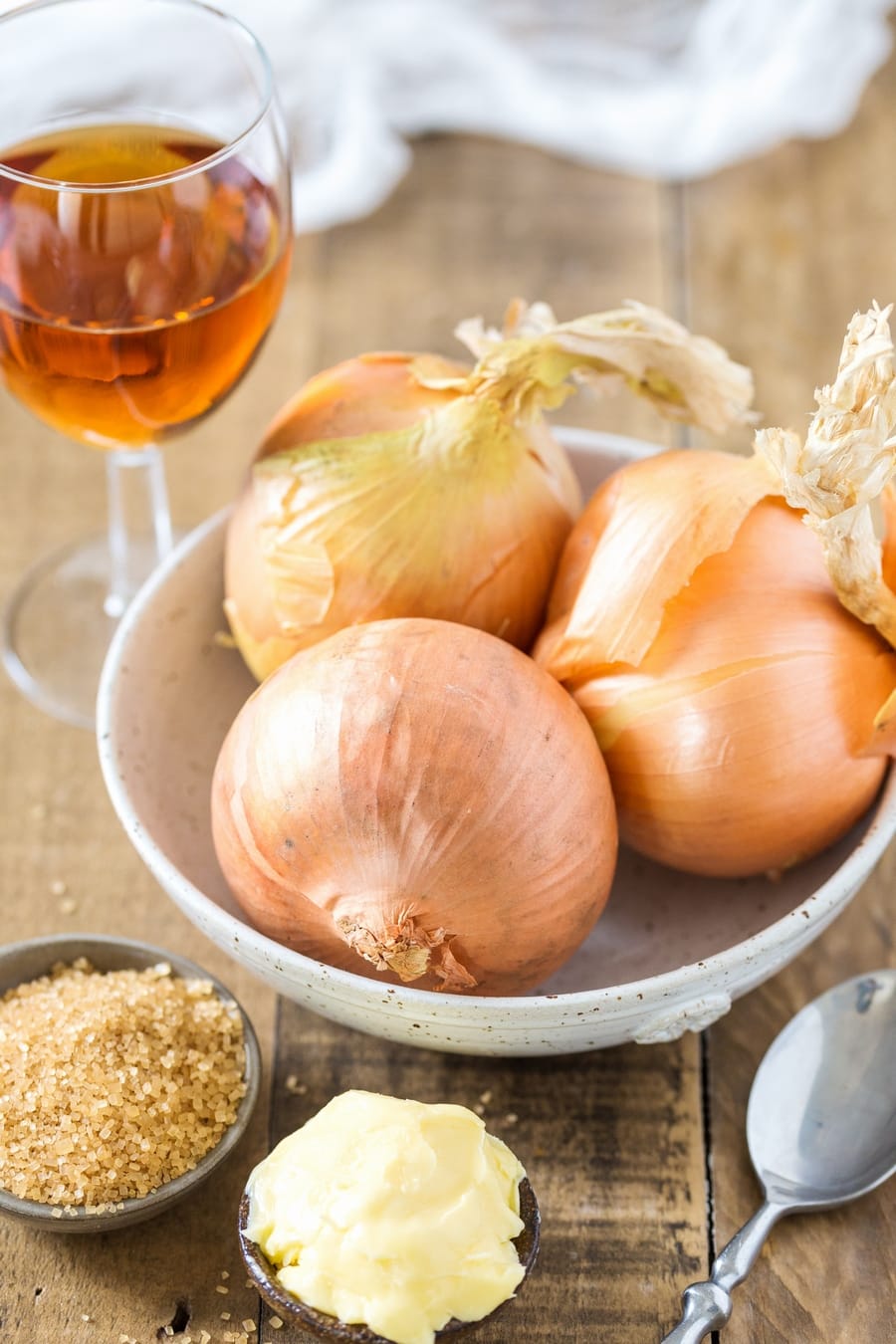 What is Marsala?
Marsala is a fortified wine that takes its name from the city of Marsala, in Sicily. It is made from either white or red grapes, resulting in different shades in the final product. It also comes as dry, semi-sweet or sweet, depending on the amount of residual sugar it contains.
Marsala became very popular in the late 18th century when English traders John Woodhouse and later Benjamin Ingham started mass production of this wine and exported it to England and America. Its popularity has dramatically decreased since then, but Marsala is still renowned especially for its use in cooking. A famous dish that features dry marsala is chicken marsala, while sweet marsala is used to make zabaglione.
How to make marsala caramelized onion
The first thing to do is to peel and halve the onions legthways. Melt the butter in a pan and add the sliced onion (left picture below).
Sauté on medium-high heat for about 10 minutes. A couple of minutes in, add a pinch of salt. It will draw moisture from the onions. Keep sautéing the onions constantly moving them around to evenly distribute the heat. The goal is to sweat the onions until soft, not brown. If the onions start to brown, lower the heat.
After about 10 minutes the onions should have softened significantly. Lower the heat to medium and add the brown sugar (right picture below). You could use white sugar, but cane sugar delivers an extra caramel tone.
Stir the sugar to distribute it all over; it will start to melt. Add the marsala wine and stir for about a minute. Cover with a lid and let simmer for about 15 minutes on medium-low heat. The goal here is to let the onions stew in the marsala, hence we're keeping it covered rather than evaporating the wine. Keep an eye on the pan from time to time to make sure the moisture does not get absorbed too quickly causing the onions to burn.
After 15 minutes, remove the lid and increase the heat to high to evaporate any excess moisture (left picture below). Stir in a small slice of butter to prevent the onions from burning as well as help the caramelization kick back in, giving a lovely final finish (picture on the right).
Transfer the marsala caramelized onion to a serving bowl, or store it in a jar in the fridge for up to 2 weeks. Because of the butter content, this onion relish tastes better lightly warm. If not serving it right away, I would recommend microwaving it for a few seconds before serving, especially if it had been stored in the fridge.
Marsala is added mostly for its flavour, therefore I have used a dry variety. If you only have sweet or semi-sweet marsala at hand, you can of course use those. You can reduce the amount of sugar, or just add another pinch of salt at the end to counterbalance the sweetness of the final product.
Taste test before adding any salt – you may like your caramelized onions extra sweet. The flavour of the final product is anyway very subject to the type of onions used. A little more sweetness could go a long way with particularly strong onions, and yellow onions can sometimes be on the stronger end of the spectrum.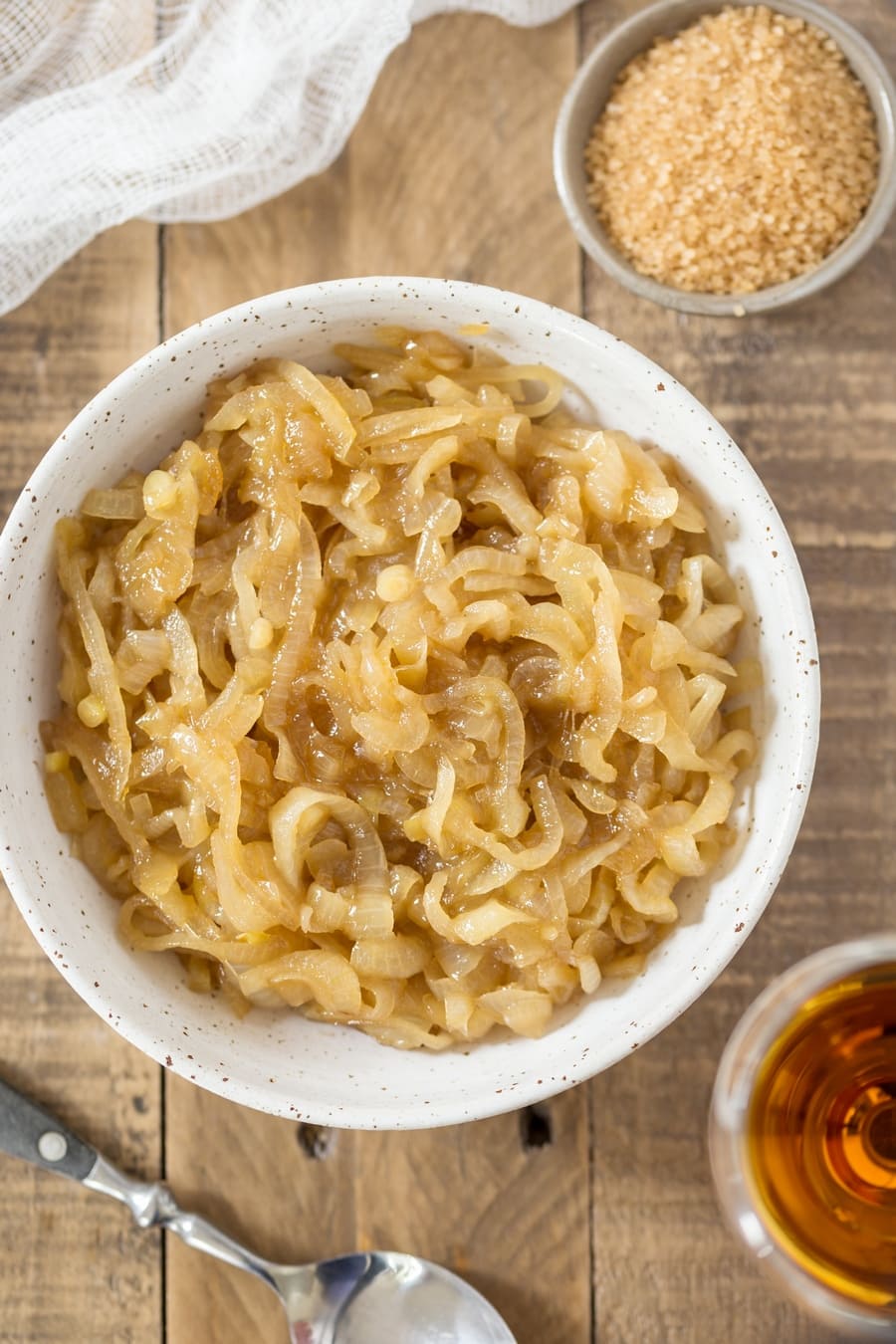 More delish?
Get some onion relish! Pardon the horrible rhyme, and let my delicious onion recipes forgive me. Seriously, if you want a little onion hint here and there – especially in your burgers, topping your steak or to complement a cheese and charcuterie board – you will love one of these onion recipes:
Pickled red onion – a Swedish favourite. Red onions turn bright pink after being soaked in a vinegar and sugar solution. Crispy, sweet and sour, they are the perfect topping on shrimp tacos!
Caramelized red onion relish – here the onions are cooked, but instead of marsala we are using balsamico to give some extra flavour. I love them especially on falafel burgers!
Other onion preserves you love that I should try? Let me know in the comments! And don't forget to pin this recipe for later reference!
Marsala caramelized onion
A great addition to any meat dish, but especially on burgers! Learn to make caramelized yellow onion with marsala. Marsala wine adds a rich flavour depth to caramelized onions.
Ingredients
3

yellow onions

30

g

butter

+ 1 small slice

45

g

cane sugar

100

ml

marsala

pinch of salt
Instructions
Peel and cut the onions in half, then proceed to slice them all up in rather thin slices (1-2 mm thick).

Set a skillet on medium-high heat and melt the butter.

Add the onions and sauté on medium-high heat constantly stirring to ensure the heat is distributed evenly.

After a couple of minutes, add a pinch of salt to the onions. This will draw out some of the moisture. Keep sweating the onions on medium-high heat for about 10 minutes, until soft but not browned. If the onions are browning, lower the heat and keep stirring them.

Lower the heat to medium and add the sugar. Stir for a couple of minutes, the sugar will start to melt.

Pour in the marsala ans stir for a minute. Cover with a lid and let simmer on low heat for another 15 minutes, checking from time to time. The onions will absorb the marsala. If the liquid is reducing too fast, lower the heat.

Remove the lid and give the onions a stir. Increase the heat to high to help evaporate any excess liquid left. Add one small slice of butter to the mixture to kick back the caramelization. Keep stirring on high heat for a couple of minutes until the mixture gets a slightly sticky texture. Transfer to a serving bowl or a jar.
Recipe Notes
Because of its butter content, this marsala onion relish tastes best when lightly warm. If storing in the fridge before use, microwave for a few seconds for best results.
Nutrition Facts
Marsala caramelized onion
Amount Per Serving
Calories 114
Calories from Fat 36
% Daily Value*
Fat 4g6%
Cholesterol 11mg4%
Sodium 39mg2%
Potassium 96mg3%
Carbohydrates 15g5%
Protein 1g2%
Vitamin A 125IU3%
Vitamin C 4mg5%
Calcium 13mg1%
Iron 1mg6%
* Percent Daily Values are based on a 2000 calorie diet.
(Visited 298 times, 1 visits today)