Say Dalarna and the mind pictures lush green forests, red wooden houses, lakes. Add the word animals and the horse, the famous Dala horse, might be the first to come to mind, followed by something wild like moose. Yet, among the tourist attractions that involve animals in Dalarna there is one that is a bit more unexpected. It's a farm located just outside Borlänge that since 1994 has been herding ostriches: Sahlins Struts. Located on a property that has been owned by the same family for over a century, Sahlins Struts is more than just an ostrich farm.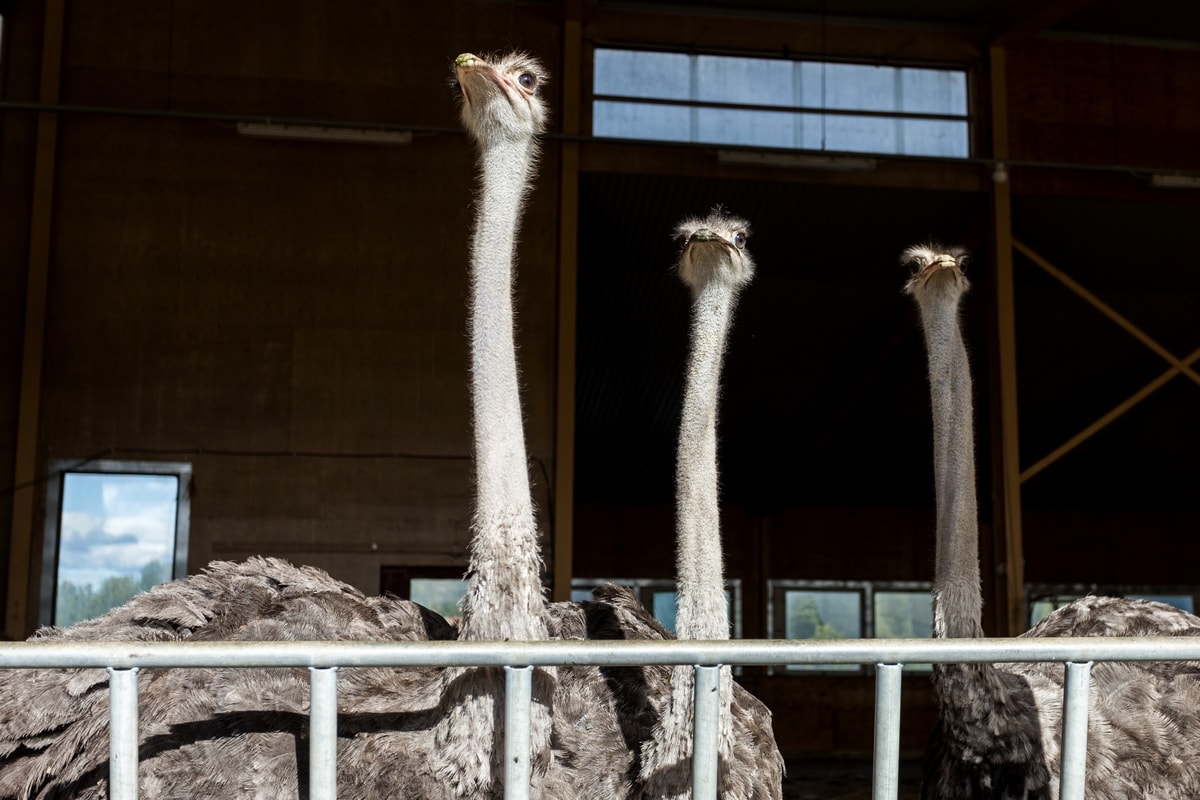 We first heard about this local business on our first visit to the Christmas Market at the Falun Mine on our first year in Sweden. Sahlins Struts had a stall where they were selling ostrich meat. We were pretty low on budget that year, with no plans for any Christmas celebrations as we didn't know anyone in town and no family members were visiting us. So we decided that we'd at least treat ourselves to some unusual local delicacies and visited the Christmas Market with the intention of buying some food to eat on Christmas day. That was when my boyfriend picked  a package of ostrich paté from the Sahlins Struts booth. Ostrich meat has become a regular at our Christmas table; that's how traditions are born.
There are many more products that this farm, located about 6 Km outside Borlänge, produces and sells. From various cuts of smoked ostrich meat to ostrich feather dusters, from ostrich leather products to ostrich eggs, since 2015 Sahlins has also been operating a microbrewery and serves its own beer at their restaurant and summer café. It was actually on a beer event that I visited the farm for the first time last year. The event is known as pub night, the menu comprises their own beers on tap and burgers made with ostrich meat. We have recently visited again on such a night.
Before taking our table and enjoying our beer and burger we spent some time by the chick area. Day visitors can have access to the stables where the ostriches are kept and can learn more about the herding of these large birds. Access is more restricted during the evening, and pub night guests can only see the fenced section where the chicks are kept and the few adult ostriches housed behind the pub area.
During the day this ostrich farm is a pretty awesome destination, especially for families and young visitors. One doesn't get to see ostriches up close that often, and I think it's interesting to learn about unusual or alternative farm animals as ostriches can be. I don't normally think child-friendly when I plan my activities as I don't have children myself, but my first thought was how awesome this place must be for children. Definitely a great thing to experience for a family when visiting Dalarna.
Despite being a small-scale local business, Sahlins Struts hit international relevance when a female ostrich from the farm entered the World Guinness Record for three years in a row for laying the world's largest ostrich egg. The last one she was awarded for, currently the largest ostrich egg ever measured, weighed 2589 g. The shell of this Guinness World Record egg is on display in the shop. Even less acclaimed average-sized ostrich eggs are still pretty big. Rich in nutrients and great for omelettes and baking, one ostrich egg can substitute 25 chicken eggs. Now I'm one who likes to cook, but I don't have any recipe that calls for that much egg all in one go, so I guess I'm not an ideal ostrich egg customer.
Here are some other facts about ostriches. Ostrich chicks grow at a very fast rate, about 1 cm a day. An ostrich goes from hatchling to fully grown over the course of its first year. Ostriches don't have teeth and therefore need to ingest small stones to ease the food grinding process during digestion. Ostriches are birds and have wings, but can't fly. Last but not least – something that I find pretty hilarious – the brain of an ostrich is about the size of a walnut. Which for a 2-metre tall creature is pretty small.
Now that I know this I can't help thinking that they don't look very bright, in fact.
Sorry, ostriches.
Irony aside, to me ostriches are weirdly fascinating. Dinosaur-like flightless birds with incredibly long necks and beautiful feathers – so unique! And just to make things even more weird, I don't need to travel to Africa (where this bird originates from) to admire these intriguing creatures. I can find them here in Dalarna, pretty close to where I live. I still have to visit the ostrich farm during the day, when the café and shop are open. Apart from their delicious locally-produced meat, Sahlins Struts serves another food that really intrigues me, and that is ice cream made with ostrich egg. It's high on my list.
Definitely visiting the ostrich farm again when I'll have guests with children!
(Visited 155 times, 1 visits today)