Pavlova is an iconic cake that comes from Down Under. A thick meringue base that is wonderfully soft on the inside and crunchy on the outside is topped with whipped cream and fresh fruit. There is no fixed recipe when it comes to pavlova toppings. Here's my version of the Australian pavlova recipe: pavlova with mango, blueberries and banana.
A famous Australian (or NZ?) cake
For all of you who hate reading stories on food blogs, sorry. There's going to be a lot of blabber about myself here so hit that "jump to recipe" button and spare yourself the pain. You've been warned. And don't forget to pin this recipe for later as you really want to be making this pavlova with mango and blueberries soon. For those of you who enjoy reading my blabber, here's the reason behind this recipe coming out now. With this pavlova with mango cream I'm celebrating my upcoming trip to Australia and New Zealand!
Pavlova is perhaps the most famous Australian recipe, although its origins are debated. New Zealand takes the credits, too, as it may have actually been New Zealand where it was first created. What is known for sure is that pavlova was created in honor of Russian ballerina Anna Pavlova when she first toured Australia and New Zealand in 1926. Anna Pavlova was, in fact, the first ballerina to make it all the way Down Under. Furthermore, she was the first ballerina to tour around the world and she accomplished that with her own company. She definitely deserved a cake named after her.
So just like Anna Pavlova, it is my turn now to travel all the way to Australia and New Zealand. I figured there was no better recipe to display on the blog than this famous cake from Down Under. This will be the featured recipe for all of August, as I will not be publishing any new recipes during that time. Yes, I'm taking a month off blogging. I did it last year, too, and I couldn't have made a better choice.
Keeping a regular blog while working full time is a lot of work. While I always say that I love doing it, getting tired is only human. Just like I need time off from my job, I need to stay away from the blog once a year, too. I don't want my passion to burn out. So I choose to step back and focus on my other favourite thing: travel. Last year I did the same when I got  married and then went on honeymoon to Thailand and Cambodia, via Istanbul. While the blog rests, I am most active on instagram stories. You can keep up with me on instagram to follow my adventures down under.
If you're not following me on instagram yet, this might be the best time to do so! Check out my profile @electricbluefood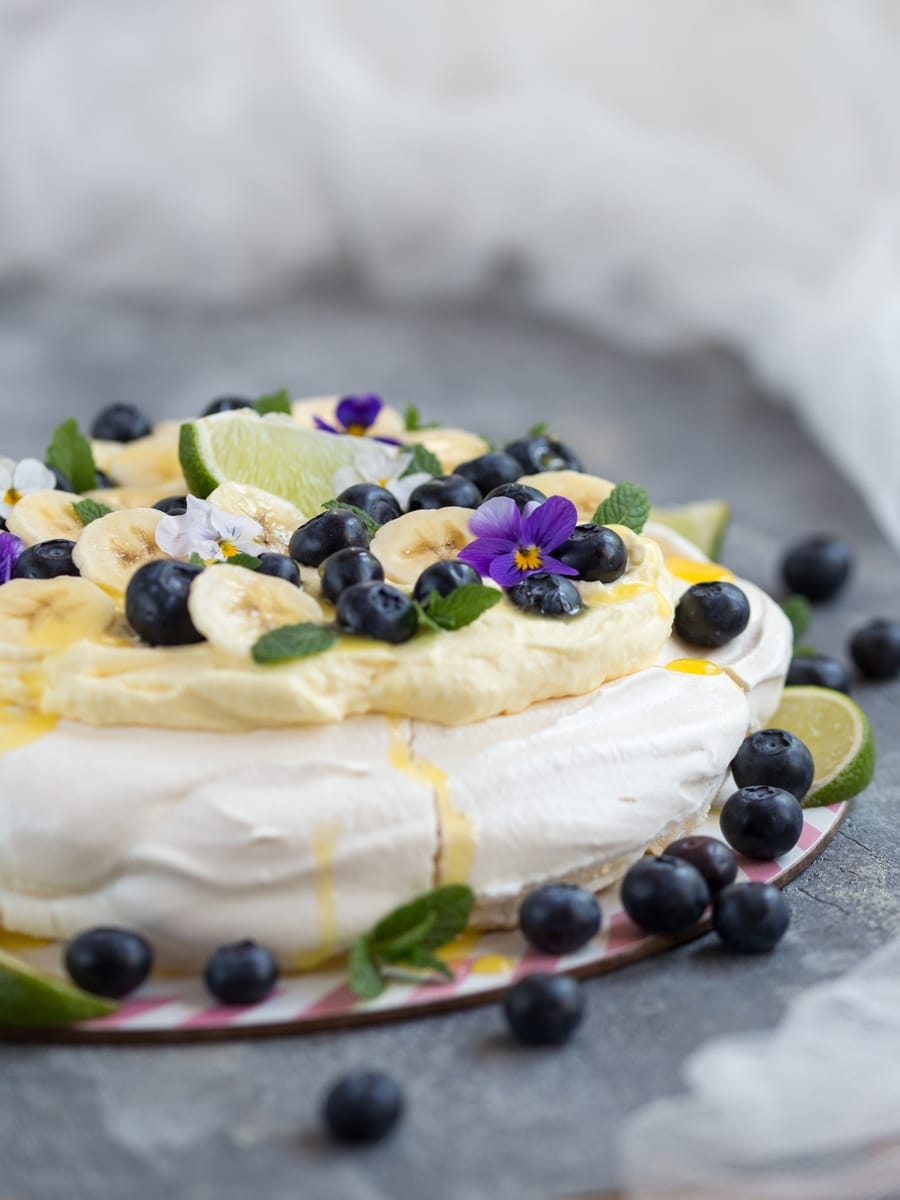 Enough with the blabbering and let us move on to the real stuff!
Australian Pavlova recipe
If the blog had to go silent, at least I wanted an Australian recipe out before my travels. All I needed was a good recipe to follow. Determined to try my hand at this Aussie cake I searched for the best pavlova recipe I could find. Most of them are pretty similar, really. After all, the base is a big French meringue topped with cream and fresh fruits. As for the topping there is no rule written in stone.
So for the meringue I followed the recipe from the Australian Women's Weekly Food website. The topping is more my thing, instead. A classic pavlova topping has whipped cream, fresh strawberries and fresh kiwi. Because, of course, pavlova is as Kiwi as it is Aussie. But you shouldn't be limited to that choice of fruits. As long as you go with a layer of whipped cream topped with fresh fruit anything's allowed. Just get creative! I love that!
How to make pavlova meringue
The pavlova base is, very simply put, a big French meringue. French meringue is made by gently adding superfine sugar to the egg whites while they're being beated. So you're adding grains of sugar as opposed to syrup in Italian meringue. I'm stressing on the sugar being superfine (also known as caster sugar) as that will get you one step closer to success. Superfine sugar melts more easily while you beat the eggs during the meringue making process. You want your sugar to be completely dissolved before you cook the meringue. So if unsure, just stick a couple of fingers in your meringue and feel it. If it still feels gritty from the sugar, keep beating.
When your French meringue is spotless smooth, fold in the cornstarch and vinegar. Then transfer your meringue onto a baking dish lined with baking paper. Drawing a circle on the paper will help you shape the pavlova base round. Remember to level the top (I used my angled spatula) so it will be easier to place the pavlova toppings later. Now all that's left to do is to cook your meringue. Have your oven preheated at 120°C and stick your baking dish in. You need to bake your pavlova for about 1 1/2 hour or until it's dry to the touch. I like mine nice and white, some wait until it gets slightly browned and takes a beige tone. After that time, turn the oven off and leave the meringue inside, with the oven door slightly open, until it cools to room temperature.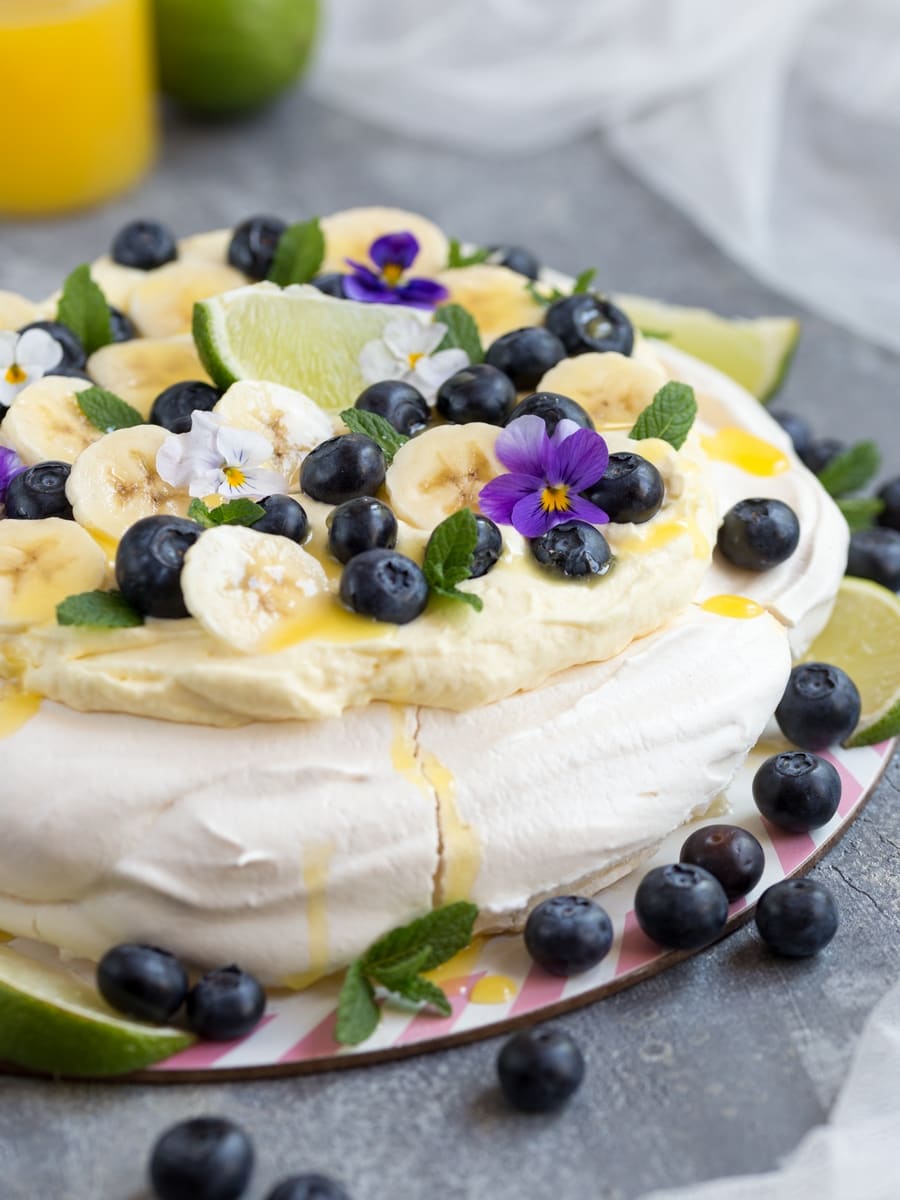 Pavlova problems: weeping and cracking
The whole meringue business sounds easy as pie, yet even when everything seems to be going finefinefine, pavlova might still go wrong while in the oven. It's what happened to me. At first I thought it was all going great. The meringue was so thick and shiny it was a pleasure to scoop it out of the bowl and arrange it on the baking paper. I was so satisfied with the shape I had given my pavlova base. I put it in the oven following the directions in the Aussie recipe and glanced at it from time to time. Everything was going great. Until…
Until I checked on my pavlova and I saw it oozing syrup. A quick google search informed me my pavlova was "weeping". I had made my pavlova cry – I felt like a horrible person. Remember the stress on superfine sugar? Yeah. That was one instruction I decided to not follow. I did not have caster sugar, although the recipe did advise for that one. So I just used granulated, without bothering to give it a grind to make it finer. I knew I had to whip the eggs until the meringue felt smooth, but granulated sugar will not dissolve that easily and I decided that the slightest grit would kill nobody. Yet that was what made my pavlova weep.
As you can notice in the photos, my pavlova also cracked. That did not happen while transfering it from the baking sheet to the serving plate, but during oven time, actually. If you look for even more pavlova photos online, you'll see that a fair percentage is cracked. Even the Australian Women's one is cracked. Defeated, I asked my Australian friend for support. She told me that her mom's pavlova always cracks. That's how pavlova is. Cracked is fiiine.
The bottom line? If it cracks it's just as authentic as a pavlova made by an Aussie mom. If it doesn't, pat yourself on the shoulder, you're a pro! As for the weeping, it will not affect the end product that much. It's the undissolved sugar crystals that melt in the oven and ooze out. But just make sure that you're using superfine sugar and this should not even happen. In any case, one thing's important. That your meringue has cooled to room temperature before you splash over you whipped cream. Otherwise you will have much bigger problems than a syrup tear here and there or a couple of cracks…
Pavlova toppings: blueberries, banana and pansies
And lime curd. And mint leaves. When I decided to make pavlova my brain literally just started conjuring up the most creative pavlova toppings. I wanted it to be beautiful. Boring whipped cream? Nah, let's spice things up and add mango purée to it! Fresh strawberries? I love them, but I was in for some contrast. Big round blueberries seemed more like it. Their bitter tone was just the perfect pairing to the sweet mango flavour of the cream. Then I needed something sweeter and opted for banana slices. Here we have the fruit part sorted.
Mango whipped cream
Traditionally, pavlova is topped with whipped cream. The meringue itself is very very sweet, so there is no need to sweeten the whipped cream. If using particularly tart fruits though, it could be a good idea to add a hint of sugar to the cream. To add both colour and sweetness, I decided to make mango whipped cream for my pavlova. Mango whipped cream is very easy to make.
First, you want to make a mango purée. Peel and chop your mango – or go with thawed diced mango – and add a half tablespoon powdered sugar and some vanilla essence. Blend until smooth. Aside, whip the cream to soft peaks. Gently add the mango purée and start mixing again until the cream reaches hard peaks. The mango whipped cream is ready to spread over the top of your pavlova with mango.
Pavlova fruit topping: blueberries and banana
Once you've got your whipped cream layer it's time to load the pavlova with fresh fruit. I started distributing some blueberries here and there, then filled in the spaces with the banana slices. Then went back to the blueberries and added some more where I saw we could use some more. Since we're using lime curd, too, I just thought that a slice of lime in the middle could be a nice decoration.
The whole mango blueberry banana combination was very good. Mango is sweet, and blending it with the whipped cream its flavour gets toned down. Still, since it's spread all over the cake, every bite will have some mango flavour. The two dominant flavours here are the blueberry and banana. Depending on what you bite into, you may get the tang of the blueberries or the sweetness of the banana together with the mango cream. Or all of them together.
The final touch: pansies and drizzled lime curd
Mango cream, blueberries, banana… That hint of blue, that hint of yellow… The perfect match for some pansies! Pansies are edible flowers. Although I did not end up eating them, they are super safe to use on foods. Couldn't ask for a more beautiful natural decoration. So what's more? Well, when there's flowers I think it's always nice to have some leaves as well. So I just added some spearmint leaves. Not as much for the flavour as for the colour.
Once I had all my colours and flavours picked I realised I was still missing something. The Australian pavlova recipe I had followed had passionfruit drizzled all over. And I just love dripping stuff. Plus, I wanted some sharper colour that would also provide some sharper flavour. But no passionfruit, as this was my variation. So I made a small batch of lime curd.
How to make a small batch lime curd
So you've just whipped up a giant meringue and you're left with 6 jolly egg yolks staring back at you. Time to use those yellow balls up! I figured that the best thing to top all the fresh fruits and cream was a drizzle of citrus curd. I had limes at hand – I always have limes at hand. We eat way too much guacamole and drink way too many mojitos for not having limes in our house. So I made a small batch of lime curd.
Making lime curd is very simple. A no-brainer, really. Back in the day when I was a food teacher I would make my pupils whip up lemon curd during practical lessons. We were exploring thickening agents and I got them to make lemon curd to see how the addition of egg thickens the mixture.
To make lime curd you need to combine lime juice, butter and sugar in a small saucepan over a double boiler. Stir until the sugar dissolves and the butter melts. In a bowl on the side lightly beat the egg yolks. Now here's the only tricky moment: as you're stirring the eggs, pour in a small quantity of the hot lime mixture and quickly stir it in. This is done to stabilize the temperature of the egg and it helps preventing the egg from scrambling when added to the hot mixture.
When you've stirred a small portion of the lime mixture with the yolks, it's time to pour the egg mixture into the other saucepan. Always keep it on a double boiler and stir constantly. Keep cooking the mixture until it thickens enough to coat your spoon or spatula or whatever you're using to mix. Don't worry if your eggs did slightly scramble. Just pour the lime curd through a sieve when you take it off the heat. It used to happen all the time back at school, and it was not too big of a deal, after all. Let it cool to room temperature and then gently drizzle over your pavlova.
Fresh blueberries and banana slices, lovely pansies and mint leaves, drops of intense lime curd and a mango-infused whipped cream. This pavlova with mango and blueberries is as delicious as it is beautiful. Now I'm off to Australia and I can't wait to taste the real deal!
Pavlova with mango, blueberries and banana
Australian cake pavlova topped with mango cream, fresh blueberries and banana slices. Add a lime curd drizzle and some pansies for decoration and you get a beautiful pavlova with lovely blue and yellow colours.
Ingredients
For the meringue base
6

egg whites

330

g

superfine sugar

1/2

tsp

white wine vinegar

1

tbsp

cornstarch
For the topping
200

ml

whipping cream

80

g

diced mango

1/2

tbsp

powdered sugar

1

tsp

vanilla extract

100

g

fresh blueberries

1/2

banana

(sliced)

mint leaves and pansies for decoration

100

ml

lime juice

120

g

sugar

30

g

butter

3

egg yolks
Instructions
How to make the meringue base
Separate the egg whites from the yolks. Beat the whites with an electric mixer to soft peaks. Gradually add the sugar, always mixing. Keep mixing until the sugar is completely dissolved and the meringue feels smooth to the touch. Fold in the vinegar and cornstarch.

Transfer meringue to a baking tray lined with baking paper. Draw a circle on the paper to ease the process. Shape the meringue base and level the top. Bake in the preheated oven at 120°C for 1 1/2 hours or until the meringue is dry to the touch. After that time, turn the oven off and leave meringue inside with the oven door slightly open until it has cooled to room temperature.
How to make the topping
In a small saucepan over a double boiler combine the lime juice, sugar and butter and stir to dissolve. In a bowl aside, lightly whish the egg yolks. When the lime mixture is homogeneous, transfer a spoonful of the hot mixture to the egg mix and whisk to combine. Then gradually pour the egg mixture back into the hot mixture, always keeping it over a double boiler. Whisk continuously until the mixture thickens enough to coat the back of your spoon. Set aside and let cool.

Blend the mango with the powdered sugar and vanilla. Whip the cream to soft peaks, then gently add the mango purée and keep mixing until it reaches har peaks.

When the meringue base has cooled to room temperature, spread the mango cream over the top. Add the blueberries and banana slices, drizzle cool lime curd and garnish with mint leaves and pansies. Keep refrigerated.
(Visited 2,612 times, 1 visits today)