Probably the most famous dish in the Georgian culinary tradition, khachapuri is a cheese-filled bread that comes in various flavours and shapes. The reason why several varieties of khachapuri exist is because of its regionality. Every different version of khachapuri comes from a different region in Georgia. My favourite is khachapuri adjaruli, or Adjarian khachapuri, from the region of Adjara. Here's how to make sourdough khachapuri adjaruli at home.
Khachapuri Adjaruli: Adjara's boat-shaped bread
Adjara is a region in south-west Georgia, laying by the Black Sea and adjacent to the Turkish border. Its capital is the coastal city of Batumi, the second largest city in Georgia (after the capital Tbilisi). Batumi is a popular tourist destination both for locals, who often choose it for their honeymoon, as well as foreigners since it's home to one of Georgia's three international airports.
Unlike other varieties of khachapuri that are round, the Adjarian one has a peculiar boat shape. Coming from a coastal city, it is believed that this shape was not a coincidence. Apart from its shape, what makes the adjaruli khachapuri stand out is the egg on top of the cheese filling. The runny yolk is the cherry on the cake. You're supposed to break it, then tear the bread-boat edges and dip them in the eggy-cheesy-buttery mixture. And there is nothing more delightful than doing that while sipping on a glass of Saperavi wine – one of Georgia's most popular reds.
Living in Poland I became very passionate about Georgian cuisine (and wine) so when I visited Georgia in 2013 I was delighted to sample my favourite dishes in their original country. This made me love Georgian cuisine even more. Trying to replicate the khachapuri adjaruli I had in Batumi has been a resolution of mine for years.
Fast-forward a few years and here we are in 2020, when everybody is making sourdough starter and so am I. Getting so up close and personal with the ancient art of bread baking ignited that personal challenge of mine that had always been lingering. I wanted to try my hand at homemade khachapuri using sourdough starter as an ingredient!
How to make khachapuri with sourdough starter
Georgian khachapuri is made using an enriched dough. Common bread and pizza dough is classified as lean. A lean dough is very low in fat and sugar and normally just consists of flour, water and yeast with just a little olive oil if oil is added at all. An enriched dough, on the other hand, has more ingredients added to provide extra fat: eggs, milk, butter. Think brioche, challah or lussebullar. Khachapuri belongs to this category.
Most khachapuri dough recipes list yeast among the ingredients. Here, we are using a sourdough starter, so instead of adding yeast to the dough, we need to make a preferment the day before. To make this levain you need to combine 75 g of sourdough starter, 100 g of flour and 70 g of water. Stir to combine, cover with cling film and leave at room temperature overnight.
No starter? No problem! Here's my sourdough starter recipe.
When making the dough the following day, combine the pillowy levain with 150 g of flour. Lightly warm the milk to lukewarm and whisk in the egg. Stir egg mixture into the dough. Only when the dough is starting to come together, add the salt and melted butter and keep mixing until homogeneous. The resulting dough should be soft but not sticky, thanks to the melted butter. Cover the bowl with cling film and let rest for 2 hours at room temperature.
In the meantime, you can proceed to prepare the filling. Traditional khachapuri adjaruli is made with 2 varieties of Georgian cheese called sulguni and imeruli. If you have access to those, I envy you deeply because I don't. If you also can't find Georgian cheese anywhere near you, you can sub them with two Western cheeses: feta and mozzarella. Sulguni is a mozzarella-type of cheese, while aged imeruli reminds of feta. So the combination of these two will work great as a substitution. Grate the mozzarella, crumb the feta and mix the two cheeses.
After the dough has been resting for 2 hours, it's time to prepare your sourdough khachapuri adjaruli. You may also want to preheat your oven at this point, as khachapuri – just like pizza and bread – needs to be baked at high temperature, 250°C (480°F).
Divide the dough in two balls and roll both out aiming fon an oblong oval shape. Transfer dough to an oven tray lined with baking paper.
Proceed to add the filling: divide cheese mixture between the two flat doughs. Leave about 1-2 cm from the edges, as we will later be folding the edges to make the boat shape. I have seen recipes that press the cheese down, but leaving it fluffy has worked great for me every time I made my khachapuri adjaruli.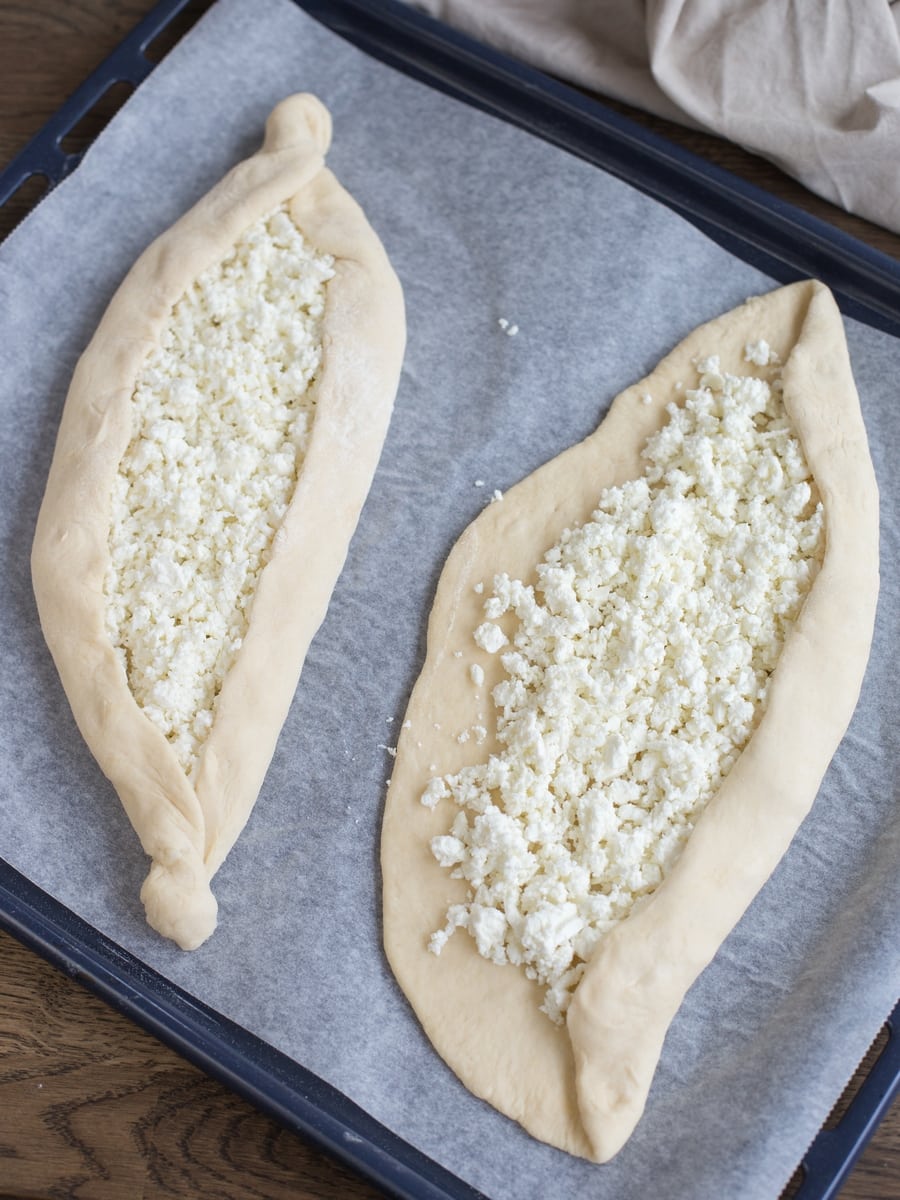 Fold one side slightly covering the filling, then fold the other side. Pinch the endings with your fingers and give them a slight twist to ensure the edges are tightly pressed. I find it helpful to also slightly fold down this part to really make sure it will hold as it bakes (see picture below). The dough will rise as it bakes and if the edges are not tightly pressed together they might snap back losing the boat shape and causing the filling to pour out.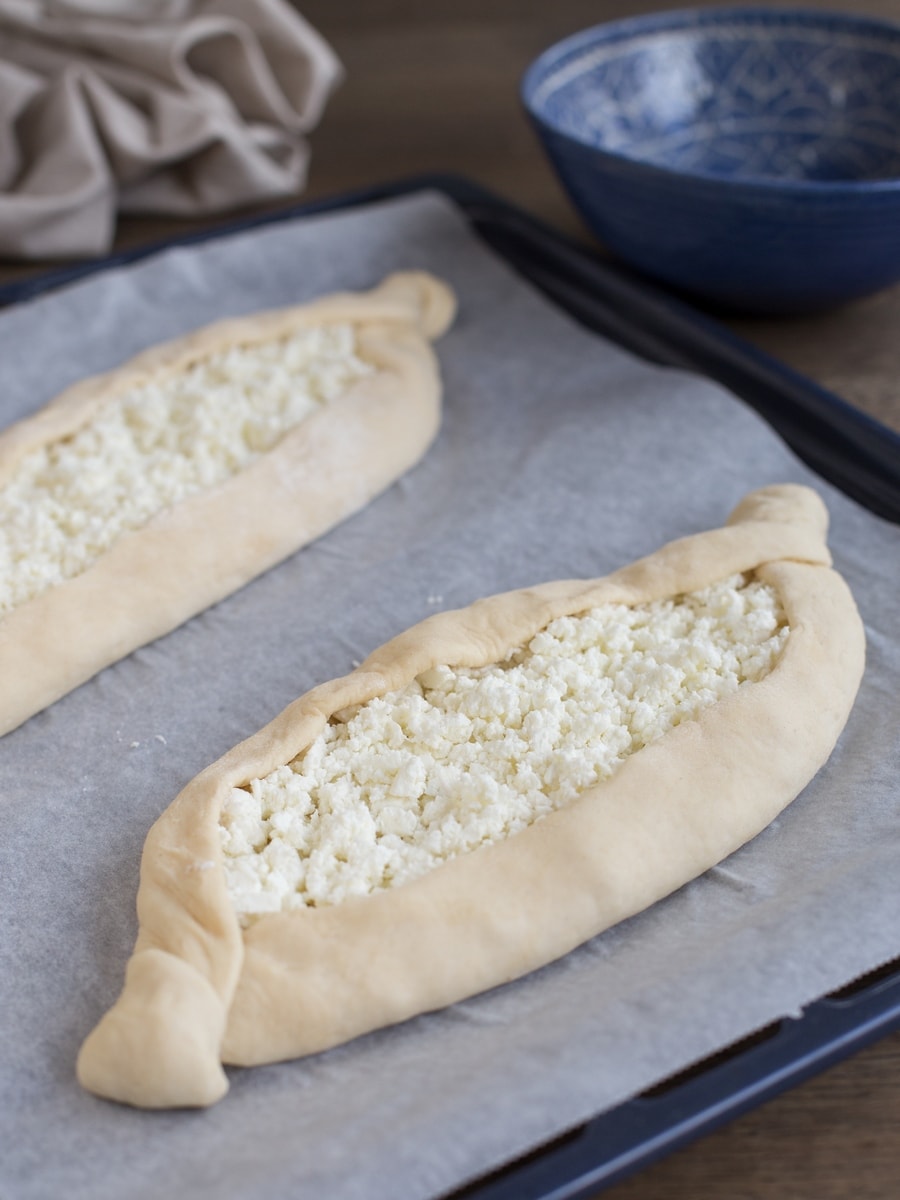 Now your sourdough khachapuri adjaruli is ready to go into the preheated oven. Bake it for about 12 minutes, or until the cheese has melted but not browned and the dough has gained a nice golden tone. The next step will be to add the egg. Take the khachapuri out of the oven and crack an egg in the middle of each boat. Have the eggs at room temperature for best results.
Together with the egg, add also 2 chunks of room temperature butter on the sides of the egg. The heat of the cheese filling is likely to start melting the butter and cooking the egg, as you can see from my pictures. Return the khachapuri adjaruli to the oven for the final step. Now all you want is for the egg to cook enough so that the white will lose its transparent quality but the yolk will stay runny. In my oven this takes about 3 minutes.
Take the khachapuri adjaruli out of the oven and serve immediately. Ask your guests to break the yolk and start eating their khachapuri by tearing off the pointy end and dipping it in the hot eggy-cheesy-buttery filling. It truly is a memorable taste experience. My mouth waters as I'm writing this, no lies. Khachapuri adjaruli is hands down one of my top ten favourite foods. And since I learned how to make it at home – using my sourdough starter – I am so glad I can enjoy this delicious Georgian dish any time I feel like it.
Georgian dinner at home? Start off with nigvziani badrijani, the eggplant rolls with walnuts.
Georgian cuisine is pretty popular across Eastern Europe and is often regarded as the best culinary tradition from the ex Soviet Union. As much as I love Polish cuisine, I will have to totally agree with that statement. Georgian cuisine is something else, also thanks to their ancient winemaking tradition. The hearty Georgian dishes, high in such ingredients that I love as cheese, eggplants and bread, paired with some impressive wines (red ones especially) really are a feast for the heart.
If you happen to be in Krakow, I can recommend a Georgian restaurant I always go back to every time I'm in town, and I wrote about it in this post about my favourite restaurants in Krakow. Last year when I visited Vilnius we dined at a fantastic Georgian restaurants there, too. Go check out what I ate there in my post about our two days in Vilnius. Spoiler alert: there are pictures of khachapuri adjaruli in both posts!
Sourdough Khachapuri Adjaruli
Adjaruli khachapuri, the famous Georgian cheese bread with an egg on top, homemade using a sourdough starter.
Total Time
2
hours
35
minutes
Ingredients
For the preferment
75

g

sourdough starter

100

g

flour

70

g

water
For the dough
150

g

flour

40

g

milk

1

egg

25

g

butter

1/2

tsp

salt
For the filling
150

g

feta

150

g

mozzarella

30

g

butter

2

eggs
Instructions
The preferment (the day before)
Combine the sourdough starter with the flour and water in a plastic bowl. Stir until all the flour has been incorporated. Cover with cling film and leave out at room temperature for about 8 hours or overnight.
The dough
Melt the butter and let cool in a small bowl, as you don't want to add it hot to the dough. Lightly warm the milk to have it lukewarm and crack the egg in it (the egg should be at room temperature). Whisk the egg and milk mixture.

In a larger bowl, combine the flour with the prefermented levain from the day before and add the milk and egg mixture. Mix these ingredients with a wooden spoon or rubber spatula. When the dough is starting to come together, add the salt and melted butter and keep mixing until homogeneous. The dough should be soft but not sticky. Cover the bowl with cling film and let rest for 2 hours.
The filling & baking
Drain the mozzarella and coarsely grate it on a grater. Place grated mozzarella on a colander to let excess liquid drain. Crumble the feta and mix together with the mozzarella.

After 2 hours have passed, transfer the dough to a floured surface and divide it into 2 balls. Roll them out with a rolling pin trying to get a long oval shape on both. Transfer rolled out dough to an oven tray lined with baking paper.

Divide filling between two pieces of dough, leaving about 1-2 cm from the edges. Fold the side edges over the filling on both sides, then press ends together and give a slight twist to securely close them. This will prevent the dough from snapping open as it bakes, losing the boat shape and letting the filling pour out.

Bake in the preheated oven at 250°C (480°F) for 12 minutes. During this time, the cheese should melt completely and the dough should get a golden tone.

After 12 minutes, take khachapuri out of the oven and crack an egg in the middle of each filling. Divide room temperature butter between the 2 fillings, then return the breads to the oven for 3 more minutes. The egg white should be cooked enough to lose its translucent appearance, but the yolk should still be runny when the bread is served.
This recipe was adapted from this forum.
(Visited 2,965 times, 4 visits today)