Szarlotka is the name of Polish apple pie. There is another item in Polish cuisine that goes by the same name and that features two of the same ingredients – apples and cinnamon. The third igredient is Żubrówka, probably the most famous Polish vodka out there, the one with a leaf of bison grass in the bottle. When szarlotka doesn't refer to a pie, it is a drink, Poland's favourite way of drinking Żubrówka when used as a cocktail ingredient and not enjoyed alone.
What makes Żubrówka immdiately recognisable is the leaf of bison grass in the bottle. Many believe it is that leaf alone that gives the vodka its pale yellow tone, but the pure vodka is actually infused with a tincture of bison grass in order to achieve this effect. Bison grass is special to Poland as it grows in Puszcza Białowieska, a national park that lays across the border between Poland and Belarus. The park, a UNESCO World Heritage Site, is home to the European bison. I spent two years in Poland wishing to visit the park yet I never made it there. My dream is to visit in the winter to see the bisons in the snow. I don't know when this will actually happen, but I plan on visiting the park once I buy a proper telephoto lens one day.
Żubrówka is commercially available also pure, known as Żubrówka Biała. It is a very smooth Polish vodka, very enjoyable. I used it last year to make cocktail sauce to my shrimps. Although I really like the pure version, I consider the original one scented of bison grass to be more special. And seriously, it is the one you want to use for your szarlotka cocktail. No other vodka will do, as that peculiar scent is what makes this drink stand out.
Szarlotka cocktail:
2/3 chilled apple juice
1/3 ice cold Żubrówka
a pinch of ground cinnamon
extra ice cubes
In order to make this cocktail I follow these proportions. Featured in the pictures here are the two glasses I made for myself and my mom. For the two of us I used 200 ml of juice and 100 ml of vodka. Instead of adding the ground cinnamon I let a cinnamon stick infuse the drink as I was taking the photos as I figured it'd be nicer on pictures, but this is a little bit of a waste of a cinnamon stick so I wouldn't use that normally. Sure it makes the drink look nicer!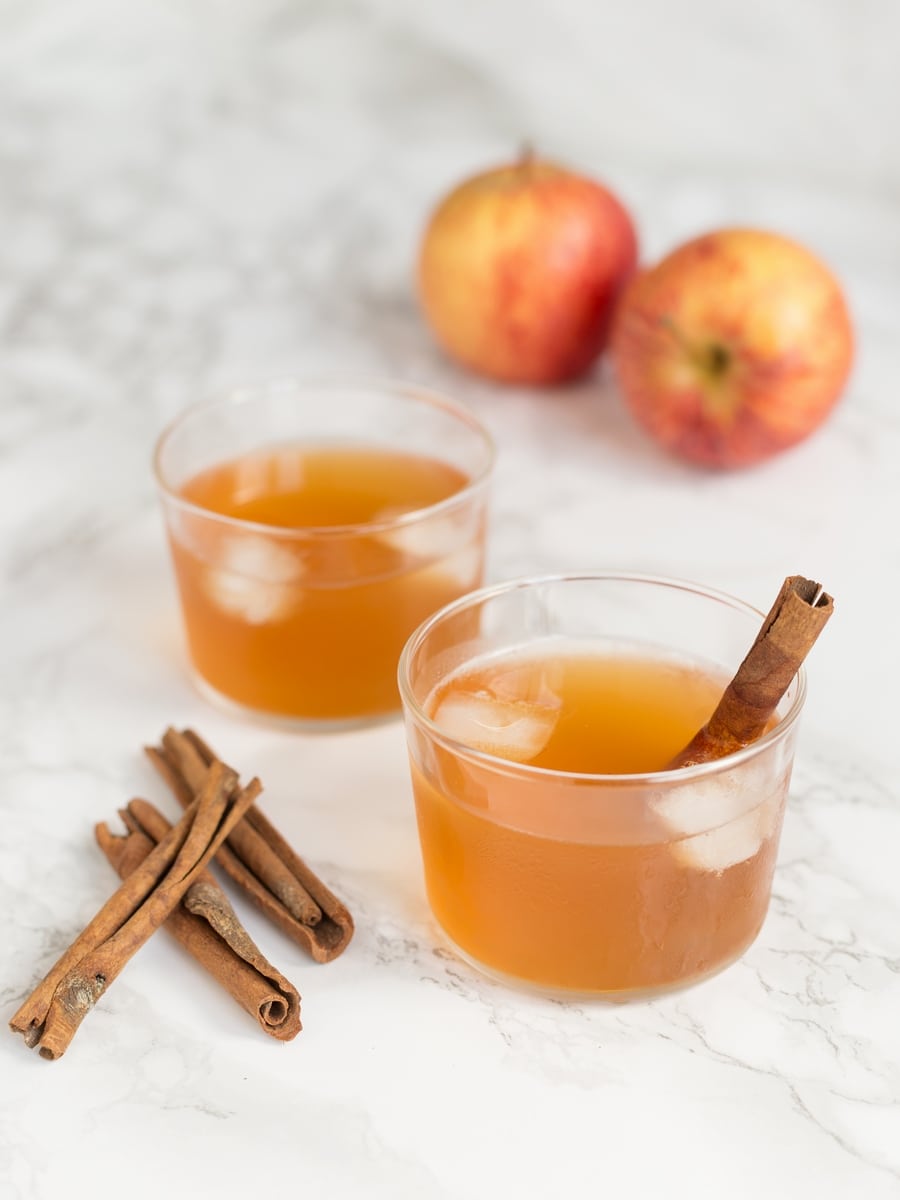 Not only did I use original Żubrówka imported from Poland, but for my cocktails I also used 100% organic apple juice. In early October last year, when the apple harvest was at its fullest, I went to a musteri, a place that extracts apple juice. One of my friends has a few apple trees that usually yield too many apples just for himself and his family, so he likes to share his apples around. We took the fruits to this workshop where within minutes they were turned into delicious cold-pressed juice. I stored my share of juice in jars in my freezer and occasionally defrost one to have some pure apple juice. This is why the colour of my szarlotka is so vivid. One can of course make it also with boxed apple juice, but it is usually lighter and more see-through. When ordering this drink in bars it usually has this lighter colour. But as I said before I wanted this drink to be 100% fancy. My mom certainly liked it!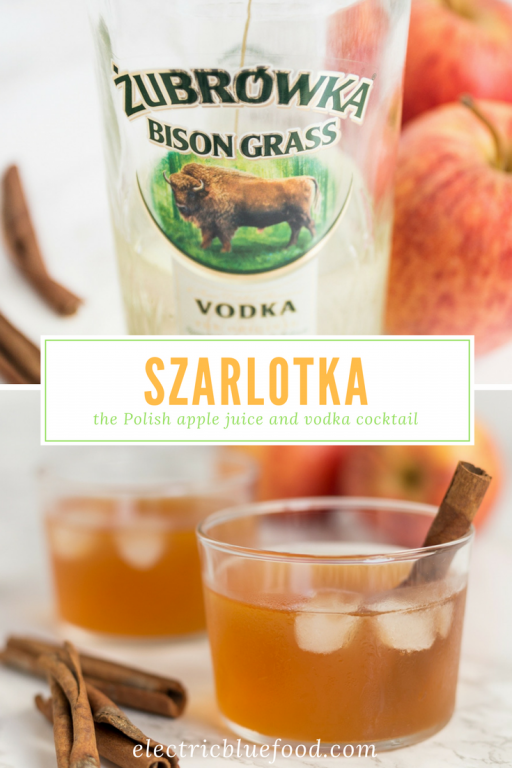 (Visited 4,774 times, 16 visits today)