I love airports. I love everything about airports. Their timelessness, placelessness, the way they always seem disconnected with the world outside. They're transit places, frontier spaces, concrete representations of the neither here nor there. Although 95% of the times I transited through an airport it was to catch a flight within Europe, sometimes I ended up being stranded there for hours, at times my layovers being longer than the actual flights. Every time I did so, it was because this was the cheapest way. 
I did the same on my latest trip. Unsure of when to visit home, my boyfriend and I waited too long to book our flights, and when we finally had a clue on when to leave and for how long, cheap tickets were already gone and even low cost airlines were not selling at low prices. Or better, Ryanair had fairly cheaper tickets than other airlines on the same days, but the problem with Ryanair is that it flies from Skavsta, one hour and a half south of Stockholm, when we live two hours and a half north of the capital. From Stockholm there is a shuttle that takes you there, but it's not cheap. Furthermore, Ryanair arrives in Rome Ciampino almost at midnight, and nobody could pick us up that late. Counting the shuttle to Skavsta and the taxi from Ciampino, Ryanair would have ended up costing as much as other companies. We (almost) always fly Ryanair, so for the same price we thought we'd choose another airline for a change. The second cheapest option was Finnair: from Stockholm Bromma, that is in the very city, to Rome Fiumicino, the main airport in Rome, even closer to my boyfriend's family's place. So we went for that option and booked on Finland's flag carrier. How come that that ticket was still affordable? Because it involved a night-long layover at Helsinki airport. And I couldn't be more excited about it.
Every time I get to fly on a new airline I'm always super happy. Some like to expand their list of foods eaten, or books read, I'm happy when I get to add an airline flown. So to top my excitement about flying Finnair for the first time there was also the special feature of spending a whole night at Helsinki airport! I had already flown (Lufthansa and Blue1) to Helsinki in 2009, but I had just gone through the airport as the Finnish capital had been my final destination back then. But this time I wouldn't even have gone out of the airport, planning to remain in the transit area and find a place to sleep there.
Sleeping in airports is an art I'm not new to. I have slept on the floor at Milan Orio, on a sofa at Starbucks Dublin airport and also on a bench at Trondheim airport. Back when I was an Erasmus exchange student and I was learning all the tricks to travel cheap, I learned about the website sleepinginairports.net. This is where I read about the sleeping pods installed at Helsinki airport.
In the Schengen area of the transits in Terminal 2, sleeping pods are located beyond gate 30, you find them walking towards gate 31, on the right by the passport control checkpoint. There is a room with about 14 pods, and there are three additional pods outside of this room. Those three are demonstrative and free to use, while for using the others one might get charged. I say "might" because over the summer months they're all offered for free on a first come, first served basis. In June a flyer was advertising that the use of the pods was charged 5€/hour, but there was nobody checking them. We arrived in Helsinki pretty early in the evening so we managed to get two of the free ones, but during the night I overheard a man asking security if he could use the others, and a security staff member said that if there is nobody at the cash desk, then they're just free to use.
Sleeping pods are reclining chairs that get to a completely horizontal position, and feature a cover that you can slide over to enclose yourself inside the pod. This ensures isolation and privacy. It gets pretty dark inside, but the cover has holes to allow the air to flow that also let some light in, so if those chinks of light bother, a sleeping mask will solve the problem.
Besides the sleeping mask for total darkness, another essential item that will maximise the sleeping pod experience is a pillow. The sleeping pod is great and definitely a much better alternative than the floor or a bench at the gate, but even the reclining chair featured in it is quite hard, and sleeping without a pillow was not the best comfort. Conscious of this, on our way back (yes, the night-long layover was also featured on our return trip) we used our inflatable travel pillows and slept definitely better.
Another great feature about those sleeping pods – like they're not amazing enough so far – is that they have an individual power outlet inside so you can safely charge your electronic equipment while you sleep, without worrying about leaving your stuff unattended somewhere. As for the luggage, there is a storage space under the seat, big enough for a carry-on baggage and your shoes. The airport is so lovely, with wooden floors everywhere, that as soon as I got my own pod I immediately took off my shoes and felt at home!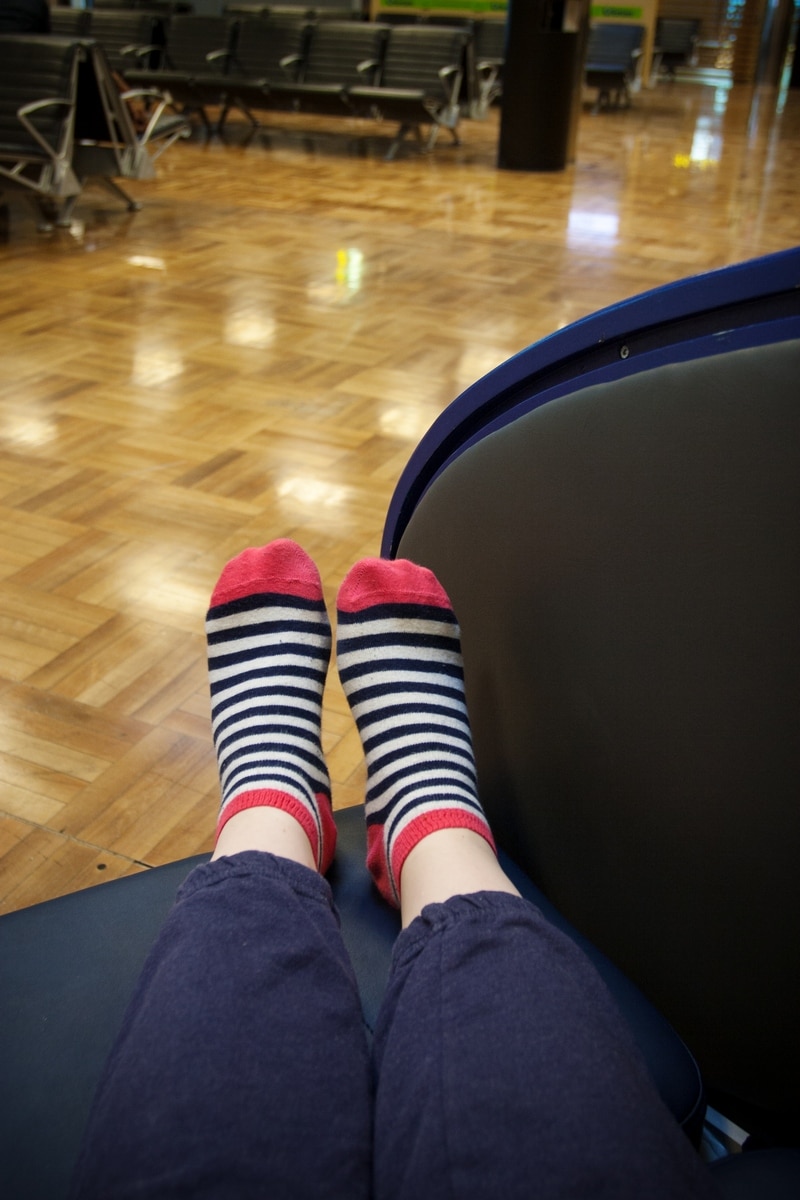 The area where sleeping pods are located is very close to the toilets. Thumbs up to Helsinki airport for their toilets! Clearly those in the transit area in the night don't get too much traffic and are potentially cleaner than toilets in the landside, but still I was impressed by their cleanliness. Another feature I appreciated was the little sink with detachable shower installed inside each toilet. I found it very thoughtful: if sleeping pods were conceived to offer some rest especially to passengers in-between long flights, another very basic need these people have is definitely the possibility to refresh a little while in the bathroom. Add to that the chirping sound emitted by speakers in the whole bathroom area to secure privacy from "toilet sounds" and you can easily imagine why I fell so in love with this airport!
The airport is fairly silent during the night and people in the sleeping pod area respect this. I heard very few announcements and my sleep was almost never disrupted even without wearing ear plugs. Nobody came to disturb me or check on me, and since I was sleeping in a designated area and not occupying a café couch or gate, nobody kicked me out when airport shops opened in the morning. I just put on my alarm clock and emerged out of my sleeping pod the following morning, relaxed. I went to the bathroom to brush my teeth and then walked to the gate to catch my morning flight to Rome.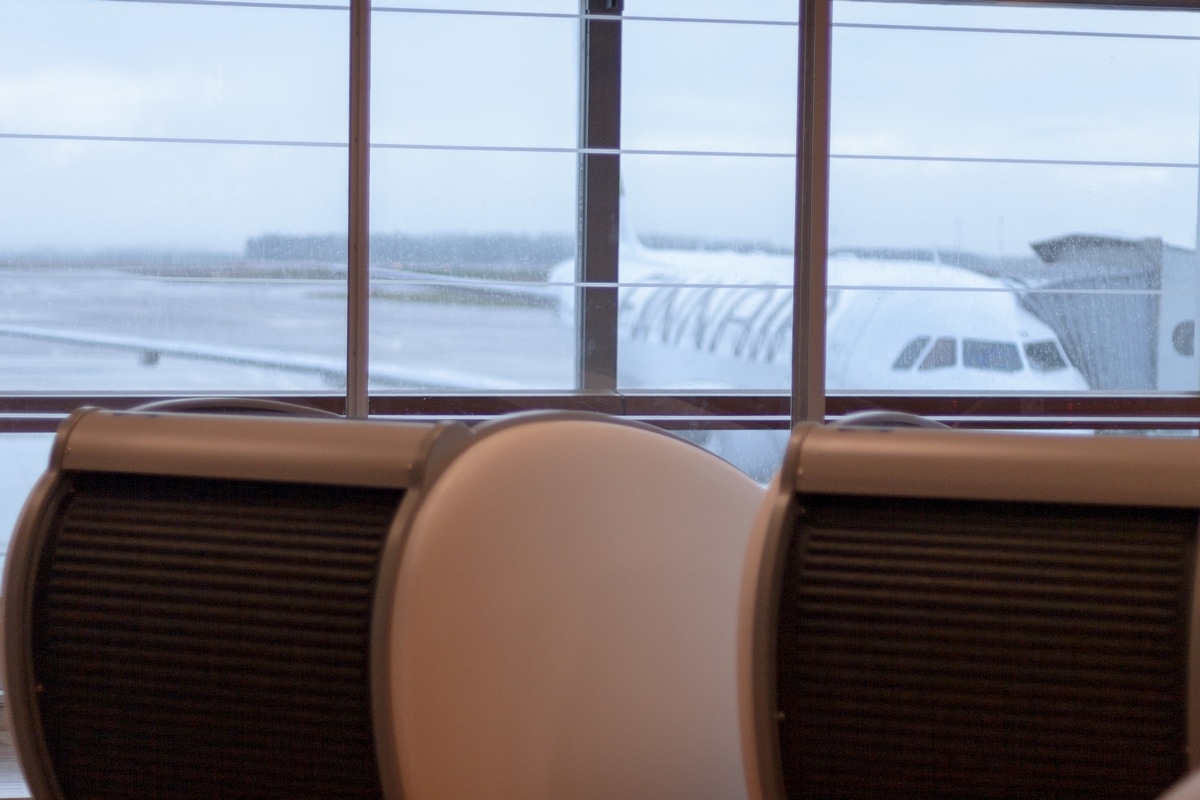 I didn't even bother looking for a bar in the terminal, because I knew that I would be served coffee on board. So not only did I save on the shuttle bus from Stockholm and on the taxi to Rome, but also on overpriced airport coffee. I know that's not much, but in the end every penny counts, and I would have spent that money on a morning coffee had I not been offered it. In my awe for flying with flag carriers there's the pleasure of being offered something during the flight. I flew for the first time as a child, and I remember that back then even economy passengers would get hot food on board, served with metal cutlery engraved with the logo of the airline. Airplane cutlery was smaller in size than regular cutlery, so to my 5-year-old self those items had seemed wonderfully appropriate. My dad slipped a little fork and spoon in his bag and produced it in front of me when we dismebarked. As wrong as his deed was, back home I was the happiest child, eating with my Lufthansa fork. I'm pretty sure those items actually have some value now. The times have changed and now not even flag carriers offer something onboard on short haul flights anymore. Still, when they do, I'm happy to see that the branding of the items hasn't died out and now applies to disposable utensils. Finnair serves water and blueberry juice on plastic glasses that carry the logo of the company, for instance. And if the fact that they only serve one type of juice – blueberry, locally produced in Finland with pride – was a nice feature to me, the fact that they serve coffee in designer cups made my respect for Finland's flag carrier grow enormously. Finnair coffee comes in paper cups designed by Marimekko, a true pillar in Finnish fashion.
Two nights enjoying a considerable free service, a total of four smooth flights with no delays, a remarkably clean and functional airport as the airline's main hub and excellent customer service. I know I'm used to the wonderful randomness of flying low cost and sleeping on stone-hard terminal floors, so the whole flag carrier experience to me feels like being upgraded to a different class, but Finnair met all my expectations. The two nights at the airport ended up being among the highlights of my vacation, and that's quite a plus considering that the journey to a place is often seen as mere transportation. While to me, instead, it's just where the fun begins.
(Visited 152 times, 1 visits today)