To finish off my Italian vacation I could only go for a classic of the Italian dessert tradition: tiramisù. This was my contribution for a little party my boyfriend's family held on our last night in Rome. Tiramisù combines two very distintictively Italian ingredients: mascarpone and espresso. Add to that the hint of fresh eggs and the porous texture of the Savoiardi biscuits (ladyfingers) and here you have this wonderful dessert.
Traditionally, tiramisù is served in a deep pan that contains all of its layers. This allows digging with a spoon right into the same pan on the following day, when eating the leftovers. I have nothing against this traditional way of serving it, but I prefer to make it into a cake. It all started a few years back, when I was living in Poland and had to make a small tiramisù. I didn't have a pan small enough to serve it and didn't want to use a breakfast bowl for it, so I came up with the idea of making a small cake out of it. Furthermore, by making tiramisù cake I got to avoid ladyfingers (it was the beginning of my stay in Poland and I had no idea where to buy Italian Savoiardi there) as I substituted them with a genuine home-made sponge cake.
So, tiramisù cake is a layer cake that features mascarpone cream in it and a dusting of unsweetened cocoa powder on top. The layers of sponge cake substitute the finger biscuits found in the original tiramisù. Although there are several variations to the mascarpone cream, that is the main feature of tiramisù, I stick to the very basics. For example, many recipes call for whipped egg whites to be folded into the mascarpone cream to give it an airier texture. Others achieve the same effect folding whipped cream in. Not serving my tiramisù in a pan, I want my cream to be compact and stiff, so I can do without the extra airiness and only use egg yolks. Another strong point here is that too many egg yolks will make the cream runny, so when making a tiramisù cake you definitely need less eggs. Just enough to get the taste and colour, and that will do. The cake I prepared is made of three layers of sponge cake baked in a 20-cm cake pan; here are the directions to prepare the cream. With these proportions I managed to easily fill and coat my three-tiered cake.
Mascarpone cream
1 Kg full-fat mascarpone cheese
170 g confectioner's sugar
3-4 egg yolks
With the help of a hand mixer, cream the mascarpone and sugar until nicely combined. Keep mixing and add the egg yolks individually, incorporating well each one before adding the next. For this cake I used 3 yolks and I was happy with the texture of the cream afterwards, but depending on the size of the eggs a fourth one can be added. As long as the cream keeps compact and holds soft peaks there is no limit to the number of egg yolks. Certain tiramisù recipes will suggest one egg yolk per 100 g of mascarpone, but when making a tiramisù cake that would definitely not be a good proportion, so in this case I would say that less is more. Mascarpone is a cheese very neutral in taste, so with just three yolks the cream will already take the hint of their taste. What is truly important is that the eggs are super fresh.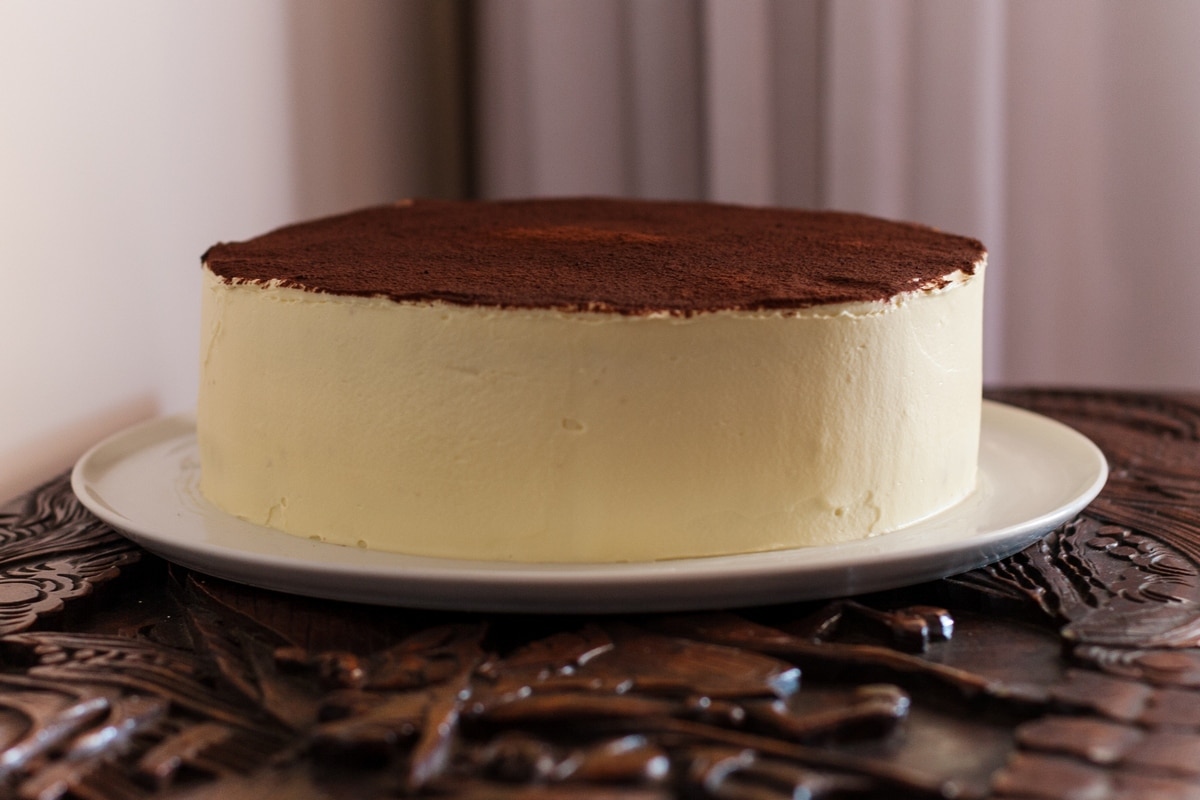 Coffee is the other big star in this cake, and its place is on every layer of sponge cake. If you have access to an espresso machine, definitely go for that type of coffee. This is the coffee that is brewed and used in Italy. Remember to add a generous amount of sugar to it (if unsure, add one more teaspoon of sugar and you won't go wrong) before you put it in your tiramisu. Although a cup of coffee with three spoonfuls of sugar might prove undrinkable to many, we are using it in a cake, so it has to be sweet. The key to good food is all ingredients blending together, so the last thing you want is the taste of bitter coffee to stand out in your mouthful of tiramisù. The flavour of coffee should, instead, entice you to the next mouthful after the enveloping contact with the cream, and there should always be enough coffee so that the final product will not be overwhelmed by the taste of mascarpone. By soaking every layer of sponge cake with it you will safely distribute enough coffee in the cake. And when you slice the cake, the coffee stains on the sponge cake will just look pretty.