There was a time in my life when I was being paid to teach a bunch of kids how to cook. Best times ever. I believe in the power of creativity and I think that humans should be trained in the kitchen from an early age. One of the highlights of my days as a teacher was definitely making biscuits. I'd tell my pupils to bring cookie cutters to school the following week and nearly all of them complied. This is how looking forward to my lesson biscuits they were.
With the students I taught during the first term we would make gingerbread cookies. Of course, I mean. That's the perfect time of the year for that kind of baking. But what about the students I'd have in the spring? After all, they needed to learn the same techniques (and take their turn showing off the most incredible cookie cutters they'd bring from home. For the record, I had a kid bring to school a pug-shaped cookie cutter. A pug!). I needed an equivalent that was as simple to knead, and as fast to bake and dry. Minus the Christmassy smell of ginger and cloves. Vanilla and butter it was!
Vanilla butter biscuits:
230 g flour
1 tsp vanilla sugar (or 1/4 tsp crushed vanilla bean)
1/2 tsp baking powder
80 g sugar
120 g butter (softened)
2 tbsp plain yoghurt
Combine flour, vanilla and baking powder in a bowl and set aside. In another bowl, combine butter (that needs to be at room temperature) and sugar, and mix with a hand mixer at medium speed for about 3 minutes. After that, add the yoghurt and mix it in. Lower the mixer speed and pour in 1/3 of the flour mixture. When the powdery ingredients have been combined, add another third of the flour mixture. After 2/3 of the flour mixture have been incorporated to the butter mixture, set the mixer aside. Add the last third of the flour mixture and work it with your hands. Wrap the dough in cling film and refrigerate it for 30 minutes before rolling it out. In the meantime, set the oven on 190°C.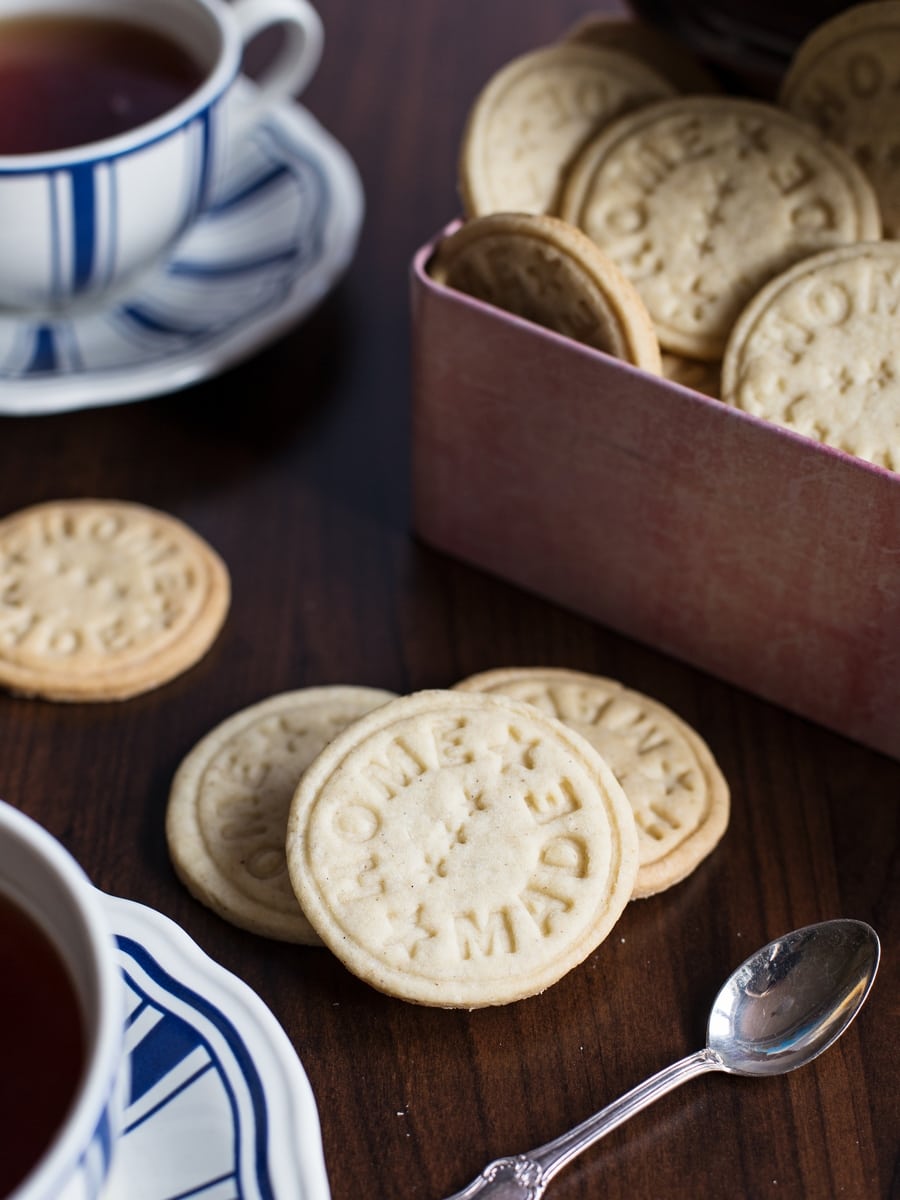 Dust your working surface with flour and roll out the dough with a rolling pin until it's about 2 mm thick. Cut out biscuits and lay them over a baking sheet. Bake in the preheated oven at 190°C for 10-12 minutes, until the sides and bottoms of the cookies turn slightly darker.
It's funny how my biscuits turned out slightly imperfect when it comes to their roudness. As the writing on them reads, they're home-made. That's the charm of the imperfect beauty of home-baked goods.
Of course it is possible to sub the butter with a plant-based alternative, but clearly that will mean that the biscuits will lean more towards the vanilla in their flavour spectrum, as plant-based butters lack that peculiar creamy flavour that cow milk's butter has. Texture-wise, it will work just as fine and will have the added value of making these biscuits enjoyable by guests with special dietary requirements!
You may also like
(Visited 574 times, 1 visits today)