Ah, gingerbread! It's not something I've always associated with Christmas but now I can't think of Christmas without pepparkakor anymore. There is no Advent without the smell of spices coming from my kitchen at least once. This year I decided to try my hand at gingerbread cheesecake. No-bake cheesecake, in fact, but don't let the fact that no baking was involved make you think the house did not smell like gingerbread. This gingerbread cheesecake is flavoured with the same spices I use in pepparkakor: cinnamon, ginger and cloves, and it features a speculoos biscuit base.
Yes, speculoos. That spicy and buttery crunchiness that Belgium and the Netherlands are famous for. I remember I visited the Netherlands for the first time one November many years ago. It was just before Sinterklaas, a celebration on Saint Nicholas's day. My Dutch friend who was hosting me introduced me to pepernoot, spiced biscuits that are traditional at that time of the year. The peculiar scent of those biscuits followed me all through my short trip to Nijmegen and my brain recorded that scent as the smell of the Netherlands. Ironically, one year later I was there again at the same time of the year. No wonder the first time I decided to make gingerbread houses Amsterdam's architecture was my inspiration!
Can't get the Saint Nicholas Dutch biscuits here, but luckily there is one commercial brand of speculoos that is distributed in Sweden and that's Lotus Biscoff cookies. I love those. I love dunking them in milk until they basically melt and turn the milk into a delicious cinnamon-caramel-flavoured goodness. These biscuits seemed the perfect ingredient to complete my gingerbread cheesecake project. Read on to see how it went. Please notice that for this cake I used a 15-cm springform pan.
Gingerbread Cheesecake recipe
Speculoos cookie base
100 g speculoos cookies
60 g unsalted butter
The first thing is the biscuit base of the cheesecake. Place the butter in a small saucepan and set it on the stove. In the meantime, crush the biscuits either by hand or in a food processor. When the butter has melted, combine it with the cookie crumbs. Lay this mixture on the bottom of a tart pan and press to create an even layer. Transfer this to the freezer to firm up. Ikea is famous for its pepparkakor (ginger thins) and I always have a tin of these at home, but I figured that thicker biscuits like the Lotus Biscoff cookies could be a better option in a cheesecake base. You don't really need to freeze the base, but I like to keep it in the freezer to speed things up so that it's nice and hard when the filling is ready to go on top of it.
Spiced no-bake cheesecake filling
300 g cream cheese
400 ml heavy cream
2 gelatin sheets
70 g dark muscovado sugar
3/4 tsp cinnamon
3/4 tsp ginger
1/4 tsp cloves
40 g syrup
Place the gelatin sheets in a bowl with cold water and leave to soak. Separate 300 ml of heavy cream and beat it with a hand mixer until it reaches soft peaks, then set aside. In another bowl combine the cream cheese, the muscovado sugar and the spices and beat with a hand mixer at medium speed for about 5 minutes. I think dark muscovado sugar is the perfect sugar for this recipe as it already possesses that syrupy quality that good gingerbread biscuits have (it's the molasses), but since it's not a fine sugar like confectioner's sugar, it takes some beating for it to dissolve. So keep working until you can feel with your fingers that the sugar has nearly been dissolved. After that, add the syrup, and keep beating.
Set the remaining cream in a small saucepan and warm that up. Remove from the heat just before it boils. Strain the gelatin and add it to the hot cream, whisking to dissolve it. Let it cool down for a couple of minutes, then add this to the cream cheese mixture. Start the mixer on low speed and combine. The mixture at this point should be quite runny, but that's fine: the gelatin and whipped cream will help to change that. Set the mixer aside and add half of the whipped cream to the cream cheese mixture. Gently fold that in, then repeat adding the rest of the whipped cream. Now the overall texture of the spiced filling should have changed to thicker. Transfer this mixture into the cake pan lined with the biscuit base and leave in the fridge for a few hours (preferably overnight) to firm up.
Notice anything familiar in the quantities of the spices? If you've ever baked my pepparkakor, a recipe proudly crafted to contain no eggs nor dairy to suit various dietary requirements, you will notice that this gingerbread cheesecake contains the exact same quantities of the same spices. I think this is a very balanced blend that nicely contrasts the tangy quality of the cream cheese, without being too overwhelming. The speculoos base alone already gives this cake a very spicy flavour, so you don't want to go too heavy with the filling.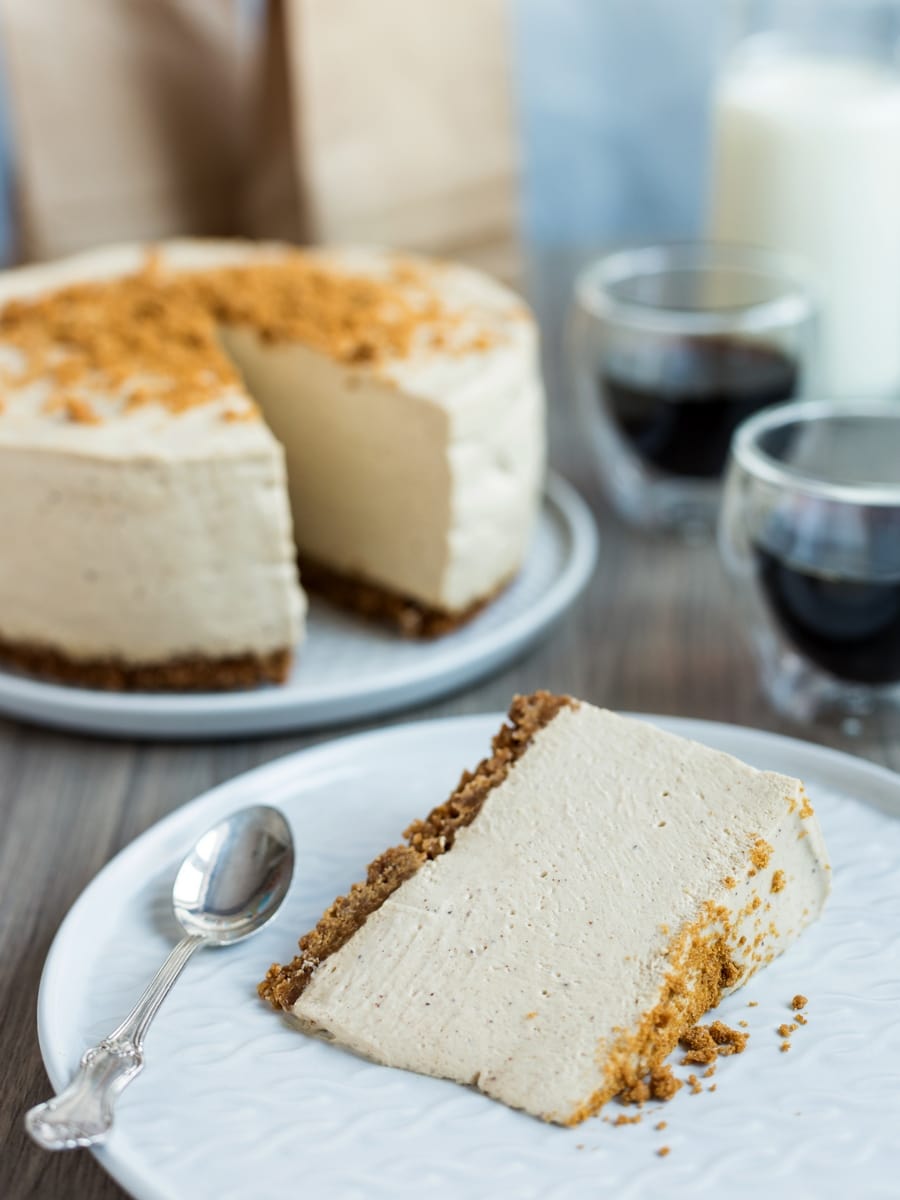 Biscoff cookies are said to be the perfect biscuits to go with coffee, so I figured this cake should, too. In fact, it was a very good combination. This spiced cheesecake makes for a great Christmas-time fika, and if you're in a coffee-obsessed country like I am at this time of the year you can as well find seasonal Christmas coffee. Well, no excuses, now go and make it.