Once you've tried it, you can never get enough of strawberry rhubarb crisp. Strawberries and rhubarb are such a perfect combination. Soft and jammy, the tangy cooked fruits are topped with a sweet and buttery crunch. What makes this oat crisp unique? The addition of maple syrup!
This strawberry rhubarb crisp is so good it was my dessert of choice to make for my mom's birthday. Living in two different countries, we seldom get to spend our birthdays together. Yet this year it happened. My mom spent her birthday in Sweden and I could only make her a very Swedish delicacy.
Strawberry rhubarb crisp doesn't sound as the most Swedish thing to you? Well, it may not be as Swedish as the cinnamon or saffron buns, but in the early summer the Swedes love their rhubarb. And strawberries. Trust me when I say that the combination of  strawberries and rhubarb in pies, crumbles and crisps is very much of an early summer thing all across Scandinavia.
Irene's strawberry rhubarb crisp
So I made my mom a strawberry rhubarb crisp for her birthday. What she didn't know was that this was like the second time in my life I was dealing with rhubarb. The first time had been a month or so before, when I got to play around with Irene's recipes at work.
Who is Irene, you may ask. Irene is the one in charge of the baking at the café where I currently work. Her fruit crisps are big hits among our customers and I must admit I was pretty hooked, too, the first time I tried them. Since at our café we're big on seasonality, she bakes with whatever's in season. Sometimes it's blueberries, sometimes it's apples. In the spring, it's rhubarb.
So the story goes that one day Irene was given the following day off. And we were running short on our seasonal fruit offer. So among the tasks on the list there was to restock our fruit crisp supplies. When she's not around it is me who is in charge of the baking, so on the following day I took up her routines. First thing I did was to check the list:
 – make rhubarb crisp
and there they were, beautiful rhubarb stalks on the kitchen counter, all green and red. And I had never ever even touched one before that day.
Who doesn't like a good challenge, after all, especially when you are covering for a colleague on leave. I can do this. I know how to bake. Sure rhubarb is pretty unfamiliar to me, but how difficult can it be. Well, what do I know about rhubarb? I have tasted Irene's crisp and it was delicious. What else? Hmm, the leaves are poisonous, right? The leaves, though. You don't eat those. You can use them as umbrellas. But no eat. Yup, that's it. No other clue about rhubarb. Now what do I do?
So the story goes that that day I made my first batch of rhubarb crisp. I learned that you can peel it, but when it's new this is not necessary. I tasted raw rhubarb and discovered it's pretty tart. But cook it up with some sugar under the oaty syrupy buttery crisp following Irene's recipe and you will get the most delicious rhubarb crisp. Promise.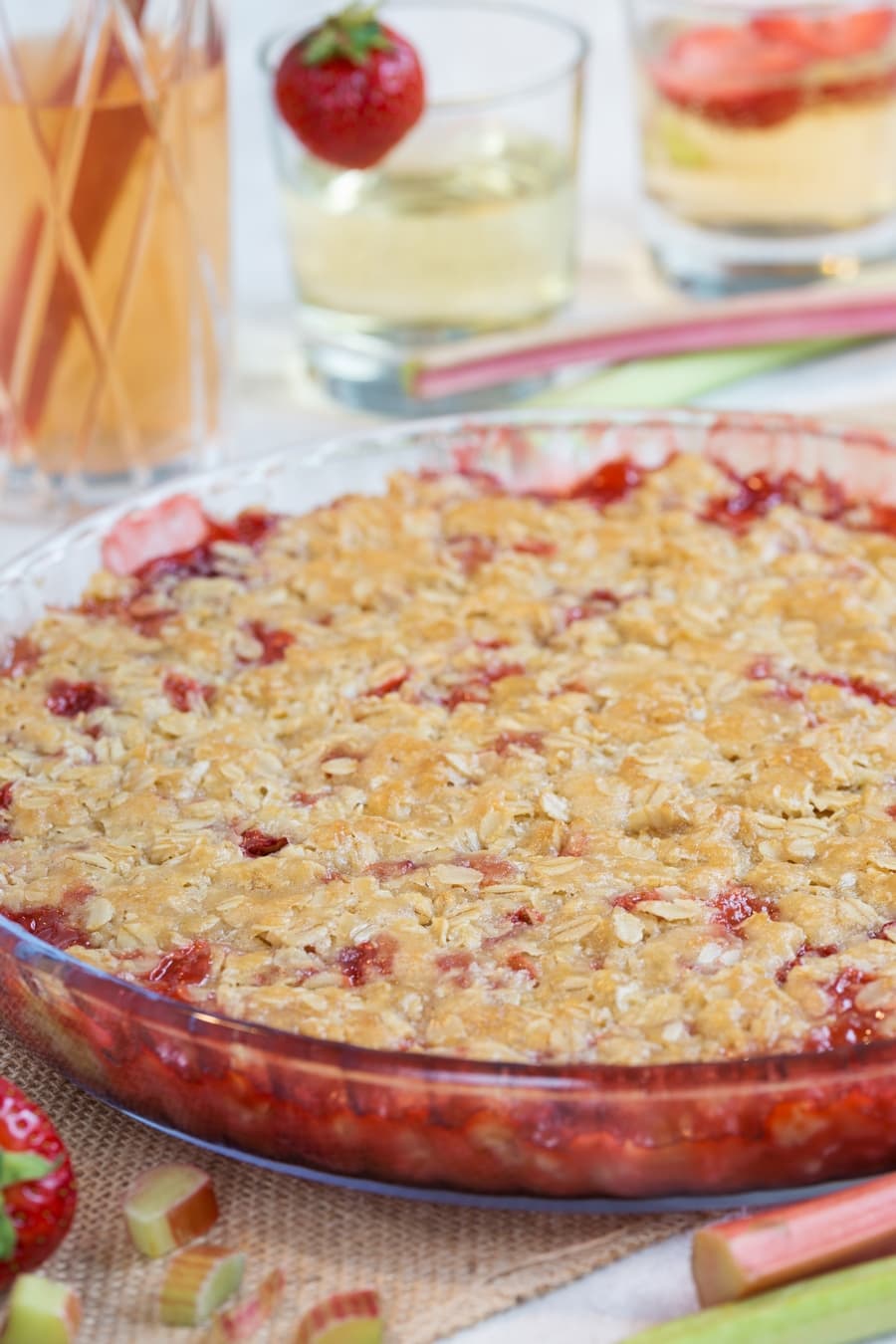 How to make rhubarb and strawberry crisp
Irene's recipe book actually had a few variations of her fruit crisp. As I said above, every month or so she uses a new fruit, because seasonality. So in the late spring it was only rhubarb, but her recipe also had a mixed variation that she used to bake the previous year when strawberries got in season: strawberry rhubarb! This was the one I baked for my mom.
The first thing to do is to prepare your fruits – I keep calling rhubarb stalks "fruits" as they're generally considered such. They're not, but let's just stick to the idea that they're fruits. Clean and cut the strawberries and rhubarb stalks into bits all about the same size.
Add the sugar and some potato starch and toss. Then spread this fruit mixture over the bottom of a cake pan. I'm using a pyrex tart pan here, and I would strongly recommend it. Alternatively, ceramic works as well. Avoid using a metal pan, as the fruits will cook to almost a jam and all the sugar will make it stick to the pan and burn. You want to have your crisp easy to serve and you want as little cleanup as possible.
The next step would be to make the crunchy crisp. Melt the butter and combine the rolled oats, maple syrup, sugar, flour and vanilla extract. This is very easy, you can just stir it in. Then just distribute this mixture all over the fruit base. Bake in the preheated oven for 40 minutes at 180°C.  The butter and sugar will melt, creating a lovely crunchy top.

Fruit crisp serving tips
Fresh fruits bubble as they bake, as the water evaporates as they cook. Expect your strawberry rhubarb crisp to swell and grow as it bakes, so never fill the tart pan to the brim. Once out of the oven, the crisp will set and fall back to the volume it had when unbaked.
You can enjoy this crisp right as it comes out of the oven, but it is preferred to let it set for about 10 minutes before serving. Hot, it's fantastic with a scoop of ice cream right on top, like this homemade no-churn London Fog ice cream. Personally, I like it better cold. Cold it usually tastes sweeter, while hot it gives out a slightly more tart flavour. The perfect side when eating it cold is unsweetened whipped cream. Enjoy it with a glass of brown sugar lemonade or a berry cocktail like this blackberry G&T.
If you happen to be in Dalarna and you want to taste Irene's original, head to Murboannas, go up to the café and ask for the säsongens paj. Well, if you want rhubarb make sure to visit in May-June!
Strawberry rhubarb crisp
Ingredients
Fruit base
275

g

rhubarb

200

g

strawberries

55

g

sugar

1/2

tbsp

potato starch
Oat crisp
150

g

butter

50

ml

maple syrup

1

tsp

vanilla extract

115

g

rolled oats

165

g

sugar

90

g

flour
Instructions
Clean and cut the rhubarb and strawberries into small pieces about the same size. Add the sugar and potato starch and stir to distribute. Transfer fruit mixture to a pyrex or ceramic tart pan.

Melt the butter and stir in the maple syrup and vanilla extract. Combine rolled oats, sugar and flour and pour butter mixture in. Stir to combine.

Transfer crisp batter over the fruits and gently spread all over. Bake in the preheated oven for 40 minutes at 180°C.
Recipe Notes
This strawberry rhubarb crisp tastes fantastic both warm and cold. It is easier to serve when cold.
(Visited 373 times, 1 visits today)