Olive oil butter is a spreadable butter recipe made with butter and olive oil. If there is a way to make butter even more delicious than it already is, it's this. This whipped butter with olive oil and salt flakes is so good it redefines the concept of table butter.
If you like spreading butter on your bread you will know the importance of texture. Spreadable butter needs to be soft, best at room temperature. Another big factor is flavour. A hint of salt in your butter can go a long way when it comes to adding flavour. So now think a hint of salt and of olive oil. Heavenly.
So what is it that makes this olive oil butter spread special? The combination of texture and flavour. Olive oil lends whipped butter its fruity flavour while also adding to the overall softness. A salt flake here and there awakens your taste buds making this homemade whipped butter the best spread you'll have in a while.
Olive oil butter ingredients
To make this spread at home you only need 3 ingredients:
Butter – better if salted and at room temperature;
Olive oil – choose extra-virgin if possible, for the best quality and flavour;
Salt flakes – they don't melt providing an extra salt kick here and there.
How to make whipped olive oil butter
Add the butter to a bowl and give it a quick whip with a hand mixer for about a half minute.
Add the olive oil and salt and start the mixer again at low speed. Whip for about 2 minutes, increasing the speed to medium as the mixture gets homogeneous.
Transfer the butter spread to a serving bowl and enjoy as it is at room temperature. If you live in a very hot climate and you feel like your olive oil butter spread is too soft, you may place it in the fridge for 10 minutes to let it firm up slightly.
However, there is nothing like almost melted butter to me. Butter really is my favourite condiment and my favourite spread to have on a slice of bread. (Nutella makes a close second.)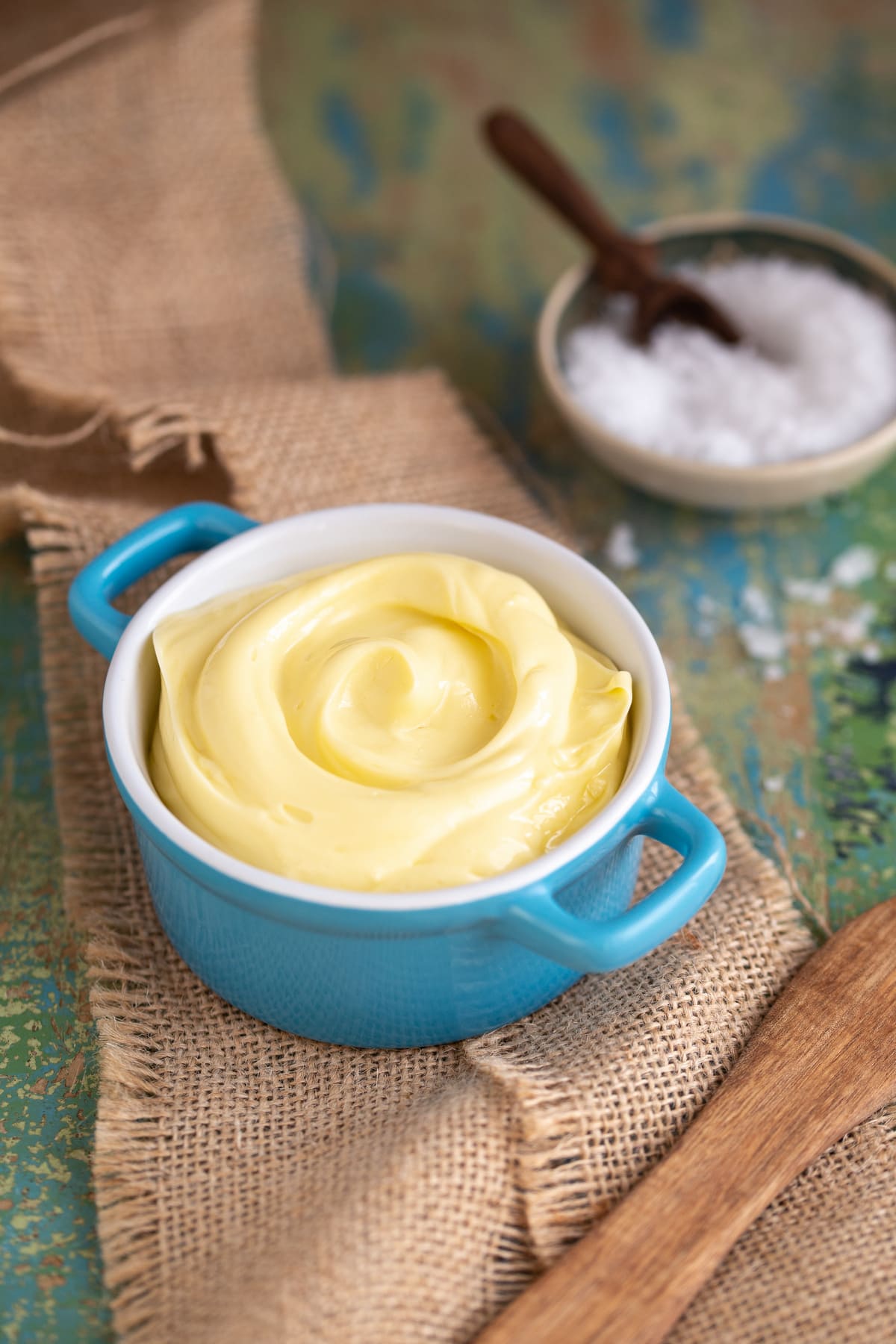 How to store it
Keep it on the counter for up to a week. At room temperature is when this spreadable butter is at its absolute best. A temperature of about 20°C makes this spread soft and silky as it should be. A higher temperature is not recommended and it would make this spread too runny anyway. Just keep it in an airtight container and away from direct light.
In fact, butter can be stored on the counter for a few days. The reason why butter is commonly refrigerated is to prevent it from going rancid while also extending its shelf life. But occasional storage at room temperature is possible. Furthermore, our olive oil butter spread contains olive oil and salt, two preserving agents. If you want to learn more, read these 4 mistakes to avoid when storing butter at room temperature.
If you won't use this olive oil butter every day, keep a smaller quantity on the counter and store the rest in the fridge. Even refrigerated this mixture is more spreadable than regular butter. It's because we've added one part olive oil, which itself does not harden in the fridge. So if you've forgotten to take it out, you'll notice that this spread is much easier to slather on your bread.
Butter lovers
I grew up mostly on a Mediterranean diet, eating lots of vegetables, fish and obviously pasta since that is the main staple in Italy. I've had access to great olive oil all my life, yet olive oil has never made it to the very top of my condiment favourites. Butter has always been my number one. And honestly I'm at a point in my life where I don't think I'll ever change my mind about that. I love butter.
So if you are like me and adore butter in all its forms and applications, you will surely love the recipe this post is about. How about taking a look at those other butter recipes?
Do you love butter as much as I do? I really hope you will be happy with this delicious spread. And if you can't decide between butter and olive oil you will find this recipe the perfect compromise. It will surely lift every bread slice you'll have it with.
Let me know in the comment what you think about this recipe and if you can't make right now you can add a pretty pin to your recipe board on Pinterest so you can come back to it later.
Olive oil butter
Homemade spreadable butter with olive oil and salt flakes.
Equipment
Mixing bowl

Hand mixer

Kitchen scale

Measuring cups/spoons
Ingredients
200

g

salted butter

room temperature

100

ml

extra-virgin olive oil

a sprinkle of salt flakes
Instructions
Add the butter to a bowl and give it a quick whisk with a hand mixer for about a half minute.

Add the olive oil and salt flakes and start mixing at low speed. Mix for about 2 minutes, increasing to medium speed as the mixture becomes homogeneous. The spread is ready to use.
Notes
In warmer environments this mixture may be too runny to use immediately. Chill in the fridge to firm up for 10 minutes if your room temperature is particularly high.
This butter spread keeps at room temperature (not over 25°C) for up to a week. Store airtight and away from direct light.
Salt flakes are recommended as they do not melt when whipped, thus providing a sound salt kick here and there. 
The use of salted butter is recommended both for flavour and for safer storage at room temperature. If you only have unsalted butter, mix in a sprinkle of table salt as you whip the butter before adding the olive oil. Then proceed to add salt flakes anyway.
If your butter is extra salted (2% salt or over) you may consider skipping the salt flakes, but that is up to your taste.
The nutritional information provided is only an estimate based on a suggested serving size.
Nutrition Facts
Olive oil butter
Amount Per Serving
Calories 232
Calories from Fat 234
% Daily Value*
Fat 26g40%
Cholesterol 43mg14%
Sodium 166mg7%
Potassium 5mg0%
Carbohydrates 1g0%
Protein 1g2%
Vitamin A 500IU10%
Calcium 5mg1%
Iron 1mg6%
* Percent Daily Values are based on a 2000 calorie diet.
(Visited 50,133 times, 45 visits today)