For our honeymoon we decided to visit Cambodia in Southeast Asia. If you're considering having your honeymoon in Cambodia let me tell you that it's a wonderful idea! We had a great time in Siem Reap and after our trip I can definitely recommend Cambodia as a honeymoon destination. But why Cambodia? Southeast Asia is a hot backpacker destination, mainly for the comparatively low costs of travelling there. As a consequence, even a little more luxury comes at a lower price there. The combination of affordable luxury, culture and great food makes Cambodia a wonderful honeymoon destination.

My husband and I are budget travellers who usually choose cheap accommodation and dawn-to-dusk tireless exploration. From our honeymoon we wanted a chance to relax, stay in fancy hotels and eat in restaurants, but with more freedom than a full board honeymoon package at some tropical resort could offer. Plus, we really wanted to be near some cultural attraction, rather than just spending time soaking up the sun. Cambodia, and Siem Reap in particular, fitted all the criteria. Perfectly staying within our limited honeymoon budget.
Is Cambodia a honeymoon destination?
Cambodia is a country in Southeast Asia whose economy relies a lot on the tourism industry. With tourists flocking the capital city of Pnom Penh, heading to Siem Reap for the nearby temples of Angkor or hitting the beaches in Sihanoukville and Koh Rong, Cambodia is indeed a country with much to offer. This of course means that the hotel offer is wide, spanning from budget hostels to full-on luxury resorts. For our five-day honeymoon in Cambodia we decided to splurge and found a lovely boutique hotel rated 5 stars just outside of Siem Reap.
Siem Reap might not be the most famous destination for honeymooners, as it is mostly known for being a backpacker hotspot. Yet, in my opinion Siem Reap is a great honeymoon destination. It may not be by the beach, but many hotels – especially the fancier resorts – all have a swimming pool. The airport is just a 15-minute drive from the city, thus making it very easy to reach, and most of the nice hotels offer a pickup service. Being such a big tourism destination, Siem Reap boasts lots of restaurants. This means that if you don't want to only eat at your resort you have plenty of opportunities to try different foods at close reach. Last but not least, Siem Reap is the place to be lodged to explore Angkor Wat, which is still the region's greatest pull factor. A nice cultural value added to your honeymoon.
Our stay in Siem Reap: Les Bambous Luxury Hotel
I started planning my honeymoon in Cambodia pretty much at the same time as I started planning my wedding, and this lovely boutique hotel was one of the first that caught my attention. Les Bambous Luxury Hotel Siem Reap is a small, family-run property that is rated five stars on booking.com. This hotel has a limited number of rooms, all suites of various levels of luxury. Hosting a limited number of guests at the same time, it grants a perfect level of intimacy for a trip like a honeymoon. The resort is located outside of the city, on the road towards the airport. They offer a complimentary pick-up and drop-off service to and from the airport, as well as a tuk tuk service into town at certain times of the day.
Although most booking.com reviewers recommended to get the bigger suites, I decided to book the standard one instead. Standard rooms are still suite-type, with a living area, extra large bed and bathroom with both shower and bathtub. Larger suites have a private sauna and two double beds. Coming from Sweden I figured we could skip the sauna; and we really didn't need more than one extra large bed. Visiting in low season, we got a very good deal at about 50$ per night, breakfast included.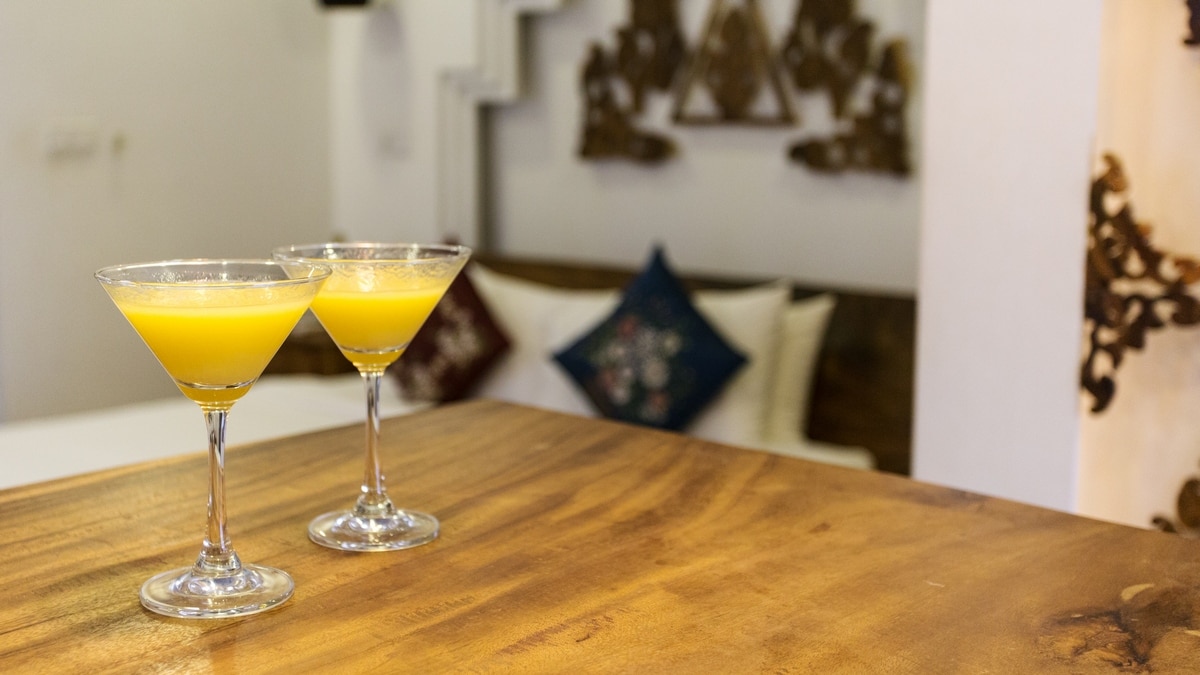 Apart from the breakfast, the price of the room includes a welcome drink upon arrival (fresh mango juice), daily coffee capsules as the room has a Nespresso machine, as well as airport pick up and drop off. We arrived in the morning and were happy to be allowed into our room before the regular check in time. Since we were on honeymoon and we decided to spoil ourselves we also booked a full body massage. It has an extra cost, depending on the treatment you choose. You can choose to have it in the room or by the poolside – we opted for the former, as outside it was too hot all the time.
The hotel features a rather small but very enjoyable swimming pool with a jacuzzi, located in the middle of the garden. The hotel is so small that the limited size of the pool did not really matter. Oftentimes we were the only guests at the pool and loved having the jacuzzi all to ourselves – one of the highlight of our honeymoon in Cambodia! The combination of swimming pool and air condition was a blessing when we were coming back to the hotel after visiting Angkor Wat. The hotel also features a restaurant, Kodelock, that specializes in both Western and Khmer cuisine. Breakfast is served there, and we also dined there once. The food was delicious, but obviously the prices were higher than those of the restaurants in town. Still, dining on a swing was a very romantic experience worth trying.
Eating out in Siem Reap
Finding a restaurant in Siem Reap is very easy. The whole downtown of Siem Reap is purposefully built to cater to the tourists that visit this city in Southeast Asia. The main street where you're likely to find the greatest crowds is called Pub Street and it is a lively hubbub of restaurants, pubs and shops. I was suspicious about this place at first, because I was afraid it was all going to be a kitsch tourist trap, so the first time we went there I was very dubious. I guess we were just lucky because the first restaurant we visited was Ambience 1960, and it made such a good impression on both of us that we changed our minds towards the neighbourhood as a whole.
Sure this is where you will find the kind of kitsch tourist crap, the watery cocktails, plastic souvenirs, and even street vendors of scorpions and snakes on a stick. There are massage parlours around every corner and while those directly on Pub Street seemed legit, I had different feelings towards some places near the night market. But it's not all like that. There are also many restaurants there that offer delicious meals (Ambience 1960 being one of them), as well as shops with good quality clothes and crafty objects that make for much better souvenirs.
Since we really liked the vibe of Pub Street, we made it our regular dining spot apart from the night we dined in at Kodelock in our resort. Les Bambous offers its guests a free tuk tuk service into town leaving between 18:00 and 19:00, and coming back before 22:00. Outside of these times a ride to town costs 3$. We took advantage of this service every evening and happily dined on Pub Street. Among the highlights of eating on Pub Street there are the unbeatable afterhour deals – that go on all night! Most restaurants have draft beer priced between 0,5$ and 1$. We also happened to go there at lunch a couple of times. Most eateries offer lunch deals and it was on one such occasion I had my first taste of crocodile meat – for the incredible price of 3$!
Our favourite restaurants on Pub Street during our honeymoon in Siem Reap were the above mentioned Ambience 1960, Easy Speaking and Khmer Kitchen. I also had a great margarita at Viva. One afternoon we checked out the cute Café Central where we had gelato. I was excited to discover that they served gianduia flavour made with Alba hazelnuts! Finding something from my home region of Piemonte in Siem Reap was very unexpected! Among the delicious foods we tried I fondly remember Lok Lak Beef, wonderfully seasoned in black pepper. We also tried Amok, Cambodia's national dish.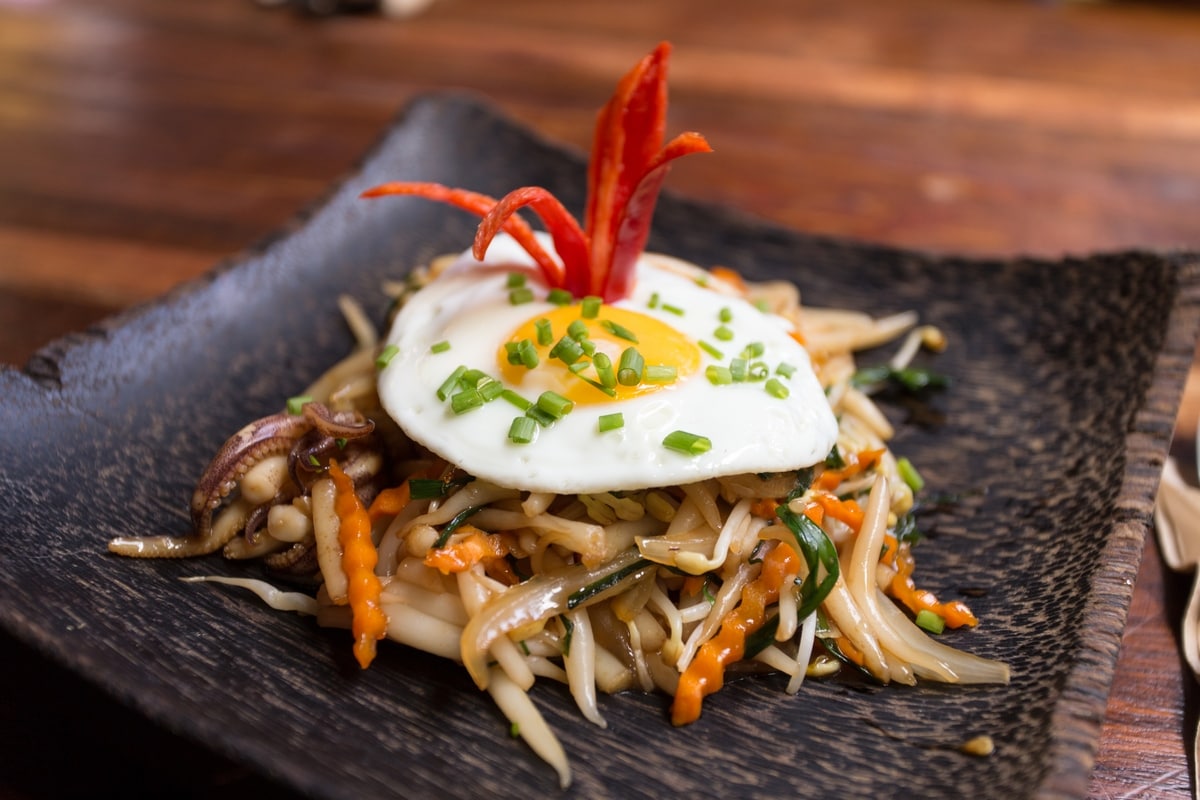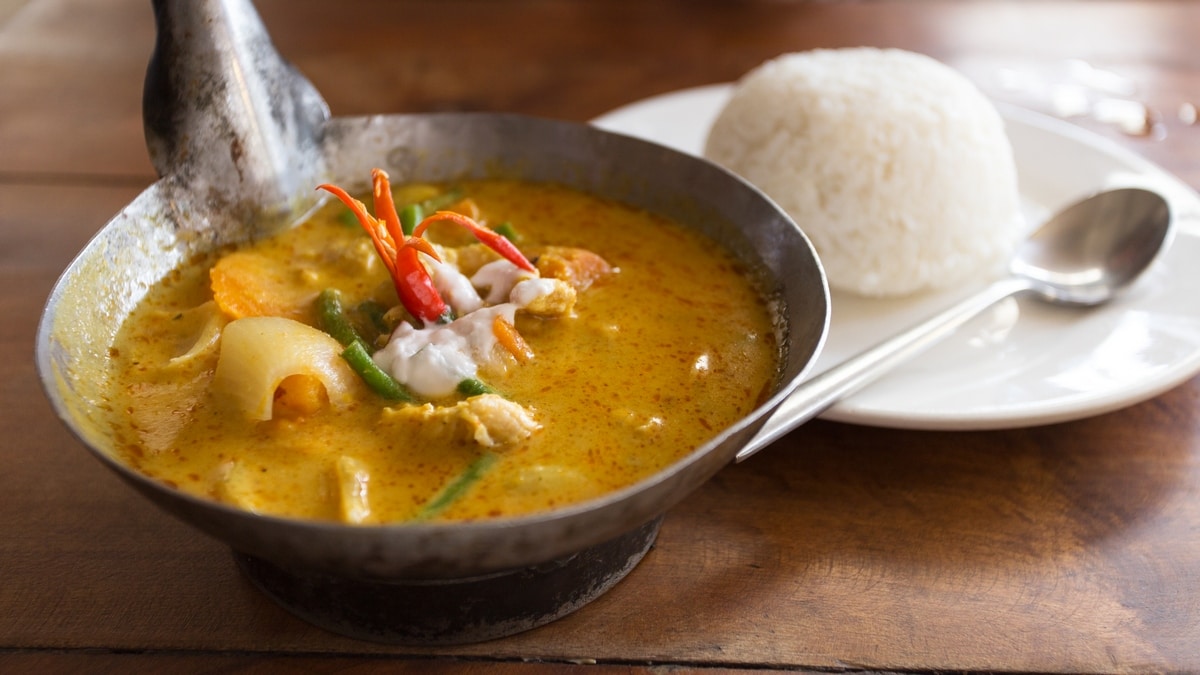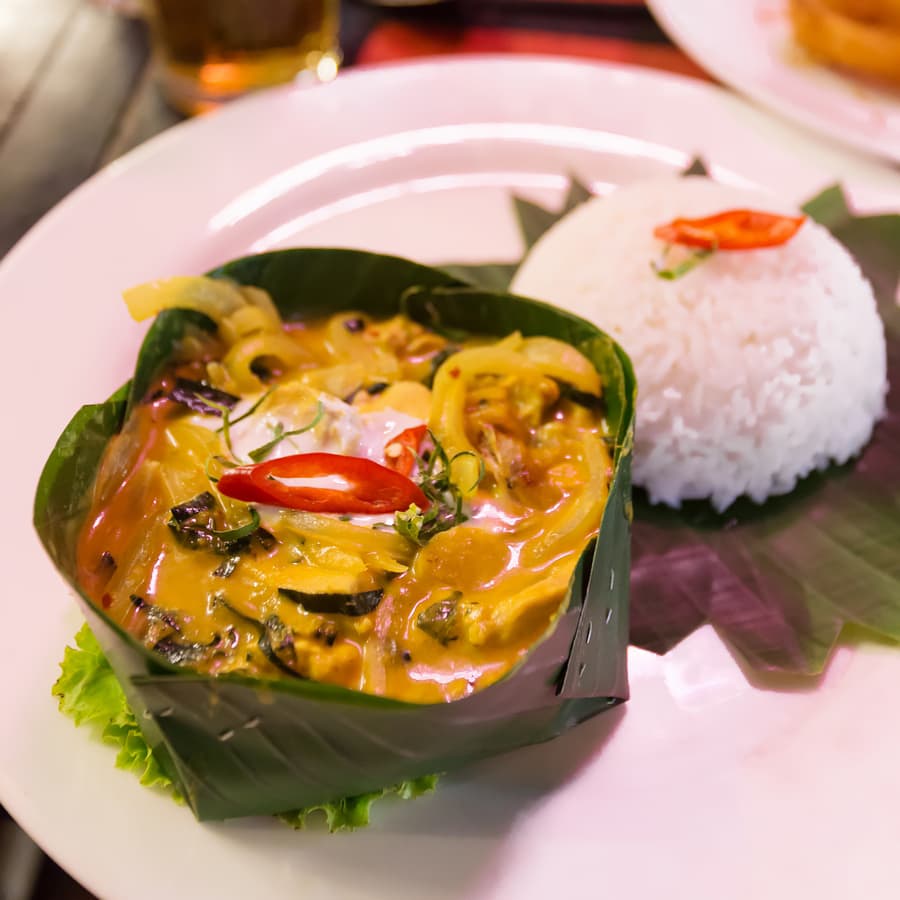 Of course the restaurants on Pub Street are not the only options. Siem Reap boasts several upscale restaurants, as well as loads of street food stalls. We stuck with the informal restaurants, as we had some budget but did not want to go too much overboard paying Western prices for fancier meals. We also did not try any street food while there. It was an aspect of the culture I would have liked to embrace, but I did not want to gamble with my stomach. A honeymoon is a once in a lifetime experience and we didn't want to risk ruining it by getting sick. So we avoided eating on the street. An average meal on Pub Street costs 5-6$ and delivers the same local flavours, minus the digeston anxiety. If we come back to that part of the world in a more adventurous mood I might try some bolder eating.
Angkor Wat temple hopping – the cultural side of our honeymoon
We stayed in Cambodia 5 days as I figured this was the perfect amount of days to have enough time to devote to properly see the temples of Angkor, as well as relax a bit in our lovely hotel. In hindsight, I can see how this could have been shortened to 4, but I do not complain. We chose to buy a three-day Angkor pass. It gives you access to the Angkor Wat temple complex over three days and the awesome thing is that they do not need to be in a row. Angkor Wat was one of the main reasons why we chose to come to Cambodia in the first place, so we didn't want to cram our temple visits all in one day. The three-day pass was the perfect solution for us.
The Angkor temple complex has several visiting options. Single-day pass holders usually do the Small Circuit, as it encompasses all the most famous temples and landmarks. Since we had a three-day Angkor pass, we also toured the Grand Circuit. We actually began with the Grand Circuit on the first day. On the second day we did the Small Circuit. Finally, on the third day we just went for the sunrise. Then got back to the hotel still in time for breakfast, and got back to sleep.
We booked a tuk tuk driver through the hotel, and were assigned one for all the three days that we would explore Angkor Wat. Booking a tuk tuk through the hotel is more expensive than finding one on your own on the street. We decided that the price difference was worth the peace of mind of having a trusted driver who would bring us right back to our hotel at the end of our excursions, without the risk of potential scams or detours. Just like with the food, we could have been more adventurous but we decided that on this occasion we just wanted to relax and enjoy our time there without worries. We didn't come to make bad memories.
Honeymoon in Cambodia during the rainy season
It is no secret that both my husband and I are big lovers of the cold. Just the fact that we happily moved to Sweden as Italians says a lot about our relationship with the subarctic. Yet, this time we wanted to go somewhere completely different – also in terms of climate. We got married at the beginning of August and wanted to go on honeymoon straight after. Because of our jobs we could not wait to go during the winter, so we visited Southeast Asia during the second half of August. That is during the rainy season, a time that is generally not recommended for that part of the world. Yet, this was the only suitable time for us, so we decided to make the most out of it and go anyway. We stayed in Cambodia between the 20th and the 25th of August. While I had read that the monsoon can be more intense on the coast, inland where we were the rain did not disrupt our holiday too much.
In Siem Reap it rained daily, and the rain would normally come in the late afternoon or early evening. That is when the intense downpours would take place. It would last about 1 hour, always around that time, and the amount of water coming down from the sky was like nothing I had ever seen before. We had booked a tuk tuk ride into town one evening and the rain came later than usual – right at the time we were supposed to go out. The dirt road instantly flooded and we thought the ride would not happen, but it did. We are not used to this, but for the locals it's not like life can just stop because of the monsoon. I may or may not have been slightly scared during that tuk tuk ride, but we made it to town and got reminded once again that the weather is just weather and life has to go on. Pretty much like when we have piles of snow and teperatures a couple of dozens degrees below zero in Sweden. It's not like we just do not go out of the house because of that.
We experienced very few less intense episodes of rain outside of that time slot, but those were shorter downpours that lasted about 10 minutes. We would find shelter for that short time slot, then resume sightseeing like nothing happened. Rain during the day was not a huge issue, as long as we found ourselves indoors when the big late afternoon downpours came. So is a honeymoon in Cambodia during the rainy season a good idea? I say yes. The advantages definitely include lower prices and fewer people at hotels. On the other hand, the humidity is quite insane and makes you feel the tropical heat even more. Yet, during the dry season temperatures can be even higher, so I am not sure if I would have preferred that, actually.
We flew to Cambodia from Bangkok with Thai Smile. It is the domestic division of Thai Airways. There are other companies flying this route, including Air Asia. We chose Thai Smile as it included checked luggage in the price of the ticket and had better timetables. We spent the rest of our 12-day honeymoon exploring the Thai capital and its delicious food. More to come soon!
(Visited 498 times, 1 visits today)