There was a time in my life when whisky was just whisky. Actually, as the hibernophile that I am, I used to spell it whiskey, with an e. Even scotch or bourbon, it was all whiskey to me. In fact, I didn't even know the difference between a scotch and a bourbon. Then I met my boyfriend and he happened to be a whisky person. A big whisky person (and notice the lack of the extra –e- I loved to use). One who will describe his favourite kind of whisky without even saying the word whisky ("Peated single malt". Okaaaay.).
It becomes pretty clear that some whisky education would have come my way during our relationship. We both love a good drink, so over the years I have been able to taste a few whiskys that he has either bought or received as a present. Plus, every time we travel we spend a good half hour in airport duty free shops watching all the whiskys on display. This is usually where I get most of my education – albeit only in theory.
This year marks our fifth anniversary, so we decided to celebrate abroad. A lucky combination of factors, including cheap plane tickets to Dublin with Norwegian, brought me to plan a week-long road trip around Ireland. The first thing I did when defining our itinerary was to identify where the distilleries are located all over the island. Once I pinpointed the most famous ones (those that I actually knew, and that offer guided tours), I planned the rest of the trip around these stops. Here are our experiences exploring the world of Irish whiskey distilleries.
The Old Bushmills Distillery
We started off at the Old Bushmills Distillery, located in Bushmills, Northern Ireland. The Old Bushmills Distillery, founded in 1608, prides itself being the oldest working distillery in Ireland. This was my first time visiting a distillery, so on our first stop we decided to do a proper tour of the premises. Here I learned all the theory behind the Irish whiskey making process. Guided tours are offered daily, but cannot be booked online. I was afraid that coming in the afternoon we would find all the tours for the day sold out, but it was not the case. Tours departed every 10 minutes and we were able to join one that started a minute after we bought our tickets. Visiting on a Tuesday in late September probably also helped.
Due to the alcohol content of the air in the distillery, I was not allowed to take any photos inside. The tour was really informative, I started off my Irish whiskey education with some basic knowledge of the production. We learned about all the stages from grains to end product, and were even able to see the bottling take place (doesn't happen every day). At the end of the tour we went into the bar where we received two complimentary samples. One was the same for all, and we could choose the other. My boyfriend and I chose two different types, so we could sample a total of three (Original, 10 year single malt and 12 year single malt).

Jameson Experience in Midleton, Cork
After exploring some natural wonders of the west coast of Ireland, we made our way all the way south, to the Jameson distillery in Midleton. The famous Jameson is originally a Dublin whiskey. Today, it is produced in Midleton, County Cork. Following a crisis of the whiskey production in the 1970s, many whiskey producers moved to the Old Midleton Distillery and continued production there. Nowadays production happens at the new Midleton distillery, while the old distillery houses the Jameson Experience visitor centre. The original Jameson Distillery Bow St. in Dublin is no longer a working distillery, but is a visitor centre. There one can take tours and tastings, but we decided to visit the Midleton location, instead.
In Midleton we booked a Premium Whiskey Tasting, which is not a tour but a tasting class. Here we had the chance to sample 4 different types of whiskey that are currently produced in Midleton. We had the Jameson Black Barrel, the Powers John's Lane Release, the Redbreast 12 year old and the Midleton Barry Crockett Legacy. The focus of the tasting session was all on flavouring the different whiskeys and comparing them. The key is to take proper time to enjoy the taste and personality of each whiskey. If at the sampling in Bushmills I was a novice, here I gained more knowledge and experience. At the end of this visit I had sampled 7 different types of Irish whiskey, including the most expensive one I have ever had. And our distillery tour of Ireland was not over yet.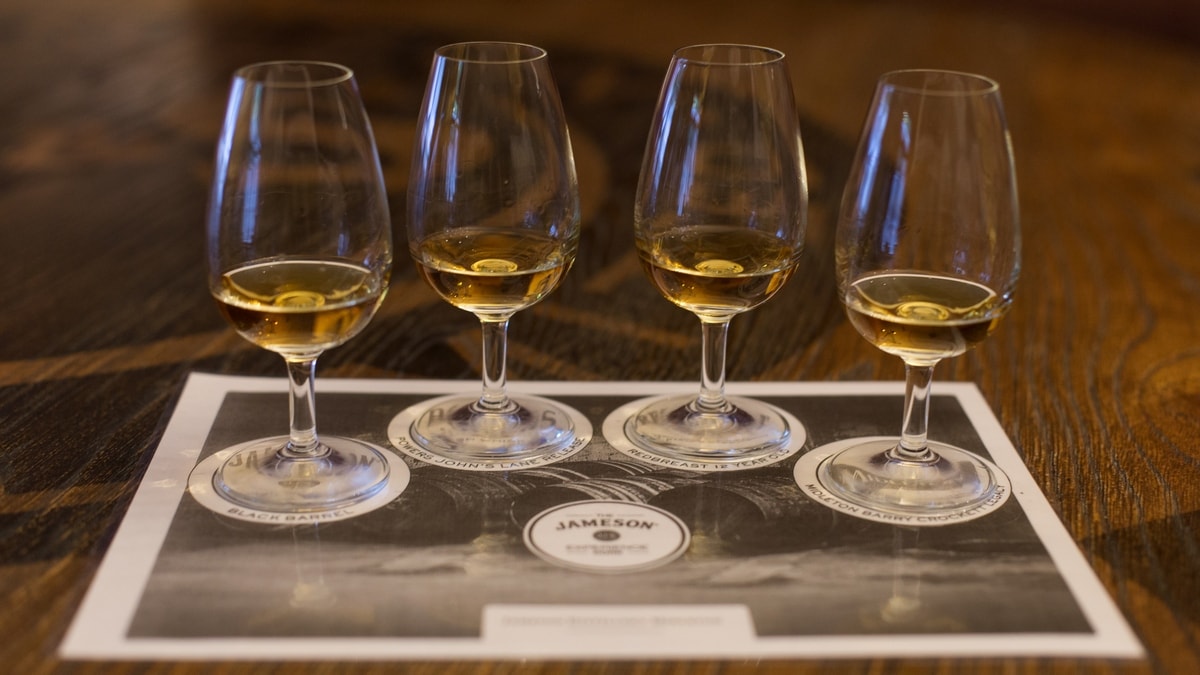 Tullamore D.E.W. Visitor Centre
Our last stop in our distillery tour was the Old Tullamore Distillery in Tullamore. Tullamore Dew was the first whiskey I had bought for myself. At the very start of our relationship I had gone on a trip to Berlin and on my way back I called my boyfriend from the airport. I wanted to buy a whisky and I needed advice from an expert. He suggested I'd buy a Tullamore Dew, so I did. Smoother, not peated (and Irish!) – that was definitely the right whiskey for me. In Tullamore we chose to participate in the Whiskey Wise Masterclass, a combination of tour and tasting class. The tasting included samples of 6 house whiskeys.
Just like Jameson, also Tullamore Dew had moved its production to Midleton in the 1970s. In 2014 Tullamore Dew officially made its comeback to Tullamore. Production is now at the new Tullamore distillery, while the old one is a museum and visitor centre. Tullamore Dew specialises in the production of triple blends, meaning a blend of malted and unmalted barley, plus a grain whiskey made with maize. At the end of the tour we took our seats for the tasting class. Here we got 6 whiskeys to sample – all different types of Tullamore Dew: Original, Cider Cask, Old Bonded Warehouse Release, Phoenix, 12 year old and 14 year old single malt. As my palate and nose developed after every sample over the past days, in Tullamore I was already confidently comparing and tasting the difference a few droplets of water in the whiskey can make. That's a long way from that first bottle I had picked up at Berlin airport five years ago.
The world of Irish whiskey
Irish whiskey differs from Scotch in the fact that malted barley is not dried over burning peat. This is what gives Scotch this smokey quality. The other great difference is in the triple distillation. Scotch generally undergoes double distillation, whereas Irish whiskey is always distilled three times. This is true for distilleries all over Ireland – all the Irish whiskey brands I explored during my tour. Even Bushmills, that is located in Northern Ireland, follows these rules and is therefore a producer of Irish whiskey.
After visiting three of the most renowned Irish whiskey distilleries, I can say I have become if not an expert, at least an aficionado. My appreciation of the golden distillate was very very limited, but after this experience I feel much more knowledgeable. I would even say now I enjoy whiskey more and I know a bit better how to properly drink it. As the novice that I was when we landed in Dublin, I feel definitely more whiskey savvy now. During my time in Ireland I got to sample a grand total of 13 different types of whiskeys. I am proud to say I know what I like now, and I even got myself a good answer, just like my boyfriend, when asked how I like my whisky:
"Triple distilled."