Last week we had the chance to spend two days in Vilnius, the capital of Lithuania. Often overlooked as a destination, Vilnius might be the most underrated capital city in Europe. The Baltic states have been rising in popularity in recent years, with the cities of Tallinn and Riga thriving as tourism destinations. Lithuania seems to be the least popular choice in the region, yet Vilnius is no less charming than the two neighbouring capitals. Vilnius is a perfect destination for a city break with beautiful architecture, great food and a relaxed and hip vibe. Here's what to see in Vilnius in 2 days, along with some Lithuanian food recommendations [jump to foodie part].

Vilnius is the last Baltic capital I visited. Like many others, I had myself overlooked Vilnius in favour of Tallinn and Riga in the past. In fact, I have even been to Tallinn twice, yet had never been to Lithuania prior to my spontaneous two days in Vilnius last week. Apart from a genuine curiosity towards the Baltic capitals, what made me choose to visit Tallinn and Riga in the past was the fact that both are reachable by sea from Stockholm – while Vilnius is not (for obvious reasons: it's not by the sea). A big fan of the ferry cruises on the Baltic, it was only natural that I would want to visit the Baltic states by sea. But not Lithuania.
Cruising the Baltic as a foodie: a review of Viking Line's Buffet.
I was missing out. Badly. Vilnius is beautiful and I'm glad I finally made my way there. I loved getting lost in the old town, roaming the cobbled streets lined with beautiful houses. I loved seeing the narrow streets suddenly open up into a park or a square. I loved passing by all the beautiful churches – the old town of Vilnius alone houses 28 churches! Visiting in March the weather was a bit unstable, but that was no issue. Whenever it started to rain we would enter a restaurant and indulge on Lithuanian food and beer. Honestly, what more would you want from a city break in Eastern Europe?
Getting to Vilnius
You can, in fact, travel to Lithuania by sea: ferries call at the port of Klaipėda, 300 Km away from Vilnius. The most practical way to travel to Vilnius from Scandinavia, though, is definitely by plane. We took advantage of cheap low season fares and secured ourselves a round trip for 90€ booking our tickets only 4 days before our departure (it was a very spontaneous and very last minute decision). Several airlines fly the route Stockholm-Vilnius, so the competition makes for great deals. We flew Norwegian.
Vilnius only has one international airport, so even budget airlines land at the main one. This is very convenient, as often airports that serve low cost airlines are located far away from the cities. Vilnius airport is only 6 Km away from the city centre. There are various ways to get to Vilnius from the airport, we chose to take the train. A train ride into town takes about 10 minutes and costs less than a euro. Getting to Vilnius from the airport is both cheap and fast, the perfect combination when you only have a couple of days and want to keep the costs low.
Two days in Vilnius: what to see
Being lodged halfway between the train station and the old town, we had most of the main attractions at walking distance. The old town of Vilnius is very easy to navigate by foot, most streets are nicely flat and make for great walks in the city. During the summer there is even a bike sharing service, but this was not available when we visited in March. Vilnius seemed a pretty bike friendly city, I would definitely rent a bike if I'm to come back in the warmer season.
Most main attractions are encompassed within the old town and those include the many many churches Vilnius is so famous for. The old town of Vilnius boasts a net count of 28 churches, which means a church every 700 inhabitants. During the Soviet time, religious buildings were dismissed as such and many churches were repurposed. Ironically one of them, the Church of St. Casimir, in 1963 became the museum of atheism. The church was then reconsecrated in 1991.
The very heart of the old town has more beautiful buildings. Just a short walk away from each other stands the Town Hall, the Palace of the Grand Dukes of Lithuania and the Cathedral Basilica of St. Stanislaus and St. Vladislav with its round bell tower. What is notable about the Palace of the Grand Dukes is that it is entirely reconstructed after it had been demolished in 1801. The full reconstruction was completed only in 2018. Overlooking the Palace on top of a hill nearby is the Gediminas' Tower, part of what once was the Upper Castle.
From the Cathedral we walked along Gediminas Avenue to the Museum of Genocide Victims, also known as the KGB Museum. To our disappointment we found it closed (the museum is closed on Mondays and Tuesdays). Having decided on this trip on very short notice and having been very busy at work we had not really had the time to plan our visit and just decided to spontaneously explore Vilnius just following a tourist map. Unfortunately we were not able to visit a museum that we were really interested in, but I guess you always need an excuse to go back, right?
The Republic of Užupis
One thing I was prepared on, and really looking forward to visiting was the self-proclaimed Republic of Užupis. I had first learned about Užupis from a friend who lives in Vilnius. I remember her posting about this independent republic within the city, with its own peculiar constitution, and I was intrigued. Užupis is a district within the city of Vilnius. Historically it had been mainly inhabited by Jews, but with the decimation of the population during the Holocaust the district was left mostly abandoned. Homeless people and prostitutes started occupying the run-down houses and Užupis became an even more marginalized and neglected part of the city.
Free housing attracted also many artistis ever since the post-war times, and Užupis became home to many artists. Following Lithuania's regained independence, the face of the district started changing until its residents self-proclaimed their area the Republic of Užupis in 1997. No government recognizes Užupis as a true state, but this doesn't seem to be a problem for the artist population of the district. In fact, they don't seem to be taking themselves too seriously either, since their National Day was established to be April 1st.
The Republic of Užupis has its own Constitution, which is displayed in 23 languages on Paupio street. In many of its articles, this Constitution sounds a lot like an artist manifesto. The Constitution is made up of 38 articles and 3 mottos, which are listed at the end: Do not defeat – Do not fight back – Do not surrender. Interestingly, even prominent religious figures have been affiliating with the Republic of Užupis. The Dalai Lama is a honorary citizen of the Republic, while Pope Francis blessed the Constitution on his visit to Vilnius.
Knowing a bit about the district's history I was wondering if it still had this run-down feel about it. In my mind I was picturing myself Freetown Christiania in Copenhagen. Street art on house walls was the only thing I could associate with the Danish independent district. Užupis has a totally different vibe. Somewhere between naïf and bohemien, Užupis is much more Montmartre than Christiania. Užupis is clean and well kept and I asbsolutely felt safe there.
Just outside Užupis there is another church complex that was probably my favourite. This complex includes two Gothic churches that are that of St. Anne and that of St. Francis and St. Bernard. While impeccably preserved on the outside, the interiors of the larger Church of S. Francis and St. Bernard have been severely damaged during the Soviet times. Still, from the outside these churches are stunning, particularly the small Gothic Church of St. Anne.
Near the church ensemble stands a statue of Polish poet Adam Mickiewicz. Funny enough, I'm pretty sure the first thing I ever learned about Lithuania was that it is the first word of Mickiewicz's poem Pan Tadeusz. I never read it, nor have I studied Polish literature, but had heard my mom quote that first verse of the poem a few times and it somewhat stuck with me.
What to eat in Vilnius: Lithuanian cuisine and more
Let's get to my favourite part about travelling, which is not the anticipation of an upcoming trip, although that feeling ranks pretty high among my favourite things in life. It's trying the local food, of course. Knowing of the deep cultural ties that Lithuania and Poland share I was expecting a somewhat similar cuisine. So I asked a Lithuanian-Ukrainian colleague at work what's the food like in Lithuania. She confirmed my theories and said to expect lots of potatoes, beets, meat, butter and smetana. Yes! That was going to be my diet during those two days in Vilnius!
Lithuanian food to try in Vilnius
The most important Lithuanian food you have to try in Vilnius is definitely the cepelinai, whose name means Zeppelin, as the shape reminds that of a Zeppelin aircraft. Those are also known by their traditional name of didžkukuliai as they were listed on the menu at Etno Dvaras, the restaurant we visited for lunch on both days. Cepelinai are large potato dumplings filled with meat which are boiled and served with a mixture of sour cream and pork cracklings. Etno Dvaras serves the condiment on the side, in small jugs. These dumplings are fairly large and quite filling. Two cepelinai are generally regarded as a standard portion. I only had one as I wanted to try some more food and hopefully leave room for dessert.
Moving on, the other traditional food you can't miss in Lithuania is a meat filled potato pancake known as žemaičių blynai. These are made of grated potatoes mixed with egg and fried, and reminded me of Polish placki ziemniaczane. The Lithuanian version, though, is filled with meat, which was a delightful addition. Go for the traditional way of serving it and pour a gentle serving of smetana and crispy pork rind from your side jug, you won't regret it.
Number three among the Lithuanian dishes you must try while in Vilnius would be the šaltibarščiai, cold beetroot soup. Now, beetroot soup is quite a staple in most Eastern European cuisines and I am a fan of Polish barszcz czerwony. So when faced with the menu at the restaurant I hesitated for a moment, as there were two choices of beetroot soup: a comforting hot version and the cold one. My heart was pounding for the hot one, but I decided to ask the waiter what he would recommend. He said to take the cold one as that is a Lithuanian specialty. So I did. And I'm glad I chose that one. Lithuanian cold beetroot soup was a delicious surprise.
Last but not least I could not leave Lithuania without trying their take at dumplings. The dough reminded me of Polish pierogi, but the meat filling was different. Also the dumplings came with their little jug filled with cream and cracklings. Seeing a pattern here – and lovin' it.
More food in Vilnius
How much can you eat during two days in Vilnius? Our hearty Lithuanian lunches did not allow any room for dessert, but my husband and I are used to our acquired Swedish habits and after a couple of hours of afternoon sightseeing we started looking for a place to have fika. (If you have no idea what I'm talking about here's an explanation of what a Swedish fika is.) On our first day we landed in an adorable cake shop and tea room called Pinavija.
I absolutely loved the décor of the place and the cakes were so stunning. I chose a honey layer cake and my husband had a slice of that scrumptious pistachio cheesecake. Needless to say the place left me so inspired to bake! I really want to make both those cakes at home. I want to actually also retile my kitchen floor and make it look like that café, it was so beautiful!
The following day we fulfilled our caffeine needs at Elska Coffee. No cake this time, just a nice brewed coffee from single-origin Guatemalan beans. A girl came in with a beautiful dog and took the table near us and I basically stared at (occasionally petting) the dog the whole time. I love places where dogs are welcome inside. Had to take a picture of our coffee jug and glasses. Love how the background of most of those photos is my husband who needs to keep himself busy with his phone until I'm done with my photos.
For our evening meal on day one we chose the restaurant Georgian House. I absolutely love Georgian food and take any chance to visit a Georgian restaurant when I find one. I also really like Georgian wine, but that evening I was particularly exhausted and felt like red wine could shut me off completely, so I went for a Lithuanian beer, which was still a great choice. Every time I'm at a Georgian restaurant I promise myself I'll try something new. But then the menu comes and my eyes avidly search for my two favourite dishes: the eggplant rolls and the khachapuri adjaruli. And of course I always end up ordering those. I just love that food.
On day 2 for dinner we met up with my friend who lives in Vilnius. She took us to an Indian and Thai restaurant, Blue Lotus. I honestly don't know why I did not take any picture of my butter chicken or mango cheesecake. I was not being self conscious, as my friend is a huge foodie too and also an obsessed photographer. But for some reason I left my camera in the bag and just behaved like a normal person at the table for once. Still, you'll have to believe my words. If lots of potatoes, beets and pork are not up your alley or if you are looking for an alternative to Lithuanian cuisine, both the Georgian House and the Blue Lotus are excellent places for a meal in Vilnius.
More Eastern Europe foodie inspo? Here's my guide to Polish food in Krakow.
Are two days in Vilnius enough?
Yes, and no, I guess? Despite being quite a large city, Vilnius's main attractions are all concentrated in the old town. Vilnius old town is very easy to walk, there are plenty of bike paths and we found that just with the map we collected at our guesthouse we were able to explore the city without problems. We never took public transportation and managed to walk everywhere we wanted. In fact, in 2 days we were able to see most of Vilnius. Unfortunately we missed the KGB Museum, which was closed on the two days that we were there. In order to see that, we would have needed to stay one more day – or plan our visit on different days, but we did not do much planning.
We missed two more attractions: the Three Crosses and the TV Tower. Both are renowned for being great viewpoints to admire the city from above. The Three Crosses are somewhat closer to the centre, but we did not feel like walking all the way there. The TV Tower is a bit further out and would have required some more planning to get there. A fellow tourist we met at the Zappa monument really recommended the place and suggested taking an Uber, but we figured we'd pass. With proper planning and dedication both attractions can easily fit within a two-day visit, but we kept it chill and were happy to skip two sites in favour of a more relaxed exploration. So I guess two days in Vilnius can be enough.
Is Vilnius the most underrated European capital?
If not of Europe altogether, Vilnius definitely seems to be the most underrated capital of the Baltic republics. My impression was that Vilnius had fewer amounts of tourists than Riga and Tallinn, also due to the fact that Vilnius does not receive cruise passengers daily, like the other two cities do. Maybe because of the fact that I visited in low season, maybe because I went from Monday to Wednesday, I often had the impression that myself and my husband were the only tourists.
We did stumble upon other tourists a couple of times. We met an English guy while admiring puzzled the Frank Zappa monument. He seemed equally puzzled, and wanted to share his feelings. While figuring out the way to hike up to the Gediminas' Tower we were followed by two men who also had no clue where they were going. When we all realized we were going in the wrong direction we just looked at the map and then parted ways, as we gave up the idea to go up and they decided to try another way. Apart from those encounters the impression was that Vilnius was populated mostly by its own inhabitants.
Does this make Vilnius the most underrated European capital? Well, it is for sure not on many people's list. Yet, Vilnius's old town is a UNESCO World Heritage Site and the city has been European Capital of Culture in 2009. To me, Vilnius was a beautiful surprise. I had basically no expectations as I had not had the time to properly prepare for this trip, so everything came as a surprise. And the more we discovered Vilnius, the more we liked it.
At the end of our short stay a peculiar feeling surfaced in my soul. I know that feeling well, as I have experienced it in a few places now. It's the I-could-live-here-feeling. Not every place I go triggers that sensation. But some places do and I was experiencing it after two days in Vilnius. It happens in those places where I would be happy to move, and I'm sure I'd totally love living there. As I gazed out of the window while my plane was taking off – giving me that bird's eye view I missed not going up to the Three Crosses – I knew Vilnius scored a special point. So long, Vilnius. I don't know when, but I will come back.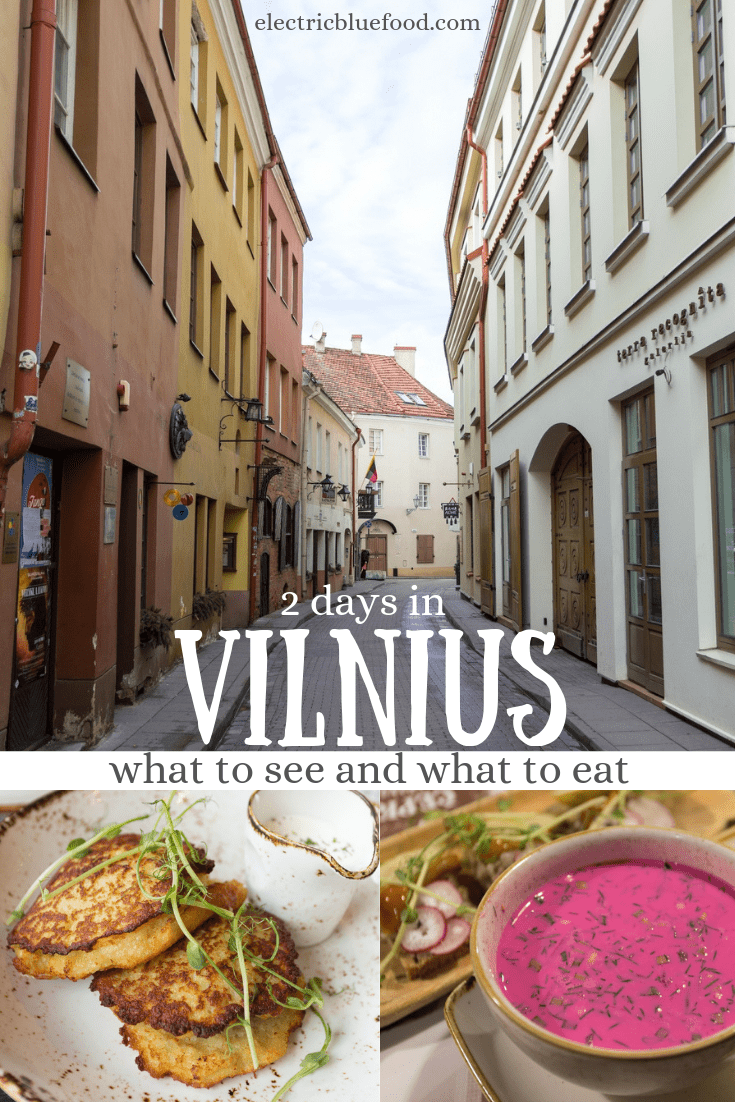 (Visited 762 times, 3 visits today)