If you think that the only Irish food out there is potatoes, in this post I will try to change your mind. Please stay and read on. I spent a week travelling around Ireland and there hasn't been one time that I wasn't happy with what I ordered. And even if we have to narrow it down to the potatoes, they were delicious. But there is so much more. Ireland is a famed producer of beef and dairy, and while in Ireland I had really delicious meats and dairy products.
So during my week-long road trip across Ireland I had a total ball feasting around the island. On the first part of my trip in Northern Ireland I focused on three full meals that I described in this post. During the rest of the trip I focused on enjoying the full flavours of some of Ireland's most traditional dishes. I didn't try anything innovative and stuck with some solid classics of Irish cuisine. I had a really traditional "food bucket list" for Ireland and needed to try all of them. Here is my experience eating my way around Ireland.
Fish and chips
My Irish food adventure begins in a pub of the beautiful city of Galway. The most famous city on the Atlantic coast, Galway is as pretty as everyone describes it. This is where we chose to sample one of the most famous delicacies of the British Isles: fish n' chips! We barely spent a half day in Galway but the city totally captivated me. After exploring the colouful downtown we checked into Busker Brownes gastropub for dinner. We ordered their Bogman Ale Battered Cod & Chips which came with tartare sauce and minted pea mash. To our delight the dish came with a double cod fillet and a very generous portion of fried potatoes.
Red ale beef stew
With beef accounting for 21% of Ireland's food and drink export, Ireland is the largest exporter of beef in Europe (source). I often cook Irish beef myself, as it is quite common to find in supermarkets in Sweden. Animal husbandry and beef production in Ireland is serious business, so I was eager to taste some beef while there. Think Ireland and food and drink exports and the other item that might come into your mind is beer. Beef stewed in beer seems quite a logical combination for a signature dish in the Irish culinary tradition.
I had sampled Guinness beef stew in Dublin on my first trip to Ireland many years before and I was eager to have it again. Strangely enough, for a good couple of days in a row I ended up in restaurants that did not have it on their menu. The reason for this was that they served the traditional Irish stew, made with lamb and no beer. I finally stumbled into red ale beef stew in a pub called Tanyard Lane in Tullamore. We went there for dinner right after our tasting class at the Tullamore DEW distillery and they happened to have the stew I wanted as special of the day. It felt like the proverbial luck of the Irish was bestowed on me!
Burger and fries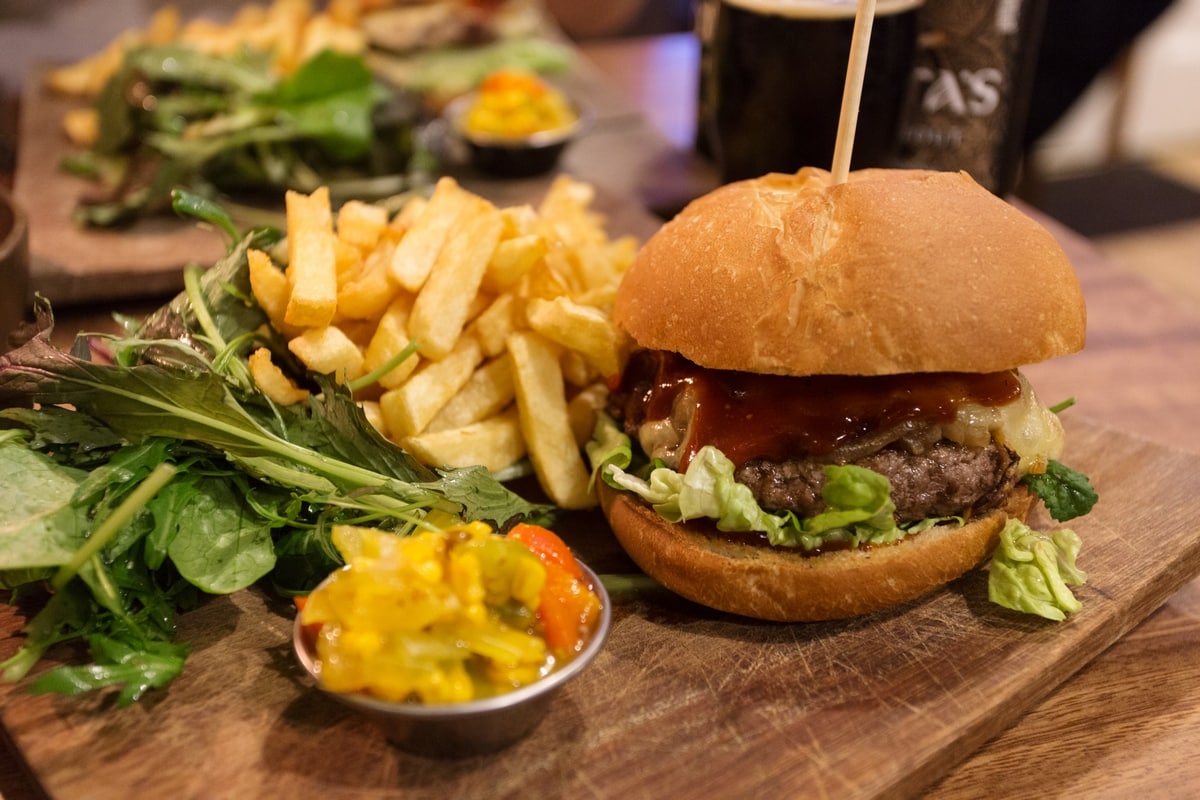 As I said before beef in Ireland is serious stuff, so while in Ireland I had to try it in a favourite form of mine: burger! Hamburgers are one of those foods that possess a very wide spectrum ranging from oily patties in unimpressing buns to top-notch gourmet combinations of meat, vegetables and sauces. It's all in the quality of the ingredients, the proper way of cooking the meat and a thoughtful blend of flavours. In my life I was lucky to have a few memorable burger experiences and one of the best ones was at The Greenroom in Midleton. We dined there after a whiskey tasting class at the Jameson Experience visitor centre.
The Greenroom is a wine bar and café adjacent to Sage restaurant. A more informal spinoff to the parent restaurant, it shares the same ethos to source the vast majority of the ingredients from within 12 miles. There I had one of the best burgers of my life, The Midletanna: a 6oz beef patty, Jameson BBQ sauce (of course!), caramelized onions and cheddar, served with a side of potatoes, a dip and a delicious salad. My boyfriend had The Cure, a burger that features among its ingredients Sage's famous black pudding. He was as impressed with his dish as I was with mine.
Irish Coffee
If you're a coffee lover Irish coffee should be high on your Irish food bucket list. At the beginning of this post I wrote that Ireland is, among other things, a producer of some fantastic dairy. All through the trip I kept buying gallons of milk and enjoyed all the butter that was served with the bread. Now imagine how wonderful cream tastes in such a big dairy country. Imagine that cream topping a coffee powered up with a splash of Irish whiskey. Can't get any sweeter. To fulfil my Irish coffee dream I chose the best place where I could have it – a whiskey distillery. Our trip to Ireland was mostly focused around Irish whiskey distilleries, so it was just before our tour of the Tullamore DEW visitor centre that I enjoyed my Irish coffee pictured above.
The perfect pint
Everyone says that Guinness tastes better in Ireland. It tastes delicious everywhere, but in Ireland it tastes better. I second that. All through our Irish road trip I had many a chance to appreciate the world-famous stout, Ireland's most famous brand. I've been a huge fan of Guinness ever since I was a teenager and it is a favourite of mine especially to accompany fish dishes. I love its ebony colour, the milky foam that forms on the top and its coffee aftertaste. And I love seeing how it sets in the glass when it's freshly poured, how the air rises to the top to create the thick foam. We did not visit the Guinness brewery in Dublin, but it's certainly something I wish to do next time. But we still honoured the famous Dublin brew all across the country, the perfect drink indeed to Irish food.
Irish Breakfast
Irish breakfast is a national institution. I have written earlier about the version I had in Northern Ireland, the Ulster Fry. A full Irish features eggs, bacon, sausages, black pudding, white pudding, tomato, mushrooms and beans. While in Ireland I had a lovely Irish breakfast at the Merchants Arch in Dublin. A charming pub located by the famous Ha'penny Bridge that had a large selection of tap beer. It was too early for a brew for us to appreciate the bar's offer, but we went in with a big appetite for a proper fry.
You know when you are reading a nice post on a food blog and suddenly you meet the words "I didn't photograph the food this time because I was too eager to eat". Yeah, I hate that, too. Every time I think: "Hey! That's jour job! Show us the food!". Well, eager eaters, humbly let me in to your club. While in Dublin I did the same. I was just too eager and as soon as the waitress lay the plate in front of me I dug in like there's no tomorrow. Halfway through the meal, happily munching a mouthful of sausage and mushrooms, a tiny thought took shape in my brain. The guilty food blogger thought: I didn't photograph the food!!! My boyfriend saw the guilt on my face and immediately knew what was going on in my head.
"It's our last day in Ireland, just enjoy it!", he said.
He was right. I just enjoyed it. Not that I did not enjoy all the other meals I photographed. But even food bloggers sometimes just want to dig in. So here's to all the guilty food bloggers turned eager eaters. I hope you enjoyed my gastronomic tour of Ireland. Raise your whiskey glass. Sláinte!