Campari spritz and Campari soda are two staples in the Italian aperitivo tradition. Less famous abroad than Aperol soda and Aperol spritz, Campari cocktails are a favourite in Italy. Whether you add Aperol or Campari (or even Martini bitter, see below) aperitivo cocktails are the perfect starting drink when gathering with friends. Leave the wine for the meal and enjoy a Campari aperitivo just before dinner!
Aperitivo: an Italian tradition
Among the many notable features of the Italian food culture, aperitivo definitely has a special place in the heart of many. Visitors who come to Italy chasing la bella vita feelings fall hard for the concept of aperitivo. Which is, as you may have guessed, another Italian food and libation occasion.The three main daily meals – breakfast, lunch and dinner – are real rituals in Italy, but food is clearly not limited to those three time slots. In between the meals falls aperitif.
What is aperitivo, then? If you're not familiar with the concept of Italian aperitivo, I can quickly sum it up by saying it is a pre-meal tradition meant to stimulate the appetite before an actual meal. It traditionally consists of an alcoholic drink paired with salty snacks, but many variations can occur. Aperitivo can take place anytime before lunch, or go on extensively throughout the late afternoon and into the evening, prior or even substituting the evening meal. Pre-lunch aperitivo is often a weekend thing, or a weekday favourite among retirees. Pre-dinner aperitivo is definitely more widespread, and popular among all age groups. Many people gather for aperitivo after they clock out from work, or make it a Friday evening ritual.
Being designed to prepare the appetite before a proper meal – may I add an Italian meal, so lots of foods – aperitivo is not traditionally very filling. But it does imply a light snack. We're still having an alcoholic cocktail on an empty stomach, so light salty snacks like peanuts or crisps help make it more manageable.
In recent years aperitivo has evolved and evening aperitivo (also known as "happy hour" aperitivo) has turned into apericena. "Cena" is the Italian word for "dinner", apericena meaning an aperitivo that can substitute dinner altogether. Apericena often has a larger snack offer served in the form of a buffet, featuring salads, sandwiches and pizza among other things. The buffet is included in the price of a cocktail.
While trendy bars will serve most of their cocktails offer on the aperitivo menu, traditional aperitivo cocktails were made using Italian bitters as the main ingredient. Familiar with such brands as Campari and Aperol? That's what they are, aperitivo Italian bitter liquors.
Spritz versus soda
Bitter liqueur can be enjoyed alone on the rocks, or as ingredient for the preparation of various cocktails. Classic Italian cocktails such as the Negroni or the Americano feature Campari bitter. Yet the majority of the people go for two very simple and classic ways to enjoy Italian bitters: either as a spritz or as a soda.
Spritz is a wine cocktail that originates in north-eastern Italy. The simple version features local white wines and carbonated water. It is believed that it was the Austro-Hungarian soldiers in north-eastern Italy who had the habit of drinking their wine like that. In the second half of the 20th century Spritz went on to evolve and include a bitter liqueur added to the mixture, like Aperol or Campari. Aperol was actually created to serve that purpose. Bitters give the Spritz its iconic orange colour, but travelling in north-eastern Italy you may stumble upon clear spritzes made with only wine and soda. So if you want the orange version, make sure to specify that you are after Aperol spritz or Campari spritz.
Read more: Two days in Trieste exploring its food and coffee culture.
Campari, Aperol or Martini?
Bitter liqueurs are flavoured with a variety of botanicals, historically herbs and plants that had some medicinal properties. They are characterised by their bittersweet flavour and red colour. The most famous ones all originate in northern Italy.
Campari was invented in 1860, and has since 1904 been produced in Milan. It has an alcohol content of 25%.
Aperol originates from Padova and was created in 1919. It has a lighter orange colour and lower alcoholic content of 11%.
Martini Bitter is from Turin-based vermouth brand Martini e Rossi. Less known than Campari and Aperol, it follows a recipe from 1872 and has an alcohol content of 25%.
Keep in mind the difference in alcohol content between the bitters. A Campari Spritz will require less bitter and more water than an Aperol Spritz.
All three north-Italian bitters are excellent in making spritz and soda bitter cocktails. While similar, they all have different flavour profiles, as different botanicals have been used in their preparation. You just have to find your favourite. Campari and Aperol commercially produce Campari Soda and Aperol Soda: ready-to-drink aperitivo cocktails where the bitter is already mixed with carbonated water. But you can as well make yourself a bitter soda cocktail at home, just following the recipe at the end of this post.
Aperol Soda and Campari Soda both come in pretty iconic bottles. It's the bottles featured in the photos in this post. Spritz is generally served in a tall wine glass while soda cocktails generally go in a tumbler. The ample glasses allow for lots of ice cubes and an orange wedge, commonly used when serving aperitivo bitter cocktails. I have a soft spot for those bottles, though, and used those for my photo shoot. These bottles have been around for decades, and represent Italian aperitif as much as what they contain. To honour my Italian heritage I used Campari and Aperol Soda bottles as flower vases at my wedding reception!
Read more: The low-cost and DIY decorations at my wedding reception.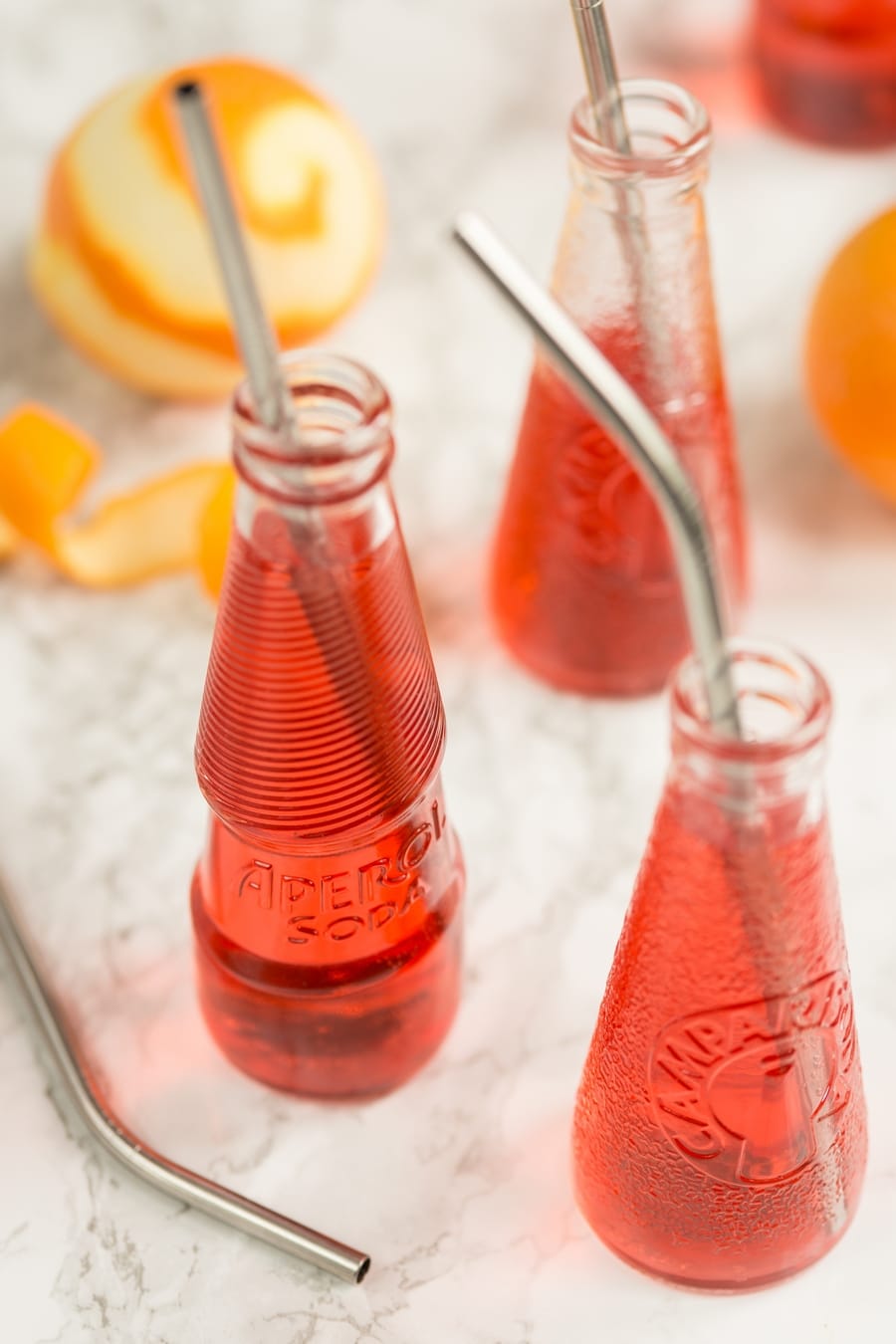 Campari spritz or Campari soda?
So now the question is: Campari spritz or Campari soda? A hard one to answer. Campari soda is a lighter choice, as Campari is only mixed with carbonated water. Campari spritz is a wine cocktail, as among its ingredients it also features sparkling wine (preferably Prosecco).
To me, a bitter soda is the perfect companion to salted peanuts. It's a favourite combination, I don't think I've ever had it any other way. I personally don't like crisps/potato chips, so I always go for the salted nuts if I'm drinking a Campari soda. If there is more food involved – like an apericena or to accompany the starters at a wedding banquet – my choice is the spritz. What would you choose?
Campari Spritz and Campari Soda
Two variations of a beloved aperitivo drink that features Campari bitter liqueur.
Ingredients
Campari Spritz
3

parts

Prosecco

1

part

Campari

1

part

carbonated water

ice cubes

slice of orange
Campari Soda
3

parts

carbonated water

1

part

Campari
Instructions
To make Campari Spritz
Fill a glass with ice cubes and add 3 parts Prosecco and 1 part Campari. Top with 1 part carbonated water and an orange slice.
To make Campari Soda
Fill a glass with ice cubes and add 1 part Campari. Top with 3 parts carbonated water. Serve with an optional orange slice.
Notes
If serving Campari drinks in small bottles to mimick the Italian ready to drink Campari Soda drinks, keep the bottles chilled until serving time.
(Visited 5,279 times, 1 visits today)