Remember the baking powder I brought back as a souvenir from Iceland (if you don't, you can read about it here)? Well that tin can is just too beautiful to sit in my cupboard, unnoticed by the world. But I can't just use baking powder as a random prop for any photo shoot, right? Well, it (finally) dawned on me that I had never featured a sponge cake recipe on this blog yet. How was that even possible? 
I have more than one recipe for sponge cake. There is one, which has been passed on to me from my grandma, and that has a slightly complicated procedure, and features no baking powder. It relies on a proportion, so it can potentiall yield massive quantities; the size of the pan is the limit. Then there is another one, a simple sponge cake recipe which I turn to when I know I just need one layer of cake, quick, no fuss. It perfectly fits a regular-sized cake pan and it always delivers a respectable outcome. You know with this one you can't go wrong. Plus, it's perfect when you want to bake many layers of different colours (for a rainbow cake or an ombré cake, for example) as you are baking layers separately. The time it takes to prepare the next is the same it takes for the first layer to be done in the oven. So easy. And it features baking powder. Ha-ha!
Eggs, flour, sugar and a little bit of baking powder. If not adding cocoa, vanilla or food colouring it can be as simple as that. Definitely the best basic sponge cake recipe I've ever tried.
Easy sponge cake recipe:
2 eggs

60 g flour

60 g sugar

1/2 tsp baking powder
In one bowl measure the sugar. In another bowl weigh the flour and add the baking powder. Separate egg whites and yolks, pouring the whites in a large bowl, and the yolks in a smaller one. I like to keep all the ingredients at hand when needed, so my advice is to start by measuring all the quantities having all the ingredients in separate bowls. Beat the egg whites with a hand mixer at high speed until soft peaks form (after about 3-4 minutes). Slow down to medium speed and add the sugar, little by little, until the mixture stiffens a little bit more. Always mixing at medium speed add the yolks, one at a time. When incorporated, set the mixer aside. Sift the flour mixture into the batter and fold it in. Make sure not to overmix and be extra gentle in order not to knock out too much air from the batter.
Line the bottom of a springform pan with a sheet of baking paper. Gently pour the cake batter into the baking pan and bake in the preheated oven at 175° C for about 15-17 minutes or until a toothpick inserted in the centre comes out clean. When the cake is ready, take it out of the pan, flip it over onto a plate and peel off the baking paper.
The outcome is fluffy and soft, guaranteed. It all lies in the proper beating of the eggs, and that little bit of baking powder will always help achieving that softness. From making a plain cake to the most elaborate birthday cake, sponge cakes are what you want in between the layers of cream. Their airy texture is the best counterpart to thicker fillings. It will always give your cake an impression of lightness, even one filled with the heaviest (and tastiest) of buttercreams.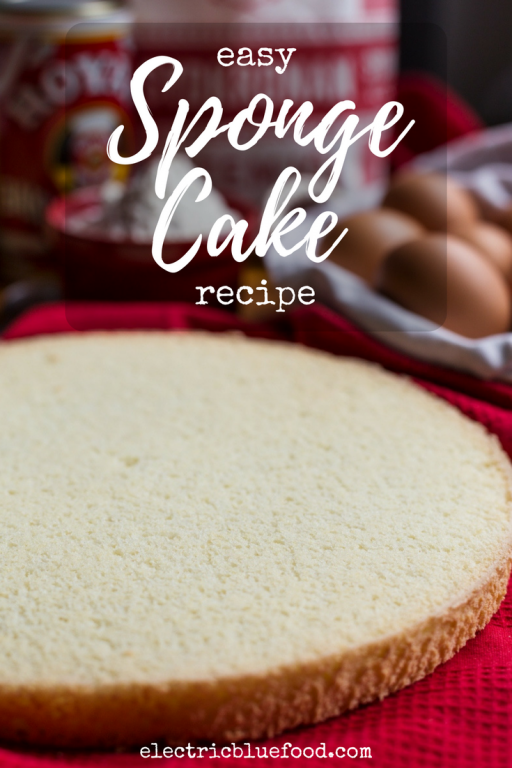 Now that you've mastered the sponge cake, how about adding a nice blue vanilla custard filling?