Szarlotka is Poland's favourite way of drinking bison grass vodka in a cocktail. Clean vodka shots are a popular dinner accompaniment, but vodka cocktails are more popular during the summer. The addition of a cold juice tones the alcohol content down and adds interesting flavour profiles. Poland's most beloved vodka and juice cocktail has to be szarlotka cocktail. Apple juice, bison grass Żubrówka vodka and a hint of cinnamon.
What is szarlotka cocktail?
Szarlotka is actually the name of Polish apple pie. Made with a buttery shortcrust, its  most notable feature is the combination of apple and cinnamon. Have it warm and the cinnamon will bring out all the sweetness of this cake. Have it cold and the first thing to hit you will be the juicy tartness of the apples. Honestly, either way you have it you'll be amazed by the multiple layers of flavour that this cake can deliver. And I haven't even started raving about the role of butter. Or how wonderful this cake tastes with a generous serving of whipped cream.
The apple and cinnamon combo in Poland does not refer to apple pie only. Szarlotka is also something you can order at the bar, and it's the recipe this post is about. Szarlotka cocktail is a Polish  apple and bison grass vodka drink named after Polish apple pie. Although you can make it simple and just stop there at apple juice and bison grass vodka, the addition of cinnamon really makes this vodka cocktail an unforgettable experience.
Related: mini apple cinnamon pies.
Polish bison grass vodka
Bison grass vodka in Polish is called Żubrówka and what makes it immediately recognisable is the leaf of bison grass in the bottle and its pale yellow tone. Many believe it is the leaf alone that gives the vodka both the colour and the flavour, but that is not completely true. To make Żubrówka you infuse pure vodka with a tincture of bison grass.
Bison grass is special to Poland as it grows in Puszcza Białowieska, a national park that lays across the border between Poland and Belarus. The park, a UNESCO World Heritage Site, is home to the European bison, also known as wisent. The bison in Polish is called żubr, hence the name żubrówka for bison grass vodka.
Related: Polish honey cake with semolina cream.
At airport duty free shops I have seen various brands making żubrówka, so check with your liquor store to see what bison grass vodka you can find. To honour this Polish cocktail recipe, I used a Polish one.
How to make szarlotka cocktail
To make żubrówka cocktail you will need:
apple juice
ice-cold żubrówka (bison grass vodka)
cinnamon
ice cubes
Szarlotka, like most cocktail recipes, follows a proportion. In this case it is 2 parts apple juice and 1 part bison grass vodka. For 2 servings I have used 200 ml apple juice and 100 ml vodka. Add ice to taste, but remember that the more you add, the more it will dilute your bison grass vodka cocktail.
The easiest way to incorporate cinnamon into szarlotka is by stirring a pinch of finely ground cinnamon into the cocktail. You will really feel it once it gets into your mouth. If you have cinnamon sticks to use up, feel free to do as I did and add a stick to each glass. It is not the cheapest option, but it's a beautiful decoration and having a cinnamon stick in the glass you get to smell it at every sip. If you want a smooth cocktail without any gritty ground cinnamon mouthful and no sticks to use, a drop of cinnamon essence or syrup will do the trick.
Enjoy it with Polish toasted sandwich zapiekanka as appetizer.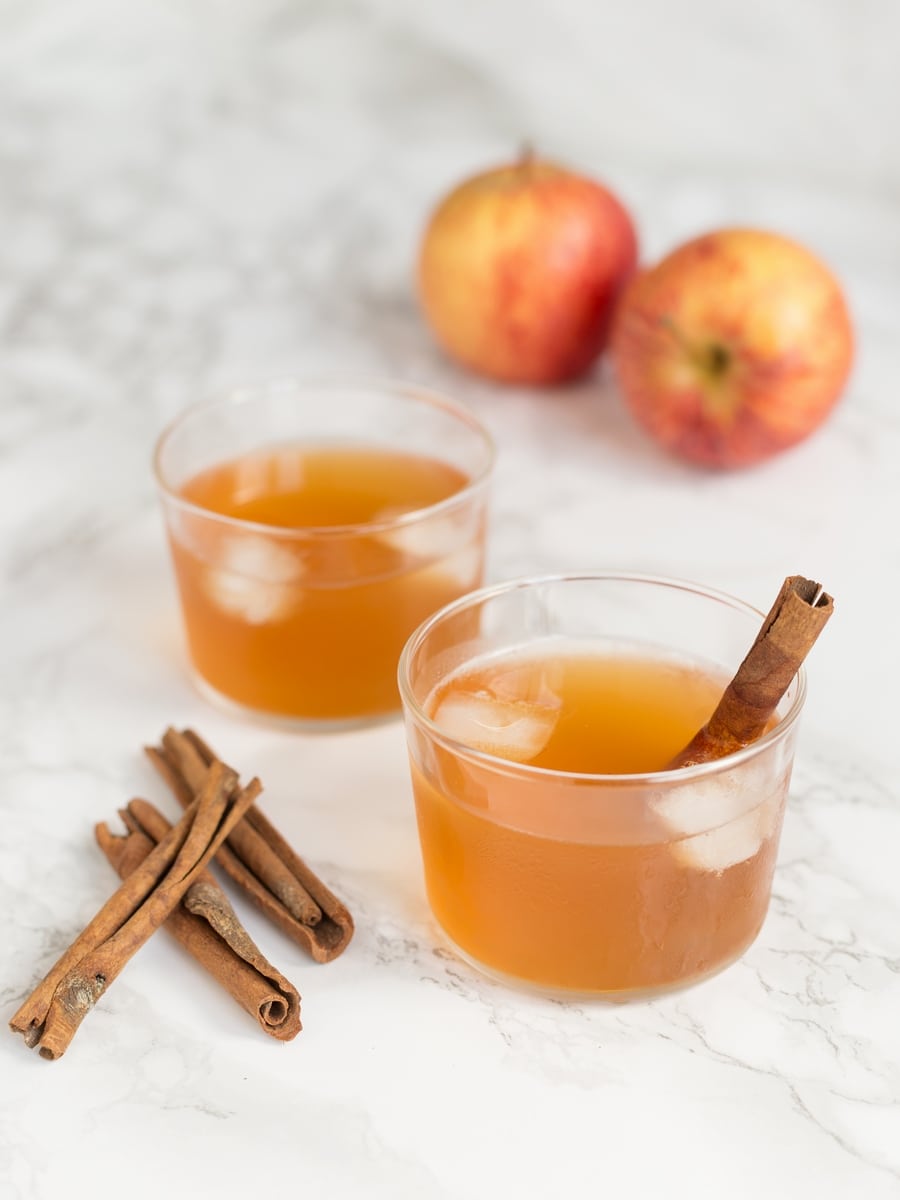 What kind of apple juice to use?
The most common apple juice used in szarlotka cocktail in Poland is commercial filtered apple juice, the one that is smooth and see-through. Unfiltered apple juice tends to be somewhat more tart and is less used for this purpose. There is no rule set in stone as for the apple juice to use in szarlotka cocktail. Can't call it szarlotka if the vodka is not żubrówka (bison grass vodka), but you can enjoy more freedom when it comes to the apple juice. I used freshly pressed Swedish apple juice for this photo shoot!
Did you know that Poland is the world's 4th largest apple producer, the 1st in Europe? Vodka accounts for another of Poland's most notable exports (Poland ranked 4th among world vodka exporters in 2018) and bison grass, from the very sacred Białowieża Forest is what makes żubrówka vodka so exquisite. Szarlotka is indeed the finest Polish cocktail you can have, as two of its key ingredients are so representative of Poland. Just add cinnamon.
Related: where to eat Polish food in Krakow.
This recipe has been reworded and updated with a recipe card in May 2020.
Szarlotka cocktail
Bison grass vodka and apple juice give you Szarlotka. Just add a pinch of cinnamon for Poland's most beloved vodka cocktail. Enjoy your szarlotka cocktail ice cold.
Ingredients
2

parts

apple juice

1

part

bison grass vodka (żubrówka)

dash of ground cinnamon

ice cubes
Instructions
Mix 1 part żubrówka bison grass vodka with 2 parts apple juice. Have all your ingredeints ice-cold. Trasfer to a serving glass and sprinkle a pinch of ground cinnamon on top. Serve with ice.
Notes
Sub the ground cinnamon for a cinnamon stick into every glass for a nicer presentation. Choose a drop of cinnamon essence if you prefer a smooth cocktail without ground woody bits.
Nutrition Facts
Szarlotka cocktail
Amount Per Serving
Calories 162
Calories from Fat 9
% Daily Value*
Fat 1g2%
Sodium 5mg0%
Potassium 101mg3%
Carbohydrates 11g4%
Protein 1g2%
Vitamin C 1mg1%
* Percent Daily Values are based on a 2000 calorie diet.
(Visited 43,311 times, 24 visits today)