Zapiekanka is a Polish toasted sandwich famously sold as street food. It's made on a sliced baguette, always served open-faced and toasted in the oven. The basic topping features mushrooms and cheese, but many variations of the Polish open-faced sandwich exist. You can top the basic recipe with virtually anything you wish. Make zapiekanka at home and enjoy some Polish street food for dinner!
If you've ever been to Krakow and have visited the Jewish district Kazimierz, you may have spotted someone going around with a big open-faced baguette sandwich. Zapiekanka is a popular and cheap food on the go option and the Kazimierz area in Krakow takes the credits for serving some of the most famous ones in Poland.
Related: Where to eat Polish food in Krakow
What is zapiekanka
Zapiekanka ia a toasted open-faced sandwich made on a baguette sliced lengthways and topped with cheese and mushrooms. The name zapiekanka derives from the verb zapiekać which means to toast something in the oven. If it's not toasted, it's not zapiekanka. But despite giving it its name, toasting alone is not the only key feature.
Zapiekanka is an open-faced sandwich. Therefore toasting needs to happen in an oven: no toaster or panini press could do the job. Zapiekanka needs to be filled and toasted with all the ingredients on, so that the cheese melts. The oven delivers just that.
As for the toppings, the very basic version calls for grated cheese and sliced mushrooms. Once out of the oven, a zig-zag drizzle of ketchup completes the job. But food stalls that serve zapiekanka usually have a wide menu featuring all kinds of possible toppings to add to the basic version. Think of basic zapiekanka as pizza Margherita, in a way. From there you can only get creative.
How to make zapiekanka, Polish toasted sandwich
In this post I am presenting you the basic recipe with mushrooms and cheese. Here's the list of ingredients:
Demi baguettes – any elongated bread shape is to be preferred, and it has to be sliced lengthways.
Grated cheese – hard cheese that melts well in the oven preferred, something like gouda. If you have access to Polish cheese, my favourite is ser morski, but that's difficult to get outside of Poland.
Button mushrooms – the common and cheapest mushrooms you can find, to be thinly sliced.
Butter – softened, for easier spreading on the bread.
Ketchup – this is a signature finish in the original recipe!
Minced chives – a little sprinkle of minced chives gives both flavour and colour.
Crisp fried onions – optional, but I personally love it so I would never say no to it.
Making a Polish open-faced sandwich is really easy:
Spread the butter on the bread;
Add sliced mushrooms first and then grated cheese so that the whole baguette is evenly topped;
Bake in the oven until the bread is crispy and the cheese has melted.
When out of the oven, squeeze the ketchup all over and add a sprinkle of minced chives and crisp fried onion, if desired.
Polish zapiekanka toppings
As I said before, zapiekanka stalls in Poland often have a proper menu offering the most diverse topping options. A concept pretty similar to pizza, with basic zapiekanka acting as margherita or marinara and many topping options added to the basic one. For that reason, zapiekanka has been nicknamed "Polish pizza" despite having little to do with actual pizza. Well, apart from the oven part.
Popular toppings include kiełbasa, salami, bacon and pickles, specialties such as Polish mountain cheese, or even classic combos such as feta and olives (Greek zapiekanka) and even ham and pineapple (Hawaiian zapiekanka).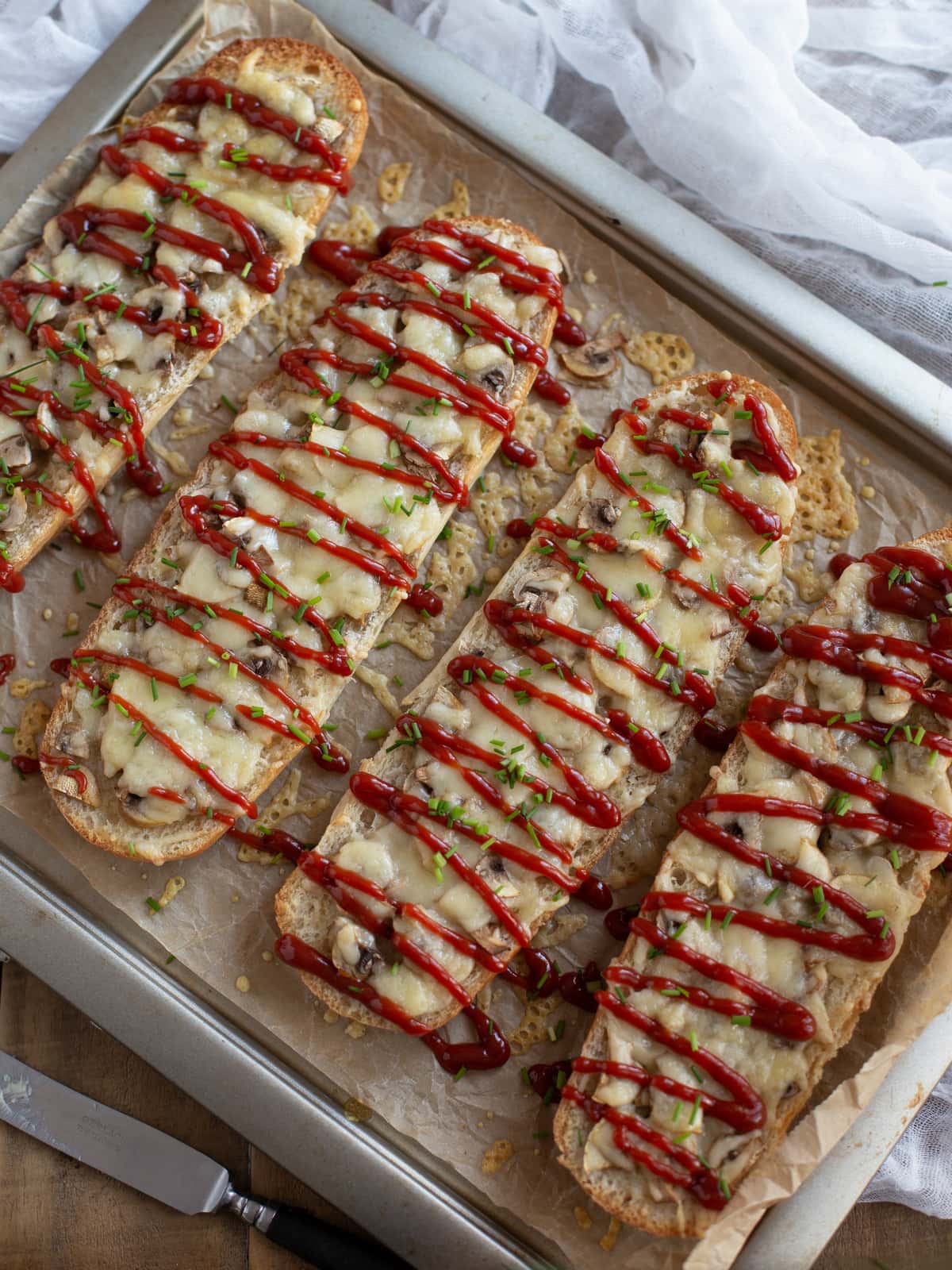 History of the Polish toasted sandwich
Open-faced sadwiches are a staple in Polish households. I had a fair share of such sandwiches while visiting my grandparents in Poland. Many a dinner featured a slice of bread with margarine, hard cheese, ham and tomato and a cup of tea with lemon. Might sound like a meagre dinner, but I was never very hungry in the evening after feasting on my granma's chicken livers with onions or snacking on her fabulous honey and semolina cake earlier in the day.
Toasted open-faced sandwiches sold as street food became a real thing in the 1970s. Many family-run small-scale food stalls featured toasted open-faced sandwiches – zapiekanki – along with other Polish dishes. Zapiekanka is simple yet filling, easy to eat on the go, and a cheap way to get a warm meal. This made them very popular throughout the 1980s.
The introduction of large fast food chains in Poland changed the demand for such foods and threatened the small old-school food stalls from the '70s. Some survived nonetheless, and when street food culture shifted the focus to local food options, zapiekanka gained popularity again. And the old food stalls got back on people's radar.
Whether it's to reminisce of a trip to Poland, or to try something new for dinner, the Polish toasted sandwich will not disappoint. Easy to make with a few ingredients – or with any extra toppings you like.
Let me know in the comments if you've ever tried a zapiekanka and if it was in Poland or you made your own. If you're planning on making this recipe, you may want to pin it for later!
Zapiekanka, Polish toasted sandwich
An open-faced baguette sandwich topped with cheese and mushrooms and toasted in the oven. Finish it with a squeeze of ketchup and some crisp fried onions.
Ingredients
2

demi baguettes

or similar long white sandwich rolls

150

g

cheese

hard cheese like gouda, cheddar

150

g

button mushrooms

50

g

butter

room temperature

4

tbsp

ketchup

2

tsp

chives

minced

2

tsp

crisp fried onions

optional
Instructions
Halve the bread lengthways and place each half with the cut facing up. Spread the butter on all halves.

Thinly slice the mushrooms and top the bread halves with an even layer of mushrooms.

Grate the cheese and add it over the mushrooms making sure to cover the whole length of the bread.

Toast in the preheated oven at 200°C (390°F) for 10 minutes, until the cheese melts and the bread gets nicely toasted.

Squeeze the ketchup in a zig-zag pattern over the sandwiches, top with minced chives and crisp fried onions if desired.
Notes
Use the oven in conventional heating mode. This ensures a homogeneous distribution of the heat to perfectly toast the bread while melting the cheese. Broil/grill mode may brown the cheese too quickly.
The steam created by the melting butter and cheese will cook the thinly sliced mushrooms. This is why we are adding them raw.
The nutritional information provided is only an estimate and it is referred to the basic zapiekanka recipe. Additional toppings will increase the calorie tally.
Nutrition Facts
Zapiekanka, Polish toasted sandwich
Amount Per Serving
Calories 629
Calories from Fat 441
% Daily Value*
Fat 49g75%
Cholesterol 133mg44%
Sodium 1084mg47%
Potassium 444mg13%
Carbohydrates 26g9%
Protein 24g48%
Vitamin A 1574IU31%
Vitamin C 3mg4%
Calcium 620mg62%
Iron 2mg11%
* Percent Daily Values are based on a 2000 calorie diet.
(Visited 6,210 times, 1 visits today)