Julbord, known in English as Julebord or Christmas buffet, is a form of banquet dining enjoyed in Scandinavia on the days leading to Christmas. Restaurants serve a Julbord menu from the end of November until the very beginning of January. The Swedish word julbord literally means "Christmas table". Being a buffet kind of dining, this means that all the Julbord food is laid out on a table and guests helps themselves from it. In this post I'm describing all the Julbord food I got to eat at Toppstugan's Julbord at Romme Alpin, a ski resort located in Borlänge, in Dalarna.
Toppstugan Restaurant at Romme Alpin
This year I had Julbord at Toppstugan, one of Romme Alpin's mountaintop restaurants. Toppstugan was established on the top of Solklinten in 2005 and has since then been serving gourmet dining experiences in a unique setting both to daytime skiing visitors and evening guests. Toppstugan is open in the evening on selected nights, when they offer themed events. From the end of November until the end of the year they offer Julbord, while from January until the end of the season (early April) the menu changes to meat fondue.
Read my review of the fondue night at Toppstugan in Romme Alpin.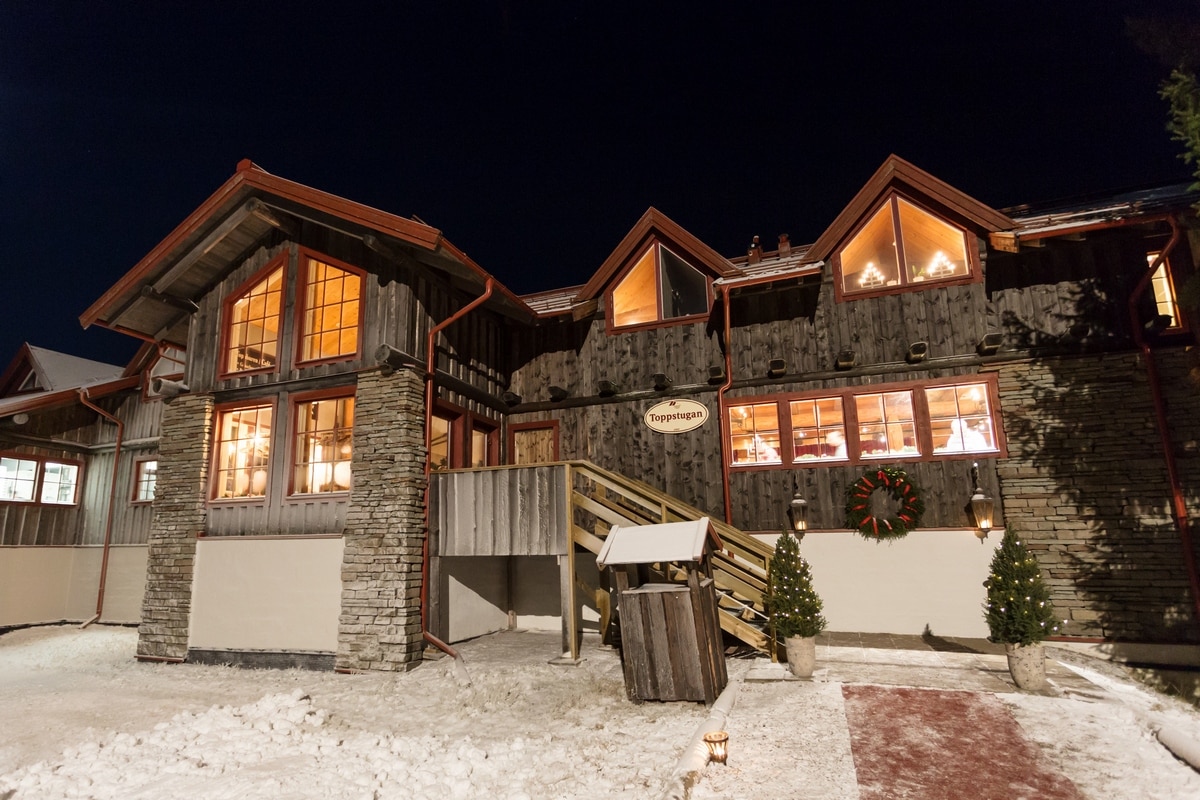 Toppstugan is one of the two fine dining restaurants at Romme Alpin. The other one is inside the Ski Lodge hotel. Both restaurants at Romme Alpin offer Julbord. Depending on availability, guests may choose to have their Christmas buffet down in the spacious Ski Lodge Restaurant with its fireplace and huge windows facing the slopes, or at Toppstugan, the resturant located up on the mountain with a fantastic view on the forest and the city of Borlänge.
Julbord at Romme Alpin
Traditional Christmas buffet at a ski resort can only begin in a unique way. To begin with, all Julbord guests are warmly welcomed at the Ski Lodge bar for some glögg and pepparkakor. Glögg is an aromatic hot beverage generally made of mulled wine or spirit – the one offered to Julbord guests is alcohol-free. Pepparkakor are the Swedish ginger thins – you may be familiar with those found at Ikea around this time of the year. After warming up with a hot drink and spiced cookies, guests proceed to the slope-side doors of the Ski Lodge, to board the vehicle that will take them up to the Toppstuga restaurant.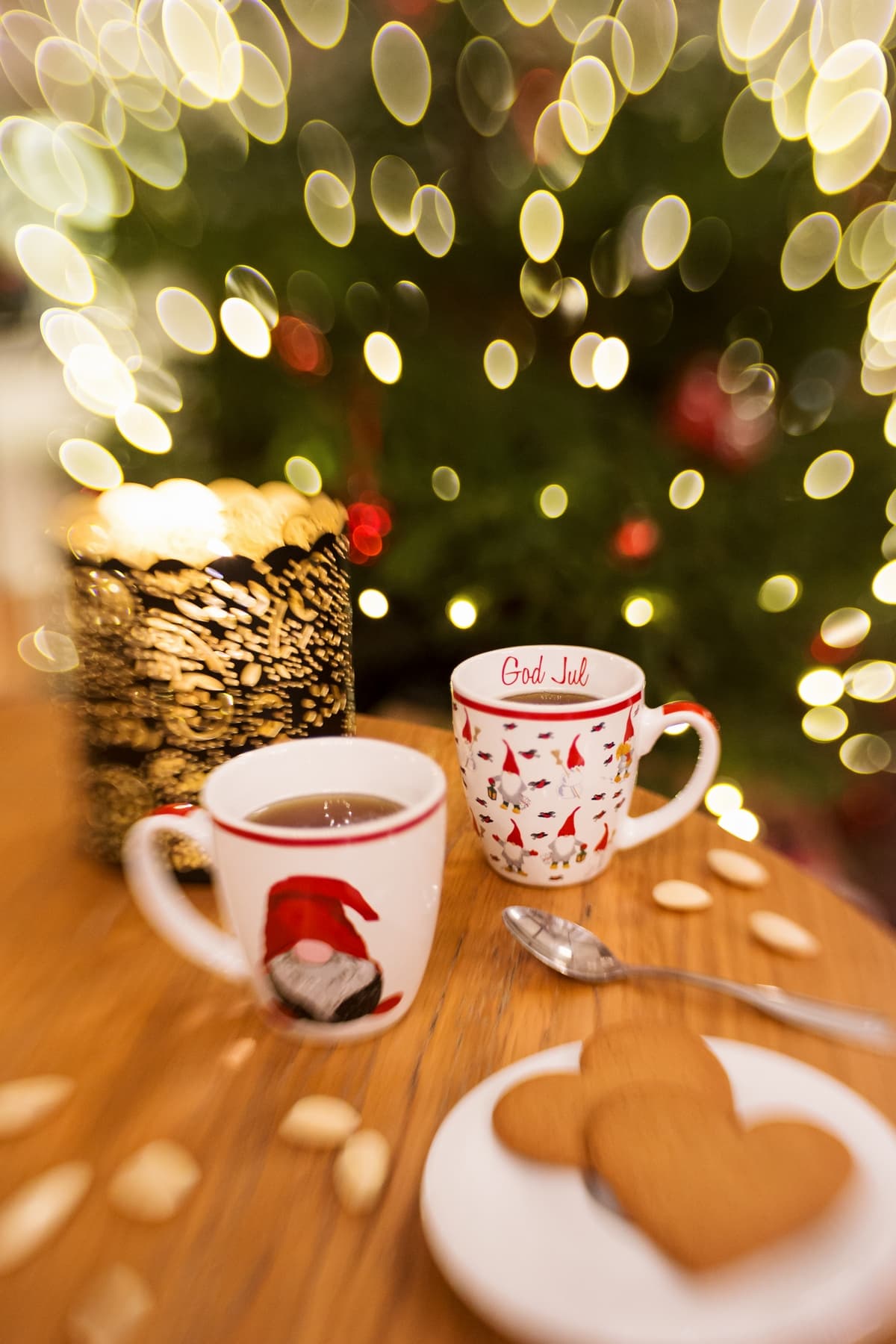 Daytime visitors reach Toppstugan by lift. Evening guests get to ride on a special vehicle. The vehicle that takes the guests up on the mountain when the lifts are closed is called bandvagn. It is a converted military vehicle that climbs up the slopes like a snow groomer. The ride is slow and safe, and quite an exciting start to the evening. Depending on the conditions of the snow, the ride takes about 15-20 minutes.
A fireplace, beautiful Christmas decorations, candles and Christmas carols in the background welcome the guests to Toppstugan. The restaurant is tastefully decorated and has a lovely festive and cozy atmosphere. Julbord dining is by reservation only; your waiter will take you to your table and take your drink order. After that, guests may start taking their food from the generous buffet.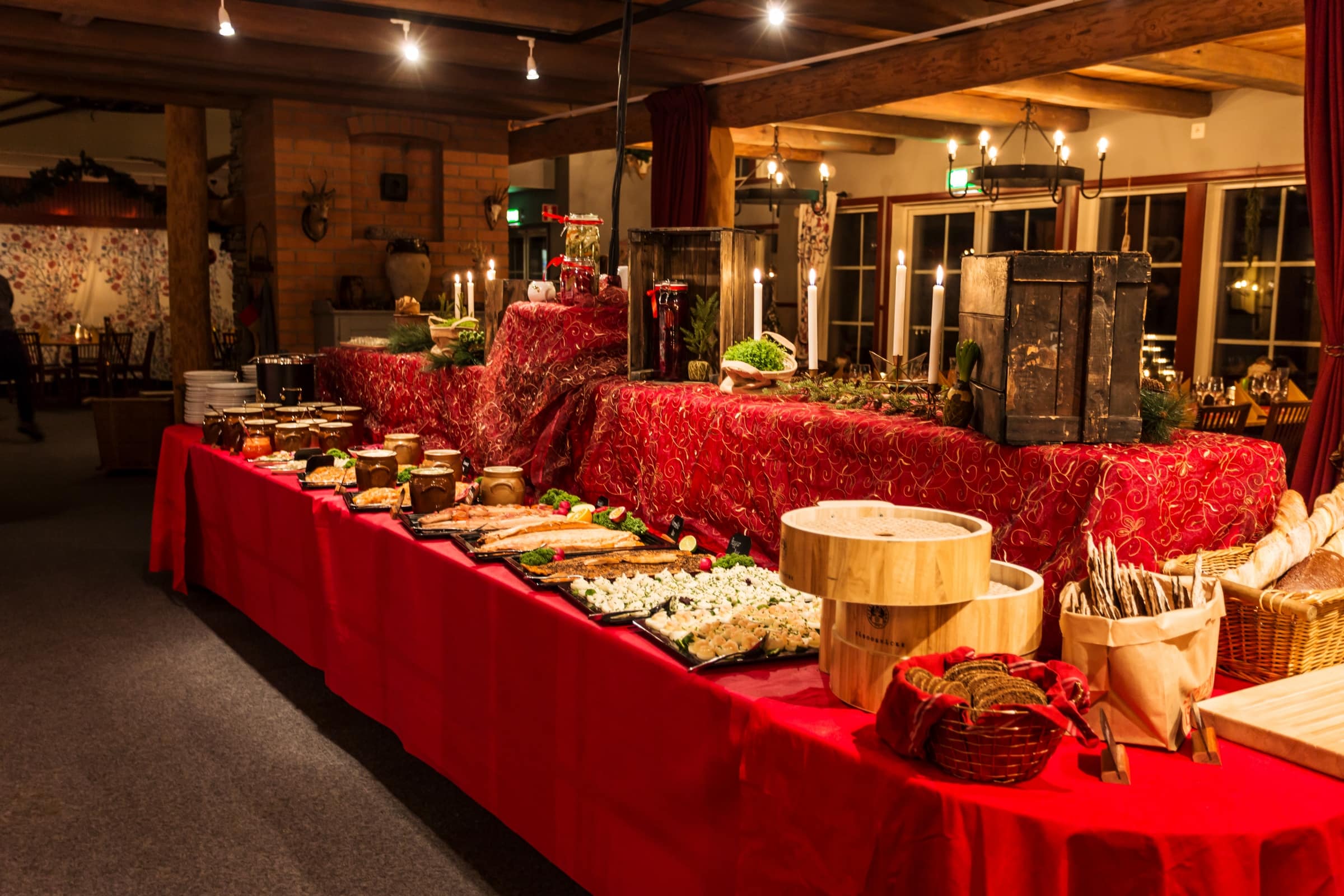 Julbord food at Toppstugan
There is a tradition that you should eat 7 plates of food when you eat from the Christmas table. Luckily for those with a stomach smaller than their appetite, it is not mandatory but hey you may as well try. Intrigued, I asked the staff what should go on those 7 plates. Every plate represents some key foods of Julbord. Here is the Julbord food I got to eat at Romme Alpin in detail.
Plate number 1: sill and potatoes
Sill is preserved herring, a traditional Swedish specialty (sill is Swedish for herring). It comes in several variations, usually served in jars. The pickeld herring is cut into bits and served with a variety of sauces that include cream, mustard, garlic, vinegar and onion, and other pickling sauces.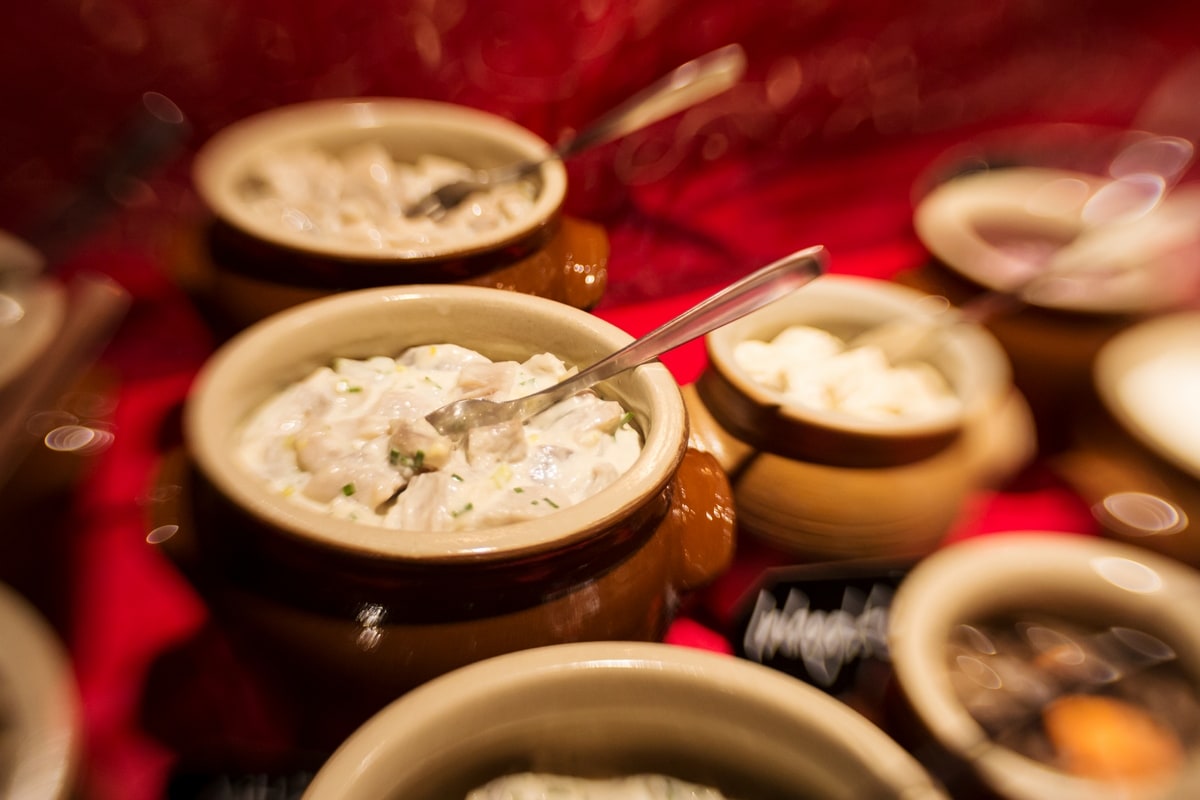 Plate number 2: salmon and eggs
The second plate is for salmon and deviled eggs. A beloved item of the Nordic cuisine, the Julbord buffet usually features several preparations of salmon. The most common is gravad lax, raw cured salmon prepared with dill. Apart from this classic, Toppstugan also offers baked salmon, cold- and hot-smoked salmon and salmon in pepper crust.
Deviled eggs on the Christmas buffet traditionally have a fish filling. Toppstugan offers two varieties: one with shrimps and one with fish roe.
Plate number 3: cold cuts and pickles
This was by far my favourite, and what surprised me the most. The selection of cold cuts at Toppstugan is huge and went beyond my expectations. Meats at Romme Alpin includes beef, turkey and pork, as well as reindeer, ostrich, venison and lamb. Some of the delicacies I got to try were home-made roast beef, smoked venison hind quarter, blueberry-smoked flank steak, smoked reindeer  as well as ostrich sausage.
Along with the various pickles, there were as well some salads, from two varieties of classic potato salad, to more colourful mixed vegetables, and a delicious beetroot and goat cheese salad.
Plate number 4 and 5: hot classics
Along with the cold classics listed above – cured fish, pickled veggies, cold cuts of meat, eggs – Julbord features also some pretty important hot dishes. Plate number 4 should feature some Swedish Christmas foods such as Janssons Frestelse – a potato and anchovy bake; prinskorv – a typical small sausage; and the most famous of all Swedish foods – meatballs! Among the hot dishes, there is also a traditional fish dish known as lutfisk.
Lutfisk is made of dry stockfish soaked in lye. This treatment makes the fish swell and become gelatinous. It is traditionally served with a white sauce and peas. I did not try this dish. It is known for having an acquired taste that might be hard to appreciate. Since the food choice was so vast I decided to focus on other foods and try this another time. Given its peculiar flavour, lutfisk gets its own plate, as you don't want to be mixing that with other foods.
Plate number 6: cheese
Going towards the end of the dinner, the second to last plate is dedicated to cheese. Toppstugan offers a nice selection of both local and imported cheese, along with lovely jams to pair it with – including a nordic delicacy: cloudberry jam.
Plate number seven: dessert
Well any festive dinner must end with dessert, right? That – along with the meat – was definitely my favourite part! Along with some traditional Swedish Christmas flavours such as gingerbread and saffron, the dessert buffet at Toppstugan's Julbord featured some other very interesting takes, namely a Xanté panna cotta, crème brulée, rocky road and the Swedish chocolate balls, chokladbollar.

The famous rice porridge served on the Christmas table, ris à la malta, at Toppstugan went by the name of ris à la Motala. Motala is the name of a Swedish town, and I found it quite hilarious.
What to drink at Julbord: Julmust
While Toppstugan has a lovely selection of wines and beers that pair wonderfully with the Christmas food served at their Julbord, we felt like there was only one drink we could have. Julmust is a special beverage produced only at this time of the year. You can find Julmust from various brands in supermarkets, the one by the brand Apotekarnas being probably the most commercially widespread. The syrup that is the base of Julmust is made by the factory in Örebro that invented it in 1910, and it is then sold to various soft drink manufacturers.
The Julmust served at Romme Alpin is made exclusively for Romme Alpin by Sahlins Brygghus brewery. While not a big fan of the commercial beverage, I really enjoyed the one I had at Toppstugan.
Having Julbord at Romme Alpin – either at the Ski Lodge restaurant or at Toppstuga – is a fantastic dining experience. The high quality of the ingredients and the exceptional variety of the foods on offer make it a dining experience you cannot miss when visiting Dalarna. You can check the dedicated pages on their website to find prices and available dates for Julbord at the Ski Lodge and Julbord at Toppstugan.
About Romme Alpin ski resort
Romme Alpin is a ski resort located in Borlänge, Dalarna, about 2,5 hours away from Stockholm. With 33 slopes and 13 lifts, Romme Alpin is one of Sweden's most visited ski resorts and a renown tourist attraction in Dalarna. Despite being among the most southerly-located ski resorts in Sweden, Romme Alpin offers skiing opportunities just like on the mountains, but much closer to the capital thus making for a perfect skiing daytrip from Stockholm.
Attending Julbord or a fondue dinner at Toppstugan is just one of the many experiences that a visit to Romme Alpin offers. There are 8 restaurants at Romme Alpin, all serving different kinds of meals and catering to different needs. With a wide array of slopes that suit all kinds of skiers, Romme Alpin is an excellent destination for foodies, too. You can find out more information on Romme Alpin on their website.
Disclaimer: This post was written in collaboration with Romme Alpin. All opinions are my own.
Pin this post for later:
(Visited 524 times, 1 visits today)