Raspberry chocolate balls are a delicious treat to enjoy with a cup of hot unsweetened black coffee. A staple in the Swedish fika tradition, basic Swedish chocolate balls are a special kind of praline made with butter and oats. This version is coated in dark chocolate and features freeze-dried raspberries. Coarser than chocolate truffles and less sophisticated than raw date balls, these chocolate raspberry balls are the perfect treat when you have few ingredients at hand ad little time, but still want to bring a little gift when visiting someone for coffee.
It took me over 4 years spent in Sweden to make my first batch of chocolate balls. Better known as chokladbollar, chocolate balls are a big deal in Sweden. The very basic recipes do not even feature proper chocolate, but cocoa powder. The key ingredients are butter (or margarine) whipped with sugar, and rolled oats. Mix all of that with some cocoa of course, for the chocolate flavour and color, and you have your chokladbollar. The Swedes like their pastry nice, so even the most basic chocolate balls will have a finishing touch. The most common is rolling the balls in shaved coconut, or coating them in chocolate and nib sugar (the one that commonly tops kanelbullar, the Swedish cinnamon buns).
Since I am a snob who made her first batch of truffes au chocolat at age 10 reading the recipe on my French schoolbook, you can imagine my slight disappointment when I had my first chokladboll in Sweden. I was expecting something smooth, yet I bit into a crunchy coarse filling. I blame it on my different expectations, but I was not impressed by the Swedish praline. I tried again some time later, knowing what to expect, and something put me off again. It was made with margarine, I'd dare to say not the best one you can find. With a growing number of vegans around, the choice of plant-based alternatives to butter has grown. Some vegan butter is actually really good in taste. Some kinds of margarine work better as baking ingredient, instead. I guess I had just been a snob – once again – and was not impressed.
You may also like: no-bake raspberry chili cheesecake.
I was determined not to give up. I am a foodie, I appreciate all foods, and I always felt like I was disappointing my Swedish friends any time I'd say I don't like chocolate balls. The incredulous look in their eyes, how could I not love chocolate balls? Everybody seem to love them in Sweden. Everybody grew up eating tons of them. Chocolate balls are so easy to make they've probably been one of the first recipes any Swede has ever faced in their lives. I started to seriously question myself. Why don't I seem to appreciate chokladbollar as much as I should? I like sweets, after all. What's wrong with me?
Fast forward to a couple of years later, when I started my summer job at the cozy dairy and café Murboannas. We sell chocolate balls there, of course. One day I was asked to make a batch. With real butter. Salted butter, the good stuff. You see, ever since I moved to Sweden I developed a serious thing for salted butter. In cakes it works wonders. I even love it in frostings, its slight salty flavour is the perfect balance to the sweetness that normally comes with frostings. As you'd expect, while I was rolling the balls at work I popped one in my mouth. And I swear I heard the angels sing. (It was probably the cows mooing outside in the meadow, but it's not important.)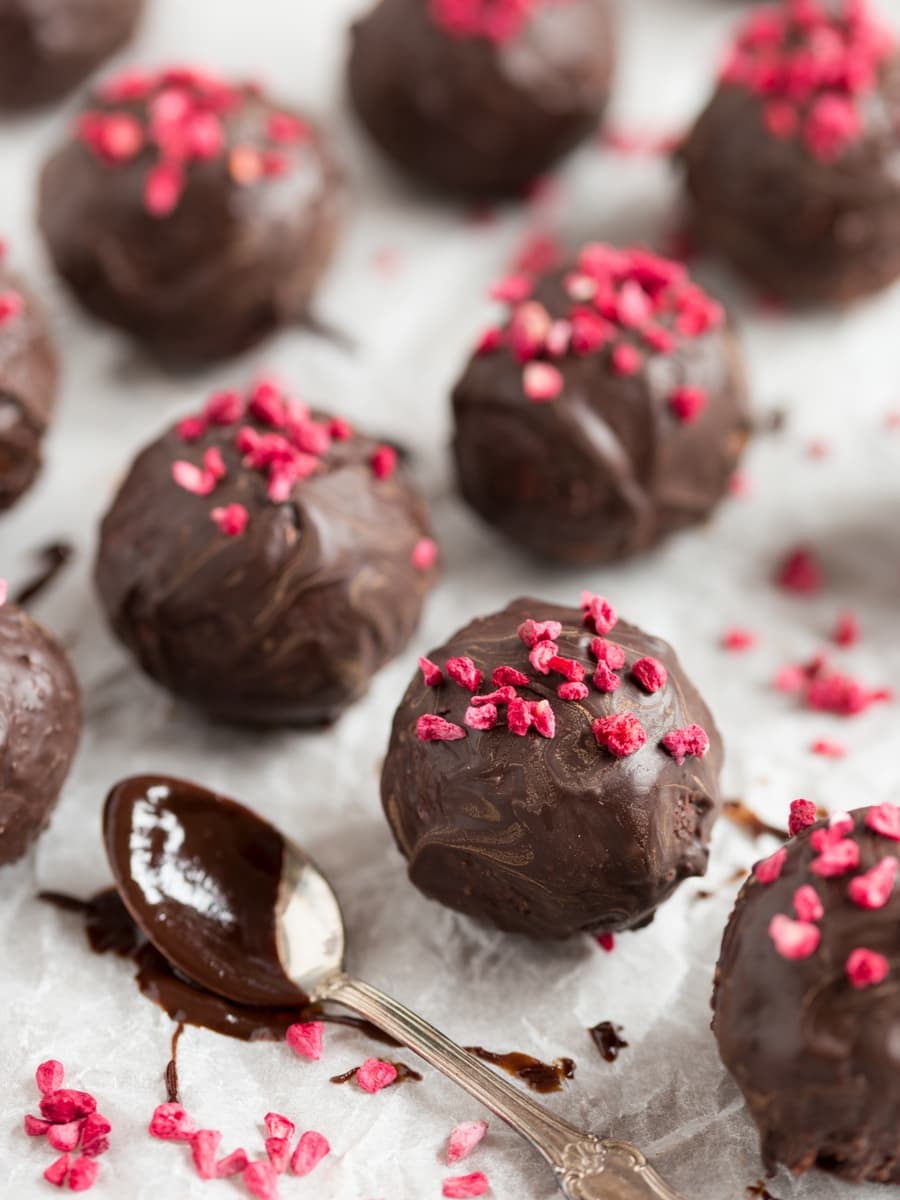 So that was the thing. I accept that the Swedish chocolate balls do not have a smooth texture. But the thing that really won me over was the flavour of the butter. I am not trying to convince anyone that with margarine they're not good. I'm sure that if you have a good plant-based butter you can make vegan chokladbollar that are to die for. But butter is one of my favourite flavours and to me it was butter what really made a huge difference. And so my chocolate ball adventure began.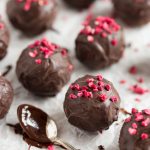 Raspberry chocolate balls
Ingredients
75

g

salted butter

70

g

granulated sugar

130

g

rolled oats

25

g

dark chocolate

1

tbsp

coffee

1 1/2

tbsp

cocoa powder

2

tbsp

freeze-dried raspberries
For the coating
50

g

dark chocolate

1

tbsp

freeze-dried raspberries
Instructions
Cream the butter and the sugar with an electric mixer until nicely combined and fluffy.

Grate the chocolate and combine it with the rolled oats, cocoa powder, coffee and raspberries. Stir and add to the butter mixture.

Start the mixer again at low speed and mix until combined. Set the mixer aside and roll the chocolate balls between the palm of your hands. This amount should yield 8 balls weighing between 35-40 g each.

Melt the remaining chocolate on a double boiler or in the microwave and let sit until it's cool enough to handle. Spread the chocolate over each ball gently coating all the surface. Place each ball on a piece of parchment paper. Sprinkle some freeze-dried raspberries on the top before the chocolate hardens.
Recipe Notes
This recipe can be easily doubled if catering for a larger party. Chocolate balls are an excellent gift for the holiday season as they can be stored in the fridge for a couple of weeks.
(Visited 949 times, 1 visits today)