School is finally over and I am currently anticipating the long summer vacations I've earned and deserve after working for over seven months as a teacher. I have enjoyed immensely every moment of it, but I must confess that a creeping sense of tiredness has been seriously building up in the last few months, leaving me with a greater than ever appetite for time off. My two-month leave will start next week, I'm leaving for Italy in less than 10 days and right now I'm trying to make the most of the beautiful Swedish summer before I leave for a month. Today, for example, I went flower picking.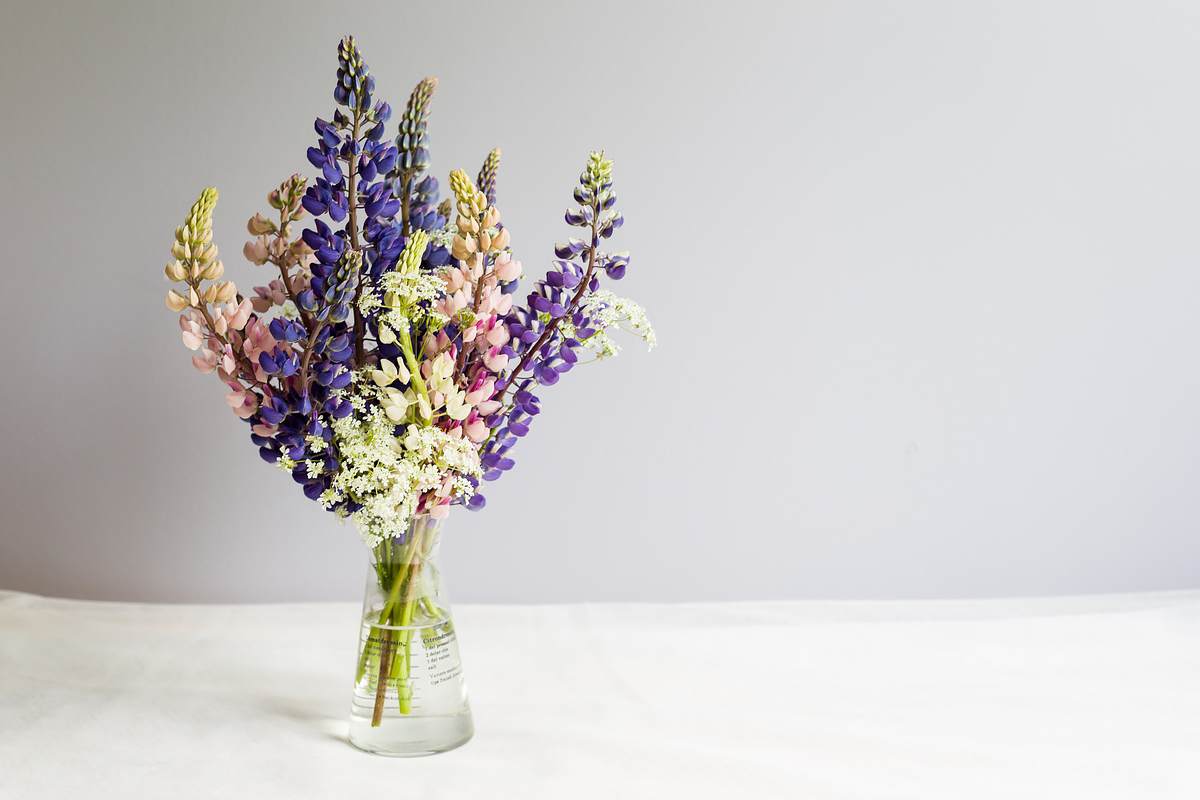 Fields are literally patched with purple and pink from the extensive growth of lupins that have gone full bloom recently. I love these colours and felt the need to take a bunch home.
Since I've been taking cakes to school for some time now, this weekend I felt like it was my moral obligation to come to school with a cake on our last week, too. So for my last fika with my colleagues I decided to make a no-bake cheesecake with raspberries. Since we have a few people allergic to lactose, I made mine entirely lactose-free. Of course my fresh flowers instantly became props when the time to photograph the cake came, ça va sans dire.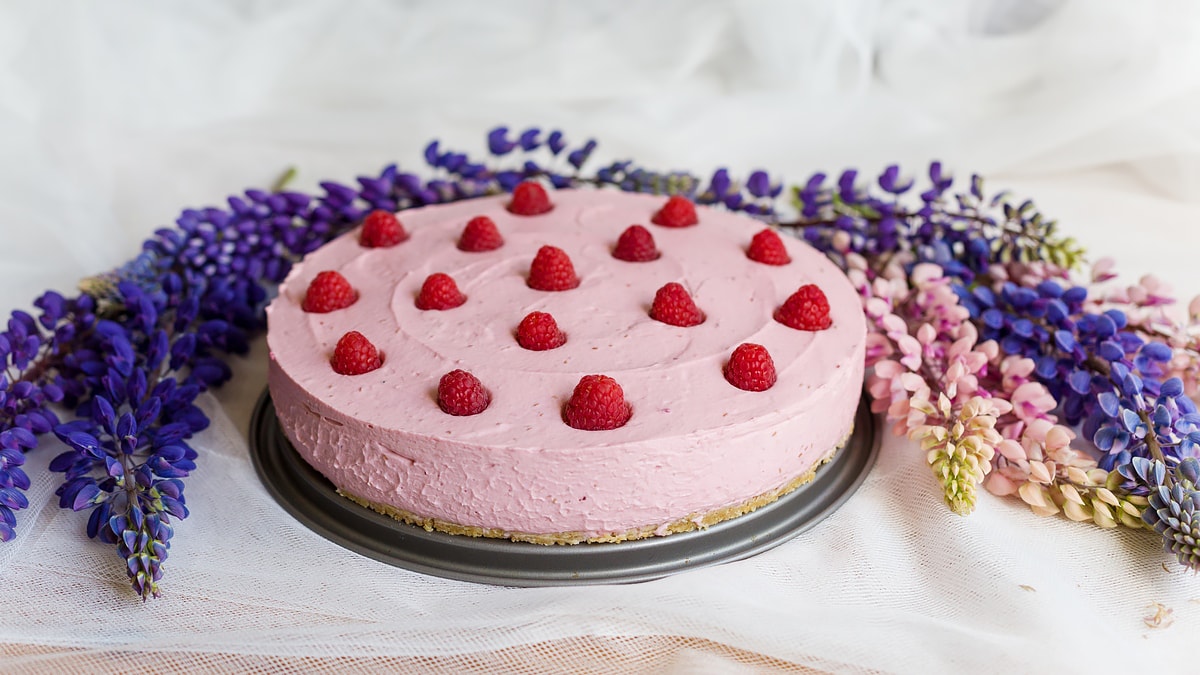 Raspberry cheesecake:
300 g raspberries (250 g for the cake + 50 g for decoration)
100 g sugar
100 ml water
200 g Digestive biscuits
120 g butter
600 g cream cheese
5 tbsp confectioner's sugar
500 ml whipping cream
3 gelatin sheets
Of the 300 g of raspberries, I have used 250 g frozen and only 50 g of actual fresh fruits for decoration. The first thing to do is to combine 250 g of raspberries, 100 ml of water and 100 g of sugar in a pot and let them simmer over medium heat until it boils, the sugar has dissolved and the fruits are soft (if cooked from frozen). After that, remove from the heat, blend with a hand blender, and let cool.
Next, soak the gelatin sheets in cold water for a few minutes. Heat up 50 ml of whipping cream and add the soaked gelatin to the hot cream, stirring to dissolve it completely. Set aside and let cool. In the same pot where the cream had been heated, melt the butter. Crush the Digestive biscuits (I used a food processor), and combine melted butter and biscuit crumbles. Spread homogeneously on the bottom of a springform pan and let cool and firm up (to speed up the procedure I put my springform pan in the freezer).
Combine cream cheese and powdered sugar and beat at medium speed with a hand mixer. Add half of the raspberry purée (allow it to reach room temperature before use) and mix that in, then add the second half and mix until evenly combined. Add the cream and gelatin mix (this should have cooled down to room temperature as well) and fold in with a rubber spatula. In another bowl, whip the rest of the cream until soft peaks form (do not overmix it). Add the whipped cream to the raspberry cream cheese mixture and fold it in, in three batches. Take the Digestive base out of the freezer and pour the creamy mixture over it, making sure it is evenly spread all over the pan. If desired, fresh raspberries can be added now for decoration. I left my cake in the fridge overnight to allow it to properly firm up; it can be ready after 4-5 hours, but the longer it sits in the fridge the better.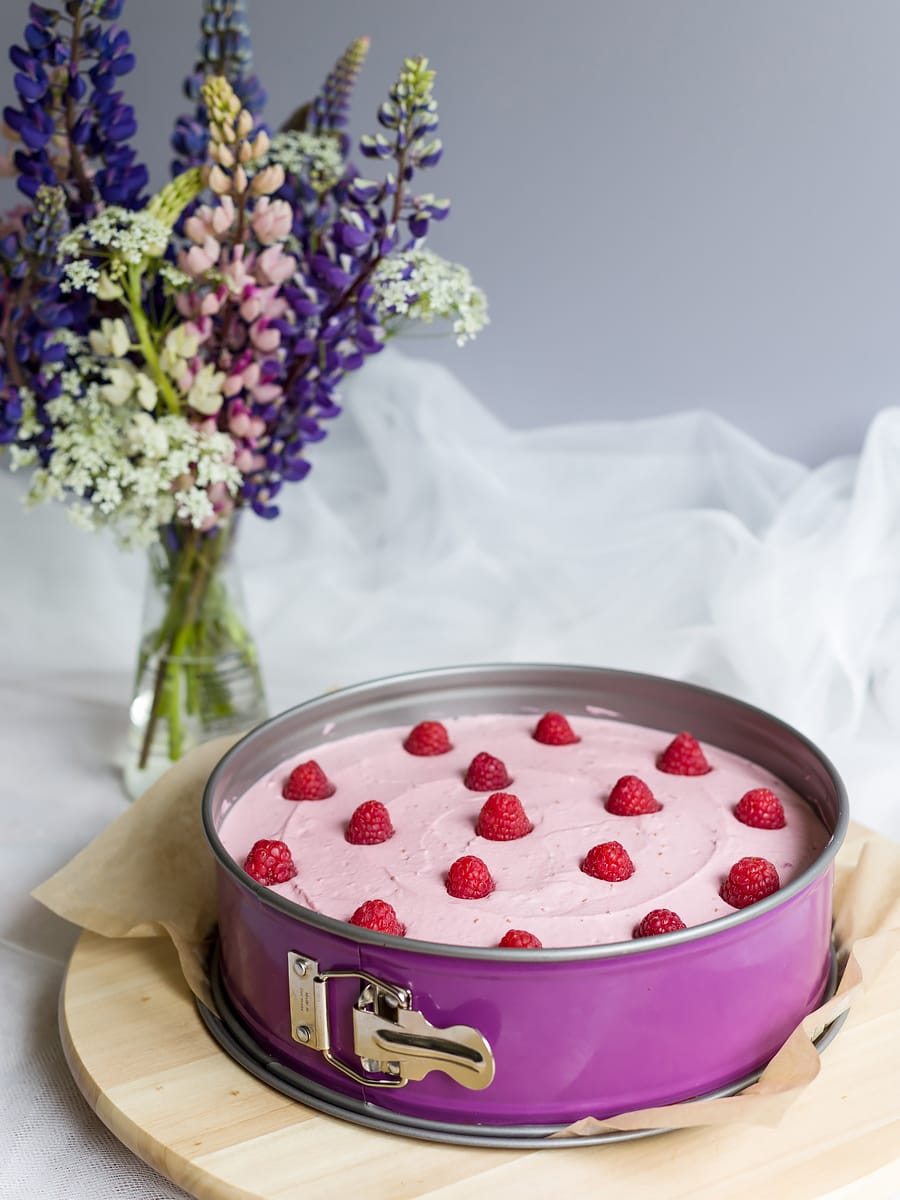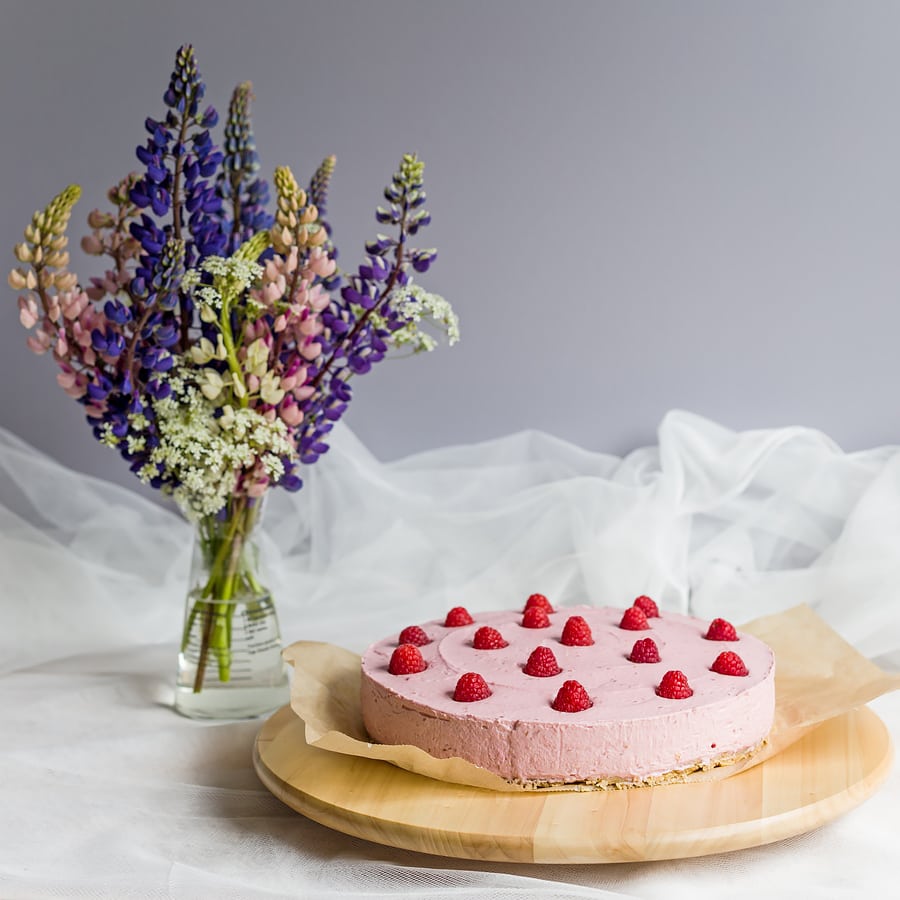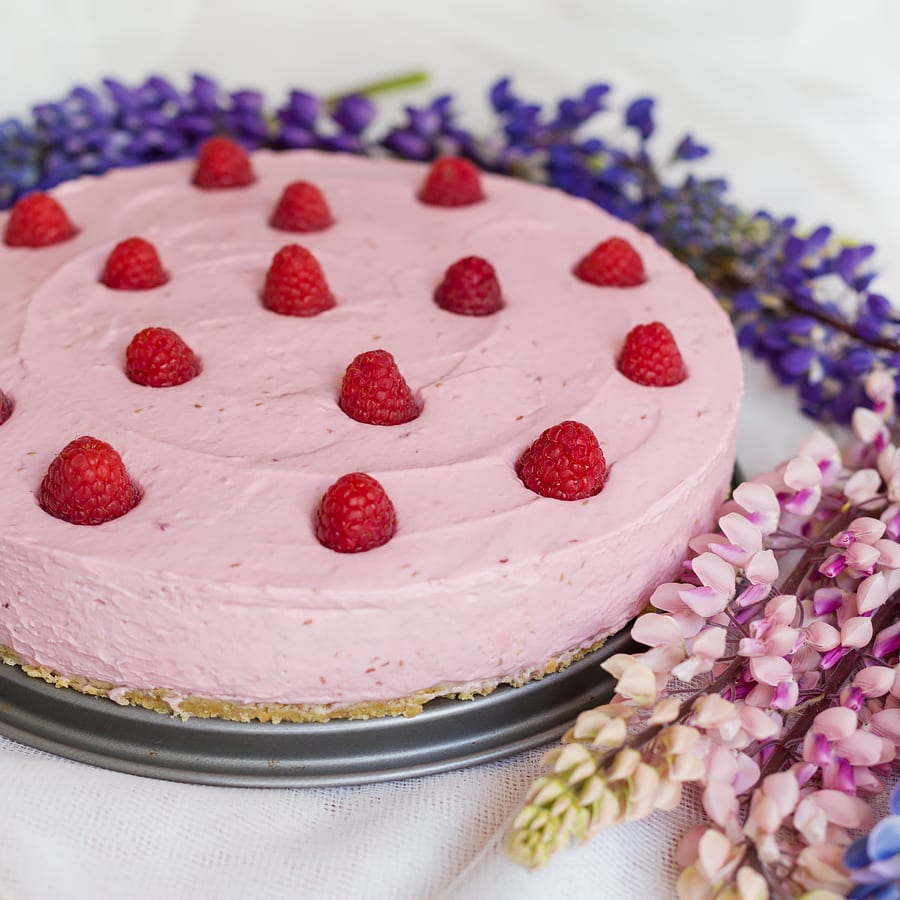 I am really looking forward to sharing this cake with my colleagues tomorrow at work! I made a similar cake for a birthday a month ago and it had been a success, so I hope it will be appreciated in school as well.
(Visited 126 times, 1 visits today)