Among the many wonderful (and quite random) events that Sweden celebrates there is Cinnamon Bun Day on October 4th. Of course the past Octber 4th I was too busy to even care, but October 5th happens to be World Teacher's Day so two large trays of cinnamon buns magically appeared in our staff room at school to celebrate us. So one day later I managed to make up and celebrate both the Swedish cinnamon bun and being a teacher. So wonderful!
The cinnamon bun is, together with IKEA and Zlatan, one of the most renowned Swedish exports of all time. Up here it is called kanelbulle and I have already written about it in this blog two cinnamon bun days ago. Actually, I'm not sure if the first cinnamon roll actually originated in Sweden, but judging from how popular it is over here, I'm ready to bet the Swedes proudly take credit for it. I don't blame them at all.
Ever since I made my first batch of kanelbullar I've been fiddling with the idea of baking them in a muffin tin. I actually had tried once with a little leftovers from a regular batch and I had liked the outcome, but I never really made a whole batch like that. Also because the recipe for a regular batch yields a lot. A smart idea could be to halve it and try, and this is exactly what finally I did.
Cinnamon bun/muffins (yields about 20):
18g fresh yeast
50 g sugar
150 ml milk
60 g butter
1 egg
1/2 tsp salt
1/2 tsp ground cardamom
380 g flour
Melt the butter in a small saucepan. In a large bowl, combine the yeast and sugar and stir until the yeast has dissolved. Next, stir in the milk and the melted butter using a hand whisk. Crack in the egg and mix it up. In another bowl, combine flour, salt and cardamom. Add it to the other bowl and mix first with a spatula, then knead it when it becomes a dough. Leave the dough in the bowl, cover the bowl with a layer of cling film and then with a kitchen towel and let it sit for one hour.
In the meantime you can take care of the filling, for which you will need:
50 g butter (room temperature)
25 g sugar
2 tsp ground cinnamon
Just combine all ingredients together until smooth and set aside. When the dough has been sitting and growing for one hour, roll it out into a rectangular shape, about 2 mm thin. I have cut the sides in order to have straight lines at the egdes of the rolled out dough. With the help of an angled spatula, spread the filling all over the surface of the rectangle, then roll it up folding the long side (you want to have a long thinner cylinder rather than a thick and short one). Once rolled, cut it into 2-cm slices and place each slice, cut facing upward, onto a muffin tin lined with paper muffin moulds. As an extra touch you can crack an egg in a bowl, whisk it, and gently brush the eggwash over each roll, then sprinkle them with pearl sugar. Not obligatory, but something that comes on every kanelbulle.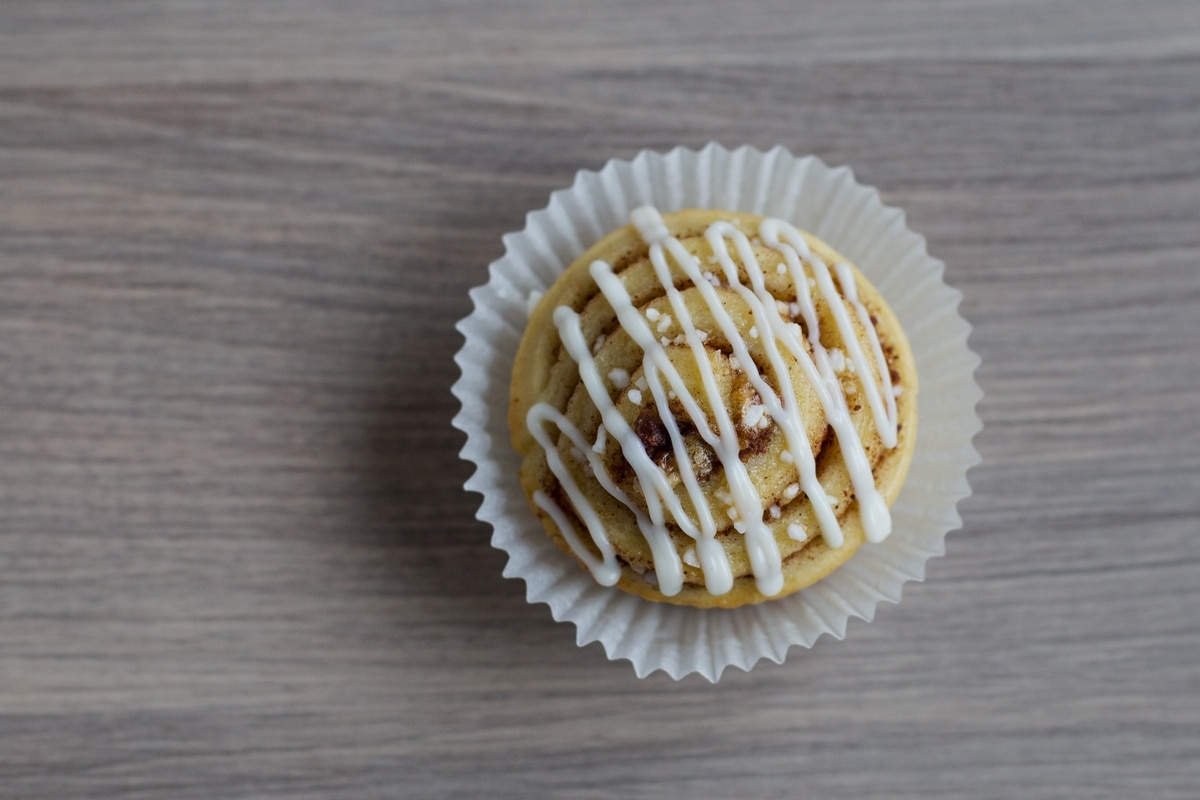 Let the rolls sit for an extra 20 minutes in the muffin tin before putting them in the oven. You can start preheating the oven now, so by the time it reaches 220°C the muffins will also be ready to go in. When it is time, bake them for 10 minutes. The rolls naturally expand as they bake, so they will fill the whole space in the muffin tin. Since it will most likely not be enough, they will also start growing upward, taking up a sort of muffin shape with a rounded top. Exactly what I had envisioned!
More Scandi-sweets? Sjokoladeboller, Norwegian cardamom rolls!
Just to make them a little yummier, I decided to add a drizzle of cream cheese frosting. Yeah, this touch is a little less authentic Sweden-wise, but it's just so delicious. For the frosting you need:
40 g cream cheese
15 g powdered sugar
Combine the cream cheese and the powdered sugar in a bowl and stir until the cream cheese turns liquid. Fill a pastry bag with this mixture and decorate your cinnamon bun/muffins.
These cuties tend to dry up quite quickly, so I recommend storing them in an airtight container. Or eating them all right away because they're delicious, and outside it's so dark and you only live once, right?
(Visited 147 times, 1 visits today)