On the occasion of my mom's birthday I am posting a recipe that I have learned from her, and since she taught me to cook in Italian I will keep its original title: penne al salmone e vodka. A luscious pasta dish with a creamy sauce made with salmon, zucchini and vodka. The truth is, pasta comes in many shapes, but for salmon sauce you want to go with penne. That's a match made in heaven. So think of pasta, perfectly al dente of course, swimming in a creamy sauce with salmon flakes and fried zucchini. Beautiful.
So as I said I have learned this recipe from my mom. I must have looked puzzled the first time I saw her pouring vodka straight out of the bottle into a frying pan full of… fish? I mean, okay, she's Polish, we have a solid supply of vodka in our house, but what is she doing? It turns out that vodka is a very good ingredient to tone down the fishy flavour of the salmon in this sauce. Of course, just like when you add wine to the meat, the trick is to let the alcohol properly evaporate.
Back then I didn't know that you can use wine to cook meat, nor that the alcohol actually goes away while cooking, so the use of vodka really surprised me. I must have been in my early teens when I first came across this recipe. I still remember the guilty pleasure of eating a pasta that featured an off-limit igredient. Penne al salmone e vodka went straight up in my list of favourite pasta dishes.
Penne al salmone e vodka recipe
300 g penne
400 g fresh salmon
1/2 zucchini
2 tbsp olive oil
1/4 white onion
300 ml cream
3 tbsp vodka
salt to taste
Mince the onion, warm up a frying pan with 1 tbsp of olive oil and stir fry the onion in it. After a few minutes, add the salmon. I used chunks (cheaper than fillets, and for this pasta sauce the shape doesn't really matter), but fillets can of course work fine as well. Sprinkle the fish with some salt (I have used my all-time favourite for fish dishes, lavender salt). Sear the fish on medium heat until cooked through, then shred it with a fork. Set the heat on maximum and add the vodka. Stir the salmon continuously until the vodka has evaporated, then lower the heat to medium-low, pour the cream (I have used whipping cream 40% fat), cover with a lid and let simmer for about 5 minutes.
In the meantime, take care of the pasta. I used penne as those are my very favourite type of pasta for this type of sauce. Once cooked and drained, the pasta will go directly into the pan where the salmon sauce is.
While the pasta is cooking, thinly slice half zucchini and apply the same procedure as for the onion, only keeping the heat on maximum all the time, and moving the zucchini slices continuously in order to prevent them from burning. Don't forget to add a sprinkle of salt to the zucchini, or they will be overly sweet compared to the rest. When soft, after about 5 minutes, remove from the heat. I like to add the zucchini at the end, after I have mixed the pasta with the salmon sauce.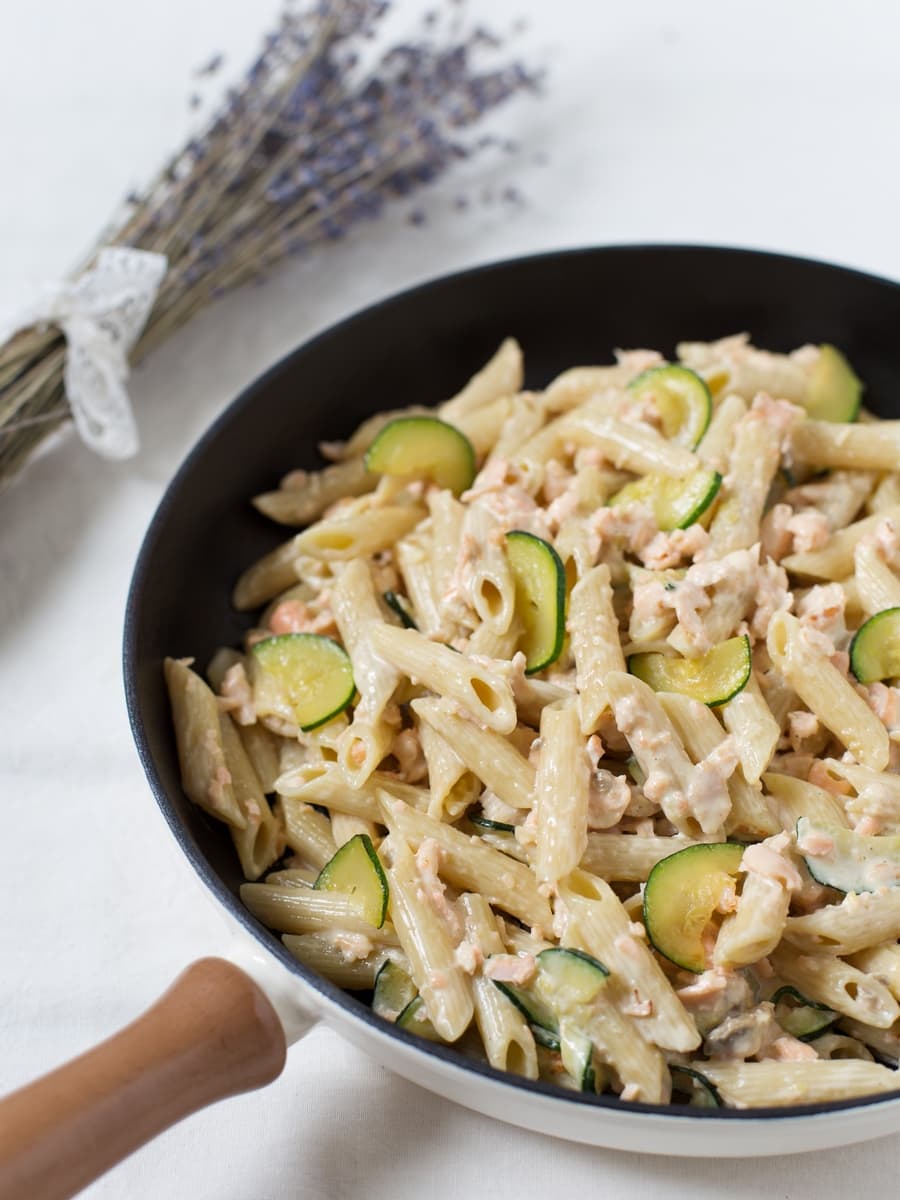 What's beautiful about this dish is that it is really delicate. Rich in flavour, but very well balanced, and the use of vodka and zucchini really counter-balances the two other fatty ingredients, salmon and cream. I served this pasta with a nice glass of chilled Arneis, a white wine from my region in Italy. I actually opened my last bottle. I generally prefer red wine, but Arneis is my favourite white and sadly I can't find it at my local liquor store in my town in Sweden, so I have to wait for my parents to visit with a new supply. And this will happen soon!
(Visited 440 times, 1 visits today)