Spring onion potato salad with cilantro mayo is the perfect potato salad recipe. Rich in flavour, this potato salad with spring onions is a great side dish to summer cooking. Bonus points to the condiment: a home-made mayonnaise flavoured with freshly chopped cilantro. Other ingredients for this potato salad include spring onion and red onion soaked in lime. Decorate the salad with more spring onion and freshly cracked black pepper and serve as a side dish to your favourite weekend lunch.
Potato salad is something I always associate with summer. In the winter I like my potatoes warm. But when the temperature goes up again after the winter I get all obsessed with all sorts of salads. Potato salads are no exception. I just love a creamy mayo-based salad made with potato chunks and some more yumminess. And the reason why I love potato salads so much might be in the fact that I love mayo. Homemade mayo is an absolute favourite. And it's also so easy to make. This spring onion potato salad has lots of wonderful flavours all perfectly blended with homemade cilantro mayo.
 Spring onion potato salad recipe
Potatoes take about a half hour to cook, but cooking time may vary according to potato size. In order to whip up this spring onion potato salad faster, I recommend cooking the potatoes the day before, and just leaving them in the fridge overnight. This allows to skip the cooking part as well as the cooling time. I recommend boiling the potatoes with the skin on and only peel them when cooked. I also prefer to cook the potatoes whole, as they retain their shape better.
Peeled and diced baked potatoes can be sprinkled with some lime juice before adding the other ingredients to the salad. This will give a little more flavour to your potatoes. Red onion gets also soaked in ice water and lime juice. This procedure washes away some of the strong onion juice, as well as seasoning it with some lime flavour. I personally love onion soaked in lime, it's something I also do when making guacamole.
Read more: chunky guacamole with lime-soaked onion bits.
Making potato salad is very easy: just combine the potatoes, red onion and spring onions in a bowl and stir in the mayo dressing. In this spring onion potato salad I'm using homemade cilantro mayo. Making homemade mayonnaise is so satisfying, as it's a pretty basic sauce that requires only 4 ingredients. Well, only 2 really – egg and oil – as the other 2 are condiments (salt and lemon juice). But if you don't have a blender or don't feel like making your own mayo, it's okay to use store-bought mayonnaise. Just look for the one that is most natural and has the shortest ingredient list.
Freshly minced cilantro gives this spring onion potato salad a lot of flavour that really pairs well with the lime tones that come with every red onion bite. If you are one of those people who gets a soapy taste from cilantro, you can as well swap it for some fresh parsley. Adding herbs to the mayo really lifts this condiment to another level so this is not something I would recommend skipping. Then add creme fraiche, more lemon juice and some mustard and just stir to combine. Want to make it dairy free? Just take 2 more tablespoons of mayo instead of the creme fraiche.
For a non-creamy potato salad try pesto potato salad with green beans.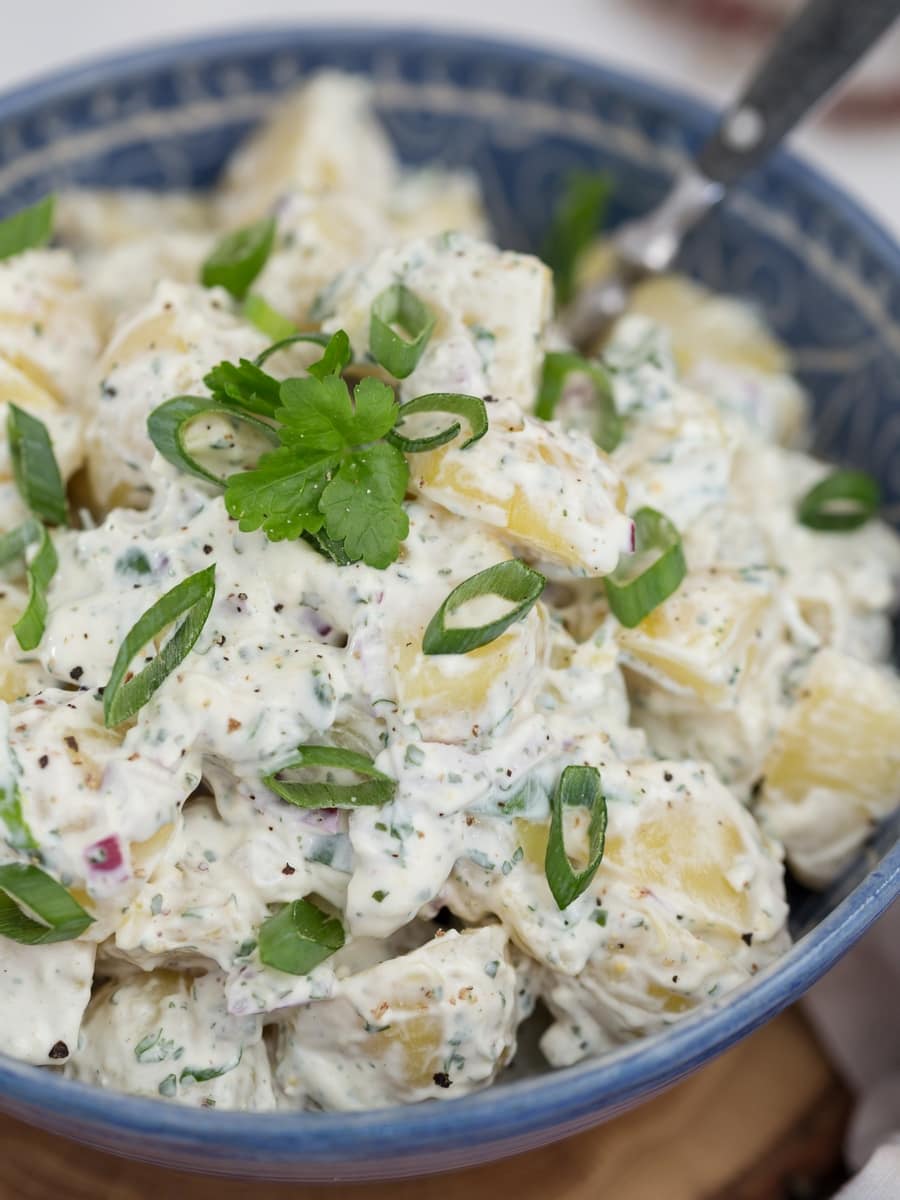 Once the potatoes have been cut and the red onion has been soaked and drained, it's just a matter of cutting up the spring onions. I prefer to only use the green part in this spring onion potato salad, and I generally leave some aside and only add it at the end as decoration. Combine the three veggies and dress with the cilantro mayo. Decorate with more minced cilantro (or parsley) and spring onions. Add a generous sprinkle of freshly cracked black pepper just before serving and enjoy with some grilled meat or veggies.
Spring may have arrived in Sweden, but the thermometer is still showing single digits. Still, grilling season is hopefully not too far away in time. If where you live BBQ season is also still not round the corner, you may want to pin this spring onion potato salad recipe for later.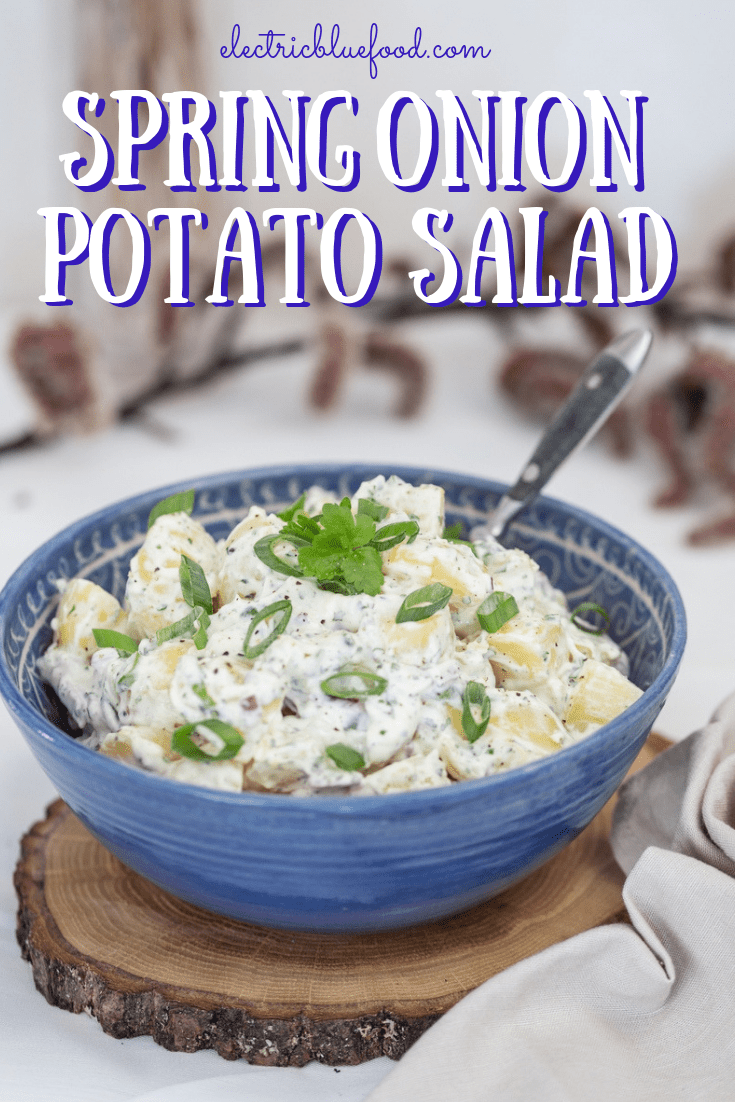 The bowl featured in these photos comes from Studio Kurbits and you can get a similar one from their webshop!
Spring onion potato salad
Spring onion potato salad dressed with a homemade cilantro mayo. Refreshing and rich, this may become your new favourite potato salad!
Ingredients
700

g

potatoes

1/2

red onion

4

spring onions (scallions)

100

g

mayonnaise

1/2

tsp

grainy mustard

3

tbsp

minced cilantro

(about 20 stalks)

65

g

creme fraiche

1

tsp

lemon juice

1

lime (juiced)

freshly cracked black pepper
To make homemade mayonnaise
1

egg

(room temperature)

200

ml

vegetable oil

1/4

tsp

salt

1

tsp

lemon juice
Instructions
The potatoes need to be boiled in salted water until tender and cooled completely to room temperature. To make this recipe faster, cook the potatoes the day before. Peel and dice the potatoes into bits of similar sizes.

Finely dice the red onion and place in a small bowl. Add ice cold water to completely cover the onion and add the juice of half a lime. Let soak for 10 minutes.

If making homemade mayonnaise: Crack the egg in a tall container and blend with a hand blender making up and down motions until the egg is beaten to fluffy (about a half minute). Always blending and keeping the same motion, pour the oil in a slow continuous stream. The mixture will soon emulsify and thicken, add all the oil until the end. Stop the mixer, add the salt and lemon, ang give a final buzz to combine.

In a bowl combine the mayonnaise, grainy mustard, creme fraiche, minced cilantro and 1 tsp lemon juice and stir to combine.

Place the potatoes in a bowl and add a splash of lime juice to them. Cut the green parts of the spring onions and add them to the potatoes. Drain the red onion and add that to the mixture. Add cilantro mayonnaise sauce to vegetables and stir to nicely distribute all over.

Garnish with extra spring onions and freshly cracked black pepper.
Notes
If not a big cilantro (fresh coriander) fan, swap with parsley. 
(Visited 10,072 times, 1 visits today)