Remember the Swedish Chef from Sesame Street? It's a character I didn't know as a child, but discovered late enough to fully appreciate it. After all, he is Swedish and he cooks, and I love both qualities. In one of his best gags he discovers that  Swedish meatballs bounce. I wonder how the Swedish people react to this desecration of their national dish (I should ask around), but I can see a sense in this silly gag. Swedish meatballs are very firm, and I have the feeling this could have been what made the creators of the Swedish Chef come up with this scene.
Meatballs and gravy are the most famous traditional dish you can find in Sweden (and Norway, really). The gravy is actually cream based, and is known as gräddsås, which means cream sauce. The traditional way of serving these meatballs is with mashed potatoes and a scoop of lingonberry jam on the side. This is so quintessentially Swedish that the most famous Swedish store in the world, Ikea, serves this dish in their restaurants all over the world.
Three and a half years in this beautiful country and I have started calling myself a pro at köttbullar, the Swedish meatballs. After perfecting my meatball making techniques, I got to learn to make the meatball cream sauce. And here a teacher of my boyfriend's takes the credits for passing him the recipe. Her cream sauce pairs up so well with my own meatballs that you would swear this dish was made in a Swedish kitchen. But wait – it actually was!
Since I like a good challenge, I decided to invite our friend Erik (it's his real Swedish name!) to dinner to sample my own köttbullar med gräddsås. Yes, I spontaneously decided to put myself in direct competition with his mormor and farmor (these two words both translate as grandmother, one designating the one from the mother's side and the other the one from the father's side. This country must really be into grandmas!). Sometimes I wonder if I'm just overconfident in myself or just really brave.
So here's my overconfident Swedish meatball recipe. Have your own? Jump to gravy recipe.
Swedish meatballs recipe
300 g ground beef and pork mix
2 egg yolks
1 small shallot
1 tsp salt
freshly ground pepper to taste
30 g breadcrumbs
2 tbsp oil for frying
Swedish meatballs traditionally are a mix of beef and pork. Have the ground meat in a bowl and add the yolks, salt, pepper and breadcrumbs. Finely mince the shallot and add that to the bowl. Some people like to crunch on a chunk of onion here and there (this was Erik's feedback), but I prefer when the onion is well blended in so I really destroyed it with my knife. As tiny as possible.
Now is the time to work the mixture with your hands in order to break the yolks and distribute all the ingredients around. When everything is nicely and evenly combined you can start to roll some balls.  Before I start with that I like to grab my kitchen scale and have it at hand. I always try to make my meatballs the same size, and weighing them helps me check if I'm doing a good job. I usually line the scale with parchment paper so that I'm not putting the meat directly over it. My meatballs weigh in at about 12-14 g each.
Set your pan of choice on the stove and warm up the oil. As you can see from the quantity it's really not much. The meatballs will release some of their fat, and the goal here is to shallow fry and not deep fry. Now, if you want to be a true Swedish grandma (a mormor or a farmor, depending on the sex of the child of yours that made you one – I know, it's complicated) you will use your cast iron pan. In Sweden this is the one and only pan suitable for making meatballs. And pancakes. If you don't have one it's okay to cheat with teflon. I used to cheat, too, before I got this beautiful pan from my friend Ania.
Add the meatballs to the pan whe the oil is warm and shallow fry them on medium-high heat. Move them around constantly in order to ensure that the whole surface of each meatball has been touching the oil so that the meat cooks through evenly. When the meatballs are done, discard most of the frying fat (and the fried onion bits that may be found there). Leave only about 1 tbsp of that mixture of oil and meat fat, and the meatballs, obviously. You want to keep them in the pan as you make the sauce.
Meatball cream sauce recipe
300 ml cream
2 tbsp warm water
1 tbsp beef stock concentrate
1 tbsp mustard
2 tbsp Worchestershire sauce
Return the pan to the stove, keeping it on medium heat. Pour the cream into the pan in one go. In a small bowl aside, combine the water and the stock concentrate. You may as well use a cube, but I prefer the liquid reduction. In any case, you are blending the stock with a very small quantity of water, so you're not looking for a proper stock here but rather a concentrate. Pour this stock concentrate into the pan and give it a good stir. Now add the mustard; I used a mild one. Lastly, add the Worchestershire sauce. Stir to combine and keep simmering on medium heat until the sauce thickens.
This Swedish meatballs sauce recipe is rich and thick. It has a wonderful taste that complements the meatballs and a lovely texture that coats them beautifully. It is also quite hearty and, well, fat. Grandma's dishes are not meant to make you thin.
To give my dinner an Italian twist I made oven-roasted potatoes as a side dish instead of the more traditional Swedish mashed potatoes. My Swedish guest helped himself to a second serving and happily informed me that I passed the mormor/farmor test. I'm very confident about the deliciousness of my meatballs in cream, but deep down I think it was seeing the cast iron pan what won him over. I complied to this traditional rule of Swedish cooking and I may now join the Swedish grandmas tribe.
This is probably the best meatball recipe for firm meatballs, as opposed to other recipes that yield softer meatballs. I don't really know which ones I prefer, I think it depends on the sauce. I like softer meatballs when I make them in tomato sauce, Italian style. But you want your Swedish meatballs to be firm when you serve them with cream gravy and potato mash. Remember the Swedish Chef? So firm they could bounce.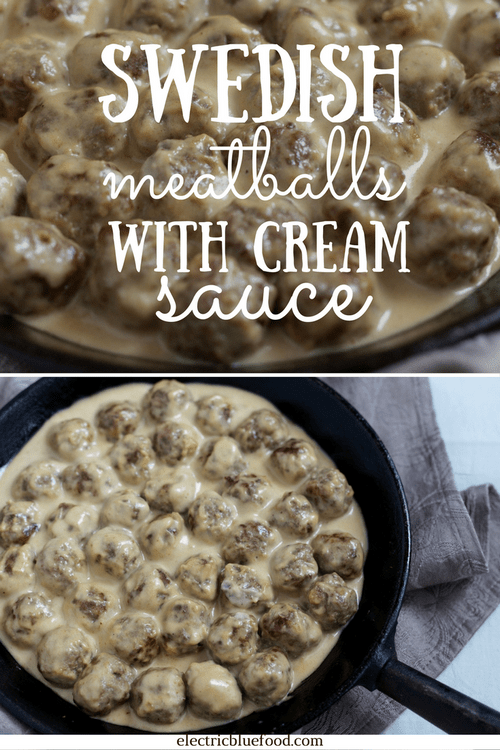 (Visited 461 times, 1 visits today)