Classic French tomato mustard tart in a finger food version. Here are small puff pastry tarts with tomato, mustard and feta cheese on top. Tomato mustard tart miniatures are a quick and simple appetizer that everyone is going to love.
Tomato puff pastry tart might be the easiest recipe to make, yet the effect is like there was much more effort put into crafting it. To make puff pastry tomato tart you just need to spread mustard on a puff pastry base, nicely lay fresh tomato slices on top and bake it in the oven. Your thinly sliced fresh tomato will roast while the puff pastry bakes. Traditionally, you will find French tomato tart as a single large one, but here we're going for miniature versions. The idea was to make it as a quick and easy appetizer that could work as finger food.
These tomato mustard tart miniatures require only 4 ingredients – puff pastry, mustard, tomato and feta – and less than 30 minutes. Not all finger food is complicated to make. To make these mini tomato and cheese tarts you don't even need lots of kitchen utensils. Just a cookie cutter, but if you don't have one you can easily cut your puff pastry with the rim of a glass or a bowl. Simple as that. (Sound familiar? That's how I roll when I make mezzelune ravioli, too!)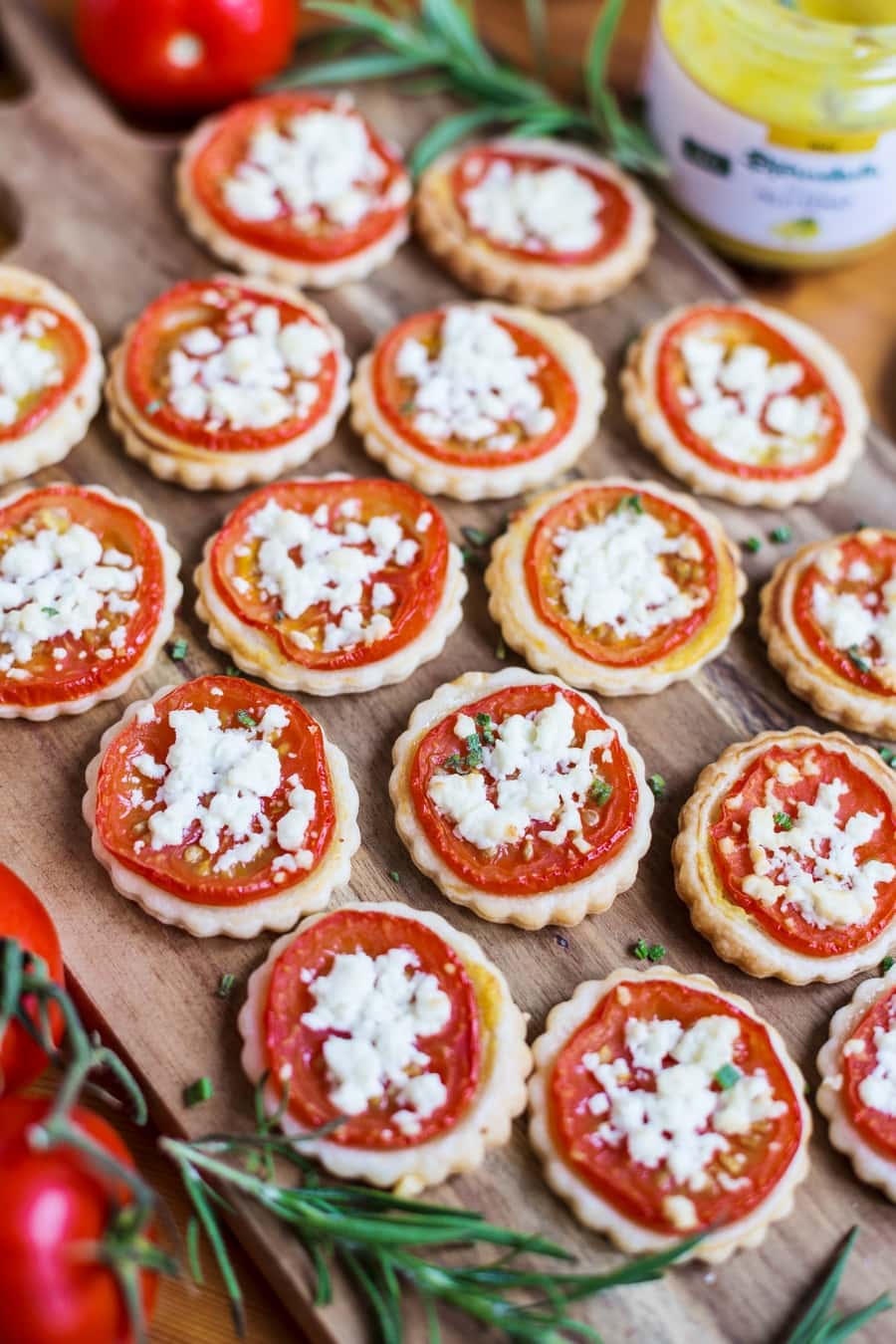 Puff pastry appetizers
In Italy we have a type of party food known as "salatini". I'm not even sure if this is something that you can find all over the country or just back in my region. Knowing the food diversity in Italy I'm sure there are variations here and there, but whatever. Let's step back in time to when I was a kid growing up in Piemonte. Every birthday party I attended I recall there would always be cardboard trays filled with salatini. You could never go wrong. The mom could have forgotten to bake or buy a cake, but you could be sure she'd have generous amounts of salatini to offer her kid's small guests.
Salatini are an appetizer made of puff pastry with various fillings. Although you could bake them at home, we all know that the best are those from the baker's. There are various types of salatini; the most common are bits of wurst wrapped in pastry, pastry with spinach filling, pastry filled with anchovies and every kid's favourite: pizzette. Think a puff pastry disc the size of your palm (when you're aged 8, obviously) topped with tomato sauce, mozzarella and sometimes a half black olive. Some bakers would use a flower cookie cutter to make them, and that was so cool. I mean, pizza but tiny and with those petal shaped edges? Yes please! We're talking childhood favourites here.
French mustard tart inspiration
Let's go some 20 years forward, to the times when I was a Home Ec teacher here in Sweden. With my subject colleague we were trying to plan a tart recipe and we wanted to give the students various options. I am the kind of person who swears by the use of egg and cheese in her quiche. But we had to accommodate various food intolerances so we needed an egg free alternative. This is when my colleague introduced me to French tomato mustard tart. Three ingredients: a shortcrust base, a layer of mustard and slices of fresh tomatoes. Simple as that. My mind was blown. (She was French, she knew her quiche.)
Now you can see where my mind went when one day I started planning an appetizer and I had puff pastry and tomatoes in my mind. I recreated my French colleague's tart but gave it the shape of a pizzetta from the birthday parties from my childhood memories. Of course using a flower-shaped cookie cutter, because when I was 8 I could have sworn that the flower-shaped ones tasted better. And this is how I ended up making my first batch of tomato mustard mini pies.
Mini tomato mustard pie recipe
Making these baked tomato tarts is easy peasy. We're using using pre-made puff pastry, that's why it's easy. There's basically only one rule: choose your cookie cutter well. You want to be using one that is slightly larger than your tomato slices. So first slice off your tomato and then decide accordingly. I went for medium-sized tomatoes as I didn't want too big appetizers, but the choice is yours.
Then you just drop a dollop of mustard and spread it on the puff pastry disc, trying to stay away from the edges.
You place a tomato slice over every puff pastry disc and top with crumbled feta. Now it's ready to go in the oven!
Bake at 200°C for 20 minutes. I place them in the top part of the oven and switch to broil after the first 5 minutes to properly roast the fresh tomatoes. The puff pastry rises within the first 5 minutes, so after that it's all about properly roasting the tomatoes.
I have used a smooth mustard, but I have also tested this recipe with a grainy one and both work fine. I think smooth better suits my taste, but you can really use any kind of mustard. There is no need to use any salt or other spices. The mustard and feta are already giving these mini tomato pies a beautiful flavour.
More inspiration please
On a tart-pie-quiche spree? You may want to also check out:
Or you can just pin this tart with tomatoes and mustard and come back to it another time.
Tomato mustard tart miniatures
An easy 4-ingredient appetizer inspired by classic French tomato mustard pie. Mini tarts with roasted tomato and mustard topped with crumbled feta are a healthy and tasty finger food for your next party.
Ingredients
1

puff pastry sheet

4-5

medium tomatoes

2-3

tbsp

mustard

40

g

crumbled feta cheese

fresh rosemary

(optional)
Instructions
Cut the tomatoes in slices that are about 1-2 mm thick. Choose a cookie cutter that is slightly larger than the tomato slices.

Cut the puff pastry sheet into as many discs as you can get. Transfer onto a baking pan lined with parchment paper.

Drop a small dollop of mustard on each pastry disc and spread it all over. It doesn't need to be a very thick layer, but of course you can adjust the amount of mustard to your taste.

Place a slice of tomato onto each pastry disc, and add some crumbled feta on top. 

Bake in the top section of the preheated oven for 20 minutes at 200°C. I generally switch to broil after the first 5 minutes, so that the tomatoes get properly baked. You can serve these tarts immediately or let them cool to room temperature before serving. You can optionally garnish them with some fresh rosemary.
(Visited 77 times, 1 visits today)