This apple rice pudding can serve both as dinner or dessert. It is a kid friendly meal inspired by what my mom used to eat in preschool. This sweet baked rice casserole became a childhood favourite of mine, too. Pefect when you have some boiled rice leftovers and you want to make something sweet out of it.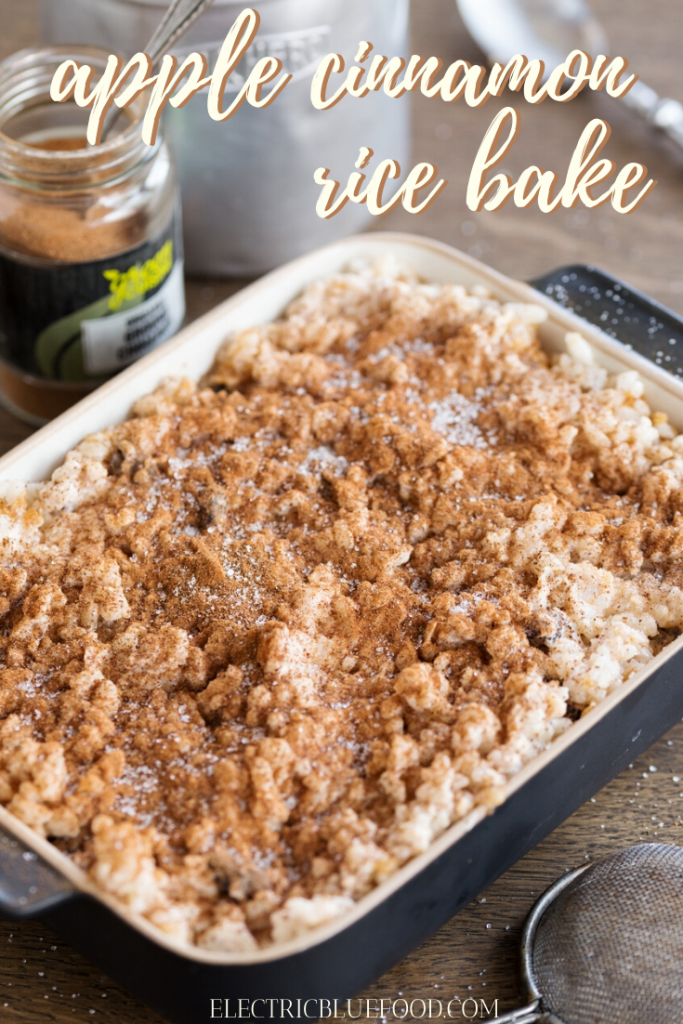 A kid friendly meal
My mom grew up in Poland where baked rice with apples and cinnamon was a popular preschool meal. In fact, this is definitely a perfect recipe for a small child. The soft texture and sweet flavour of this apple rice bake make a real treat out of a nutritious meal. Needless to say when my mom got me this became a favourite of mine, too.
The recipe I'm sharing here contains added sugar, but if you prefer to have a healthier version to serve your child you may as well skip the sugar altogether. Cooked rice is very neutral in taste if no salt is added to the cooking water. The addition of apples (go for a sweeter type) and raisins naturally sweetens this dish. To top it all, cinnamon helps to bring out the overall sweetness even more.
Apple rice pudding ingredients
Cooked rice – have any leftovers at hand? Go for those! Otherwise just whip up some boiled or steamed rice just for this recipe. I like to use short-grain rice (sushi rice). Do not add any salt to the water for best results.
Ripe apples – your favourite type, or whatever you have at hand. If making this rice casserole sugar free, choose apples that are on the sweeter side. If adding sugar, sour apples work fantastic, too.
Raisins – skip them if you don't love them, but they just provide that extra sweetness here and there that is just a delight.
Whipping cream – this will add flavour and texture to our rice bake.
Cinnamon – the best spice to pair with apples!
Sugar – completely optional if you want to keep it on the healthy side, but a sweet tooth like me would never say no to it.
How to make baked rice with apples
This apple rice pudding is very easy to make and takes 30 minutes in total if using rice that had previously been cooked. If you don't have any cooked rice at hand, budget in some more 20 minutes to take care of it. Or less, if you're using the pre-cooked microwave rice bags!
Peel the apples and grate them. I find it easiest to not cut them, but just grate them whole until I reach the core. Alternatively you can slice and core them, and grate them through a food processor, that will also work. Add your apples to a bowl and stir in 1 tsp sugar and 1 tsp ground cinnamon. Depending on the size of the apples, you may need 2-4 of them. Anything that yields 200 g grated.
Combine the apple mixture with the cooked rice and add the raisins. I really like to use my hands for this part, as the rice is sticky and may have clumped. If you're cooking with your toddler, they will definitely enjoy helping in this part!
Distribute the rice mixture into a casserole dish and pour the whipping cream all over.
Lightly "fluff" the rice with a fork or spoon to let the cream penetrate evenly through the rice and apple mixture.
Sprinkle 1 more tsp of ground cinnamon all over the surface of the dish using a fine sieve. Finally sprinkle some sugar on top of that. I went for 1 tsp of sugar on the top, but the more the better in my opinion. I just tried not to overdo it.
Bake in the preheated oven at 200°C for 20 minutes. The rice is already cooked and the shredded apples don't really take that long so we're just aiming for an even distribution of the heat and some melting of the sugar. You could totally eat this unbaked, but warm it tastes better. I may or may not have shoved a couple tablespoons of the cinnamon apple rice mixture into my mouth when I was transfering it to the casserole dish, y'know.
How to serve this sweet rice casserole
Now to my favourite part: indulging. This sweet apple cinnamon rice bake smells fantastic when it comes out of the oven, as the warm cinnamon really fills the room. Nothing beats enjoying this as soon as it comes out of the oven, but this is a very microwave-friendly dish too so keep any leftovers in boxes for later use!
To make it extra yummy, my mom used to pour some extra cream on top of my portion. You can also choose to add the sugar at the end, to get the crunch from the granulated sugar. Or just get both extra moisture and sweetness by pouring some syrup over it! Serve it with a glass of milk on the side and enjoy it for lunch, dinner or even breakfast!
Some prefer to make this dish in layers. Alternate layers of rice and apple cinnamon mixture. You may encounter this baked rice casserole made this way, especially in Poland. To me layering is a mere aesthetic feature as all layers have the same texture. It's a different matter when we're talking lasagna or parmigiana, where you really want layers to appreciate the different textures.
Plus, please don't take away from me the satisfaction of using my hands to mix the squishy rice and apple mixture.
If you're looking for other awesome rice preparations you should try the Swedish Christmas rice pudding risgrynsgröt!
Apple rice pudding
A delicious sweet rice bake made with apples, cinnamon and raisins. This apple cinnamon rice casserole is beloved among children and adults.
Ingredients
500

g

cooked rice

200

ml

whipping cream

30

g

raisins

3

apples

2

tsp

ground cinnamon

divided

2

tsp

sugar

divided
Instructions
Peel and grate the apples. Use 3 medium apples, or anything that yields 200 g of grated apples. Stir in 1 tsp sugar and 1 tsp cinnamon.

Add grated apples to cooked rice, then stir in raisins.

Transfer mixture to a casserole dish.

Pour whipping cream over the mixture. Gently fluff the rice with a fork or spoon to let the cream penetrate through the rice.

Sprinkle 1 tsp cinnamon and 1 tsp sugar all over the top of the casserole.

Bake in the preheated oven at 200°C (390°F) for 20 minutes.

Serve with extra cream, whipped cream, extra sugar or maple syrup (all optional).
Nutrition Facts
Apple rice pudding
Amount Per Serving
Calories 439
Calories from Fat 171
% Daily Value*
Fat 19g29%
Cholesterol 69mg23%
Sodium 24mg1%
Potassium 289mg8%
Carbohydrates 64g21%
Protein 5g10%
Vitamin A 809IU16%
Vitamin C 7mg8%
Calcium 63mg6%
Iron 1mg6%
* Percent Daily Values are based on a 2000 calorie diet.
(Visited 2,075 times, 2 visits today)