Cream cheese stuffed mushrooms sounds like a very easy and cheap starter. Yet sometimes you just gotta add one ingredient to give a simple recipe a slightly fancier twist. How does hazelnut stuffed mushrooms sound? Just one more ingredient – ground hazelnuts – will turn your vegetarian stuffed mushrooms into a neat appetizer. The absolute fancy factor? Choose the tiniest mushrooms you can get.
Vegetarian stuffed mushrooms
Where I come from, mushrooms have always been stuffed with ground meat. I grew up eating meat stuffed mushrooms. It is, after all, a fairly easy thing to prepare, and decently kid-friendly, too. Stuffed mushrooms are fun to eat with your hands, and can work great both as starter or as main course, really. You're basically getting a meatball baked in a mushroom cap.
One downside to those is that meat shrinks as it bakes, so I was often disappointed that no matter how perfectly you filled your mushrooms, the filling would always come out smaller after baking. To the point that it was pulling off the sides of the mushroom. It looked like baked mushrooms with a meatball on top. No complaints whatsoever about the flavour, but I always found meat stuffed mushrooms not so visually pleasing.
I eat far less meat nowadays than I did growing up. And I figured out that turning stuffed mushrooms vegetarian made me love this dish once more. A cream cheese filling will sit in place as it bakes, delivering really cute filled mushrooms. As for the flavour, you can get very creative. My favourite will have to be hazelnut filled mushrooms.
Filled mushroom appetizer
Cream cheese hazelnut stuffed mushrooms can be enjoyed both hot and cold. Take them to the table straight from the oven and you can enjoy their flavour warm. But the awesome thing is that they are great also cold! Make them ahead and treat yourself to a starter before your usual dinner; bring them to potlucks and picnics; offer them as treats to your colleagues.
I actually prefer my stuffed mushrooms cold, as I like them to be a finger food kind of appetizer. For this reason, I always choose the smallest cultivated mushrooms I can find. Sometimes, if at the store they have tiny ones, I'll just buy them to specifically make this recipe. Otherwise I'll get picky and choose only the tiny ones when I plan to make this dish. If I can't find small mushrooms I'll make another starter.
Vegetarian stuffed mushroom ingredients
To make these hazelnut stuffed cream cheese mushrooms you will need:
250 g cultivated mushrooms
100 g cream cheese
30 g minced shallot
20 g butter
20 g ground hazelnuts
1/2 tsp dried winter savory (or thyme)
1/4 tsp salt
a sprinkle of freshly ground black pepper
A description of the procedure follows, you can also find step by step instructions in the recipe card below.
How to make hazelnut stuffed mushrooms
The first thing to do is to clean and pat dry the mushrooms, as they often come with some dirt attached. Separate the caps from the stems. Place the caps upside down on a baking dish lined with parchment paper.
Melt the butter in a skillet, and as it melts, mince the shallot. Sauté the shallot in butter until it gets soft. In the meantime, mince the mushroom stems, then add them to the pan. Add the salt and dried herb of choice, stir and keep cooking a couple more minutes.
In another bowl, combine the cream cheese and the ground hazelnuts.
Hazelnut leftovers? Use them for dessert in these nutella thumbprint cookies!
Combine the cream cheese and hazelnut mix with the stir fried stems and onion. Carefully fill every mushroom cap with this mixture, making sure to divide it equally between all the mushrooms. You can choose to transfer the mixture into a piping bag and pipe it onto the mushroom caps, or just use a spoon as I did. I don't mind a more rustic look.
Sprinkle the tops of the stuffed mushrooms with black pepper. Bake the hazelnut stuffed mushroom caps in the preheated oven at 200°C for 20 minutes. They may release some water as they bake, so I would recommend transfering them to a serving plate if planning to serve them cold at a different time.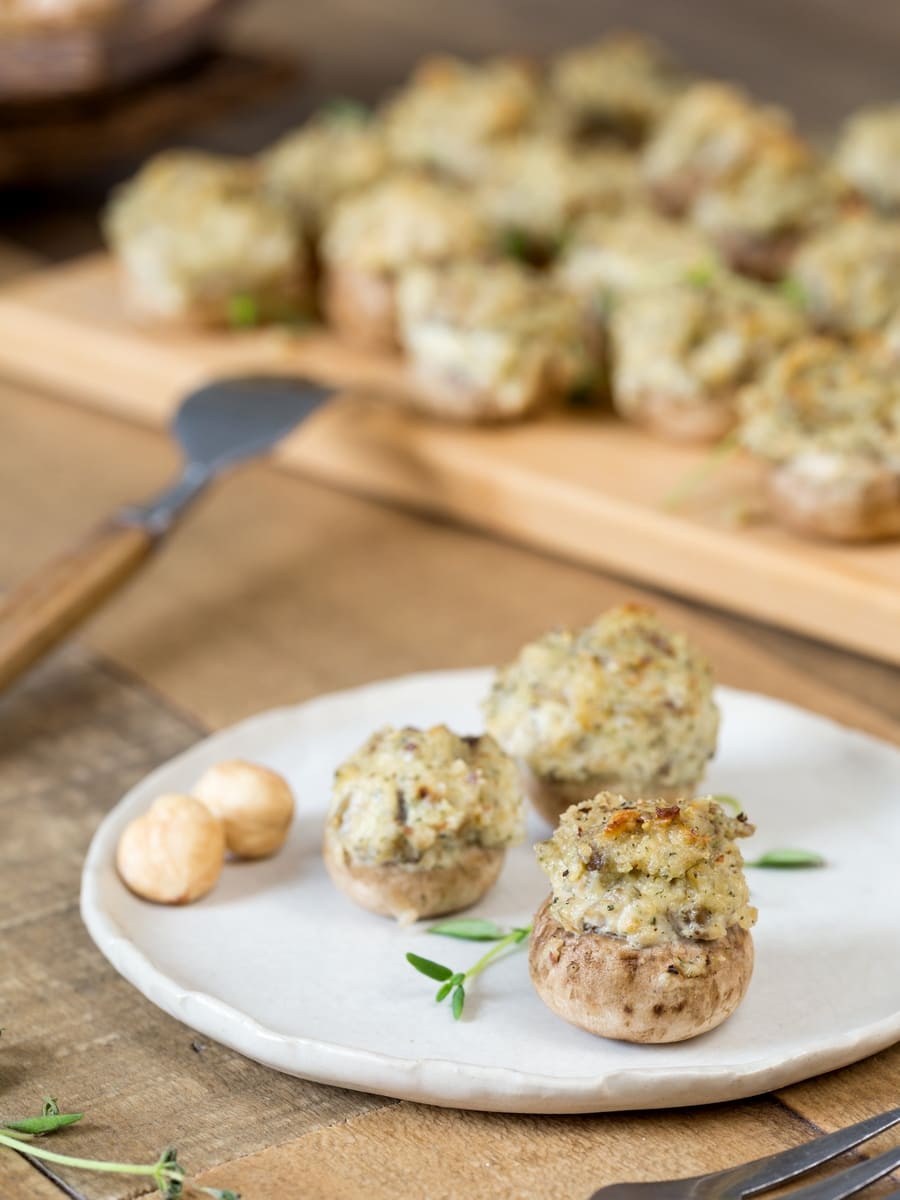 Make it a meal!
As I wrote here, I like to serve my hazelnut stuffed mushrooms as appetizer, just to get ready for the main dish while sipping on a Campari Spritz. Here is some main course inspiration for you:
Do not forget to pin this recipe for later use:
Baked hazelnut stuffed mushrooms
Baked stuffed mushroom caps filled with cream cheese and ground hazelnuts. Choose small mushrooms and serve them cold for the ultimate finger food appetizer.
Ingredients
250

g

button mushrooms

100

g

cream cheese

30

g

shallot

20

g

butter

20

g

finely ground hazelnuts

1/2

tsp

dried winter savoury (or dried thyme)

1/4

tsp

salt

freshly ground black pepper
Instructions
Clean the mushrooms and separate stems from caps. Place caps upside down on a baking dish lined with baking paper.

Mince the shallt and the mushroom stems. Melt the butter in a skillet and sauté the shallot. When the onion is soft, add the minced mushroom stems and sauté for a couple of minutes. Add the dried herb and salt, stir and remove from the heat.

Combine the ground hazelnuts and cream cheese. Add to onion mixture and mix well. Fill every mushroom cap with this mixture. Sprinkle the filled mushrooms with ground black pepper.

Bake in the preheated oven at 200°C (392°F) for 20 minutes.
This post was originally published in May 2018 and has been updated in April 2020 with new pictures and a recipe card.
(Visited 569 times, 1 visits today)