Few beverages can feel like an autumn day as much as a mug filled with hot milk with honey. Give it an extra health boost and add turmeric to it, to make it like a golden milk, but with less spices. I like to personalize things even further and my fall drink of choice becomes a sinful golden milk. I like to add a splash of rum to my milk and honey, therefore it becomes sinful. Make a cup of this hot honey and rum milk with turmeric, wrap yourself in a blanket and love the homey autumn feelings.
Blame it on the fact that I am an October-born, but autumn is by far my favourite season. I've always found a certain pleasure in seeing the days getting shorter. It can only mean that the golden hour comes earlier and earlier every day. Sure, it rains pretty often. But when it doesn't rain, nothing else beats the golden hour on a fall day. The blue sky over the red and yellow leaves… ahhh! Such a bliss for the eye! Actually, even rainy days have their charm. Provided you're lucky enough to be enjoying them from inside a warm house.
Check out some beautiful foliage around the parks in Stockholm.
Autumn is sadly also a season when many people easily get sick. Changes in temperature make it challenging to always be properly dressed against the cold. Catching a cold or the flu becomes so much easier at this time of the year. This is when hot drinks play a crucial part. I find it extremely comforting when I get to enjoy a hot drink on a day when I feel a bit down. It can truly warm you up from the inside. Besides, certain foods are known to ease a physical discomfort. I love eating honey when I have a sore throat. I really feel a benefit from it. Besides, being as much of a lover of honey as Winnie-the-Pooh it's just pure pleasure to indulge on honey straight from the jar. "Because of the throat", you know. All excuses.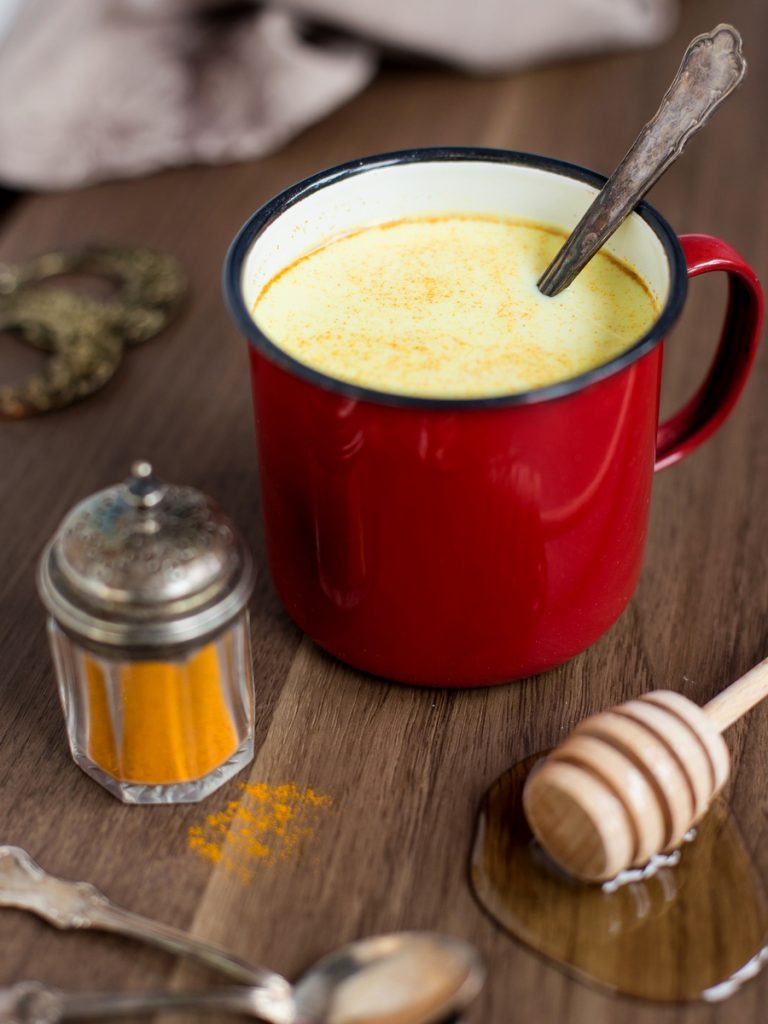 I don't remember when my love affair with hot milk started, but it must have been pretty early in life. I wouldn't go to sleep without a huge bottle of milk directly served in bed. And I mean well past the toddler phase. Hot milk before bed was a ritual even in my primary school years. Milk is my favourite beverage and hot it is just so much better.
When I would get sick, my mom used to add honey to it, and a splash of rum. Because it warms you up, right? The older I got, the more rum would land in my milk and honey. Only when I was sick, of course. Actually, it may be because I associate milk and honey and rum to when I was sick, that to me this combination is like chicken soup to many. It's not something I would regularly drink. But it's a pick-me-up of choice when I'm feeling under the weather.
More fall comfort food: butternut squash soup with coconut milk and curry.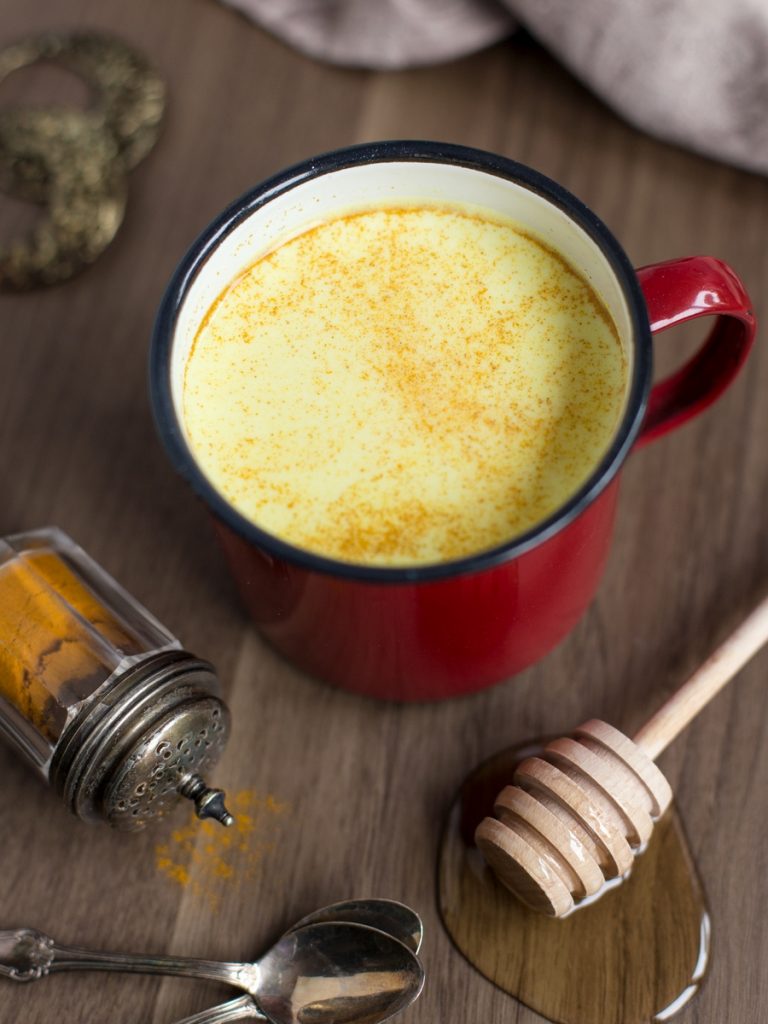 Turmeric was not a thing back in the '90s. My mom and I discovered it so much later in life. Even later than that did I learn that turmeric might be great in curries but it can be even greater in milk. With honey. Golden milk it is called. Well, well, it should feature coconut milk and a handful of other spices, but the core concept is hot milk with honey. Mine already featured rum, why not add some turmeric to make it even more powerful in helping me fight the autumn flu?
So here is the recipe I'm featuring today. Feeling your immune system down? Sore throat? Cold? Or maybe you're physically fine but it's autumn and the rain is falling and you just need a beverage that feels like a hug. Warm up some milk, stir in turmeric powder and honey, and only when you remove it from the heat, add a splash of rum. I like to add it at the end to ensure that the alcohol does not evaporate. You want that warmth kick, like in Irish coffee, right? Then just wrap yourself up in a fluffy blanket and find a spot by a window to enjoy watching the rain.
Ahhhh autumn ❤
Hot honey rum milk with turmeric
Ingredients
300

ml

whole milk

1

tsp

honey

1/3

tsp

turmeric powder

50

ml

rum
Instructions
Pour the milk into a saucepan and set it on medium heat. Stir in the honey and turmeric powder as the milk warms up. Remove the milk from the heat before it reaches boiling temperature, as you want it warm but not piping hot.

Pour the milk into a serving mug and add the rum. Enjoy immediately, as reheating may make the alcohol in the rum evaporate.
(Visited 1,247 times, 1 visits today)