Baked pumpkin, sunflower and flax seeds are the main ingredients in these multi seed crackers. So easy to make at home, they have the perfect crunch and the irresistible flavour of roasted seeds. A sprinkle of dried rosemary and salt flakes gives that extra hint of flavour that will make you love them. A healthier cracker option for an evening snack, but also a fantastic complement for a cheese board! Homemade seed crackers are perfect in so many ways.

Homemade multi seed crackers: a healthier snack
You know when you're watching movies on the sofa and you just want to munch on something? You know, the popcorn feeling like at the cinema. Except you're home, in your pajamas, wrapped in a blanket. And your tv snack options could be even more exciting than popcorns. Before you go and grab that glass of wine or chocolate bar, make sure you have stocked up on something equally scrumptious, but with a lower carb toll. Baked seed crackers are your guilt-free alternative for those times.
Mindless eating is what brings in the extra calories to your daily intake. Yummier snacks are packed with sugar and simple carbs which are really not what you should be eating before bedtime. These multi seed crackers may not be low calorie per se, but at least they bring in some better nutrients as they are low carb and sugar free. But their flavour is just so good they can be as addictive as candies. Let's not forget the crunch factor, that might be better than popcorn!
Homemade seed crackers recipe
If the idea of making homemade healthy food sounds challenging to you, you can relax. Making these multi seed crackers is easier than making regular bread crackers. Some "fancier" foods are sometimes perceived as more difficult to make as a default. It is not the case with these crackers.
These healthy seed crackers are made with:
pumpkin seeds
sunflower seeds
flax seeds
psyllium husk powder
warm water and oil
And that's the base. To that we are adding salt flakes and dried rosemary because that's how I like my crackers. But the choice is yours really. Skip the salt if you want them neutral. As for the herbs, you can pretty much use any to your liking: oregano, thyme, za'atar…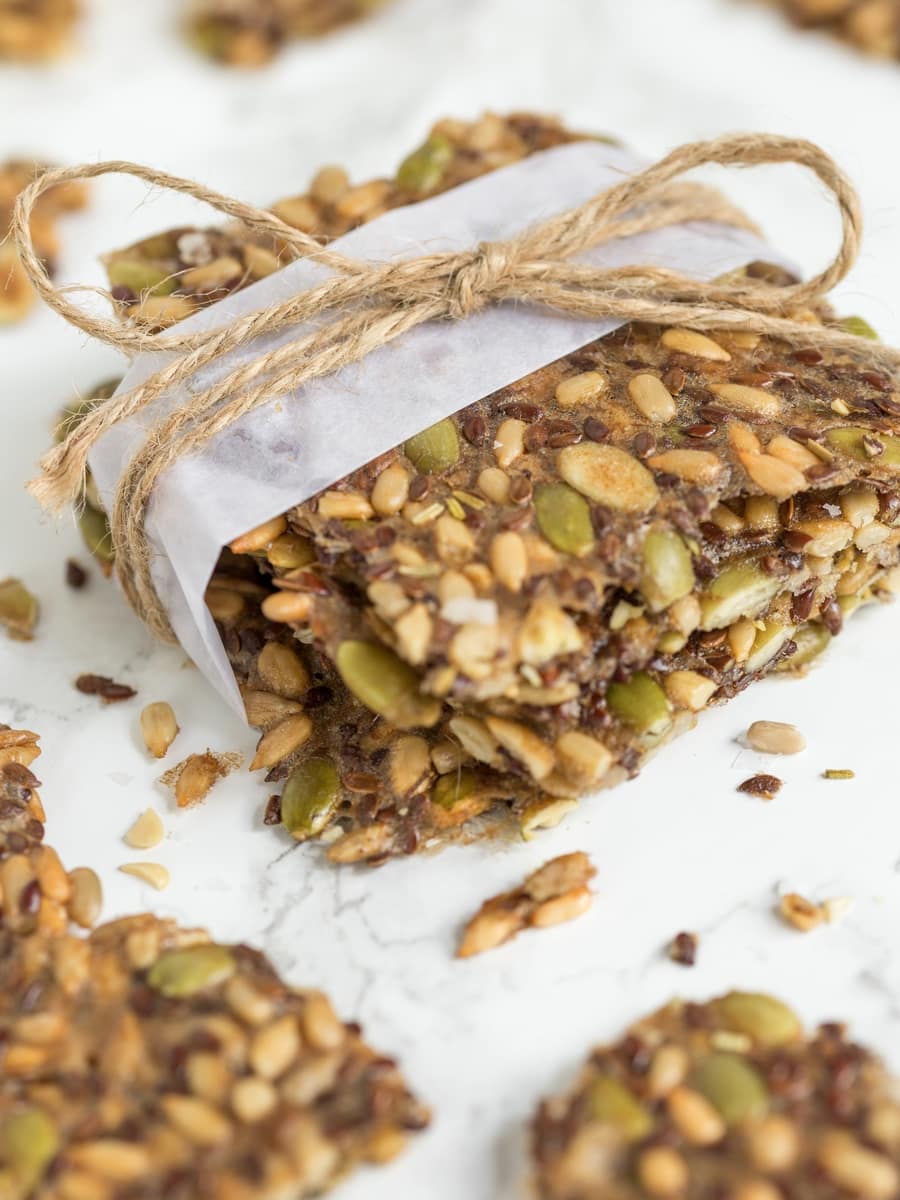 So here's how to make seed crackers from scratch. In one bowl you're gonna mix all the seeds and the psyllium husk powder, and give it a good stir so the psyllium gets to go all over the seeds. In another container you just combine the lukewarm water and oil, then pour it into the seed bowl. Give it a quick stir: the psyllium powder will swell immediately and the mixture will turn gelatinous in a matter of seconds.
Transfer the mixture to an oven tray lined with baking paper and spread it all over the surface. I like to use a rubber spatula for this procedure, as the seed mixture does not stick to it. Once spread, sprinkle the salt and dried herbs of your choice – or go with rosemary if you're following this recipe. Bake in the preheated oven at 175°C (350°F) for 45 minutes. Let cool before serving. You can choose to break the baked seed sheet unevenly or cut it in "squares" like I did.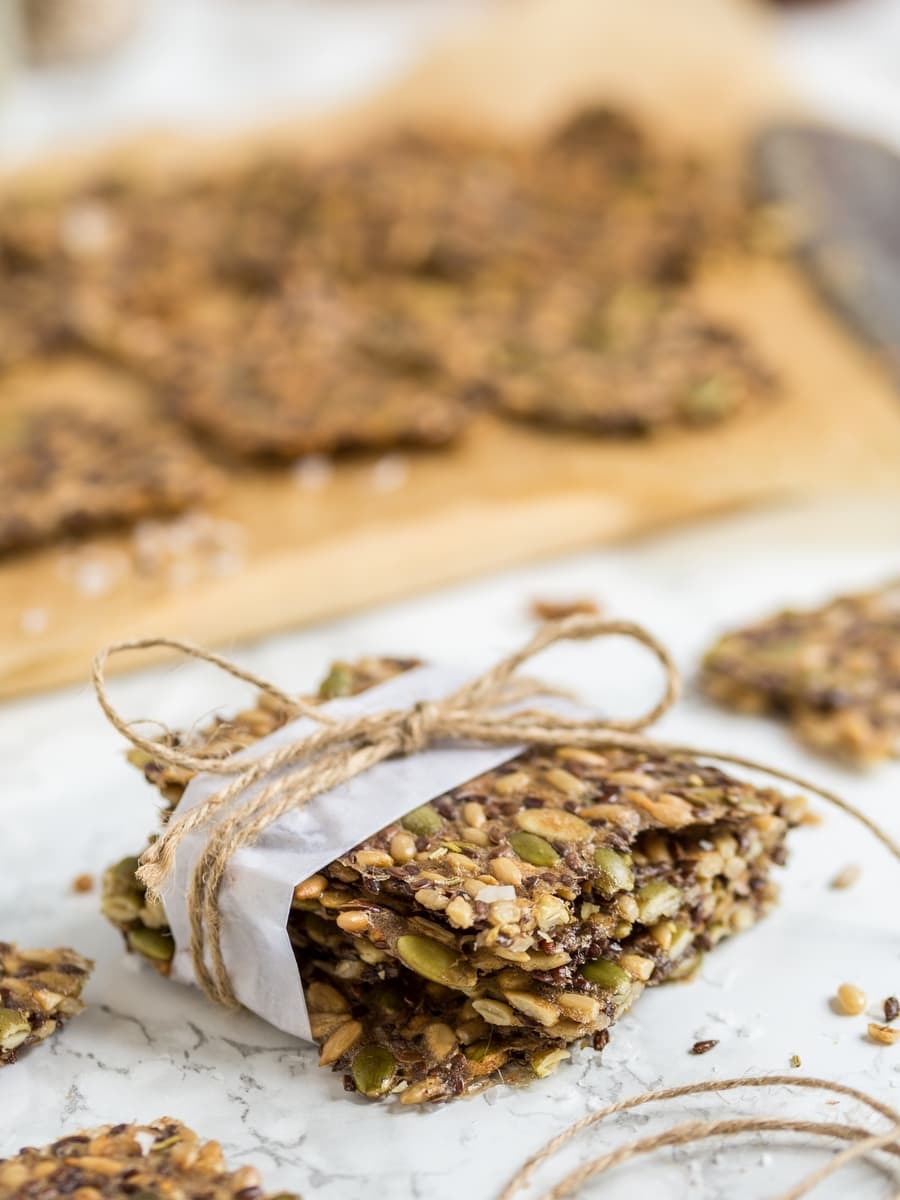 Reasons to love homemade seed crackers
If you've read so far and you're still not convinced, let me make it short and list why you will love these multi seed crackers:
Less guilty – Who needs sugar and simple carbs when you can satisfy your snack cravings with something that is less bad for your body?
Natural – only simple and naturally sourced ingredients in these seed crackers.
Nutritious – seeds are excellent sources of fibre, good fats and minerals. If you have a hard time on snacking on them alone or incorporating them in your diet, this is an excellent solution.
Easy to make – you literally just need one bowl, a handful of ingredients and 45 minutes in the oven. As for the preparation technique, you need to be able to stir and spread. Can't get easier than that.
Crowd pleasers – naturally gluten free, vegetarian – even vegan! These multi seed crackers will suit people with various food allergies or preferences, making for a great option to share with a large party.
Easy to store – just keep them in a tin, like biscuits. As long as they are safe from humidity, they will keep their crunch for weeks. Provided that they'll last that long.
Evening snacks, cheese board accompaniments, gluten free option for an allergic guest, or even a small gift for a friend… These homemade seed crackers are a win every time. Definitely the perfect excuse to start eating more seeds! If you don't have any in your pantry right now, just pin this recipe and make sure to come back to it later! Enjoy!!
Multi seed crackers with dried rosemary and salt flakes
A healthier snack that is gluten and dairy free. These seed crackers are baked in the oven and have the delicious flavour of roasted seeds and a crunch that is just perfect. Try them on your next cheese board!
Ingredients
80

g

sunflower seeds

70

g

flax seeds

60

g

pumpkin seeds

1

tbsp

psyllium husk powder

200

ml

lukewarm water

50

ml

vegetable oil

dried rosemary and salt flakes to taste
Instructions
Combine the sunflower, flax and pumpkin seeds in a bowl. Stir in the psyllium husk. In a glass, combine the water and oil. Pour the water and oil into the seed mixture and stir for about a half minute. The mixture will thicken consistently.

Spread the thick mixture all over an oven tray lined with baking paper, making sure it has a uniform thickness. Sprinkle the dried rosemary and salt flakes all over the surface, according to taste. Bake in the preheated oven at 175°C for 45 minutes.
Notes
Fan forced ovens can be set at 150°C, or the seeds might burn.
(Visited 2,115 times, 3 visits today)