I'm new to the zoodle game. Zucchini spiralizers have been out for a while now and I've constantly been procrastinating getting one. But now I can finally call myself a spiralizer owner, so let the zoodle game begin. I know you can pretty much spiralize any veggie that will fit the tool, but zucchini were the first I learned about. And the name zoodles is cool. What do they call spiralized carrots or cucumbers? I said I'm new to the game so I still have to figure that out. By the way, if you are newer than me, zoodles stands for zucchini noodles. Cool, eh?
Zucchini are one of the most popular side dishes on my table. Whenever I'm at a loss of initiative and I feel like I really should have a veggie side to my vegetable-free meals I'll chop up a zucchini and throw it in a pan with some onion. I always have a zucchini in my fridge. But I must admit I've been getting tired of the usual stuff. Then I got myself a spiralizer and it was a total game changer.
It's all in the brain, you know? I've been making sautéed zucchini with peanuts and chili flakes forever, but the first time I made them in their zoodle form it felt like a completely new dish. I was also very happy to discover that sautéed spiralized zucchini have a wonderful texture. They retain their crunchiness without seeming raw. And to me that's zucchini perfection. I don't like to eat raw zucchini so I always end up overcooking them. And then I'm disappointed. Yet zoodles are thin enough to cook to perfection in just a few minutes. I never thought I'd write about my plain zucchini side dish on my blog. It's so boring, and honestly not so picture-worthy. Yet it only took a different cut to the vegetable and I couldn't stop photographing. Zoodles are so picture-worthy.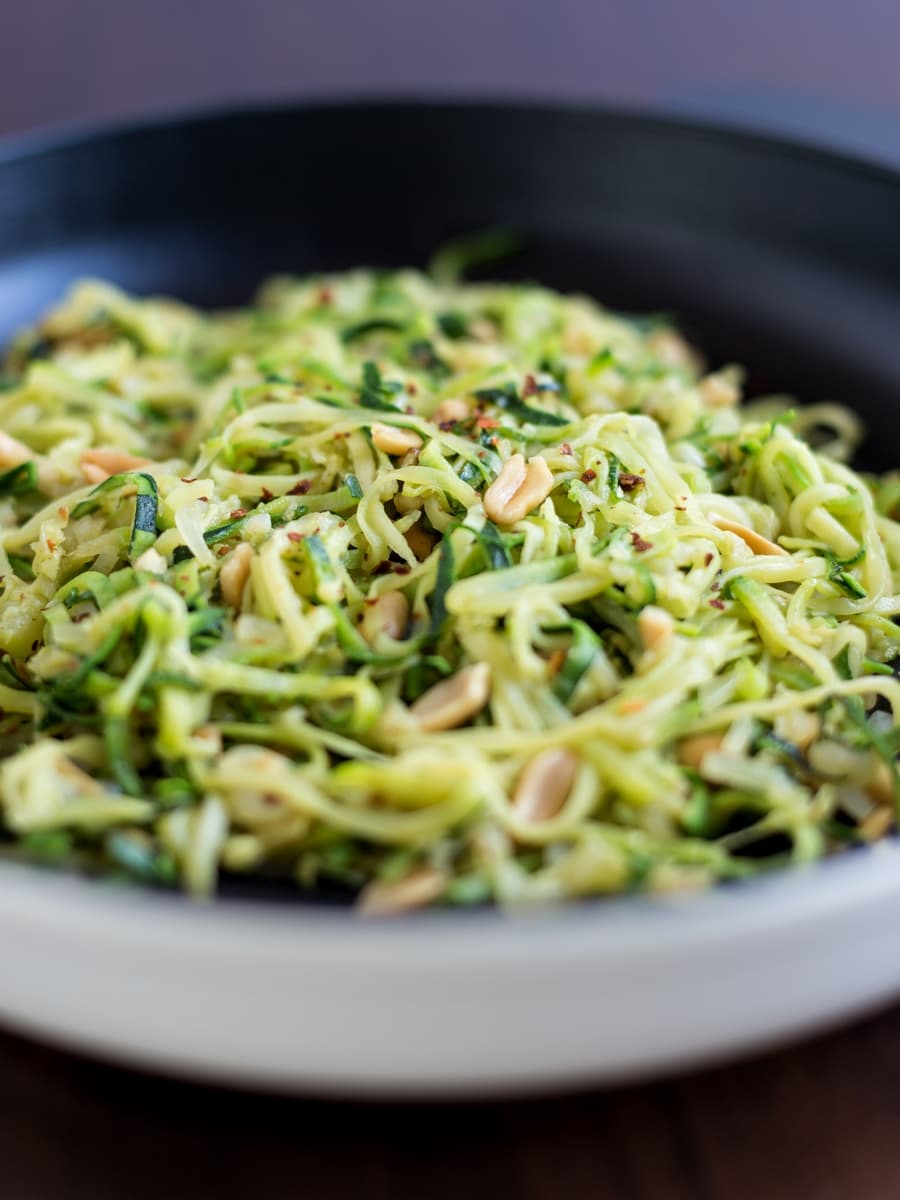 Peanuts and chili flakes zoodles recipe
Ingredients:
2 zucchini
1 small yellow onion
1 tbsp peanut oil
1/2 tsp dried chili flakes
2 handfuls of toasted salted peanuts
salt to taste
Directions:
First of all spiralize your zucchini. Set the raw zoodles on a paper towel, sprinkle with salt, and massage the salt all over the zoodles. Let them sit like that for a couple of minutes. The salt will help bring some of the moisture out, for easier cooking. This step is totally skippable if in a rush, but I recommend doing it, as it also helps flavouring the zucchini. In the meantime peel and finely mince the onion and set aside. Put the peanuts in a plastic bag and gently hammer them with a rolling pin in order to crush them coarsely. Set peanuts aside.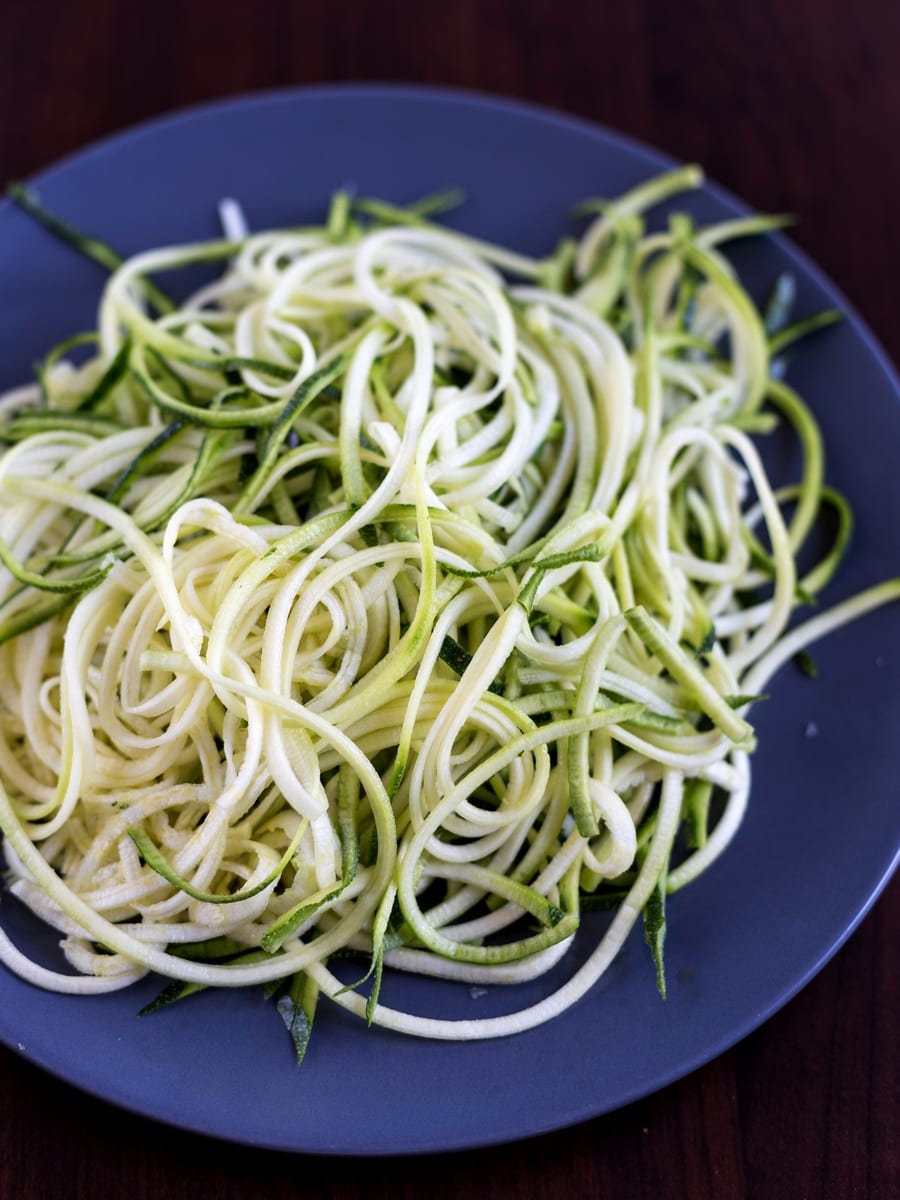 Set a frying pan on medium-high heat and warm up the peanut oil. I like to use flavoured peanut oil in order to get even more flavour, but any oil will do the job. When the oil is warm add the onion and chili flakes. Sauté the onion for a few minutes, constantly moving it around in order to prevent it from burning.
Take some extra paper towel and press it over the zucchini, in order to squeeze out any extra moisture. Add the zoodles and the crushed peanuts to the hot pan. Now raise the heat to medium and sauté the zoodles. From now it will only take 3-4 minutes. I recommend keeping the pan on high heat and constantly moving the zoodles around to ensure they all cook. The sprinkle of salt on the raw zucchini and the addition of salted peanuts should be enough, but if the dish as a whole is still too sweet sprinkle some extra salt at this point. Remove from the heat and serve immediately, with extra chili flakes for decoration.
Who would have thought that my boring side dish could become so interesting. Spiralized zucchini make it all look so much more intriguing. The total surprise for me, apart from the aesthetic pleasure of looking at such a pretty dish, was the texture. Zoodles cook quickly; sautéed on high heat they're ready in no time. These zoodles with peanuts and chili flakes are wonderfully tasty and healthy, making for the perfect side dish when you have no better options than a zucchini and an onion in your fridge. Zucchini noodles can also work great as actual pasta replacement in stir fries. Next time I'm making noodles with lime and chili prawns I might actually swap the rice noodles for zoodles.
(Visited 478 times, 1 visits today)