This cheesy broccoli pasta casserole with mozzarella is a healthy and filling dinner option. Broccoli are blended into a creamy purée with parmesan. Mix this broccoli cream with cooked pasta, add diced mozzarella, a dusting of parmesan on top and finish it in the oven. A perfect and easy mid-week dinner recipe with a lovely mild broccoli flavour.

This is not your regular broccoli pasta. This is a baked broccoli pasta casserole. All the flavour of broccoli pasta is amplified with the addition of mozzarella, parmesan and some oven time, that always makes everything more delicious. A cheesy twist to a simple pasta dish, this broccoli pasta casserole is sure to turn broccoli-skeptics into lifetime lovers of the vegetable.
Blended broccoli for life!
Do you live with a picky eater? Someone who loves the flavour of some foods but not the texture? Or who will be completely put off seeing certain vegetables in their plate but who will eat them if they're somewhat concealed? Then you know that the blender is your best friend. The blender is key also in this recipe.
Regular broccoli pasta will call for actual broccoli florets featuring here and there in your pasta. But here we will make our broccoli completely disappear by blending it. With cheese. This broccoli pasta casserole features a creamy broccoli sauce. The result is a saucy casserole with a delicate broccoli flavour and stringy mozzarella pulling at every forkful. This is what broccoli dreams are made of.
More comfort food: Italian lentil stew with mushrooms.
The best thing about this recipe is that you use whole broccoli! Not just the florets, but the stem, too! It's time to give that sad part that gets thrown away most of the times the attention it deserves. Despite being less attractive than the florets, broccoli stems are equally packed with flavour and nutrients. Not something you want to get rid of. You're about to blend it anyway, so who cares about the appearance.
Broccoli pasta casserole recipe
This broccoli pasta bake is pretty simple and only requires a handful of ingredients:
Fresh broccoli
Pasta (I have used girandole here, but any type of "short" pasta shape will do)
Mozzarella
Parmigiano
Creme fraiche
Butter
Olive oil
Salt & pepper
As for the procedure, you just follow some simple steps:
Make the broccoli purée;
Cook the pasta;
Combine pasta, broccoli purée and cheese;
Bake.
An explanation of these steps and some useful tips follow. Precise quantities and simplified directions are in the recipe card at the bottom of the post.
Step 1 – the broccoli purée
Cut up the broccoli (the thinner the faster it will cook) and remember to slice up the stem, too.
Add your chopped up broccoli to a pot with water and butter and set on medium-high heat. Keep covered in order to keep the steam trapped inside the pot. Cook 4-5 minutes.
Take away from the heat as soon as the broccoli feel tender to prick with a fork. Add cream and parmesan, blend with a hand blender and just stir in some freshly cracked black pepper.
This is what you'll be mixing with cooked pasta and diced mozzarella, but it works as a delicious side dish alone.
Looking for a starter? Italian shrimp cocktail is a nice option.
Step 2 – cook the pasta
Cooking the pasta may seem like the easiest and most straightforward step, but there is one important adjustment to standard pasta cooking at play here.
Cook the pasta in salted boiling water for half of the time suggested on the package.
Perfect pasta dishes call for pasta al dente. Firm pasta is fundamental in Italian cuisine. By undercooking our pasta we are ensuring it will not overcook once we place it in the oven. Actually, there's more:
Drain the pasta and rinse it under cold running water.
This will stop the cooking process, that would otherwise keep happening if we just let hot pasta sit in its own heat. Rinse the pot under cold water to cool that as well, and place the pasta back into the empty pot.
Assemble the dish and bake
Pour the creamy broccoli purée over the the cooked pasta and toss.
Dice the mozzarella cheese and add it to the mixture, then transfer it all into a casserole dish.
Top with a generous sprinkle of grated parmigiano all over the pasta.
Bake your pasta casserole in the oven set on broil for 20 minutes at 200°C. The pasta is cooked, so are the broccoli. We don't need to get anything soft here, we just want the heat to melt the cheese and the broil setting to create the crunchy top.
Can I make broccoli pasta casserole in advance?
If having a delicious, easy and healthy dinner option was not enough, here's one more reason to love this recipe. This broccoli pasta bake reheats great! Store your leftovers in lunch boxes and enjoy it for lunch the following day. Sometimes I just make a batch of this and portion it out into lunch boxes directly, without having it for dinner. This dish is so microwave-friendly that is just so perfect.
Use oven-proof glass boxes if you want even less cleaning up afterwards! After you've mixed all the ingredients in the pot you used to cook the pasta, portion it out directly into your lunch boxes. Top each portion with parmesan and bake them already as individual portions. You will obviously have to wait until they have cooled completely before putting on the plastic lid, but that will leave you with no glass casserole to wash up!
Can I make this broccoli pasta bake vegan?
Absolutely! Just sub the dairy ingredients with equivalent vegan alternatives. Any plant-based cream will work in the mash. As for the mozzarella, just pick a different "cheese", as long as it melts in the oven. Mozzarella is mostly added for texture than taste in this recipe.
What gives flavour is the Parmigiano, so to sub that you need to find an equivalent stronger vegan alternative (with nutritional yeast). This is a very delicate dish and the Parmesan is what gives it a little personality. If you can't have parmesan, find an alternative rather than just omit.
If catering for different dietary requirements like gluten free, just swap regular pasta for a gluten-free alternative, like bean or lentil pasta.
Pin my broccoli pasta bake with mozzarella and parmigiano recipe: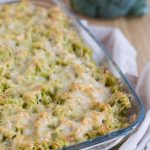 Broccoli pasta bake
A baked pasta casserole with broccoli and mozzarella. A simple and filling dish that is easy to make and very tasty.
Ingredients
For the broccoli mash
350

g

fresh broccoli

100

ml

water

50

g

butter

1

tbsp

creme fraiche

30

g

Parmigiano
For the pasta bake
350

g

pasta

(fusilli or girandole recommended)

2

tbsp

olive oil

250

g

mozzarella

70

g

Parmigiano

salt and pepper to taste
Instructions
Set a pot of water to boil. When the water boils, add salt and the pasta. Check the suggested cooking time on the pasta package and cook the pasta for half of that time. This is very important in order to prevent the noodles from overcooking. When the pasta is done - halfway through normal cooking time - drain and run the cooked pasta under cold water to quickly bring it to room temperature. Season with olive oil and set aside.

Clean and cut the broccoli into thin slices, florets and stem altogether. The thinner the slices, the quicker it will cook. Add the sliced broccoli, butter and 100 ml water to a pot and set on high heat. Keep covered and stir occasionally in order to distribute the melting butter all around. When the water reaches boiling temperature, lower the heat and keep steaming the broccoli with the lid on for a few more minutes. Remove the broccoli from the heat when tender but still bright green.

Transfer steamed broccoli to a tall container and add the creme fraiche and the parmigiano. Blend with a hand blender until smooth. The parmigiano should give some flavour to this mash, but add salt and pepper to taste if desired.

Combine the cooked pasta, broccoli purée and diced mozzarella and give it all a good stir to ensure all the pasta gets nicely coated in broccoli purée. Transfer to a casserole dish and sprinkle remaining Parmigiano on the top.

Bake in the preheated oven for 20 minutes at 200°C with the broil setting.
Recipe Notes
Girandole (the pasta used in this post) have a very short cooking time, so using this type of pasta for this recipe means a pretty short time. If using fusilli, farfalle or any other kind of pasta, the preparation of the noodles may take a bit longer. Still it is very important to cook the pasta for half of the suggested time and always rinse it with cold water to quickly lower its temperature and stop the cooking.
The nutritional information provided is only an estimate.
Nutrition Facts
Broccoli pasta bake
Amount Per Serving
Calories 611
Calories from Fat 351
% Daily Value*
Fat 39g60%
Cholesterol 95mg32%
Sodium 915mg40%
Potassium 393mg11%
Carbohydrates 35g12%
Protein 31g62%
Vitamin A 1494IU30%
Vitamin C 78mg95%
Calcium 666mg67%
Iron 2mg11%
* Percent Daily Values are based on a 2000 calorie diet.
(Visited 415 times, 1 visits today)